Sat, 30 Dec 2006, 09:48 AM



Bo Butner...The Pride of Floyds Knobs, Indiana



By Bob Frey


Photo copyright 2006 Auto Imagery, Inc.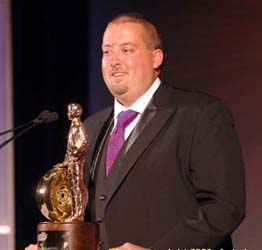 Bo Butner
"It was the best of times and it was the worst of times," so starts the classic Charles Dickens' novel a Tale of Two Cities. And, for Bo Butner, a guy from the tiny city of Floyds Knobs, Indiana, that could sum up his 2006 racing season. Bo won the Lucas Oil World Championship in the always tough Competition Eliminator category and, in the process, suffered a nasty fire at the Las Vegas points race. "Something caused a fuel leak and the car caught fire," Bo said. The incident caused Bo to suffer severe burns to his face and hands, burns that were so bad he had to go to the hospital in Vegas three times just to have the dead skin removed. I was at that race and talked to him after he returned to the track with his wife, Teresa, and he was in pain. Still, as all racers do, he vowed to be at the next race, the Auto Club of Southern California Finals in Pomona to race and show off his car for the folks at ProCharger, the company that designed and built the supercharger on his car. "I was disappointed in Pomona," Bo said. "Not because I didn't win, but because the car didn't run like it should and I wanted to showcase it for the folks that helped me during the year." Bo attributes the car's troubles to some little things that just didn't get fixed after the Vegas fire. Still, after seeing what he went through a week earlier, it was surprising to see him even get in the car at Pomona. I guess that's the stuff that champions are made of.
Bo Butner
Floyds Knobs, Indiana is a town of about 9,000 people and Bo has lived there all his life. It is also surrounded by a lot of folks who build and race cars, and a lot of them race at the famous eighth-mile track nearby, Ohio Valley Raceway. "I live about twenty minutes from the track and had heard a lot about it," Bo said. "But until a few years ago I had never drag raced so I never had a reason to go out there." That all changed in 1994 when a guy came onto the family's car lot and traded a 1972 Nova in on something newer. "My brother-in-law and I took the car out to the track and I was hooked." Like most racers the need for speed continued to grow in Bo and he gradually moved up the food chain in the performance department. "We kept buying transmissions and then we put a roll cage in it and then we wanted something quicker so we bought a car from the Bohannon's." They raced that car for a while before stepping up to a 1997 Olds Cutlass that was built by F.J. Smith. After a few years of racing on the IHRA tour Bo then came over and started running at the NHRA events. Bo went to the finals at his first divisional race back in 1998 where he raced, ironically, Jeff Taylor, the man who is now his teammate and engine builder. "Jeff does it all. He makes it so easy for me to just go to the races and drive. It allows me to concentrate on my business at home." That business is a used car business that buys and sells just about anything. "I go to the auctions a couple of times a week and we have a pretty good business going." The business has been in the family since Bo's father, who is now 73 and still very active in the business, started it back in 1955. "People know us by the slogan 'Since 1955 when Elvis was alive.' That's something a TV guy came up with for a commercial a few years back and we've used it ever since."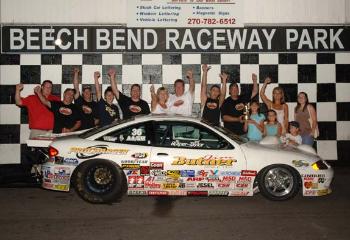 Butner and team celebrate win.
Bo's partnership with Jeff Taylor has proven to be a real plus for both men. Jeff builds the engines and provides the on track expertise needed to make Bo instantly competitive. Going into the Las Vegas race at the end of the year Jeff was the only one with a chance at stopping Bo's quest for the title. True, he had to win out in Vegas and Pomona, but anyone who has watched Jeff over the years knows that that was entirely possible. When Jeff lost in the semi-final at the D-7 race, Bo was the champion. Bo got off to a good start this year by winning the Division 2 race in Valdosta, Georgia and he knew right away that he had a shot at contending for, if not winning the national championship. "We tested this car and this new combination a lot before the season started and we knew the potential of it," he said. "To be honest, after the second race of the year I knew that if everything went right, we could win the championship." He would go on to win three more divisional races during the season along with the Sportsnationals in Columbus, Ohio. A runner-up finish at the U.S. Nationals added a lot of points to his total and the kid from Floyds Knobs, Indiana, was well on his way to the title. It should be noted that his teammate, Jeff Taylor, also made it to the semi-finals at the "Big Go" this year.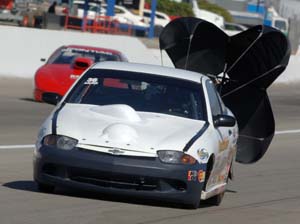 The car that Bo took to the championship was new for 2006 and it fit neatly into the new AA/SM class for the season. It has a 400 cubic inch engine that makes well over 2,000 horsepower. Equipped with a ProCharger 3 supercharger it is currently the national record holder and Bo says that the car can still go quicker and faster. "This was just the first year with this combination and Jeff and John Meaney are constantly working to find ways to make it better for next year." That, in itself, is a scary proposition especially when you consider that Taylor contended for the championship until the final week of the year and eventually finished third. Only Sal Biondo, a former world champ, kept the Indiana team from a clean sweep at the top of the class. "Jeff and I got together a few years ago and we've worked together ever since. It's a great relationship. We're like brothers." And while Taylor still runs his own engine business where he works on other Comp and Super Comp engines, his main focus during the year is to see to it that both he and Bo have a shot at winning races and national championships.
Bo said that he is looking at several options for next year but that he is looking forward to defending his championship. If history is any indication his toughest challenge may come from the other guy in Floyds Knobs, Indiana, Jeff Taylor. Bo wants to thank everyone at the Jim Butner auto dealership, his wife, Teresa and their four children for their support, as well as Darrell Herron and all the folks at ProCharger for their support.




NHRA: 10 Most Recent Entries [ top ]

Jun 03- NHRA Mello Yello Drag Racing Returns Beginning with Two Indianapolis Events in July
Jun 03- A Message From Summit Motorsports Park President Bill Bader Jr.
May 21- Second JEGS SPORTSnationals Added, to be held in mid-August in New England
May 20- DENSO Sponsors NHRA Champs' Shelter-in-Place Dachshund Race
May 14- To Our Racing Community-From Racers for Christ
May 13- The Name Game Part I
May 12- Morgan Lucas, Son of Forrest and Charlotte Lucas, Appointed President of Lucas Oil Products, Inc.
May 05- Cancellation of the 14th Annual Summit Racing Equipment NHRA Nationals
May 04- NHRA Announces Revised Plan to Restart 2020 Mello Yello Drag Racing Series
Apr 29- DSR Drivers Join Global Superstars in Fight for COVID-19 Relief