Wed, 27 Dec 2006, 11:26 PM



End of the Year Stuff



By Bob Frey


Photo copyright 2006 Auto Imagery, Inc.





The folks at
National Dragster
have published their last issue for the season and it contained some really nice stories (as they all do). It also included their year-end review and the top stories of the season, most of which I agree with. Of course you'll never get everyone to agree on any top ten list, so the fact that I had others on my list shouldn't surprise anyone.
I was also asked my opinion on the 2006 Performance Awards, another subjective thing that should be the topic of a lot of bench racing during the off-season. Speaking of which, we'll begin testing before too very long so that "off-season" is almost over, as hard as it is to believe. The
Dragster
folks also took a look back at their predictions from the beginning of the year and that, in itself, is always fun. Trying to pick what's going to happen a year ahead of time is almost impossible, it's like the weatherman trying to tell you what's going to happen tomorrow. Well, at least where I live it is. As you might expect they got some right and some wrong but then, who didn't? At least they have the courage to keep score and report on their "hits and misses." I don't!!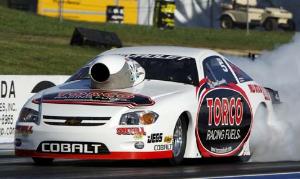 Dave Connolly
The Driver of the Year award in
National Dragster
went to
Doug Kalitta
and it's hard to argue with that choice. All you had to do was hear the reaction from the folks at the awards ceremony to know how popular and well respected he is. Of course a selection of
Tony Schumacher
or
John Force
wouldn't have been bad, either. Ironically, I hadn't chosen any one of them, although I certainly wouldn't argue with anyone who had. My choice was
Dave Connolly
. The way I looked at it, any guy who could win a dozen races on holeshots in the highly competitive Pro Stock class is worthy of my vote. Were it not for a couple of DNQ's early in the season, Dave could have been the Pro Stock champion. I know what you're saying, if it weren't for a couple of numbers I would have hit the lottery last week, but you get my point. Dave struck fear in the hearts of the other drivers because he was so darn good, and that, to me, makes a driver of the year candidate. Or winner....In the sportsman classes I agreed with the guys in
Glendora
and that is
Frank Manzo
is the Driver of the Year. Anyone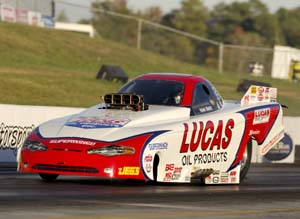 Frank Manzo
who can do what he did this year has to be at the top of the list. Frank dominated the class again and his domination in
Richmond
was the stuff that legends are made of. His 5.45 - 263 mph national record was unheard of at the start of the year, that is unless you talked to
Todd Veney
of the
Dragster
staff, who thought a 5.49 was possible and said so early in the year. Way to go Todd. Those of us who have known Frank for some time know that he has said for years that the alky funny cars should run in the 5.4 range, we just didn't think it would happen like it did, with a bunch of 5.4 runs at the same event. Frank, who was listed in the Top 50 drivers of all time back in 2001, continues to impress, and if they did that list now, he would have to move up a few spots....As good as Frank is, and he is very good,
did you know
that he still trails
Pat Austin
in the win column? Pat won 70 races in the TAFC class and five more in Top Fuel for a total of 75, while Frank has 67, including one in the old Pro Comp class. Pat was also the first sportsman driver to record a perfect ten win season when he did it back in 1991, the same season in which he clinched the season title in July!! How cool would it be to have Pat back on tour?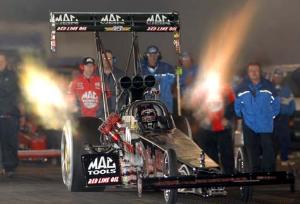 Doug Kalitta
I'm sure the selection of Tony Schumacher's run in
Pomona
was unanimous as the Run of the Year. You would have to go a long way to find anything that even came close to it. The same could be said of the selection of Tony's
Pomona
event as the Outstanding Performance by a Top Fueler at a single event. But, not wanting to tilt everything the Army's way, I selected Doug Kalitta's performance in
Chicago
for that honor. All the
MAC Tools
team did there was make four consecutive runs over 330 miles per hour in eliminations and nobody, not even the Army car, has ever done that. To be fair, Tony and his team did made six straight runs in the 4.4 range at
Phoenix
and that's no easy task, either. So, when all the smoke had cleared, it appeared that most of the top runs in the dragster class were recorded by either Tony or Doug and that's what made 2006 such a great year...
Melanie Troxel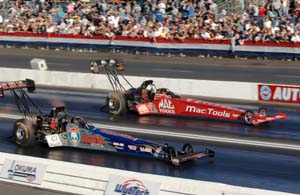 Troxel vs Kalitta
beating Doug in the semi-finals at Pomona got my nod, and
Dragster's,
as the outstanding Top Fuel race of the year and it won for several reasons, all of which have been rehashed many times already. Of course
Brandon Bernstein's
win over
Cory McClenathan
in the semi-finals at Indy wasn't a slouch and that got my honorable mention award in this class...The dragster class gave us so many great moments this year and it will be hard to top that in 2007, but with the arrival of the "Countdown to the Championship" everything will take on added significance all year long....Melanie Troxel's year was good for everyone in the sport and, as much as she would like to have contended for the championship, she should be proud of everything that she and her team accomplished in 2006. Now if her new team, the one in the
Evan Knoll
camp for 2007, can even come close to repeating this year's performance, she could be a contender for the championship at the end of the year. Let's hope so because she generated the kind of publicity for the sport this year that we haven't seen since the years of
Shirley Muldowney
.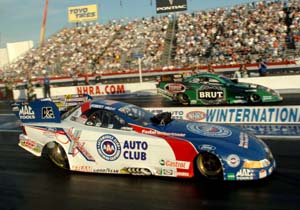 Hight vs. Capps
Jack Beckman's
4.662 and his 333.66 mph run earned top honors in the Funny Car class. It's hard to believe that a team that was only a few races old could put up those kinds of numbers, but they did. The
Matco Tools
team, led by
Todd Okuhara
, showed that they have what it takes to run with the top teams in the sport and that's why I hope they stay together in the Funny Car class next year. To break up a team like that would be one of the top stories of 2007 and we haven't even celebrated New Year's yet...
Robert Hight
, who has had two great years to start his career, got my vote for the Outstanding Performance by a Funny Car for an event. His stunning, emotional win at the season opening Winternationals went to show what kind of team he had, and what kind of driver he was. They basically blew up everything they had including the spare body on the car and still they won the race. It was truly heroic and Robert and
Jimmy Prock
deserve a lot of credit for that. That's the kind of race that brings a team together and if it weren't for his untimely break at Las Vegas, Robert might have added a
POWERade
championship to his Rookie of the Year award form a year earlier....Lost in all the numbers was the fact that John Force continued his string of qualifying events, a streak that is now at
an amazing 392. Every time I think about that I get more and more impressed, and the other FC drivers should get more and more depressed. I mean to never have an off weekend in almost twenty years is staggering. When he hits 400 this year it should get as much attention as anything in the sport. Who knows, maybe that will be the top story of 2007. Now all we have to do is wait and see if John runs his TV show streak to two consecutive years. As far as I know there is still no word on whether his
"Driving Force"
show is coming back or not, although if I had to take a guess, I would say that it is. Just like we haven't officially heard that his daughter, Ashley, is going to turn pro this year, although John did tell me at the awards ceremony that she would be in a Funny Car at
Pomona
. Maybe if Ashley wins a race that will be the story of the year next year..I almost forgot,
Kenny Bernstein
is returning to the FC class this year and that could be the story of the year. OK, let's wait and see what the "King" does before we give out that award, but mark my words, he will be very competitive just like he always is...One thing is for sure, with the new points system we will have another great battle right down to the last race of the season. And I know that I've mentioned this before and I will mention it again, for all of those who think that the new system is the ruination of the sport because it means that a team could win the championship with one or two good races at the end of the year, just remember back to the early days of the sport when all you had to do was win the last race of the year and you were the world champion. That one race is all you had to win and you really didn't have to do much to get there, either. Give the new system a shot before you say how bad it is. Remember a few years ago when everyone said that those new LED lights were going to ruin the sport?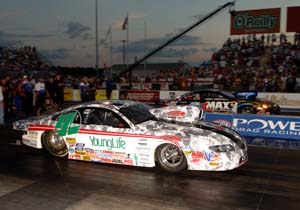 Edwards vs. Morgan
Pro Stock pretty much belonged to
Jason Line
in the performance category this year. His 6.558 in
Richmond
was, by far, the top run of the season. I know a lot of folks thought that a 6.5 was possible this year but most, like me, thought it would come from
Greg Anderson
. And while Greg's 6.588 win over V. Gaines (6.594) in
Virginia
got
Dragster's
call as the top race of the year in the class, I went with
Mike Edwards'
win over
Larry Morgan
in
St. Louis
. Both guys cut great lights and the final tally was 6.716 for Mike to a losing 6.715 and I thought that was the best race of the year. Hey, just to see Larry in those wacky glasses was worth voting for him!...Greg's win went down as the quickest side-by-side run in history but I've never been a big fan of the particular stat, but that's just me. Both runs were good and so were many others during the year. By the way, is a 6.55 at
Richmond
better than a 7.06 at
Denver
? Just thought I'd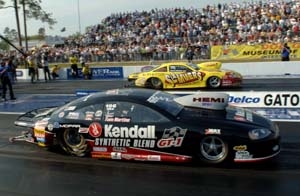 Martino vs. Enders
ask...I also thought that
Tom Martino
winning in
Gainesville
was a bigger deal than Jason's performance in
Richmond
. I know, Jason set all the records there but does that mean he had the best "event" of the year in Pro Stock? Obviously my line of thinking is in the minority but that's what makes things like this so neat, you have your opinion and I have mine. I was just impressed by the fact that Tom could get into a car that he had never been in before and win in the toughest class in the sport....With new teams coming into Pro Stock in 2007 the story here may just be which team can qualify at all of the events. That, in itself, will be a tough job.
Did you know
that in 2006 only the two
Summit Racing
cars, Greg and Jason, along with Mike Edwards and
Allen Johnson
qualified for all the fields?....Allen Johnson won the Most Improved Pro award and that is richly deserved. He and his dad, Roy, did wonders with their operation and along with Mike Edwards and
Jim Yates
they all had very good years and they should be anxiously looking forward to the 2007 season...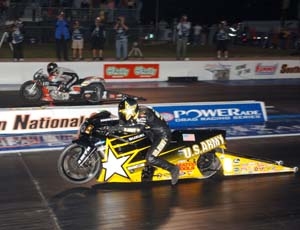 Brown vs. Hines
The motorcycle awards went to
Andrew Hines
for his come from behind performance in
Las Vegas
where he went from 27 points back to 37 points ahead of
Antron Brown
. I thought Antron's great performance in
Atlanta
was worthy of note, too.
Did you know
that at that race "AB" was the number one qualifier, he set low elapsed time and he won the race...on a holeshot in the final round? That's a pretty good event, don't you think?....The motorcycles in general put on a great show this year and, from what I hear, we should have a few new teams in action in 2007 and that will make it even harder to qualify and harder to win. But that's what makes this sport so great, there are no provisional starting spots, that is, you either are good enough to make the show or you watch on Sunday.
Did you know
that this year nine teams qualified at all fifteen races on the motorcycle schedule? And
did you know
that
Angelle Sampey
has never failed to qualify for an event?...By the way, I had
Tom Bradford
on my ballot for the Most Improved Pro racer this year.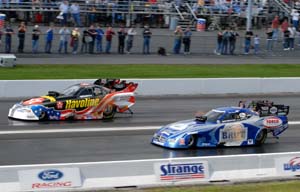 Capps vs. Burkhart
Among some of the other awards, Frank Manzo also won the "Outstanding Performance, Period" award for his
Richmond
weekend and I guess that was, well, outstanding. When everyone else has the same opportunity to run the big numbers that you do and you're the only one to do it, that's outstanding. Of course I thought
Bob Tasca's
5.53 in a losing cause in
Richmond
deserved the Oh No award. I mean, he ran 5.53 and lost!! I also happened to like
Robert Book's
great 6.396 at that same event, a run that kind of got glossed over in all the other numbers that were being thrown around at that race....Upset of the Year went to
JR Todd
for his huge win in Denver while I included
Phil Burkart's
win at Maple Grove. JR had a great season and his
Denver
win was stunning, but Phil beat
Ron Capps, Gary Scelzi, John Force
and Robert Hight to win in
Reading
and that's no easy feat. OK, let's give 'em both the award....And while
Dragster
gave the Hard Luck Award for the season to Doug Kalitta, and while it's certainly hard to argue with that, how about
Morgan Lucas
, who got an oil-down penalty at the last race and that kept him out of the top ten? Ouch.
The folks at National Dragster do a wonderful job with the magazine and I have watched it evolve over the years and it just keeps getting better and better. Did you know that the first edition of National Dragster was published on February 12, 1960 and that before that the official NHRA publication was called the Tie Rod?...In these days of electronic media, blogs and web sites it's tough to keep up and compete and the folks at Dragster have done that and more. So let's give a season ending award to everyone that works on and at National Dragster and thanks for letting me cast my votes...for what they're worth. And Happy New Year!!




NHRA: 10 Most Recent Entries [ top ]

Jun 03- NHRA Mello Yello Drag Racing Returns Beginning with Two Indianapolis Events in July
Jun 03- A Message From Summit Motorsports Park President Bill Bader Jr.
May 21- Second JEGS SPORTSnationals Added, to be held in mid-August in New England
May 20- DENSO Sponsors NHRA Champs' Shelter-in-Place Dachshund Race
May 14- To Our Racing Community-From Racers for Christ
May 13- The Name Game Part I
May 12- Morgan Lucas, Son of Forrest and Charlotte Lucas, Appointed President of Lucas Oil Products, Inc.
May 05- Cancellation of the 14th Annual Summit Racing Equipment NHRA Nationals
May 04- NHRA Announces Revised Plan to Restart 2020 Mello Yello Drag Racing Series
Apr 29- DSR Drivers Join Global Superstars in Fight for COVID-19 Relief