Wed, 27 Dec 2006, 08:08 AM



Tom Hammonds Breaks Ground, Begins Final Preparation for Move Into New Race Facility



Courtesy of GM Racing



Chevy Cobalt Pro Stock Driver and Former NBA Standout Gearing up For 2007



CRESTVIEW, Fla. --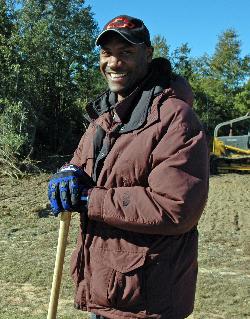 Tom Hammonds
In just a few days, Tom Hammonds will be moving his Chevy Cobalt NHRA Pro Stock race team into a new raceshop in the Florida panhandle, a few miles outside of his hometown of Crestview. The 39-year-old Hammonds is ready to face the challenges of once again running his own professional race program, taking delivery of a new Rick Jones-built Chevy Cobalt and hiring Jimmy Oliver to head-up the team's fledgling engine-building program.
A former NBA power forward and two-time all-ACC basketball standout at Georgia Tech, Hammonds entered his first NHRA Pro Stock race at Englishtown (N.J.) in 1997, and qualified for his first 16-car field later that September at Reading (Pa.). Hammonds announced his retirement from the NBA in Sept. 2001, and then three weeks later, advanced to his first career final round at the NHRA Fall Nationals in Dallas. His second career final round came the following week at the ACDelco Nationals in Las Vegas.
In 2002, Hammonds qualified a career-best second at both Gainesville (Fla.), and Chicago (where he was runner-up to Bruce Allen). At the 2003 NHRA Winternationals in Pomona, Calif., Hammonds recorded a career-best speed of 202.52 mph. His best finish was in 2002 when he won 12 eliminator rounds and ended the season 14th in the points standings.
Following his sabbatical from the sport in 2003, Hammonds completed final coursework in the GM Minority Dealer Development Program, and then opened Tom Hammonds Chevrolet in Darlington, S.C. in May of 2004. He sold the dealership in December 2005 to focus full time on his Pro Stock drag racing career.
How is the new raceshop coming along?
"We broke ground just a little over two weeks ago. It's been a long, long process because there are so many things you have to do when you want to build something new including getting all of the proper permits from the county, the city of Crestview and the town of Holt, which is where the shop is. Everybody in the whole county and the city of Crestview have been so cordial and helpful, and we've been very fortunate to be able to move forward like we have. The building is scheduled to hit the premises at the end of this month. It's a metal building, it's going to be around 11,000 square feet, so it's going to be big enough for what we want to do, plus there will be room to expand as well. Once the building hits the ground, the contractor said it only takes about two or three days to erect and then we'll be ready to move in. I'm like a kid in a candy store. I cannot wait."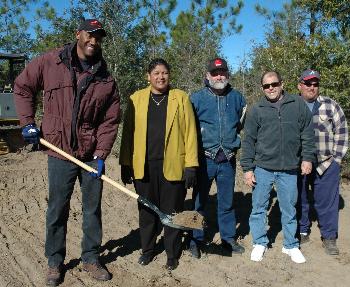 Hammonds at groundbreaking.
What will it take to field a competitive NHRA Pro Stock race team?
"It's going to take a great team with everyone pulling in the same direction, long hours, and obviously, a great engine program. I read an article in the middle of the year where Allen Johnson said that if you're not making a lot of horsepower then you might as well stay home. And that's true. That's what makes this program so exciting is that we're able to have our own engine program with Jimmy Oliver, who I feel is one of the best engine builders in the country. I had some relative success when I raced before and that was without my own motor program. Now we're going to have our own engines and our own facility and I have a chance to devote 100 percent of my time to this program. We're going to be successful. I'm not saying we're going to come out and set the world on fire and win the championship in 2007, but we're going to be competitive. I believe we'll win some races and I think we'll have a successful year. My goal is to finish in the top 10. If we finish in the top 10 that would be an outstanding year for us, especially coming out the first season. As long as we can build from that and progress every year, then my ultimate objective is to win the championship, and that is a very attainable goal."
How is the engine program progressing?
"It's pretty good. We have the dyno all set and ready to go. Soundmaster, who is actually doing our dyno room, is scheduled to have it delivered the first week of January. Jimmy Oliver is the head engine builder and has been in Florida for the last two months working on our engines. We have a temporary facility that I had as a personal raceshop that we have behind my house in Crestview. We've kind of transformed that into an engine shop. We have a number of parts and pieces we've been working on and that's where we'll be until January."
Do you have some of the same equipment as before?
"It's kind of funny how everything works out because God knew I was going to be coming back to Pro Stock racing soon, so I never sold my truck and trailer. I had it repainted white and we actually just picked it up from Michael Brotherton in Texas about two months ago. We took delivery of a brand-new Rick Jones-built Chevy Cobalt about a month ago. Rick has built us a tremendous racecar and I fit very well inside, I feel very comfortable and it looks like it's going 210 mph standing still."
How soon do you think you'll be able to test?
"We'll have a majority of our short blocks, we're building three engines right now, we'll have a majority of our short blocks done before Christmas, and that's 80 percent of the work right there. The top half of the engine should be finished pretty soon after Christmas. Our plan is to actually hit the track the second week of January."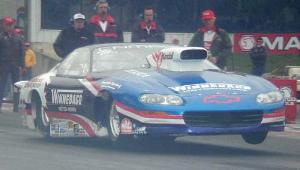 Hammonds at E-town in 2000.
What made you want to get back into NHRA Pro Stock?
"All I've done my whole life is play competitive sports, and when I left Pro Stock racing three years ago I couldn't wait to get back into it. But not only that, I love the class. I think it is one of the most competitive forms of motorsports in the world and it's where I grew up, watching Lee Shepherd and Warren Johnson and it's something I wanted to do when I was younger. But God blessed me to play basketball and I wanted to take that as far as I could go."
How would you rate your basketball career?
"I think it was pretty good. The average duration for an NBA player is three years and I was blessed to play 12 years, something most people don't get a chance to do. I'm still pretty young, and I have the chance to potentially race for the next 30 years. It's a dream come true for me, and I want to use this opportunity to help others. I want to get involved in the school systems, help the kids and come up with some type of program where we can get them to come out to the racetrack, give a lot of the kids some encouragement that if you believe you can do something in life, and you believe it 100 percent and trust in God, then you can do it."
What was it like having college scouts from every major university wanting you to go to their school?
"It was a madhouse. At every game we had at least 10 or 12 college scouts, but it was a lot of fun. Everywhere we went to play it was standing room only and it's a time in my life I'll never forget."
Besides Georgia Tech, who were some of the other colleges that recruited you?
"Let's see, Kentucky, UCLA, Wake Forest, DePaul - pretty much everybody in the country. I got a chance to be a MacDonald's All American, and that was a lot of fun. Being a high school kid and having a chance to do some of the things that I did, and travel to some of the places I went, was unbelievable."
With all the hoopla, how were you able to stay grounded?
"My parents for one, but I also grew up in the church and I think that's where my background came from. In all things you have to be humble in what you do - I'm not a boastful person and I thank God for what He's given me, and that's how I stay grounded."
What do you do to stay fit?
"Cardiovascular exercise is very important to me. If your body is in shape, then your mind is in shape, and that makes you much stronger as far as the ability to make difficult decisions. I have a stationary bike, and although I'm not Lance Armstrong on it, I will ride three or four times a week, and then mix that in with some light weight training, just to maintain what I have and keep that little edge."
Where did your love for drag racing come from?
"From my dad and going out and watching him, that's probably where I got bit by the bug. Coach Cremins hated the weekends we had off because he knew I was out somewhere racing, or watching a race, and he hated that. He always wanted to make sure all of his players were okay, and that's fine, but I was always trying to find a race somewhere."
Bobby Cremins called you the hardest-working player he ever coached.
"That comes from my background. Growing up watching my grandfather, I spent a lot of time with him, and he was a very hard-working person. I just wanted to be like him. I realized very early in life that if you're not willing to work toward your goals and what you believe in, then you're not going to be successful. That's why I'm excited about our program. The fact that you get out of something what you put into it, and if you put the time and the sweat and the effort toward becoming a Pro Stock championship team, then eventually you'll get there."
At 6'9", how do you fit into your 2007 Chevy Cobalt Pro Stock car?
"I get asked that all the time and I get a big kick out of it. I tell them the crew fits me in there with a big shoehorn. But I fit very comfortably. Rick Jones did an outstanding job taking my height into consideration, the pedals are a little bit different, and the steering column fits great, and I'm looking forward to letting the clutch out and seeing what our Cobalt can do. I'm ready to go racing."




NHRA: 10 Most Recent Entries [ top ]

Jun 03- NHRA Mello Yello Drag Racing Returns Beginning with Two Indianapolis Events in July
Jun 03- A Message From Summit Motorsports Park President Bill Bader Jr.
May 21- Second JEGS SPORTSnationals Added, to be held in mid-August in New England
May 20- DENSO Sponsors NHRA Champs' Shelter-in-Place Dachshund Race
May 14- To Our Racing Community-From Racers for Christ
May 13- The Name Game Part I
May 12- Morgan Lucas, Son of Forrest and Charlotte Lucas, Appointed President of Lucas Oil Products, Inc.
May 05- Cancellation of the 14th Annual Summit Racing Equipment NHRA Nationals
May 04- NHRA Announces Revised Plan to Restart 2020 Mello Yello Drag Racing Series
Apr 29- DSR Drivers Join Global Superstars in Fight for COVID-19 Relief