Tue, 26 Dec 2006, 11:47 AM



The One that Didn't Get Away



By Bob Frey


Photo copyright 2006 Auto Imagery, Inc.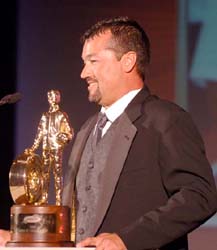 Randy Wilkes
Randy Wilkes is the 2006 NHRA Lucas Oil Stock Eliminator World Champion. It wasn't easy, but the forty year old from Zanesville, Ohio finally secured the title on the last day of the season when his closest competitors, Tibor Kadar and James Paul came up just a little short. While it's great to win, Randy knows how the other guys feel, since he's been close before, not in racing, but in another sport. "I used to do a lot of tournament fishing," Randy said. "In fact, I won the regional championship a few years ago and I got a gold card to get in all the tournaments free the next year. That's a lot of fun but there's a lot of luck involved, too and it's tough to lose when a big one gets away." And while Randy thoroughly enjoyed fishing, and still does, his first love is drag racing. "I started going with my dad a long time ago," he said. "Dad was racing when he was about sixteen and it's been in our family ever since." Today both Randy and his older brother, Joey, race and more often than not they can be found going deep into eliminations.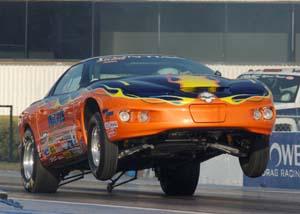 Randy Wilkes
Running out of the very tough Division 3 area, Randy had his best season by far in 2006. "I think I finished sixth or seventh in the division once," he said. "But this year everything worked out good." Yes it did and it all started out with his big win at the national event in Bristol, a race that put him in the top twenty in the national points and that's when he started to think that he had a chance at doing something special. "We've (my brother and I) raced for a long time and it was exciting to think about a championship." As the year progressed and he added a runner-up at the Division 2 race in Atlanta, Randy's dreams of a national championship started to come into focus. "I had never been out to Las Vegas or Pomona but I knew that I had to go. So Mike and I loaded the car up and headed west." Mike, by the way, is Mike Means, the rather imposing figure who accompanies Randy to almost every race. "He's been around for years and he used to race with my dad. He works for the county so he is able to accrue days off to come with me to the races. He does everything at the track and I couldn't do it without him." Rumor has it that Michael also spends some time moonlighting as a bouncer at a local establishment. "All he has to do is start coming your way and people run," Randy said. "He is a big guy but he's the nicest guy in the world." When they were in Vegas at the Division 7 race, Randy met one of his challengers for the first time. "I had never met Tibor before Vegas," he said. "I walked in the staging lanes and I saw Peter (Biondo) talking with this young guy. I walked over and Peter smiled and stepped in between us and said, 'In this corner, Randy Wilkes. And in this corner, Tibor Kadar. Now go to your corners and when you hear the bell, come out fighting.' It was pretty cool and it broke some of the tension." The tension was plentiful in Pomona where Tibor needed to win four rounds to secure the championship, and when he lost in the fourth round it was all over. "I was at the end of the track and my stomach was in knots. It was so great to finally win it and get it over with."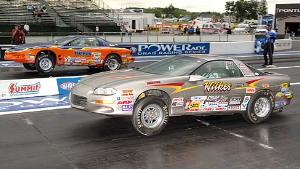 Joey vs. Randy
Not to be lost in all the excitement about his championship is the fact that Randy's brother, Joey, is also a pretty good racer and he spends time between racing his Stock and Super Stock car. "My dad actually bought a '68 hemi-'Cuda when they were new," Randy said. "He didn't keep that one but we do have a hemi car that my brother runs. He had a pretty good year with it, too." That "good year" consisted of a pair of final rounds in the highly touted Hemi Shootouts, one at the Sportsnationals in Columbus and the other at the ultra-competitive Dutch Classic at Maple Grove. Brother Joey also won Stock Eliminator at the Columbus national event. Like most brothers, Randy and Joey are very competitive and it's interesting to note that not once but twice they finished with the exact same points total on the NHRA national tour. Joey does get to drive the hemi car, something that he hasn't shared with his younger sibling yet and that doesn't seem to bother Randy. "That's a fun car to race," Randy said. "But it's Joey's and I'll let him drive it. I never have driven it and I'm happy with my car." His car is a 2001 Pontiac Firebird with a 346 cubic inch engine. With help from engine builder Todd Quinn at Platinum Engines, it performed flawlessly most of the season. "The Bristol race was indicative of how well the car can run. It was right on all weekend and it pretty much ran that way most of the year." His Bristol win included a Perfectly Strange Award for running right on his dial-in and a spectacular final round package that included a .005 reaction time and 10.55 run on a dial of 10.54. "The car is one of the real reasons that I won this year," Randy said.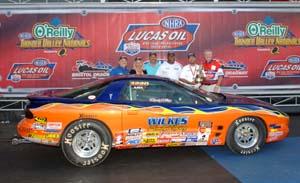 Wilkes and crew celebrate win.
While Randy was exposed to racing at an early age, and even though he raced for a number of years, he took off a few years when his daughter, Raeann was born. "Like anything, if you want to do well you have to put a lot of time and effort into it. When Raeann was born I decided to spend some more time with the family." His family also consists of daughter Bailey (11) and his very supportive wife, Cori. "As much as I like racing, with the girls I get to spend a lot of time at basketball games, dance recitals and gymnastics. Nothing's better than watching the girls in their activities." And when he isn't watching the girls in one activity or another, Randy earns his living making cabinets. "We do a lot of antique restoration and reproductions," he said. "It's an art that I learned from my grandfather who is still active in the business at 85 years old." The family also owns a used car lot in their home town of Zanesville, Ohio, where they sell "basically anything the customer wants." Let's see, fisherman, drag racer and cabinet maker, you don't see that combination often in this sport do you?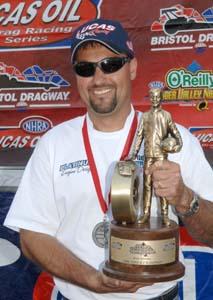 Wilkes with one of his Wallys.
Randy Wilkes is the perfect example of how consistency pays off. Other than his Bristol victory he didn't win another race this year, but he did go deep into eliminations at a lot of races. The runner-up at the D-2 race and six rounds at the Las Vegas event all added up to the first national championship in the Wilkes' family history. Now he'll freshen the car up over the off-season and then go to Florida to open up 2007. "I'll go to the Bradenton, Orlando and Gainesville division races as well as hitting the Gatornationals," he said. "After those four races and being very early into the season I should know if I have a shot at defending my title." If he drives the way he did this year and if the car continues to perform well, too, Randy could put a lot of points on the board early and make it tough for anyone to take his title away next year. "I still have the smile on my face and this is something that I'll remember forever. They had a party for me at one of the clubs in town and I was really surprised to see all the racers who showed up. It meant a lot to me." And so does his 2006 Lucas Oil World Championship, the one that didn't get away.
In addition to his dad, his brother and Mike Means, Randy would like to thank his wife, Cori, for all of her support as well as Dave Redman, the entire Nicewanger family, everyone at Jeg's who helped him out, Bill and Valerie Thomas and all of his fellow Division 3 racers. "It's going to be quite a banquet this year with four national champions. It should be a lot of fun."




NHRA: 10 Most Recent Entries [ top ]

Jun 03- NHRA Mello Yello Drag Racing Returns Beginning with Two Indianapolis Events in July
Jun 03- A Message From Summit Motorsports Park President Bill Bader Jr.
May 21- Second JEGS SPORTSnationals Added, to be held in mid-August in New England
May 20- DENSO Sponsors NHRA Champs' Shelter-in-Place Dachshund Race
May 14- To Our Racing Community-From Racers for Christ
May 13- The Name Game Part I
May 12- Morgan Lucas, Son of Forrest and Charlotte Lucas, Appointed President of Lucas Oil Products, Inc.
May 05- Cancellation of the 14th Annual Summit Racing Equipment NHRA Nationals
May 04- NHRA Announces Revised Plan to Restart 2020 Mello Yello Drag Racing Series
Apr 29- DSR Drivers Join Global Superstars in Fight for COVID-19 Relief