Sat, 23 Dec 2006, 01:45 PM



Early Holiday Gifts for Mike Ashley's Crew



Courtesy of Matthew Brammer



GAINESVILLE, Fla. --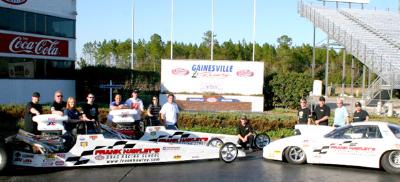 (L - R) Ben Radcliffe, Mark Adkins, Kalee Adkins, Cameron Moore,
Darrin Bell, Roger Hughes-Bell, Nick Corradi, Robb Hauser, Frank Hawley,
Mick Sweeney, Brian Corradi, Tom Abbett, Steve Boggs.
Holidays came early for the team members of the Knoll Gas-TORCO Race Fuels, Inc. Funny Car; driver and team owner Mike Ashley treated every member of his team to a three-day licensing experience at Frank Hawley's Drag Racing School in Gainesville, Fla. Every person now working on Ashley's car is licensed to drive either Super Comp or Super Gas in NHRA competition.
"These guys worked so hard this year, and were incredibly successful in a short amount of time. I wanted to say thank you in a special way, and, since they all have a passion for racing, I don't think there was a better choice," Ashley said.
"Since all the guys came in for the PRI show in Orlando, we just extended their stay and took them up to Gainesville to Frank (Hawley)'s school for the classes," he said.
In all, 12 students earned their license, including crew chief Brian Corradi and his son Nick. Aside from the fun of the class, Corradi is excited about the performance advantage the team now holds.
"Since everyone has experienced firsthand the thrill of the speed and just how quickly things happen on the track, it gives them a new perspective on how important every job is, and how little things make a huge difference," Corradi said.
Hawley agrees 100 percent. "When crew members see the critical nature of their jobs to the overall success of the team, they look at their jobs in a different way," Hawley said.
"I've had different teams and corporate clients send their staff through the school before, but I think Mike really understands the whole picture for success," he said. "We had a chance to work together last year for a little while, and he was always striving to learn and improve so he could get better behind the wheel.
"I'm looking forward working with them more this season and keeping the lessons we learned together here fresh in their minds," Hawley said.
A student of personal development himself, Ashley quickly acknowledged the training as important. He said he is focused on passing the championship vision onto his team, and he thinks he has a great start.
"First and foremost, the school is a blast, and Frank does a great job. We all have a love of drag racing in common, and this just brings us together as a team," Ashley said.
"As far as the value of the training and focus it gives us, I personally feel there isn't a price tag you could put on that. If we all work together, as one group, one team, we have the championship in our reach."
"Really, though, racing is just a heck of a lot of fun, and I wanted to give that feeling to the guys. The rest will come next year," Ashley said.




NHRA: 10 Most Recent Entries [ top ]

Jun 03- NHRA Mello Yello Drag Racing Returns Beginning with Two Indianapolis Events in July
Jun 03- A Message From Summit Motorsports Park President Bill Bader Jr.
May 21- Second JEGS SPORTSnationals Added, to be held in mid-August in New England
May 20- DENSO Sponsors NHRA Champs' Shelter-in-Place Dachshund Race
May 14- To Our Racing Community-From Racers for Christ
May 13- The Name Game Part I
May 12- Morgan Lucas, Son of Forrest and Charlotte Lucas, Appointed President of Lucas Oil Products, Inc.
May 05- Cancellation of the 14th Annual Summit Racing Equipment NHRA Nationals
May 04- NHRA Announces Revised Plan to Restart 2020 Mello Yello Drag Racing Series
Apr 29- DSR Drivers Join Global Superstars in Fight for COVID-19 Relief