Sat, 23 Dec 2006, 01:25 PM



DSR, Stevens, and J&J to Continue Pro Stock Partnership in 2007



Courtesy of Judy Stropus


Photo copyright 2006 Auto Imagery, Inc. and NHRA





INDIANAPOLIS --
Don Schumacher confirmed today that Don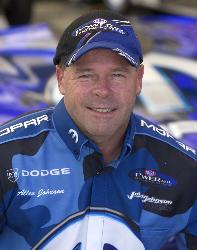 Allen Johnson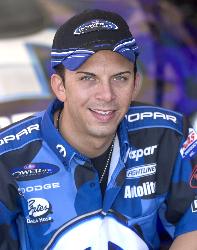 Richie Stevens Jr.
Schumacher Racing and Johnson & Johnson Racing will continue their Pro Stock partnership into the 2007 NHRA POWERade Drag Racing Series, and Richie Stevens Jr. will again drive the Team Mopar/Valspar Dodge Stratus R/T as teammate to Allen Johnson's Mopar/Johnson & Johnson Racing Dodge Stratus R/T.
Schumacher partnered with J&J, based in Greeneville, Tenn., at the end of 2006 to move Stevens and the DSR-owned Pro Stock Dodge to the J&J team. Stevens' performance improved markedly, as he won two of the five events entered under the new banner, as well as the "Who Got the Light Award" for the closest margin of victory in 2006 (.003 of a second).
"I am thrilled to be able to continue this association with Allen Johnson and J&J Racing with Richie," said Schumacher. "J&J clearly knows how to build, prepare and set up a Pro Stock Mopar Dodge. The team's ability to put together a winning combination last year, both for Allen and Richie, was demonstrated race after race. We look forward to continuing to make strides and advancements in the overall Mopar program with J&J.
"This partnership also gave Richie the platform to hone his talents as one of the best 'leavers' in the business. I am proud to have him on my team. I am also honored to have Richie's longtime sponsor Valspar continue to support the team."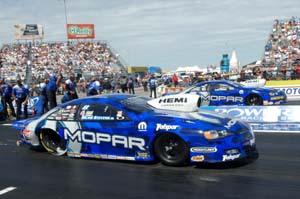 Stevens vs. Johnson
Valspar, based in Minneapolis, with its House of Kolor division out of Picayune, Miss., is known for its longtime support of Stevens Jr., and is the official paint supplier for all the DSR teams.
Mark Ingersoll will handle crew chief duties for both teams, with crew-chief assistants assigned to both teams. J&J's engine operations are headed up by Roy Johnson, with Ingersoll handling decision-making on clutch and chassis. Two additional crew members on each team will handle maintenance and turn-around.
"I'm looking forward to it," said Stevens, of New Orleans. "Our '06 season really improved after we made the move over to Roy and Allen Johnson for engines and performance, with the immediate success (wins) in Dallas and Las Vegas. I can't be thankful enough to Roy and Allen, and Mopar, for sticking with me through everything, and I'm very happy to go into '07 with them.
"It shows when you have team chemistry, how good things can be," added Stevens.
Said Allen Johnson, winner once in 2006 and sixth-place points finisher: "The beginning (of this association) in '06 was great. Richie went out and won two of the five events entered. The sharing of info from two-car teams in this incredibly competitive Pro Stock class is crucial. Engine development can occur faster as well as on-track clutch and chassis management. Look for more gains in '07 as we will both be in Rick Jones cars."
In all, Stevens finished ninth in 2006 points and has six career Pro Stock national-event victories. Johnson was sixth in '06 points and has four total career national-event wins.




NHRA: 10 Most Recent Entries [ top ]

Jun 03- NHRA Mello Yello Drag Racing Returns Beginning with Two Indianapolis Events in July
Jun 03- A Message From Summit Motorsports Park President Bill Bader Jr.
May 21- Second JEGS SPORTSnationals Added, to be held in mid-August in New England
May 20- DENSO Sponsors NHRA Champs' Shelter-in-Place Dachshund Race
May 14- To Our Racing Community-From Racers for Christ
May 13- The Name Game Part I
May 12- Morgan Lucas, Son of Forrest and Charlotte Lucas, Appointed President of Lucas Oil Products, Inc.
May 05- Cancellation of the 14th Annual Summit Racing Equipment NHRA Nationals
May 04- NHRA Announces Revised Plan to Restart 2020 Mello Yello Drag Racing Series
Apr 29- DSR Drivers Join Global Superstars in Fight for COVID-19 Relief