Sat, 23 Dec 2006, 07:17 AM



'Tis The Season To Be Merry!!



By Bob Frey


Photo copyright 2006 Auto Imagery, Inc.





With the holiday season upon us and most folks back home after visiting the PRI show in Florida this past week, it's time to think about what some of the top drag racing stars on the NHRA
POWERade
tour want for Christmas. I know, most of them have everything, but as happy as they may be, almost everyone could use a little something special in their stocking this year. With that in mind, I thought about what
Santa
may be reading if he were looking at the Christmas list of some of the top names in the sport. For example...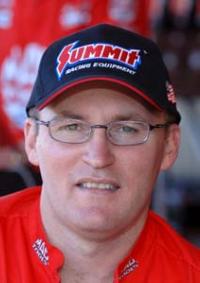 Doug Kalitta
Dear Santa:
I was a really good boy this year. I had more holeshot wins than anyone else in the dragster class this year and my 4.420 run in
Chicago
two years ago is still the quickest run in the history of the sport. I've finished in the top five in points in eight consecutive seasons but there's one thing that I haven't accomplished in my career that I would like to do. So, this year, would it be possible for you to bring me a championship? Please...
Sincerely,
Doug Kalitta
Dear Mr. Claus:
Gee, there really isn't much that I need. I have four POWERade championships and three of them in a row. My "run" in Pomona at the last race of the season was more than a guy could ask for, so I'm pretty happy, so how about this? Could you please bring all of our troops home safe & sound this year? We love them and what they do for us, so any help you could give would be greatly appreciated.
Signed,
The "Sarge"
Tony Schumacher...U.S. Army Top Fuel dragster

Larry Dixon
Santa:
I know that I've been blessed over the years. I have a couple of POWERade championships, a beautiful wife, three great children and a car owner who is absolutely the best. What I don't have is a sponsor. Now I don't know if that's in your department or not, but as you travel around the world I'm sure you'll come in contact with some company that could benefit from being on a Top Fuel dragster. How about one of those telecommunications companies? Yeah, that would be nice. Oh well, if you can't do that, a nice pair of socks would be fine. Whatever
Thanks for all the great Christmas presents over the years,
Larry Dixon
Yo, dude!!
The weather is great out here right now, and I have to admit, you've been pretty good to me over the years so I have no complaints. Four times you brought me a runner-up finish in the points and that's cool, still, a number one on my car would be even better. You know that my car owner, Mark Carrier, used to be a boxer, so don't make me get tough with you. A nice TF championship under my Christmas tree isn't asking too much, is it? And if you can't do that, how about a year with no shots of me on the ESPN highlight reel? I think I've seen that run a million times already, and that's just this week. Have a nice Christmas and drive carefully.
Your warm friend,
Cory Mac

Dear Mr. Claus:
As one businessman to another I respect everything that you do. We've both built our businesses from scratch and have gained the respect of a lot of people. Having said that, I would like to be able to run the entire NHRA tour this year and I could use a little help. Those Barrett folks, Patty and Bill, are very nice and I think I'll work with them this year, and that driver they had last year, Scott Weis, he did a nice job too, so I think I'll have him "pull my sleigh", if you know what I mean. Now if I could only get one or two more sponsors on board I could travel all over just like you do. Can you help?
Signed,
Scott Griffin...TF car owner
PS...It would be nice if Brian Weis could drive the family's TF car this year. See what you can do about that.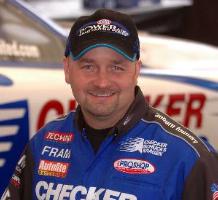 Phil Burkart
I Got Your List!!
Hey, big guy, it's not hard to know what I want this year...a ride!! That's it.no socks or underwear like last year (and the previous thirty-two years) just a ride. If you can't help me, who can? I was really good last year, finished 8
th
in the points and won a race, so this shouldn't be too tough for you to handle. If you can't help, just pass this letter on to Mr. Schumacher will you?
Waiting for your reply,
Phil Burkart
Hey, Claus!!
Look, I'm really busy, in fact we're still trying to get those twenty thousand toys out to the kids here in California. You know, the ones the folks brought by for our car show earlier this month. Looks like I'm doing your job for you so maybe you can help me. My daughter is going to race a Funny Car this year and I'd just like her to have a nice safe year. That would be the best present of all and that's all I need. Well that and another good year for the TV show. And a championship for one of my boys, Robert and Eric. And some nice presents for Autumn. And a good season for Densham. And a championship for Whit. OK, so I was only kidding about that one. No, good ahead, he deserves it. Bottom line, Claus, I just want everyone to enjoy what they do as much as I do. Oh yeah, you might want to think about changing that light on what's his name's nose, no drag racer likes a red light.
John Force...14x champ

This is from both of us, Santa:
Hi, we're the Pedregon Brothers and we want to ask for another championship. I know, we've both won one already, but everyone wants more, don't they? I mean Dixon wants more socks so I don't think we're asking for too much. We do want to thank you for all of your help in the past, like when you gave us the folks at Frank & Son Card show and the Palms in Las Vegas. Hey, we love the Palms and they love us, in fact, you'll see more of them around this year. Speaking of the Palms, could you help out the Sacramento Kings a bit? Just asking. Anyway, for either the "Q" car or the Advance Auto Parts car, a nice title in 2007 would be fine. Oh, and you don't have to read Wayne Dupuy's letter, 'cause he's asking for the same thing. See you around...
Tony & Cruz

Dear Santa:
If anyone knows how you feel at this time of the year, it's me. Gimme, gimme, gimme is all I heard last year. I'm glad you take a little of the pressure off my shoulders, still, if I get one more letter that's addressed to you I'm gonna scream. I swear these people must think I'm you. Even with all the confusion I had a great year and really enjoyed myself and I'm looking forward to another good season with a bunch of teams. Oh yeah, there is one thing I want, an unlisted phone number.
Thanks for letting me blow off some steam,
Evan Knoll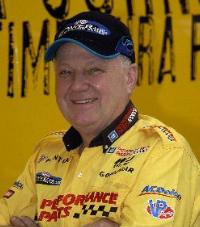 Warren Johnson
Dear Mr. & Mrs.Claus & All The Elves:
I'm writing this on behalf of all the Pro Stock teams, well all of them except those two
Summit
guys. You're smart, you know which ones I mean. We would like about 30 extra horsepower this year. Not 30 HP between us, 30 hp each. With all of the help you have that shouldn't be too hard. If it's a problem, just give it to that "Grumpy" elf and he'll take care of it for you. Speaking of "Grumpy," how about a spot in the Hall of Fame for him next year? But if you can only do one thing, give us the power and let "Grumpy" take care of himself.
Sincerely,
W. Johnson
Mr. Claus:
I'm not going to beat around the bush, or the tree, because all I want is a Christmas tree with no red lights on it. I ask for this myself but I know I speak for all the Pro Stock Motorcycle riders out there.
Thanks,
S. Johnson
Dear Santa:
I'm writing this on behalf of all the other Top Alcohol Funny Car teams out there. Could you please give Frank Manzo so much work at his regular job that he won't be able to come to the races next year? If not, could you give us enough Paul Mitchell hair care products that we'll at least look good when we're racing Frank? What, you can only get Paul Mitchell products in beauty salons and even you can't change that? Great. OK then, let Alexis DeJoria win all the races in 2007, at least we know she'll look good.
Signed,
Will Hanna
P.S. Throw a little of that Paul Mitchell stuff in my stocking, will you?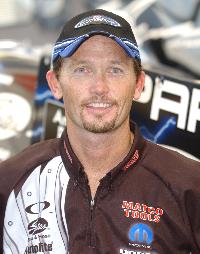 Jack Beckman
Dear "S" (that's Santa, not Schumacher)
All I want is an answer....Top Fuel or Funny Car. OK, so maybe the "S" was for Schumacher.
Yours truly,
Jack
"the quickest & fastest Funny Car driver in the world so why would I switch to a dragster"
Beckman
Santa:
Just in case you didn't get my other letter.I could use a ride. Hey, maybe you'd like to take a break from the sleigh and let me drive it this year. Just a thought.
Phil B
Hey, Old Man!!
With all these people asking you for things I thought maybe you could use a little money, if so, give me a call. And if you really want to get those presents delivered in a hurry, I have just the thing to help you out. Call me...or Doug...or Scott.
Your flying friend,
Connie Kalitta

To The Delivery Department at the North Pole: Please disregard the above letter, if you need some help with delivering those packages, call us.
Scott Carmical
National Account Manager
UPS Freight

To The Delivery Department at the North Pole:
Please disregard both of the above letters. If you really want something fast, call us. We deliver more packages than Santa every day. OK, almost every day.
Kirk Heinbuch
Motorsports & Events Manager
Summit Racing Equipment
To The Delivery Department at the North Pole:
If you need help shipping those really big packages, like the horse that Mike Dunn wants or the ride that Phil Burkart wants, call us, we handle the big stuff.
Mike Entzminger
Mach 1 Air Services

Dear Santa:
I know you're busy and I'd like to help you. So, for those hard to shop for people on your list, may I suggest a really great picture of their favorite car in action? We have millions in stock and they're all ready to go, so just have them contact us at
http://www.autoimagery.com
.
Rick Shute, Bob Hesser & Dave Kommel
Auto Imagery
(dah!!)
Mr. C.
Please disregard the above letter, if a drag racing fan really wants a great gift this year, give them the DVD about the history of Lions Drag Strip It's great.It's the best.It's a must have for every drag racing fan and the guy who put it together is a genius, if I do say so myself. You and the fans can learn more about it at http://www.lionsvideo.com.
Yours in drag racing,
Don Gillespie
PS. Did I mention that it's great? Hey, even Bob Frey has a copy and he loves it. In fact, he said "It's great." Really, I wouldn't make that up.

Dear Santa:
cc: Willie G. Davidson
I just want the ride on the Vance & Hines Screamin' Eagle Harley-Davidson next year. No socks, give them all to Larry, I just want the ride.
Sincerely,
Marco Andreano
Freddie Camarena
Connie Cohen
Tommy Grimes
Josh Helvie
Mike Kovacevich
Kurt Matte
Tommy Miceli
Scott Valetti
T. C. Christensen

Hey, Big Guy!!
I want one of those cute little elf suits like Bob has.
Please!!
Angelle Sampey
Dear Mr. Big Guy:
Please disregard the above letter and send me the elf suit instead.
Signed,
Les Welch
P.S. I take some pretty cool pictures, too, and you can find them at http://www.leswelch.com.

Well, I could go on, but you get the idea. As for me, I'm a happy guy. A few new sponsors for our teams, a ride for every deserving driver, sunny weather at all the races and an elf suit for Angelle is all I'm asking for. Oh yeah, and socks for Larry.

Have a great holiday however and wherever you celebrate it and may Santa bring you everything you're asking for this Christmas. OK, almost everything....





NHRA: 10 Most Recent Entries [ top ]

Jun 03- NHRA Mello Yello Drag Racing Returns Beginning with Two Indianapolis Events in July
Jun 03- A Message From Summit Motorsports Park President Bill Bader Jr.
May 21- Second JEGS SPORTSnationals Added, to be held in mid-August in New England
May 20- DENSO Sponsors NHRA Champs' Shelter-in-Place Dachshund Race
May 14- To Our Racing Community-From Racers for Christ
May 13- The Name Game Part I
May 12- Morgan Lucas, Son of Forrest and Charlotte Lucas, Appointed President of Lucas Oil Products, Inc.
May 05- Cancellation of the 14th Annual Summit Racing Equipment NHRA Nationals
May 04- NHRA Announces Revised Plan to Restart 2020 Mello Yello Drag Racing Series
Apr 29- DSR Drivers Join Global Superstars in Fight for COVID-19 Relief