Wed, 20 Dec 2006, 09:31 AM



One on One with Clay Millican



By Norm Froscher


Photo copyright 2006 Auto Imagery, Inc., BME Photography and NHRA





GAINESVILLE, Fla. --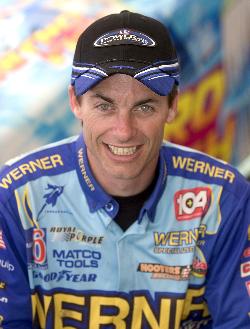 Clay Millican
Fairly long-time drag racing fans probably remember the situation.
Clay Millican was in the midst of tearing through the International Hot Rod Association's Top Fuel class and over in NHRA, Larry Dixon, from the storied Don "Snake" Prudhomme stable, was doing the same.
Soooo...
IHRA's then president, Bill Bader, issued a challenge. Let the teams race a best of three series to determine the over-all champion to whom he would give $100,000.
The only catch was the three races would have to be at his Norwalk facility, an IHRA stopping place and some stricter supercharger/blower rules, like the blower could only be run 25 over, mandated by IHRA -- which we won't go into greater detail -- would have to be in effect.
At that time we figured it best to get a response from Dixon's car owner, Prudhomme.
He developed a slight frown, as only the Snake can do and replied:
"If he wants to run against us, let him come over here and run in NHRA."
End of discussion.
Probably until now. NOW?
Millican continued to dominate IHRA, claiming six straight championships and 50 career wins through 2006, so last week he and crew chief Mike Kobler and team were testing their Top Fuel car at Gainesville Raceway, which you know is an NHRA track.
Right, Millican will be running the entire 23 NHRA/POWERade series, plus a handful of IHRA events in 2007.
So, in effect, he's taken up Prudhomme's request, except in each event it will not only be against Dixon, but also Tony Schumacher, Melanie Troxel and whoever else qualifies in those 16 car fields.
But more on that in a minute.
Let's hear from Millican. The Clay is not a contraction of Clayton for the Munford, Tenn. driver, but rather part of the 40-year-old's full monicker, Jimmy Clay Millican.
First time he climbed in a racecar he was 15 years old and that was in Jackson, Tennessee, but let him tell it:
"I'm 40 now, so that's a lot of years. My daddy had to sign for me to go race. That first car I ever drove down a race track was an orange '69 Dodge Charger with an 01 on the door and the Confederate flag, just like the General Lee on television," he chuckles.
Millican's love of racing probably followed his dad's.
"He had worked with Bobby Allison a little bit when Bobby Allison drove dirt cars. He drag raced back in the late 50s and early 60s. I can't tell you the first race I ever went to, but I can tell you the one that (virtually) stuck a hook in me. Like this is what I want to do. I saw Don "Big Daddy" Garlits race Ron Booker. I saw them match race at Lakeland Dragway, near Memphis, Tennessee. I was probably eight or nine years old, but I remember that."
After six straight IHRA titles, what now?
"Well, if we can just keep winning and keep the bills paid and keep the wolf away from the door, so to speak, so that I can keep living out this dream, I consider that to be very successful. We've got a lot of people who make their living off this team.
"My goal is to keep doing good, keep the sponsors happy so I can keep doing this and make sure these guys have a way to keep their house notes paid."
As to his primary sponsor, to follow Werner Enterprises, which was with him for those championships, Millican says there will be an announcement coming in a few days.
Now, don't tell Clay I told you, but I did see him and the crew putting some new decals on that pretty light blue rail in the pits. They read Torco Fuels, but you didn't read that here, okay?
Now, about that full NHRA schedule:
"We're going to run it one race at a time. Actually, the reason we wanted to test here was this was a new Brad Hadmen car and we have a lot of fuel system things we want to try. Evan Knoll and Kenny Koretsky (car owner), we're friends and they decided the sooner we go test, the better.
"I guess you could say this is like a pre-pre test session."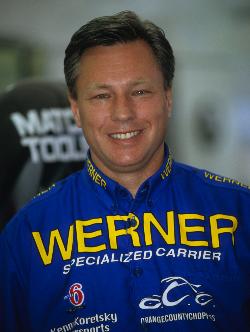 Mike Kloeber
What about crew chief Mike Kloeber, the veteran of wars with Prudhomme, Tom "Mongoose" McEwen and Dale Pulde.
"It was eight years ago he joined me and we were together for those six championships.
He was hired through Nitro Nicky Boninfante in '99.
Kloeber says it took no longer than half an hour after he was hired, to know Millican was the 'real deal'.
"I had worked with Snake, Tom McEwen and Dale Pulde, and I soon saw that Clay had some of the same qualities of those drivers," he says.
"You better believe there's special chemistry there. There might be a little fussing and yelling going on once in a while, but it's not that we're mad at each other. but we're just like brothers, you know."
That said, again, what's your 2007 goal.
:"I guess my goal would be I want to make some (NHRA) finals. I want to win my first NHRA race. I want to win some more IHRA races and I want to make the Chase for the Championship, that is, I want to have a shot at it. And obviously, the end goal is to win a championship.
"But the sponsors are the boss. If they want us to load the car up and go to Germany to run, if that's what we'll do."
And along that line, Millican vows he's the biggest lottery winner on earth.
"You know, a guy who went from driving a fork lift for 11 years, there's my first cousin, Mike Hayes, who does the clutch. He and I in high school talked about it and spent all our time going bracket racing and super comp racing.
"If I actually won the real lottery, I would still be doing just what I am doing now. If I didn't have to do anything, I would still be doing this."
Yeah, that and skateboarding.
Permit us to close with that story.
"My involvement in skateboarding, naturally, is with my two boys, Clay and Dalton, but the town where I went to high school did not have any place for the kids to skateboard.
"I kinda got involved to help the city of Munford raise money to build a skate park. We've actually worked on that for several years. My wife Donna did most of the work, but I kinda just showed up. But we've now raised enough money to where in a few months they'll start work on the park. It will be safe, a city-run park and the state of Tennessee actually matched the money we had raised."
Millican says his off-weekends, the few he has, are also spent with his smallest son, Dalton, who races ATV four-wheelers.
Other weekends, you KNOW where he'll be.




NHRA: 10 Most Recent Entries [ top ]

Jun 03- NHRA Mello Yello Drag Racing Returns Beginning with Two Indianapolis Events in July
Jun 03- A Message From Summit Motorsports Park President Bill Bader Jr.
May 21- Second JEGS SPORTSnationals Added, to be held in mid-August in New England
May 20- DENSO Sponsors NHRA Champs' Shelter-in-Place Dachshund Race
May 14- To Our Racing Community-From Racers for Christ
May 13- The Name Game Part I
May 12- Morgan Lucas, Son of Forrest and Charlotte Lucas, Appointed President of Lucas Oil Products, Inc.
May 05- Cancellation of the 14th Annual Summit Racing Equipment NHRA Nationals
May 04- NHRA Announces Revised Plan to Restart 2020 Mello Yello Drag Racing Series
Apr 29- DSR Drivers Join Global Superstars in Fight for COVID-19 Relief