Sun, 17 Dec 2006, 01:21 PM



How About Those Harley-Davidsons?



By Bob Frey


Photo copyright 2006 Auto Imagery, Inc.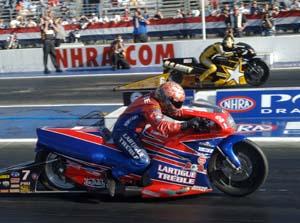 Treble vs. Brown
With a lot of the attention focused on the Top Fuel and Funny Car battles this year, it almost seemed like the chase for the 2006
POWERade
championship in the motorcycle class was overlooked, and that's a shame. The two-wheel competitors put on a great show this year and the title wasn't decided until the second round of the last race of the season and it really doesn't get much more dramatic than that. Only when
Craig Treble
beat
Antron Brown
in quarter final round was
Andrew Hines
assured of a third Pro Stock Motorcycle championship. Nice job Andrew..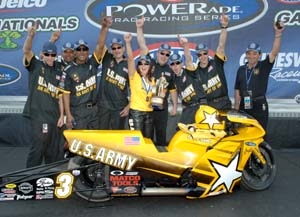 Sampey and team celebrate win.
The 2006 season sure didn't end up the way it started, did it? After a couple of races it looked like
Angelle Sampey
was well on her way to a fourth championship. Angelle, on her
Army
-sponsored Suzuki, won three of the first four races and seemed to be in a real comfort zone, and when Angelle gets in the zone, look out. She won in
Gainesville
,
Houston
and
Columbus
, and in the only race she didn't win,
Atlanta
, she lost on a holeshot to
Geno Scali
, one of only three such losses for Angelle all year long. The real surprise of the year in the class might have been the fact that after those three quick wins, Angelle would not visit the winner's circle again all season.
Did you know
that the eleven race drought for Angelle is the third longest of her career? After she won her first race in
Maple Grove
in 1996 she went winless in thirteen races until the
Topeka
event of 1997. And then she won in
Chicago
in 2003 but she didn't win again for a dozen races when she went the distance at
Atlanta
in 2004. Still, for someone with more than ten years in the sport, that's a pretty impressive record. Anyway, Angelle would make it tough for the other riders to win, but she would not add another title to her already impressive resume. She did finish third, though, and that's the ninth consecutive year in which Angelle has been in the top three in points.
Did you know
that there are only two others drivers in the sport who can say that they have finished in the top three in points in each of the last nine years?
John Force
would be one and
Frank Manzo
would be the other one. Not bad company to be in, is it? And just for the record, John has done it seventeen consecutive years and Frank has done it ten years in a row.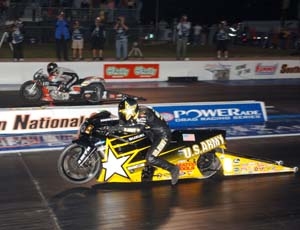 Brown vs. Hines
While Angelle was wining races early in the season, and while her teammate, Antron Brown, was winning the other race to start the year, they still couldn't shake Andrew Hines and the
Screamin' Eagle
team. Andrew went to the semi-finals at
Gainesville
, where he lost to Antron, and then he made it to the money round in
Houston
and
Atlanta
where he lost to Angelle and Antron respectively. The next four races were probably the low point of the season for the eventual champ. Andrew fouled out in Columbus and Chicago, but not before making it to the semi-finals, and then he lost in the opening round in Englishtown. The good news about the Englishtown race was that at least Andrew got a green light which only one other rider did in the opening round in
New Jersey
. The bad news is that the light was very green, a .105, and that'll cost you most of the time in the motorcycle class, or any other class for that matter.
Did you know
that the .105 reaction time was the second worst r/t of the year for Andrew? Only his .131 at
Maple Grove
was slower and that, too, came in the first round. Still, with all of those problems, Andrew was still in the chase and in second place coming out of Englishtown. I often say that if you want to win a round, a race or a championship, you have to take advantage of the other competitor's weakness. In short, kick him when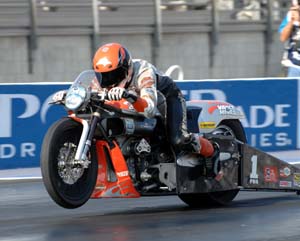 Andrew Hines
he's down. But even though Andrew struggled early in the season, nobody else could put together a couple of good races, at least not enough to put him further down in the points. After all, with six races in the books, he was less than a round out of the points lead. Even after the
St. Louis
race, where he lost in round two to Angelle, Andrew was only about a round behind the leader. Ironically, at that
St. Louis
race, Antron would lose to the same guy who would eventually eliminate him from title contention, Craig Treble, and this one came in the first round.
Did you know
that Antron only lost in the first round twice all season long? The
St. Louis
race was one and
Columbus
was the other time. As a matter of fact, Antron has only lost twenty-nine times in the first round in his 130 race career, and that's pretty good. Angelle, by the way, may be the best in any class at getting out of the first round. In her amazing 150 race career, she has only lost twenty-two times in the first round, and she once went forty-six races in a row without losing in the opening stanza. Now that's the stuff that champions are made off.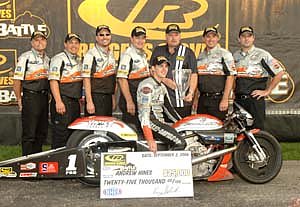 Hines and team celebrate Ringer Gloves win.
The second half of the season was certainly better for Andrew, with wins in
Denver
,
Memphis
(over Antron) and
Las Vegas
. Throw in a win at the
Ringers Gloves Pro Bike
Battle
and things were looking up for the reigning and two-time champion. At the Vegas race he also beat Antron, this time in the second round and that would prove to be huge going into the last race of the year in Pomona. At the final event of the season,
Andrew came in with almost a two round advantage over Antron and it looked like he had a lock on the title. It looked that way, but strange things happen in drag racing, like a red light by Andrew in round one against the number sixteen qualifier,
Tom Bradford
, which really opened the gates for "AB" and his Army team. But, as fate would have it, he couldn't take advantage, couldn't kick the Harley rider while he was down, and Antron lost to Treble, who then went on to win the event. I interviewed Andrew after he had secured the championship and he said that the seventy-five minutes between the first and second rounds were the longest of his life. He had great advice from his dad, his brother, himself a three-time champ, and the legend Terry Vance, and still he gave it away with a red light in round one. I guess being the rider on a high profile team is a lot like being a quarterback in football, when things go well you get all the credit, and when things go bad, you take all the blame. After the long, agonizing seventy-five minutes, Andrew saw Treble, who was using a
Vance & Hines
engine in his Suzuki, take out Antron and secure the title for the Harley-Davidson team. Nice job.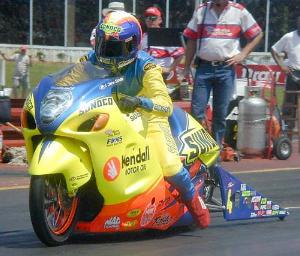 Dave Schultz in 2000.
The Pro Stock Motorcycle class is very healthy, maybe healthier than ever before. The increasing number of teams, the availability of engines for those teams, the involvement of Harley-Davidson and the diversity of the riders all helped the class grow in 2006. Over the years the motorcycle class has evolved from an exhibition class to one of the real bright spots on the NHRA POWERade tour. This year there were eight different winners in the class and that's the same number as we had in each of the last three years. Only 2003, with its nine different winners, had more. Only Angelle, Antron and Craig Treble, by the way, won in both 2003 and again in 2006. Gone are the days of total domination by one team, or at best, a year when two riders would win everything. Case in point, 1994, when two of the great riders of all time,
Dave Schultz
(9) and
John Myers
(2) won all of the races on the schedule. Dave and Terry Vance won all but one race back in 1988, with
Russ Nyberg
sneaking in for the other win. Dave, John and Terry were absolutely the best, but you have to admit, it's a much more fun class to watch when just about anyone in the field can win the race. At least, I think it is.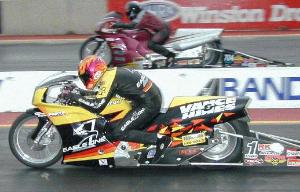 Matt Hines
The Pro Stock Motorcycle class officially joined the ranks of points earning classes back in 1987 and since then, of the 240 races contested on the tour, only thirty-two different riders have won national events. By the way, I have decided to call them "riders" as opposed to "drivers" from now on.
George Bryce
, who knows a thing or two about motorcycles, always called them "drivers." "You ride a bull, you drive a motorcycle," he said, and I agreed with him for a long while. But recently, I was with a bunch of motorcycle enthusiasts and they all asked me, "Do you ride?" None of them said "Do you drive." And then, after we talked for a while, they all said they were going out for a "ride." Not a "drive."
So, from now on, they are riders!! At least in my columns. Anyway..of those thirty-two winners whom I mentioned,
did you know
that only five have scored double-digit victories? Dave Schultz leads the way with forty-four wins, Angelle is next with forty, and then you have John Myers with thirty-three,
Matt Hines
with thirty and Antron with sixteen. Ten riders have won just one national event in the PSM class, and included in that group are Mr. George Bryce,
Byron Hines
,
Paul Gast
and that Russ Nyberg..
Did you know
that 161 different riders have qualified for at least one Pro Stock Motorcycle field over the years? There are, of course, a lot of household names on that list but there are also some you may not remember, guys like
Ted LeDoux, David
Catalano, Vinny Fetterman
and my personal favorite,
Rick Wermerskirchen
.
Motorcycles have been a part of the NHRA national event scene since back in the 1970's when fuel bikes reigned supreme. Larry Welch, "Rocket Larry" to you, Boris Murray and the great T.C. Christensen and Marion Owens among others, provided us with lots of excitement over the years. But, like every class, it has evolved into a sport where you need to have a lot of financing in place, you need a good crew chief and an excellent rider if you want to win. And, when you look at the times that the fuel bikes ran years ago, well, you would be surprised to know that the Pro Stock Motorcycles today are going quicker and faster than even the best fuel bikes from year ago. Of course, as I mentioned last week, the first Pro Stock title was one with a time of 9.90 back in 1970 so I guess everything changes. The 2006 Pro Stock Motorcycle season was fun and exciting and even a little dramatic, and to come out on top for the third time just goes to show how really good the Vance & Hines Screamin' Eagle team is. Now the question is, what do they do in '07?...I also would like to know what we have to do as a sport to get the other manufacturers involved in drag racing. Honda and Kawasaki spend a lot of money on road racing and on dirt bikes, but nothing in the drag racing realm and that's a shame.for everyone. Years ago, Kawasaki riders ruled the roost in Pro Stock Motorcycle and if you weren't riding one, you weren't winning. As good as the class is, it would be better with a little Kawasaki green and Honda red out there. Of course the Pro stock car class would be better with a few Fords racing, too. Oh well, a guy can dream can't he?




NHRA: 10 Most Recent Entries [ top ]

Jan 15- 2021 NHRA Schedule Change Announced
Jan 14- Brian Preszler Wins First World Championship
Jan 14- Tickets on Sale for Amalie Motor Oil NHRA Gatornationals
Jan 14- Tickets on Sale for NHRA Southern Nationals
Jan 12- Christopher Dodd Wins First World Championship
Jan 10- Jody Lang Wins First World Championship
Jan 08- Bryan Worner Wins Super Stock World Title
Jan 07- Craig Bourgeois Wins his Second World Championship
Jan 05- Aaron Stanfield Wins Factory Stock Showdown Championship
Jan 04- Randal Andras Wins Top Fuel Harley Title