Wed, 13 Dec 2006, 07:01 AM



All She Ever Wanted To Do Was A Burnout And A Wheelie!!



By Bob Frey


Photo copyright 2006 Auto Imagery, Inc.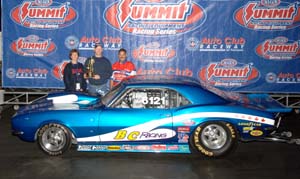 Brad Vinje in Pomona winner circle.
If the old saying that, "behind every good man there is a good woman" is true in general, it is especially true for Brad Vinje. The native of Langley, British Columbia, has as his entire crew, his wife, and best friend, Cheryl. "We had our first date at a drag strip and she asked me if I had a car. When I said no I didn't, she said we should get one and go racing." Today, Cheryl serves as Brad's crew chief, and she basically handles all of the chores on the car when they are at the races. "She takes care of the weather, looks at the track, does all the computer stuff and picks the dial-in," Brad said. "My responsibility is to get a good light." If the dial-in is wrong, it's her fault, if I mess up on the line, it's my fault." Apparently both parties did their jobs very well since Brad won the Mission Raceway track championship this year and he followed that up with the Division 6 championship. From there, the pair headed to Pomona where they won the Summit Racing Series national championship in the fastest category, Super Pro.
Before talking about Brad's success, I personally can vouch for Cheryl's knowledge of the sport. A few years ago, at the national event in Seattle, I made a comment over the P.A. about guys impressing their wives or girl friends by explaining a certain aspect of racing to them. After my shift was over, I was approached by an attractive young lady outside the tower who told me that "some women know as much or more about racing as men do, so maybe you should say that it's time for the women to impress their husbands or boyfriends." I told her that was a point well taken and have changed my approach ever since that day. I guess you already figured out who that young lady was.it was Cheryl. "She loves the sport as much or more than I do," Brad said. "She can explain the C.I.C. adjustments in Competition Eliminator and stuff like that. She wants to know everything about the sport and I've heard her explain things to men in the grandstands at the races. Stuff she knew but they didn't." Hey, anyone who can understand the C.I.C. program is OK with me. Anyway....
Brad Vinje
Brad Vinje began his march to the national championship in 1992 when he first started racing. After a several years in the bracket classes he took some time off before returning to action in 2002. "I actually used the time to build this car," he said. "I decided that if I was going to race seriously I should have a car built the way I like it. Anyone who has ever done that themselves knows that it is quite an undertaking. It takes a lot of time, patience and funds to do it right." And so, knowing all of those things, he set out to put together the beautiful 1968 Chevrolet Camaro that he and Cheryl race under the B-C Racing banner. "I built a lot of it myself. The guys at Spirit Race Cars in Surrey, British Columbia, built the chassis but I assembled all the parts in my garage". Those parts include the 509 cubic inch engine that he uses to power the car. "I can run as fast as 8.90 if I want to, but I basically set the car up to run around 10.50's, and sometimes I race it in Super Street on the 10.90 dial. But wide open it can run in the 8's at about 152 miles per hour." After he put the car together he and Cheryl came up with a design and then a friend of theirs, Glen Vanbeneen, painted it. It truly is a beautiful car, and the proof of that is in the Best Appearing Car award that they won at the 2003 Summit E/T finals in Ashcroft. A quick glance at the rear quarter panel on the car will discover several maple leafs that are in different shades of red. "I wanted it to look like they were disappearing, you know, to give it kind of a look of speed." Well, it worked, because in Pomona, those maple leafs disappeared from Ron Biasden, the Division 3 champ, and then Ray Lloyd, the Division 2 kingpin, and, finally, Rodney Thompson from Minnesota. "I got a little lucky in the second round because I wasn't quite sure if the throttle stop was working properly, so I dialed a quick 10.43. When Ray fouled it allowed me to run the car all out and to dial-in at my normal numbers in the final round." Or, more correctly, to allow Cheryl to dial the numbers for the final round. "I guess, since the car wasn't as consistent as it normally is, you could say that I was good when I needed to be good and lucky when I needed to be lucky," he said. The lucky part was probably that second round, while the good part came in the final round where Brad used a great reaction time of .010 to hold off Thompson who ran closer to his dial. "After I won it was so neat at the end of the track, with the Summit folks, the hats and all the cameras. Obviously this is the biggest win of my career." He means, the biggest win of their career!! "After the race, Cheryl said that Austin Coil probably got a bonus for winning the championship with John Force and she wanted to know if she would get a bonus, too."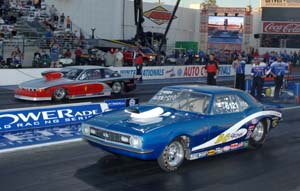 Vinje vs. Rodney Thompson in the final.
The entire process leading up to the Pomona trip was quite rewarding and almost historic for Brad and Cheryl. "I went to the Division 6 finals and won the Race of Champions," Brad said. "And then on Sunday I went to the final round of the Super Pro race before losing out. Nobody in the division had ever doubled-up and I was so close. It was exciting." After that big weekend in Oregon, the Canadians headed down to California, a scant twenty-two hours away with the car in tow. "We thought that was a long ride but then we talked to the guy from Pennsylvania and he told us it took him about fifty hours to drive out, so maybe ours wasn't so bad." After waiting in line to park, they were told they were number 242 in line, Brad and Cheryl settled in and got ready for the weekend. "The Summit dinner was cool and we talked to a lot of the other racers and they all had the same thought, it was nice to be there with a chance to be a national champion." But in the end, only one would be the champ in the Super Pro class and that would be the neat Camaro from Langley, B.C.
When Brad told me about Cheryl's love for the sport I asked him if she ever had a desire to drive the car. "No, she really doesn't. All she ever wanted to do in the car was a burnout and a wheelie, and once she did that, she really had no desire to drive it again." In addition to the love and support of his wife, Brad wanted to thank the folks at Pennzoil of Canada for their help as well as Paul at TCS, Jamie Roth, Ken Orser, Scott Fleenor of ECARB, who works on the carburetors, and Rick Willson who helps with the Powerglide transmission. And now that he's done for the year and the snow has begun to hit British Columbia, Brad inteneds to spend the winter working at his regular job as an auto technician and going over his race car from front to back. "I'll do the normal maintenance that I do every off-season. I'll go through the engine and drive train and do what I call routine maintenance work on the car." And then, around April next year, Brad and Cheryl will start out again at Mission Raceway with an eye on repeating as national champion. Now that I think about it, with all that she does to help Brad, maybe they should change the name on the side of the car to C-B racing. Hey, it's just a thought from a guy who once spoke to a wonderful young lady about the finer points of drag racing.




NHRA: 10 Most Recent Entries [ top ]

Jun 03- NHRA Mello Yello Drag Racing Returns Beginning with Two Indianapolis Events in July
Jun 03- A Message From Summit Motorsports Park President Bill Bader Jr.
May 21- Second JEGS SPORTSnationals Added, to be held in mid-August in New England
May 20- DENSO Sponsors NHRA Champs' Shelter-in-Place Dachshund Race
May 14- To Our Racing Community-From Racers for Christ
May 13- The Name Game Part I
May 12- Morgan Lucas, Son of Forrest and Charlotte Lucas, Appointed President of Lucas Oil Products, Inc.
May 05- Cancellation of the 14th Annual Summit Racing Equipment NHRA Nationals
May 04- NHRA Announces Revised Plan to Restart 2020 Mello Yello Drag Racing Series
Apr 29- DSR Drivers Join Global Superstars in Fight for COVID-19 Relief