Tue, 12 Dec 2006, 07:27 AM



That's A Pretty Dominant Team!!



By Bob Frey


Photo copyright 2006 Auto Imagery, Inc.





I would have to think that most drag racing fans, like me, thought that the
POWERade
Pro Stock champion for 2006 would be the same guy who won the title in the previous three years,
Greg Anderson.
That would mean that most of those people, like me, were wrong. Greg certainly had a good year but his teammate,
Jason Line
, had a great year and he was the man at the end of the season. Jason added his name to a very select group of national champions in the factory hot rod class and, from what I've seen, there is no reason to believe that he can't repeat again next year. Oh yeah, Greg might have something to say about that, but as far as the rest of the class is concerned, it could be another long year in 2007.
Ken Black
has put together a solid, almost unbeatable team, and that team should be hard to beat again next year. Not unbeatable mind you, but hard to beat. Of course the folks at
Summit Racing Equipment
hopped on that bandwagon a few years ago and it seems to have worked out well for both parties, hasn't it? With the numbers that both Greg and Jason have put up over the past few years I am certainly open to any discussion about teams that might contend for the championship in 2007. Suggestions anyone?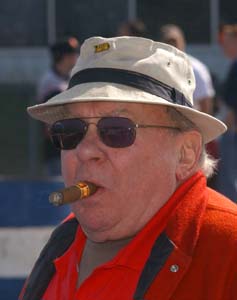 Bill "Grumpy" Jenkins
For those of you who may not know it, Pro Stock has been an official class on the national tour since 1970. The first time they competed at a national event was at the Winternationals that year and, as hard as it may be to believe, the low elapsed time at that race was 9.98 while the top speed was a blistering 139.53.
Did you know
that those numbers were both turned in by
Bill
"
Grumpy" Jenkins
? That means that over the course of those thirty-six years the elapsed times have dropped by almost three and a half seconds, while speeds are up almost seventy miles per hour. One thing that hasn't changed in the class is the fact that you always have really tight competition, and this year was probably the best as far as the overall quality of the cars in Pro Stock. Another thing that hasn't changed is the fact that the weather always plays a huge part in how these cars perform. Hot, sticky weather isn't good for the carbureted machines, while crisp, clear cool weather is. That's why places like
Englishtown
,
Reading
and
Chicago
have produced such impressive numbers over the past few years. And, after 2006, you can add
Virginia
to the list of places where the Pro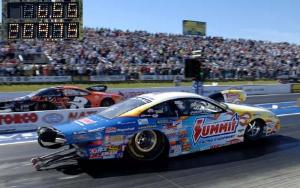 Jason Line at Richmond.
Stock teams love to go. Based on his historic performance in Virginia this year,
did you know
that Jason holds down four of the top eleven runs in the class (there is a tie for the tenth best run) while he is the owner of five of the top eleven speed runs in the class? At the start of the year six of the top ten drivers in the class predicted that speeds in the class would go over 209 miles per hour and several said they could approach 210. Well, they were right. By the way, a couple of others said that the 6.63 time from 2005 would "be hard to beat." Guess those guys never raced in
Virginia
. Or
Chicago
. Or Reading. Oh well. By the way, when I was checking out some of those predictions in the January 27
th
issue of
National Dragster
, I noticed that the cover heading was "Countdown to Blastoff." I wonder if that new "countdown" to the championship was in the works back then, or was it just a lucky choice of words?
Whatever.The fact remains that the Pro Stock teams outdid themselves this year and who knows what lies ahead for 2007.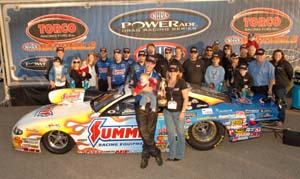 Line and team celebrate win.
To win the Pro Stock championship now requires that you be on top of your game almost all the time. Jason Line won the title this year with what was, obviously, the best car out there. He and Greg shared the top qualifying spot an amazing nineteen times this year.
Did you know
that
Allen Johnson
was the only other Pro Stock driver to qualify number one at more than one race this year? And like the Funny Car class, the other top qualifiers may surprise you. How about
Erica Enders
and
Richie Stevens
? And
did you know
that those drivers all qualified number one at four consecutive races in the middle of the year? They were the only four races where the
King Demon Crown
points and money didn't go to the Ken Black cars. Now, back to Jason. His only problem was on the starting line where he lost numerous times via holeshots, but he still had enough composure and enough race car to go the distance. For the composure I guess he needs to thank his family, and for the car, he needs to thank
Rob Downing, Jeff Perley
and the rest of the team that Ken Black has assembled. When you look at what the
Summit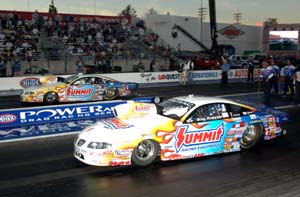 Anderson vs. Line
cars have done over the past few years you begin to get a sense of just how good they are. Greg, for example, finished second this year with forty round wins. When you add in his totals from the previous three years, fifty-three round wins last year, a staggering seventy-six the year before that and sixty-seven in his first championship season, you have a total of 236 round wins for Greg in just four years. Unbelievable. And to put that into perspective,
did you know
that over that same four year span
Warren
and
Kurt Johnson
have won a total of 233 rounds combined? Now that's an amazing set of numbers. You also have to realize that over the past Greg and Jason have qualified for a combined total of 165 consecutive races, and that too, is staggering. Like I said at the top of the page, this is an awesome team and it will take a lot for someone or some team to knock them off the top spot in 2007. Can it be done? Of course. Who will it be? Your guess is as good as mine....probably better....Since I mentioned those holeshot losses by Jason and the team's amazing record over the past four seasons, it should be pointed out that the class, in general, is a lot tougher than it ever has been and that makes winning even that much more impressive. There were times, for example, at the height of his career, that
Bob Glidden
would sometimes qualify almost a tenth of a second better than the number two car in field.
Darrel Alderman
had that kind of advantage in his championship seasons, and so to did Warren Johnson at times. With that kind of performance advantage, you are going to win a lot of races. But to win like Greg and Jason have recently, when the field is only a few hundredths of a second apart from number one to number sixteen, it takes something special. Congratulations to Jason, Greg, Ken Black and the entire Summit Racing team for another championship season and good luck in 2007.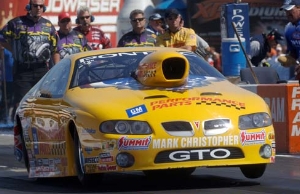 Warren Johnson
One of the real surprises to me this year was Warren Johnson. "WJ" is one of the best, if not the best in the history of the Pro Stock class (let the debate begin). In 2006
Warren
won a total of ten rounds and he won five of them in the first two races of the year, including his win in
Phoenix
.
Did you know
that the ten rounds is
Warren
's lowest round win total since 1983? Now that's amazing. And to start off with a win at the second race of the season, you had to think that the "Professor" was back on track, literally and figuratively. A look at his numbers during the year seemed to indicate that he was struggling with the car for that all-important first sixty feet of the track. Still, after the
Phoenix
race, it wasn't vintage Warren Johnson, and from a fan's point of view, that's a shame. When
Warren
is "on" it makes the class and each event more exciting. A couple of good burn downs with his opponent, some trash-talking at the end of the track and some of his classic Warren Johnson lines in the press room always make it more exciting. Let's hope that he gets in all together next year and challenges for the championship one more time. 2007 is already stacking up to be a good year for the "Professor" since he will be inducted into the International Motorsports Hall of Fame in
Talladega, Alabama
. That should be fun and his induction is richly deserved. Of all the classes in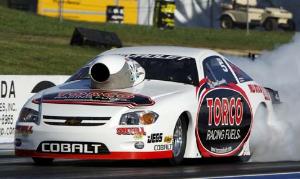 Dave Connolly
drag racing the Pro Stock drivers have had some of the best moments at the Hall of Fame lately, with Bob Glidden being inducted and now
Warren
, and with Greg Anderson receiving his Driver of the Year award there two years back. Congrats to Warren and I hope he's not too busy building power to attend the ceremony. One more Warren note,
did you know
that this year was only the third time in the last twenty years that Warren did not get at least one number one qualifying position? He still has the NHRA record with 136 top spots, and when you throw in his 103 number two qualifying positions, you can see that he has qualified in the top two spots at almost half of all the races that he has entered. And when you've entered 500 of them, that's saying something.
There were a couple of other drivers who had good years this year in the class and, among them, I would have to include Dave Connolly, the third place finisher, and Mike Edwards who finished fourth. Dave won thirty-seven rounds and that is a good year in anyone's book. Of course the thing that threw him for a loop were those two nasty DNQ's early in the season. I'm not saying that he could have contended for the championship, but even if he had won a round at each of those events he would have been in better shape coming down the stretch. Not that anybody asked, but Dave gets my vote this year for the professional "Driver of the Year." When you look at what he did on the line, winning a dozen races on holeshots, including three final rounds, he has to be considered one of the best at what he does...Allen Johnson, who also had a solid year, if not a breakthrough season, won eight races with his driving ability and he and his dad, Roy, had to have one of the most improved cars in the class this year. But when it came to getting off the line first, nobody in the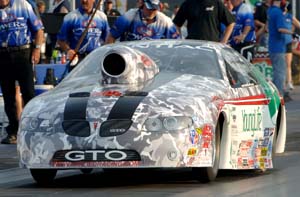 Mike Edwards
professional classes did it better than Dave Connolly this year...Mike Edwards also was solid all year long and he was one of the few drivers who qualified for all twenty-three races this season in Pro Stock. Jason and Greg did it and so did Allen Johnson and that's the complete roster of guys who started in all of the races this year in Pro Stock. So you can see why I say that Mike and Allen both had good years. Mike's
Young Life
program, by the way, is one of the most important in the sport and I would encourage other teams to check with Mike and his wife Lisa to find out how they can get involved next year. Mike likes to race but he knows that it's not the end of the world if you have a bad day and that's why it's so nice to see him share his time and talents with a lot of the kids who come through the Young Life program.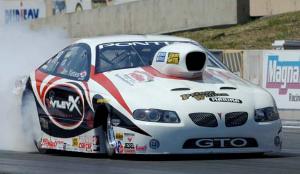 Jim Yates
Jim Yates
had a good season, finishing seventh, giving him fourteen top ten finishes in the last sixteen years and that's a really impressive number. With help from the aforementioned Bill Jenkins, Jim had a good car and was competitive at almost every race. Jim only had two DNQ's this year and they both came in the last six races of the season. I have a suggestion for Jim and all the other Pro Stock teams out there, with the new "countdown" next year, if you're going to miss a field, do it early. Jim had a variety of sponsors on his car this year and he gave them all their money's worth, and early next year he will reach a plateau when he wins his 400
th
round in Pro Stock. The few times that he wasn't in the show last year, Jim stopped up and did some announcing with me and he did a wonderful job. As good as
Mike Dunn
is in the booth, and he is good, I still think it would be nice to have a Pro Stock expert there, too. But hey, that's just my opinion, and for what it's worth, Jim would be my choice. After all,
Dick Vitale
is great at college hoops but he doesn't do the pro stuff does he? Anyway, I digress. If Jim and Bill are together again next year, they could and should be among the top teams in the class.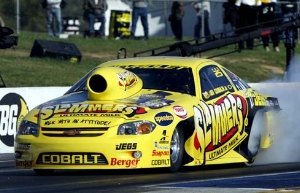 Jeg Coughlin
2007 should be very interesting, with the return
of Jeg Coughlin
to full time status, and with the other
Victor Cagnazzi
teams having a year under their belts. That would include
Tommy Lee
who, from what I understand, is on the schedule for about half of the races right now with more to come.hopefully..
Ken Koretsky
will have a full season with the
Greg Hill
team and that car showed a lot of promise last year. Of course I still hope that
David Howard
lands a ride for 2007, so let's keep our fingers crossed. After all, I am the vice-president of the David Howard Fan Club..Erica Enders could prove to be a real spoiler next year and it would be nice to see that team hit the ground running, and they'll have to if they want to be a factor in '07..In general, although not producing the quantity of cars that it did a few years back, the Pro Stock class is loaded with talent and, from what I hear, there will be a few new teams out there next season. So come on gang, hop in the water's fine, but as I always say, bring your "A" game because you're going to need it if you want to be the one who stops Jason or Greg next year.




NHRA: 10 Most Recent Entries [ top ]

Jun 03- NHRA Mello Yello Drag Racing Returns Beginning with Two Indianapolis Events in July
Jun 03- A Message From Summit Motorsports Park President Bill Bader Jr.
May 21- Second JEGS SPORTSnationals Added, to be held in mid-August in New England
May 20- DENSO Sponsors NHRA Champs' Shelter-in-Place Dachshund Race
May 14- To Our Racing Community-From Racers for Christ
May 13- The Name Game Part I
May 12- Morgan Lucas, Son of Forrest and Charlotte Lucas, Appointed President of Lucas Oil Products, Inc.
May 05- Cancellation of the 14th Annual Summit Racing Equipment NHRA Nationals
May 04- NHRA Announces Revised Plan to Restart 2020 Mello Yello Drag Racing Series
Apr 29- DSR Drivers Join Global Superstars in Fight for COVID-19 Relief