Mon, 11 Dec 2006, 02:57 PM



Wayne Dupuy Tapped as Crew Chief for Cruz Pedregon's NHRA Advance Auto Parts Nitro Funny Car Team



Courtesy of Allison Holt



INDIANAPOLIS --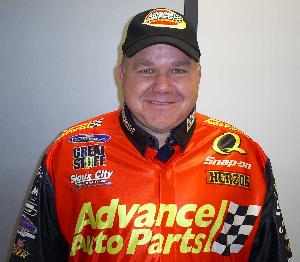 Wayne Dupuy
Cruz Pedregon Racing, Inc. today announced that veteran tuner Wayne Dupuy has joined the Advance Auto Parts Racing Nitro Funny Car Team as crew chief for the 2007 NHRA POWERade Drag Racing Series season.
"Everyone at Cruz Pedregon Racing is really excited to have such an experienced crew chief like Wayne Dupuy on our side heading into the 2007 season," Cruz Pedregon, owner/driver for the team, said. "His reputation on the NHRA circuit is unmatched, and he is highly regarded by everyone that knows him. His ability to tune both Funny Car and Top Fuel machines is what impressed me. We had a successful year in 2006, but always try to assess how we can be more competitive and consistent for the next event or season. As part of that process, we have to evaluate each person involved with our team to determine if changes need to be made, and we were so fortunate that Wayne was available to join our operation for next year, as we're definitely aiming for the championship. We've also added an assistant crew chief, Kevin Butterfield, which should strengthen our whole team. Our entire Advance Auto Parts race team welcome Wayne and Kevin to our racing family, and we look forward to working with both of them to create winning race cars in the coming season."
Decorated crew chief Wayne Dupuy, 43, brings a lifetime of tuning experience to the Cruz Pedregon-owned Funny Car operation. The son of retired NHRA Director of Competition Lynwood Dupuy, Wayne first attended drag races as a youngster when his father owned and operated racetracks in Baton Rouge, La., Atlanta, and Houston. Once he became old enough to compete, Dupuy began bracket racing Top Sportsman Motorcycles. By the mid-1980s, the intricacies and challenges associated with tuning race cars took over, and Dupuy found a home on the working end of a wrench. He first assumed the role of crew chief on an alcohol-powered dragster. A year later, he graduated to the elite ranks of Top Fuel racing, where he worked the bottom end of the dragsters of NHRA legends Connie Kalitta and Gene Snow. Literally working from the bottom up, Dupuy was a crew chief soon. Guiding the likes of K.C. Spurlock, Cory McClenathan, Phil Burkart Jr., Todd Paton, Jim Epler, Cristen Powell, Johnny Gray, Darrell Russell, Morgan Lucas and, most recently, Doug Herbert. Dupuy has helped every driver he's worked for achieve personal-best elapsed times and top speeds. He has celebrated numerous victories along the way and watched many of his drivers collect top-10 finishes in the standings in both the Top Fuel and Funny Car classes. Proving his commitment to being the best tuner possible, Dupuy even earned a competitor's license in both nitro-powered categories so he could further comprehend what his drivers were trying to tell him about their four-second, 330-mph passes down the quarter-mile. Dupuy is married to Tressa, and has three children: daughter Jessica, 21 (married to Cruz Pedregon Racing crew member Nick Langley); Hillary, 19; and Zachary, 13. The Dupuy's currently live in Jacksboro, Tex, but are relocating to Brownsburg, Ind., near the team's headquarters, for the start of the 2007 season.
"I am extremely honored to be asked to be a part of such a successful racing team like Cruz Pedregon Racing," Dupuy stated. "Their commitment to success and the professional way they operate their team were two deciding factors for me in making the decision to join them for the 2007 season. Cruz has won a championship in the past (1992), and I know that he's really anxious to put his name on that Championship trophy again next year. We have already begun preparing for January's test sessions in order to make his car faster and more consistent, and those two elements will surely add up to wins. I want to thank Cruz and his entire team for the opportunity to utilize my skills and talents in order to help them win races and compete at the highest level next season."
Cruz Pedregon Racing and other elite teams of the NHRA POWERade Series will have the first opportunity to begin preparing for the 2007 season at the first of three optional showcase pre-season test sessions, to be held January 19-21 at The Strip at Las Vegas Motor Speedway. Pre-season action moves from Nevada to Arizona as the professional teams continue to tweak off-season changes at Firebird International Raceway in Phoenix, Ariz., on January 26-28. The final of three optional events that allow professional drivers and their teams the chance to test their rides before the season officially kicks off will see the NHRA warriors return to The Strip at Las Vegas Motor Speedway on February 2-4. The first NHRA POWERade Series event will take place February 9-11 with the NHRA Winternationals, to be held at the Auto Club Raceway at Pomona (Calif.).




NHRA: 10 Most Recent Entries [ top ]

Jun 03- NHRA Mello Yello Drag Racing Returns Beginning with Two Indianapolis Events in July
Jun 03- A Message From Summit Motorsports Park President Bill Bader Jr.
May 21- Second JEGS SPORTSnationals Added, to be held in mid-August in New England
May 20- DENSO Sponsors NHRA Champs' Shelter-in-Place Dachshund Race
May 14- To Our Racing Community-From Racers for Christ
May 13- The Name Game Part I
May 12- Morgan Lucas, Son of Forrest and Charlotte Lucas, Appointed President of Lucas Oil Products, Inc.
May 05- Cancellation of the 14th Annual Summit Racing Equipment NHRA Nationals
May 04- NHRA Announces Revised Plan to Restart 2020 Mello Yello Drag Racing Series
Apr 29- DSR Drivers Join Global Superstars in Fight for COVID-19 Relief