Wed, 6 Dec 2006, 01:55 PM



NHRA Goodwill Ambassadors Return from Germany Following USO-Sponsored Visit with American



Courtesy of GM Racing



Stops Include Kaiserslautern Military Community and Spangdahlem Air Base



RAMSTEIN AB, Germany --
Troops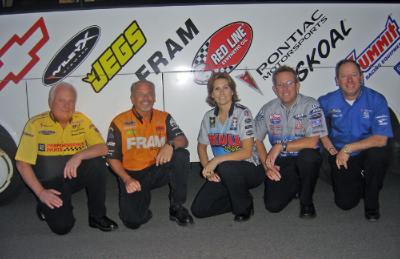 W.J., McClenathan, Troxel, Johnson Jr. and Yates
A group of goodwill ambassadors from the NHRA is back in the United States after a three-day USO-sponsored tour of U.S. Military installations, including the Kaiserslautern Military Community and Spangdahlem Air Base. It was the second consecutive post-season visit for the drivers, and as in 2005, the time spent with the American troops and their families stationed in Germany was a brief but memorable chapter in their careers they'll be talking about for a long time.
Six-time NHRA Pro Stock champion Warren Johnson, two-time NHRA Pro Stock champion Jim Yates, Funny Car driver Tommy Johnson Jr., and Top Fuel drivers Cory McClenathan and Melanie Troxel (who joined the group for the first time this year) represented the sport of drag racing during the 72-hour troop-morale mission to Germany. The Army Special Forces Association, Randall Shughart Chapter 64, based in Carlisle, Pa. once again served as the vanguard for this year's visit and the 435th Services Squadron at Ramstein AB hosted the group during its stay in Germany. The drivers distributed over 1,500 goody bags that included racing caps, tee-shirts, racing decals and other items, signed an even greater number of autographs and brought good cheer to everyone they met.
"All of our drivers have come home with an even greater appreciation of what our troops do and for the support personnel that make it happen every day," said Fred Simmonds, GM marketing manager, drag racing. "The commitment of our armed forces to achieving their mission is remarkable.
"I want to thank Chapter 64 of the Army Special Forces Association for asking us to join them again this year in 'Operation: Support Our Wounded.' Also, I can't say enough positive things about our GM Racing/NHRA drivers, as well as the first-rate team at the USO and the 435th Services Squadron at Ramstein Air Base. Donna Burrill and Debbie Millner were gracious in their hospitality, and they both work non-stop in getting the job done in supporting our troops overseas."
"It truly is amazing to see the commitment and enthusiasm that all of the personnel have toward achieving their mission," said Warren Johnson. "Seldom in everyday life do you see the kind of dedication exemplified by the U.S. Armed Forces; and the ability and perseverance of these men and women is what impressed me the most. Theirs is the ultimate testament to what teamwork can accomplish."
After an eight-hour flight from Detroit Metro Airport that began on Saturday, Nov. 25, the group landed Sunday morning at 7:00 a.m. local time at Frankfurt-Main International Airport. They were then shuttled for the 90-minute ride to Ramstein AB by SFC (Ret) Wayne Reed and Maj (Ret) Dieter Protsch of the Army Special Forces Association. The group's tour bus displayed a racing theme and was decorated with decals representing all of the drivers' sponsors. Their first stop was a "welcome" brunch at the Ramstein Officers Club hosted by Donna Burrill and Debbie Millner of the 435th Services Squadron at Ramstein.
Following brunch, the group headed over to the Ramstein Main Exchange for a two-hour, non-stop autograph session where they met over 500 service personnel and their families. The group then proceeded to an evening visit with the 21st Medical Transition Detachment at Kleber Kaserne where they were met by Capt. Jennifer Arnold, Medical Transient Detachment Commander. The team provides medical treatment for sick or wounded soldiers before they travel to the United States or return to their combat units.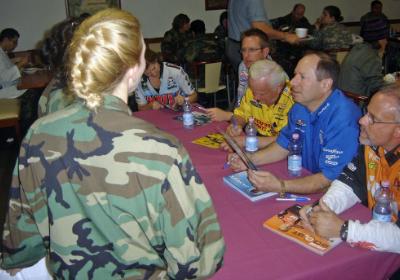 Signing autographs at Landstuhl Regional Medical Center
A full schedule on Monday started with the drivers' group stopping by the studios of American Forces Radio for interviews on the DeMario and Cindy show, the largest American morning show outside the United States. Following their stop at AFN, the drivers visited with wounded soldiers at Landstuhl Regional Medical Center and then signed autographs during lunchtime for patients, staff and personnel in the hospital dining facility.
"The hospital visit made the biggest impact on me," said Troxel. "What amazed me the most was the unselfish desire of these wounded troops to get back with their buddies and their dedication to getting the job done."
"The highlight for me was when we went to Landstuhl Regional Medical Center to visit the wounded troops," said Yates. "We arrived just as the staff was unloading an ambulance bus of wounded soldiers. They had been transported on the bus from Ramstein AFB (about a 15-minute ride) where their plane from Iraq had landed just minutes before. It is incredible to see how efficient the medical staff is. Within an hour of seeing the troops unloaded we were able to visit some of them in their rooms and provide autographs, goodie bags, and some very sincere 'thank-yous' for what they are doing for us."
"It was quite an honor to be able to visit with the wounded and the personnel who take care of them," said McClenathan. "Nothing in my life even comes close to comparing to the sacrifices that these men and women make in serving our country and you can't help but walk away extremely impressed by all of the people that staff the various care facilities and the hours that go into to creating a smooth-running operation."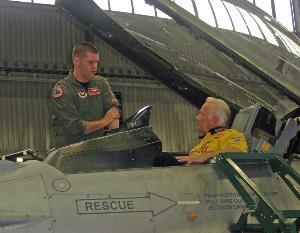 Warren Johnson in the cockpit of an F-16
On Monday afternoon the group made a two-hour side trip northwest to Spangdahlem Air Base where they were met by Capt. Diane Weed, Chief, 52nd Fighter Wing Public Affairs, who gave the drivers an up-close tour of the F-16 Fighting Falcon and the A/OA-10 Thunderbolt II. The 52nd Fighter Wing is involved in numerous deployments around the globe, and its members are always prepared to project superior combat power, following the motto: "SEEK-ATTACK-DESTROY."
"It's not everyday that you get to climb into the cockpit of an F-16 fighter jet," said Yates. "The design and sophistication of this aircraft is remarkable and the support team that keeps them flying does an outstanding job."
Back at Ramstein, the drivers participated in a car show/autograph session hosted by Project CHEER at JR Rockers, and after their appearance there, the drivers' group visited the Contingency Aeromedical Staging Facility (CASF) at Ramstein. This special group of medical personnel greet every wounded person coming in from downrange and also prepare wounded troops for further transport to the United States.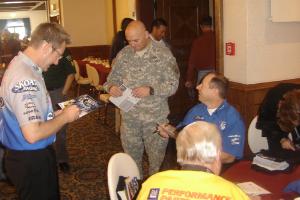 Signing autographs at Ramstein AB Officers Club
"To return and visit all of the men and women and maybe lift their spirits a little bit was something I had wanted to do since last year's visit," said Tommy Johnson. "It was something I was looking forward to, and when we got there we were able to accomplish about everything we had hoped to do. Our goal was to show the troops that we care, and that we support them and that we appreciate everything they are doing for our country. We were definitely on the go. There were so many people to see and there was so little time that you tried to do as much as you could. The troops don't sleep when they're on a mission so we weren't sleeping much either."
On Tuesday the drivers were shuttled over to the Ramstein Auto Skills Center for a facility tour and then visited the 435 VRS, a transportation squadron responsible for the maintenance of all U.S. government vehicles in the Kaiserslautern Military Complex. The drivers then visited with staff and personnel at the Kleber Kaserne dining facility, filmed a series of driving-safety public-service announcements for USAF Public Affairs, and then appeared for a final two-hour autograph session with soldiers and their families at Vogelweh Exchange Car Sales. The team was then treated to an authentic German dinner at the Spinnradel, Kaiserslautern's oldest restaurant, housed in a building originally constructed in 1509.
On Wednesday morning, the drivers departed Germany for the nine-and-a-half hour flight back to the United States and the end of a three-day visit with the troops this group of drivers will never forget.
"To return to Germany and visit with the troops stationed there was a tremendous experience for myself and all of the drivers," said McClenathan. "It couldn't have been done without all of the NHRA sponsors that sent gift items, GM and Fred Simmonds for coordinating the effort, Wayne Reed and Dieter Protsch of the Special Forces Association, and Donna Burrill and Debbie Millner who were such gracious hosts."
"It was an incredible experience," said Troxel. "To give a little something back to the men and women who are away from their families, and who sacrifice so much to protect us, is something I'll always remember."
The USO is a nonprofit, Congressionally chartered private organization that relies on the generosity of individuals, organizations and corporations to support USO activities. The USO mission is to provide morale, welfare and recreation-type services to our men and women in uniform. The original intent of Congress - and enduring style of USO delivery - is to represent the American people by extending a touch of home to the military. You can make a donation to the USO by going to http://www.uso.org or by calling the USO directly at 1.800.876.7469.




NHRA: 10 Most Recent Entries [ top ]

Aug 13- INDY 3 - Through the Lens of Ron Lewis
Aug 13- INDY 3 - Pro Mod Wrap Up
Aug 13- INDY 3 - Elimination Video
Aug 13- INDY 3 - Qualifying Video
Aug 10- INDY 3 - Pro Mod Championship Points
Aug 10- INDY 3 - Top Fuel Harley Championship Points
Aug 10- NHRA Southern Nationals Canceled Due to Covid-19 Concerns
Aug 09- INDY 3 - Sunday Wrap Up
Aug 09- INDY 3 - Summary of Eliminations in Top Fuel
Aug 09- INDY 3 - Summary of Eliminations in Funny Car