Wed, 6 Dec 2006, 08:33 AM



Jeff Arend Named Driver of CSK Blue Car



Courtesy of Bob Wilber


Photo copyright 2006 NHRA





Erie Educational Services Joins Team As New Major Associate Sponsor



ORANGE, Calif. --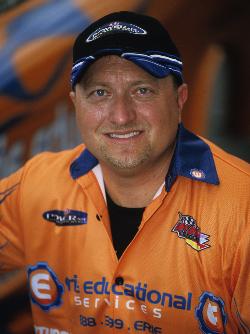 Jeff Arend
Veteran Funny Car driver Jeff Arend has joined Worsham Racing and the Checker, Schuck's, Kragen Funny Car team for 2007, and will be the driver of the team's blue car, replacing Phil Burkart Jr., who piloted the blue CSK machine for more than three seasons. Arend began racing Funny Cars professionally in 1995, and has one career victory on his record (Maple Grove, 1996.) He has spent much of his career driving for legendary tuner and car owner Paul Smith, but did join Team CSK for one race in 2006, when he drove the team's special edition Murray's car in St. Louis.
In conjunction with Arend's appointment as the driver of Del and Chuck Worsham's blue Checker, Schuck's, Kragen car, the team also announced the addition of Erie Educational Services as a major associate sponsor. Arend was instrumental in bringing the industry leader in the area of student loan consolidation into the sport in 2006, and has nurtured the program for more than a year. The company will now be a part of the Team CSK program, and will embrace the opportunity to make Worsham Racing a key part of its marketing strategy.
Del Worsham announced the moves from the team's Orange, Calif. headquarters, and emphasized the critical need to push his program to new heights after a disappointing 2006 campaign, which saw him miss the POWERade Top 10 for the first time since 1997.
"There's no debate about the historic level of competition we face in today's Funny Car class," Worsham said. "There's also no getting around the fact the cost of competing at the highest level is going up at a very rapid pace, so we knew we had to make some critical decisions this off-season. Before I address the positive impact today's moves will have on our team, I want to publicly thank Phil Burkart for everything he has done to make our team better over the last three full seasons. Phil has been a great teammate and friend, a great driver, and a real asset to our organization and to Checker, Schuck's, Kragen Auto Parts. Sometimes, the right move for a team is one that comes with some difficult choices, and replacing Phil as the blue team driver was one of the most difficult things we've ever had to do as an organization.
"At the same time, we feel very strongly that we've improved our team, provided ourselves more resources, and moved ourselves forward by making these changes. We're adding Jeff Arend, a great driver in his own right, who has learned from Paul Smith, who is clearly one of the best in the history of this sport. In addition, Jeff also becomes a new full-time employee who will work with us year-round, putting 100% of his focus into helping Team CSK. Finally, with Erie Educational Services coming aboard, I think we're a better team, as of this very minute. Jeff has some big shoes to fill, but I'm confident he'll do a great job in the car and will help us win. With a respected new sponsor on our team, we're going to have a better chance of contending for the POWERade championship."
Arend, a San Dimas, Calif. resident, has known Worsham for many years, and has long hoped for a chance to join the Worsham Racing organization. His one-race stint in the Murray's car, last summer, gave him a taste of what he was looking for and he considers today's announcement to be the biggest, and most important, step in his career.
"I've known Del for a long time, and I've always been very outspoken about the huge amount of admiration and respect I have for him, his father Chuck, and the entire Checker, Schuck's, Kragen team" Arend said. "Since the first time I strapped into a Funny Car, I've wanted to drive for a contending team with a strong primary marketing partner like CSK Auto, and a full slate of major associates who all believe in the program, so I can't overstate how important this is to me. I'll be forever grateful to Paul Smith, who taught me a lot more than just how to drive from point A to point B, because without Paul's help and guidance over the last decade, I wouldn't be in this position today.
"Looking to the future, I'm extremely excited to get going with (co-crew chiefs) Marc Denner and Chris Cunningham, as well as everyone on Team CSK. I know we all have a lot of work to do, in order to be ready for pre-season testing in January, but I'm so charged up right now I wish we were racing tomorrow. When we do get out there, and I'm wearing a Checker, Schuck's, Kragen uniform for the first time, I'm sure it will be an emotional moment for me. This is what I've dreamed about for years, so I'm going to do every single thing I can to help this team reach its potential. Between Del and myself, we're going into 2007 with a healthy dose of realism, because the competition is enormous, but we're not thinking in terms of just being two of the eight drivers to make 'The Countdown.' Our goals are loftier than that."
Marc Burling, Chairman and CEO of Erie Educational Services, made it clear he and his company are also thrilled to be making the move to the Worsham organization, while also joining Checker, Shuck's, Kragen, Mac Tools, and an elite group of other highly respected sponsors.
"All of us are extremely excited to join Jeff Arend, Del Worsham, and the fine people at Checker, Schuck's, Kragen Auto parts as we continue to develop our presence in the NHRA marketplace," Burling said. "Jeff has proven himself, to us, as a hard charger who can make the difference on the race track, and we think both he and Del will be fantastic representatives for our company.
"We're looking forward to a very competitive, and hopefully very successful, 2007 season with a tight-knit family racing organization, and when I say 'family' I mean that in terms that go beyond just Del and his father Chuck. The entire Worsham program is clearly a family from top to bottom, and we're joining a fantastic group of sponsors who all see the same things we see. To be associated with CSK Auto, Mac Tools, and a long list of other great partners is an honor. We're as anxious to get going as Jeff is, and we're looking forward to the 2007 season."




NHRA: 10 Most Recent Entries [ top ]

Jun 03- NHRA Mello Yello Drag Racing Returns Beginning with Two Indianapolis Events in July
Jun 03- A Message From Summit Motorsports Park President Bill Bader Jr.
May 21- Second JEGS SPORTSnationals Added, to be held in mid-August in New England
May 20- DENSO Sponsors NHRA Champs' Shelter-in-Place Dachshund Race
May 14- To Our Racing Community-From Racers for Christ
May 13- The Name Game Part I
May 12- Morgan Lucas, Son of Forrest and Charlotte Lucas, Appointed President of Lucas Oil Products, Inc.
May 05- Cancellation of the 14th Annual Summit Racing Equipment NHRA Nationals
May 04- NHRA Announces Revised Plan to Restart 2020 Mello Yello Drag Racing Series
Apr 29- DSR Drivers Join Global Superstars in Fight for COVID-19 Relief