Tue, 5 Dec 2006, 10:45 AM



Torco Renews Partnership with Dale Creasy, Jr.



Courtesy of Jim Walczak



BEECHER, Ill. --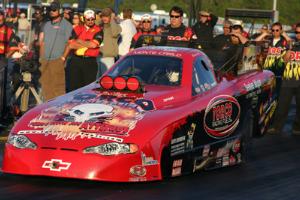 Dale Creasy, Jr.
Creasy Family Motorsports announced today that Torco Race Fuels will renew as primary sponsor for driver Dale Creasy, Jr. on the Torco Race Fuels Nitro Funny Car. Creasy will defend his 2006 IHRA Torco Pro Nitro Funny Car Championship flying the Torco colors from his 2007 Chevy Monte Carlo. Team owner Dale Creasy, Jr., along with crew chiefs, Steve Creasy and Allen Meyer spoke about the deal shortly after the announcement.
"I'm really excited to continue our relationship with Evan Knoll and Torco Racing Fuels," Creasy said. "Evan is certainly one of the icons in this sport and it's an honor to race under the Torco banner. We're coming off of our best season ever and everyone will be aiming at us, so we'll be ready."
Steve Creasy, crew chief added, "We certainly enjoy our association with Evan and Torco. We're proud to be a part of the Knoll racing family and look forward to keeping this championship team intact to defend our title."
"I'm as excited today as I was the day I started with this team," said Allen Meyer, crew chef and second generation drag racer. "This team has worked together for a long time. Dale and Evan have put together a great opportunity for us to go out there an not only be competitive, but put together round wins, event wins and a championship."
There's a lot of excitement around the Creasy Family Motorsports team this off-season as the team prepares for the 2007 campaign. "There will be some more exciting announcements this winter," Creasy said. "There will be a lot of shinny stuff on this car. It will look a little different but there will still be a lot of Torco red and black in the paint scheme."
Dale Creasy, Jr. and his championship Torco powered Nitro Funny Car, partner with high quality and performance companies like; Torco Race Fuels, Oakley, Red Line Oil, MSD, Crane Cams, BME, Fram Autolite, Polydyn TX7, TEK PAK, VSI, GM Performance and Beaver Shredding.




IHRA: 10 Most Recent Entries [ top ]

Apr 24- Racers Receive Prizes at IHRA Summit Sportsman Spectacular Opener
Apr 24- Comeaux, Hughes Make History at IHRA Summit Sportsman Spectacular
Mar 21- 2018 IHRA Summit Sportsman Spectacular Series on April 20-22
Feb 26- Weather-Related Construction Delays Postpone IHRA Xtreme Raceway Park Opener
Feb 16- IHRA Summit Sportsman Spectacular Schedule Announced
Feb 15- New York Track Finds Value for Racers with IHRA Agreement
Feb 15- IHRA Summit Sportsman Spectacular Debut Only One Month Away Now is the Time to Pre-Enter
Feb 15- Summit Texas Location is a Racers' Paradise
Feb 15- Canadian Track Makes Large Commitment to IHRA Drag Racing
Jan 27- Mid-Michigan Destination Joins IHRA Family