Tue, 5 Dec 2006, 10:39 AM



Mantovano Wins 2006 Castrol Syntec Outperformers Award



Courtesy of Amy Vierzchalek



$7,500 Scholarship, California Trip Cornerstones of Prize Recognizing Young Automotive Technicians



POMONA, Calif. --
John Force presents Luca Mantovano his check.
Luca Mantovano, a sophomore at the University of Wisconsin, is the 2006 national winner of the CastrolR SYNTECR OutperformersT scholarship.
Mantovano was recognized by drag racing icon John Force during the annual Auto Club of Southern California Finals the final event in the 2006 NHRA POWERade Drag Racing Series.
The Castrol SYNTEC Outperformers initiative, which grew out of research that showed a disturbing downward trend in the number of individuals opting for careers in the automotive field, recognizes and encourages young men and women who have demonstrated an interest and aptitude for auto mechanics.
"Through the SYNTEC Outperformers program, we try first to encourage young people like Luca, who already have demonstrated a passion for auto mechanics," said SYNTEC Brand Manager Melanie Losey. "The second part of the initiative is to identify opportunities that will make the industry more attractive to a generation that has so many other options."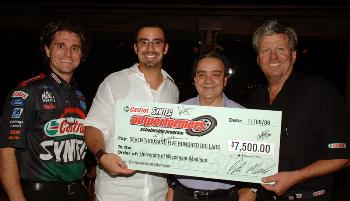 Medlen, Mantovano and his father, Andrea, and Force
Mantovano, a 19-year-old mechanical engineering major, was selected from hundreds of entrants from across the United States, each of whom was asked to respond, in 500 words or less, to the question "why should you win the 2006 Castrol SYNTEC Outperformers scholarship?"
Mantovano's entry documented a passion for automobiles and automobile engines dating back to his childhood in Lake of the Hills, Ill.
"While my parents allowed me to play with the model racing car collection my father had gathered over the years," Mantovano wrote, "my enjoyment was taking each one apart.
"My idea of playing was to dissect and examine closely the small parts I scattered throughout the room" Mantovano recalled. "The excitement, however, was the grand finale when I would put everything back together."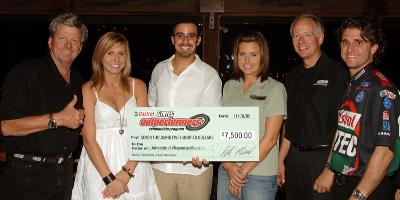 Force, Courtney Force, Mantovano, Ashley Force,
Castrol's Bruce Firkins and Medlen.
Today, as a member of the University of Wisconsin's Formula SAE Racing Team, Mantovano continues to demonstrate his passion for cars and engines.
While a $7,500 scholarship is the cornerstone of Mantovano's package, he also received a five-day, four-night trip for two to attend the Auto Club Finals, tour the John Force Racing facility in Yorba Linda, Calif., and have dinner with team drivers John Force, Eric Medlen, Robert Hight and Ashley Force. He also received a year's supply of Castrol SYNTEC motor oil and $1,000 in Mac tools.
Second prize winners were Daniel Todd of Portville, N.Y., Philip Bolig of Middleburg, Pa., Matthew Stevens of Thornton, Colo. and Zachary Fountaine of Gallatin Gateway, Mont. The five third prize winners were Owen Parker of Gothenburg, Neb., Efrain Colon of Coatesville, Pa., Jeremy Blanton of Magnolia, Ohio, Caitlin Oestreich of Omak, Wash., and Krysta Hurt of Tucson, Ariz.
BP Lubricants USA Inc., has already begun accepting entries for the 2007 Castrol SYNTEC Outperformers program. So if you're between the ages of 16 and 25, Castrol invites you to "Unlock Your Potential" by submitting your entry at http://www.syntecoutperformers.com before the May 31, 2007 deadline. A complete set of program rules also is available at the site.




NHRA: 10 Most Recent Entries [ top ]

Aug 13- INDY 3 - Through the Lens of Ron Lewis
Aug 13- INDY 3 - Pro Mod Wrap Up
Aug 13- INDY 3 - Elimination Video
Aug 13- INDY 3 - Qualifying Video
Aug 10- INDY 3 - Pro Mod Championship Points
Aug 10- INDY 3 - Top Fuel Harley Championship Points
Aug 10- NHRA Southern Nationals Canceled Due to Covid-19 Concerns
Aug 09- INDY 3 - Sunday Wrap Up
Aug 09- INDY 3 - Summary of Eliminations in Top Fuel
Aug 09- INDY 3 - Summary of Eliminations in Funny Car