Tue, 5 Dec 2006, 09:55 AM



Slow Down, Don't Speed Up



By Bob Frey


Photo copyright 2006 Auto Imagery, Inc.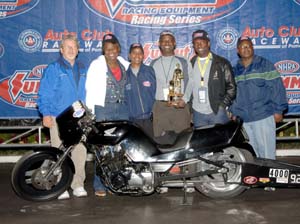 Nash and crew celebrate win.
Most people think that the key to success in drag racing is to go fast, but that's not the philosophy of Michael Nash, the 2006 Summit Racing E/T Series Motorcycle champion. "Whenever I find myself getting a little flustered or on edge, I just tell myself to slow down and relax. Don't speed up." Apparently that philosophy works well for Michael since he went six rounds to win the Division 4 motorcycle crown and then he went three more in Pomona to be crowned the national champ. "I've found out that if I settle down, relax and think I can work out most of my problems." Sounds like a bumper sticker to me, but it sure works for Michael who is one of the best and most accomplished motorcycle racers in the country.
There's another old adage that goes something like this, "You can't win at the track if you don't get to the track." That saying that played a big part in Michael's Pomona experience. "Romona and I were planning on leaving home around five in the morning and when we headed out we got about thirty minutes from home and I remembered that I had left my event invitation at the house and I needed that so we headed back. Once we got on the road again we got about a hundred miles from home and I realized that I had left my laptop at home, and since I tune with it, we needed to go back again." After that second return trip Michael and Romona finally headed west about noon, a few hours later than scheduled, but this time they had everything they needed. The rest of the trip was uneventful and when they got to the track they settled in for what turned out to be a very successful weekend. "It tuned out all right and we had a great time," Michael said. "The way we were treated by NHRA and everyone at Summit Racing was really special. They treated us like real racers and made us feel like we were a big part of the activities for the weekend."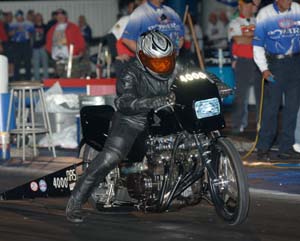 Michael Nash
Michael Nash is one of many racers who started with and stayed with motorcycles. "Oh, I have raced a car," he said. "One night about four years ago at Red River Raceway I raced my bike in the motorcycle class and my Jeep in the no electronics class and won with both of them. I also raced my bike in the Top Super Pro class at Red Line Raceway in Caddo Mills, Texas against the dragsters and I won that night. But I've never owned a race car and I love motorcycles and that's where I plan on staying." Good thing, too, since Michael is part of a very good and successful program at his home track, Red River Raceway. "Ken and Molly Hall are very supportive of the motorcycles," he said. "They run a good program and we're as much a part of their track as any of the cars." To illustrate that point, Michael points out that when Red River hosted the popular National Dragster Challenge at their track, they made sure the motorcycles were part of it. "They bough a 'Wally' for the bikes and we all wanted to win it. The bike racers are very close and very supportive of each other, but when it comes to racing, we all want to win." As fate would have it, Michael was the one who won the race and the 'Wally' trophy. Michael's trophy shelf is getting pretty crowded with a national championship trophy from Pomona to go along with his five track championship trophies from Red River Raceway.
Michael began riding motorcycles almost two decades ago. "I had a nice little 750 Honda that I did some work on and it was a pretty good motorcycle." His current ride features a chassis by famed motorcycle builder Sam Wills. It has a 750 frame that Sam re-worked before adding a swing arm and then fitting a fiberglass body to it. The engine has the bottom end of a 750 motor with bigger heads and pistons, but make no mistake about it, it is all Honda. In addition to his race bike, Michael also has a couple of street bikes, both Hondas. "One is a little 250 Rebel that Honda makes. I take it with me to the races so that if I need to go off the grounds and get something, it's legal and I just take it." The other bike is a little quicker than the Rebel. It's a shaft-drive, 1000 c.c Honda that Michael rides for fun. "I have some nice older bikes," he said, "but I don't have any of those new fangled bikes." With his riding ability and his easy going philosophy about racing, Michael has everything he needs to be a winner.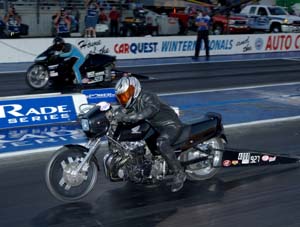 Nash vs. Jeff Lanoue in the final.
Once he and Romona got to Pomona, Michael took in all of the sights and sounds of the event. "My two sisters, Audry and Alice, my brother, Curtis, and my first cousin, Michael Holmes, were all with us at the track, so it would have been a good weekend no matter how it turned out. Romona and I, along with Audry and Alice, went to the Summit dinner and that was really nice. I got to talk to Craig Treble and he was very encouraging. I have actually raced Craig before at some of the bracket races." Craig even gave him some advice that Michael says paid off later in the weekend. "He told me that, when it comes to big races like this, you can't play it safe, you have to go for it." That's exactly what Michael did en route to his win. Among the times when he went for it was the semi-final round when he put up a perfect reaction time. "I can live with a red light," he said. "But I don't want to lose with a '60' or '70' light. That would hurt." A quick look at Michael's history will show that he had the better reaction time in each round at the Division 4 finals and, with his perfect light in round two in Pomona, he was almost flawless all weekend long. "In the final round I was looking into the sun and I knew that would slow my reaction down a bit, plus I was still having some issues with the clutch and I knew that would affect my reaction time, too. So I just relaxed, slowed down, thought it out and I guess it all worked out OK." I guess it did.
Running in front of the big crowd in Pomona didn't bother Michael and he adjusted to the changing weather conditions, too. "It was a lot different as far as the altitude on race day than it was during our practice runs. I thought I could run about 9.26 or 27 in the first round, but with the clutch situation I was having, I dialed a 9.28." He then went out and ran a 9.298 to beat Phil Nasca in that round, and then came the perfect reaction time in the semis. For the finals, he dialed a 9.27 and ran 9.279 to beat Jeff Lanoue and a new national champion was crowned. "I knew my lights were pretty good, and when I do my job on the line the bike will always take care of itself. As long as I have been running motorcycles, this is by far the biggest win I have ever had. The only thing that could be better would be to do it again." With his bike, his consistency and his philosophy, winning it again is a real possibility.
Michael attributes a lot of his success to the encouragement and competitiveness of his fellow motorcycle racers, and all of the racers in both Division 4 & 5. "We're all competitive but we're also good friends and we bring out the best in each other. Guys like Terry Blakely, J.J. Hughes, Maurie Spratt, Bruce Calhoun, Don Gross and Len Baker always bring out the best in you. And Wayne Braswell, who has no delay box on his bike, he's the one who put an "00" light on me in the finals at our track and he taught me that anyone can beat you any time so you can never let down." As he learned, you can't let down, all you have to do is slow down and everything else will take care of itself. If you don't believe me, just ask Michael Nash, the 2006 Summit Racing Equipment Series Motorcycle national champion for 2006. Oh, by the way, on the way home Michael remembered to bring everything with him, including his latest 'Wally.'




NHRA: 10 Most Recent Entries [ top ]

Jun 03- NHRA Mello Yello Drag Racing Returns Beginning with Two Indianapolis Events in July
Jun 03- A Message From Summit Motorsports Park President Bill Bader Jr.
May 21- Second JEGS SPORTSnationals Added, to be held in mid-August in New England
May 20- DENSO Sponsors NHRA Champs' Shelter-in-Place Dachshund Race
May 14- To Our Racing Community-From Racers for Christ
May 13- The Name Game Part I
May 12- Morgan Lucas, Son of Forrest and Charlotte Lucas, Appointed President of Lucas Oil Products, Inc.
May 05- Cancellation of the 14th Annual Summit Racing Equipment NHRA Nationals
May 04- NHRA Announces Revised Plan to Restart 2020 Mello Yello Drag Racing Series
Apr 29- DSR Drivers Join Global Superstars in Fight for COVID-19 Relief