Sat, 2 Dec 2006, 09:15 AM



Alphatrade.com Inks Deal with Kenny Bernstein Racing



Courtesy of Susie Arnold



"The King of Speed" Races with the Internet's Fastest Financial Information Provider



LAKE FOREST, Calif. --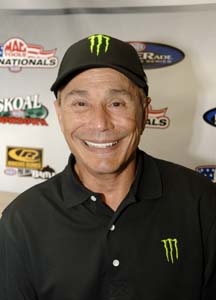 Kenny Bernstein
Six-time National Hot Rod Association (NHRA) world champion Kenny Bernstein, well-known for his business savvy, today announced that he has formed a multi-year major associate sponsorship partnership with AlphaTrade.com, (OTC.BB: APTD), a global provider of customized real-time financial information for professional, institutional and individual investors.
The AlphaTrade name will appear on both cars driven by the Bernstein family: Kenny's Monster Energy/Lucas Oil Dodge Charger Funny Car that he will debut on the NHRA circuit in February 2007, as well as Brandon Bernstein's Budweiser/Lucas Oil dragster.
AlphaTrade.com is a world leader in providing real-time stock market data, global news and high-quality financial information. Launched in 1999, AlphaTrade offers financial data that is both modular and multi-lingual to millions of investors throughout the world.
"Kenny and Brandon are drag racing royalty, and we're ecstatic to be working with them," said AlphaTrade CEO, Penny Perfect. "From the moment I met with Kenny and his people, I realized there was considerable synergy between our respective teams."
The Bernsteins will race two separate classes of cars and will not compete directly, thereby doubling the exposure of the sponsorship.
"We are thrilled that AlphaTrade CEO Penny Perfect chose our team and the sport of NHRA drag racing to showcase their high performance service," said Kenny Bernstein. "It's a perfect match! As an avid stock market investor, I was very impressed with the information that AlphaTrade can provide. I can follow the stock market in real time. It's like standing on the trading floor at the New York Stock Exchange. AlphaTrade keeps pace with us in the 300 mile-per-hour world we live in."
"This technology is awesome," said Brandon Bernstein. "With all the latest wireless gadgets and wizardry, it's irresistible to have the ability to check on stocks at the track, in the airport, or sitting in the office."
"We are excited about the opportunity to help make AlphaTrade a household name among the avid investors or those who are just getting started," continued Kenny. "This technology is user-friendly and provides invaluable information."




NHRA: 10 Most Recent Entries [ top ]

Jun 03- NHRA Mello Yello Drag Racing Returns Beginning with Two Indianapolis Events in July
Jun 03- A Message From Summit Motorsports Park President Bill Bader Jr.
May 21- Second JEGS SPORTSnationals Added, to be held in mid-August in New England
May 20- DENSO Sponsors NHRA Champs' Shelter-in-Place Dachshund Race
May 14- To Our Racing Community-From Racers for Christ
May 13- The Name Game Part I
May 12- Morgan Lucas, Son of Forrest and Charlotte Lucas, Appointed President of Lucas Oil Products, Inc.
May 05- Cancellation of the 14th Annual Summit Racing Equipment NHRA Nationals
May 04- NHRA Announces Revised Plan to Restart 2020 Mello Yello Drag Racing Series
Apr 29- DSR Drivers Join Global Superstars in Fight for COVID-19 Relief