Fri, 1 Dec 2006, 10:21 AM



Rick Cassel to Lead Foley and Lewis into the 2007 Season



Courtesy of John DiBartolomeo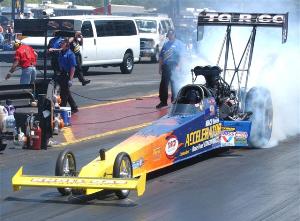 Doug Foley
Doug Foley recently announced the hiring of veteran Rick Cassel as crew chief and an integral part of the Foley and Lewis Torco Mach Series Accelerator-sponsored Top Fuel team.
"Now that I'm all healed up from our accident in September," Foley said, "we have a brand new Attac Race Cars chassis being readied for next year's competition. And now with the addition of Rick Cassel as our tuner, we're really excited to get back on track."
Cassel is a native of Wisconsin, but has a long and storied past in the sport. The 47-year old plied his trade with a number of top teams such as Roland Leong's Hawaiian Funny Car, Cruz Pedregon's McDonald's team and Bob Vandergriff's Jerzee-sponsored fueler.
"I know this sounds like a cliche," Cassel said, "but I really am looking forward to getting back to wrenching after taking some time off. The technology of these cars is always changing, but with the baseline the team has created over the last three years I don't believe it will take me long to get back up to speed."
Cassel will be working with two long-time Foley employees, Glenn Camp and Scott Morell, to bring the Torco team back to prominence. Before the team's accident in the final round of the IHRA Canadian Nationals in September, Foley was leading the points chase and stood as the man to beat at that point. Missing the final two races of the year due to injuries sustained in the crash pushed him back to fourth place in the year-end standings. But a new race car, a new crew chief and a renewed outlook on life has the Foley and Lewis team anxious to get the new year started. Cassel will also be working with the team's second car that last year finished No.2 in the IHRA Knoll Gas Torco Racing Fuels Pro Nitro class.
Team co-owner Tim Lewis said, "I really can't wait to get back racing again. I'm just so excited that we were able to regroup so quickly that I wish we could start racing right now."
Plans for 2007 call for the team to attend all three of the NHRA pre-season test sessions in Las Vegas and Phoenix, as well as attending the first three NHRA national events in Pomona, Phoenix and Gainesville. From that point, the IHRA season will begin in San Antonio, Texas, where the team was the event champion in 2006.




IHRA: 10 Most Recent Entries [ top ]

Mar 21- 2018 IHRA Summit Sportsman Spectacular Series on April 20-22
Feb 26- Weather-Related Construction Delays Postpone IHRA Xtreme Raceway Park Opener
Feb 16- IHRA Summit Sportsman Spectacular Schedule Announced
Feb 15- New York Track Finds Value for Racers with IHRA Agreement
Feb 15- IHRA Summit Sportsman Spectacular Debut Only One Month Away Now is the Time to Pre-Enter
Feb 15- Summit Texas Location is a Racers' Paradise
Feb 15- Canadian Track Makes Large Commitment to IHRA Drag Racing
Jan 27- Mid-Michigan Destination Joins IHRA Family
Jan 27- Mississippi Track Reaches Sanctioning Agreement
Jan 16- Michigan Track to Host IHRA Summit Sportsman Spectacular