Fri, 1 Dec 2006, 09:23 AM



He Is The Champ....For The 14th Time!!



By Bob Frey


Photo copyright 2006 Auto Imagery, Inc.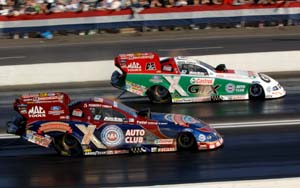 Force vs. Hight
Before I begin I must say that it certainly was a good thing that
John Force
had already clinched the championship in Pomona before he ran
Robert Hight
in the semi-finals, wasn't it? I mean, if Robert had crossed the center line and been disqualified in a round that John needed for the title every conspiracy theorist in the world would have yelled "fix." I also would like to point out that not even John, as good as he is, and he's the best, could have driven his car over the center line and pulled it back in order to give away a run.
Al Hofmann
, maybe, but not John. OK, so I'm kidding about Al Hofmann, but I'm sure glad that the championship was decided by that point because John and Robert would still be answering questions about it had it not been settled a round earlier. That earlier round was, of course, the one with
Ron Capps
and his
Brut
Dodge.
Ron, along with crew chief
Ed McCulloch
and the rest of his very talented team, had another good year, in fact a great year by most standards, only to come up short against John and Robert, but let's face it, to lose to John and any one of his "Team Force" cars is nothing to be ashamed of is it?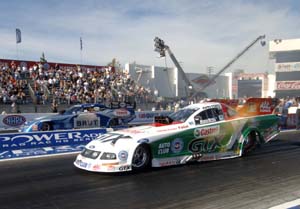 Force vs. Capps
Ron finished third in the overall Funny Car points this year, about one round behind Robert and about six behind John. The fact that he finished third should not be lost on the real story of the year and that is that Ron made John work all year long and made him sweat for most of the season. In the end, though, as he has done more often than not, John prevailed and that's why he's the champ for the 14
th
time. And that's why he's the best.
Before talking about John, that is more than I already have, let's give some credit to Robert Hight, Jimmy Prock and the crew on the Automobile Club of Southern California Ford. Robert, almost forgotten around mid-season, came on with a rush at the end of the year, and were it not for a broken part on the burnout in Las Vegas, we might be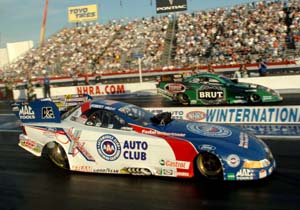 Hight vs. Capps
saluting Robert as the champ. Of course, a lot of things happened during the season long before the Vegas race that impacted the year and Robert's position. I remember saying after the Winternationals that if Robert made a serious run for the championship in 2006,
he and his team would look back on that near miraculous weekend as the reason why they were even in position to challenge for the title. Let's face it, if it weren't for the fact that they had a spare Ford body in the Top Eliminator Club area, Robert might not even have made it to the starting line for that final round. As it turned out, he broke just about everything in and on the car, and the things he didn't break he burned up, and still, with the aid of one of the best crews in the sport, he was able to make it to the line for the final round and win the event. And, not to belabor the old adage that says "no one ever remembers who came in second," do you remember who Robert beat in the final at the Winternationals? Of course, it was Ron Capps and it was a great final round, with Robert running 4.763 to just beat Ron's 4.775. Toss in the fact that the two drivers were dead even off the starting line and it was a great way to start the year for two wonderful teams that both gave us some great moments in 2006.
Did you know
that after their Winternationals' meeting Robert and Ron only met three other times the entire year? Robert went 3-1 against Ron in 2006 and, just by way of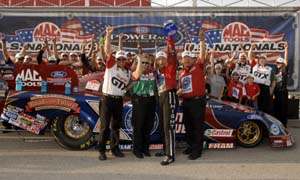 Hight and crew celebrate win.
comparison, in addition to that loss at the final race of the year to John, Robert also lost in their only other two other meetings of the season.
Did you know
that of the twenty-two racers whom Robert has faced in his first two years, he has a winning record against eighteen of them? He has a losing record against both of his teammates, John and
Eric Medlen
, while
Tony Pedregon
and
Gary Scelzi
are the others. In his first two years on tour Robert has accomplished a lot, like winning the Rookie of the Year last year and almost going the distance in 2006. Still, with an overall mark of 63-41, with ten final rounds in just forty-six races, with fifteen number one qualifying spots and a dozen top speeds to his credit, he certainly has established himself as one of the best young drivers in the sport. OK, let's make that one of the best drivers, period. Of course the fact that he has Jimmy Prock tuning and a lot of really good help on the team doesn't hurt, either. If you asked any of the other Funny Car teams this year they would tell you that Robert's car was the one that scared them all year long. By that I mean that it was always a threat to run low elapsed time (which they did nine times this year) and to go rounds on race day. In the interest of fair reporting I think I can honestly say that not even John's car had that kind of a reputation in 2006. Still, in the long run, look who's champion.
Ron Capps, once again, had numbers that would normally have been good enough to win the championship. With five wins he led the FC class this year, just like he did in 1998 when he finished second to John in the points. Last year he won more rounds than the champion, Gary Scelzi, and finished second. Now I'm a "the glass his half-full" kind of a guy and I think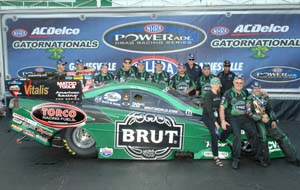 Capps and crew celebrate win.
that Ron and his team have a lot to be proud of this year (and in previous years), although I'm sure that they are disappointed. After all, the nature of the beast is to win and, like I said earlier, nobody remembers who finished second. Still, for Brut, Dodge,
Don Schumacher
and all of the other great sponsors on that team, they had a wonderful year. Ron won thirty-seven rounds, two more than Robert and four less than John. Ron went to eight final rounds, two more than Robert and the same as John, and Ron won five races, two more than both Robert and John. As I pointed out a few weeks ago, Ron gave back some points in qualifying and that came back to bite him at the end of the year. The difference between a top half qualifying spot and one in the bottom half can be as many as seven points but it usually averages out to about four, and, when you add that up over the course of a twenty-three race season, it can and has been the difference between a first, second or third place finish....The "Team Force" cars dominated in qualifying this season, with John grabbing the top spot six times and Eric doing the honors three times. Robert, however, was the shining star in that department with an amazing nine top spots on the year. So, if you're doing the math, that means that the three Fords were the best going into race day eighteen times this year. No bad, huh?
Did you know
that the three Fords also qualified one, two and three at four races this year and that, in the previous years they had done it a grand total of five times? When you look at it that way they didn't leave a lot of qualifying points on the table for anyone else, did they?....Of the five top spots that were still up for grabs in 2006 I think the average fan would be hard pressed to name the drivers who occupied them.
Did you know
that the only driver to do it more than once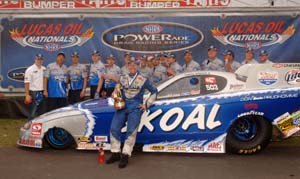 Johnson Jr. and crew celebrate win.
this year, besides the Fords of course, was
Tommy Johnson
and the
Skoal Chevrolet
? As I mentioned many times during the season
Mike Green
and his crew had that car running well all year long. The other number one spots were occupied by
Tony Bartone, Gary Densham
and
Jack Beckman...
If I may digress just a moment, permit me to say that, from what I hear,
Todd Okuhara
and Jack Beckman will be together next year although I'm not quite sure what type of car they will be competing with. A Top Fuel car is a possibility but I, like a lot of others who watch the class closely, would sure like to see Todd and Jack start the season together with the world's quickest and fastest Funny Car just like they finished this year. I guess we'll all find out soon enough, won't we?...Jack Beckman was the only Funny Car driver who didn't finish in the top ten and who won a race this year. Of course the fact that he only competed in five races might have had something to do with that top ten stat don't you think.
Did you know
that every driver who finished in the top ten in the FC class won at least one race this year? And
did you know
that's the only professional class where that happened in 2006?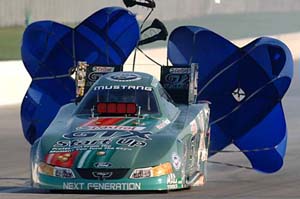 Ashley Force in Funny Car.
John Force won the championship this year as he has done so many times before, in a come from behind mode. Of course he has also gone wire-to-wire before so it really doesn't seem to bother John where he is during the season as long as he ends up on top at the end, and he does most of the time. I was one of those who said at the beginning of the season that John had a lot on his plate, including watching his daughter, Ashley, progress through the training process in a Funny Car, to watching his other daughters Brittany and Courtney make their appearances in the Super Comp class. Toss in all of the energy and attention required to put together his television show,
"Driving Force,"
and you had a lot of things on the plate and I thought that would take its toll on the champ. Well, shows what I know doesn't it? John came from off the pace to win his fourteenth title in dramatic fashion, clinching it at the last race of the year by beating his two chief rivals, Ron and Robert along the way. Over the course of his career John has now won an amazing 967 rounds out of the 1310 rounds in which he has competed. If my math is correct that calculates to a winning percentage of .738 which is, ironically, the exact same winning percentage that
Greg Anderson
has (305 - 108).
Did you know
that the best, current winning percentage in the sport belongs to
Angelle Sampey
who has won 322 of the 432 rounds in which she has competed? That figures out to a .745 mark, although I have to admit that math never was my long suit (that's why I took four years of Latin in high school).
I don't care what sport you're in, if you win three-quarters of your races, games, chess matches or tidily winks tournaments, you're doing really well. After all, in baseball, a .300 average gets you into the Hall of fame, doesn't it?...To illustrate just how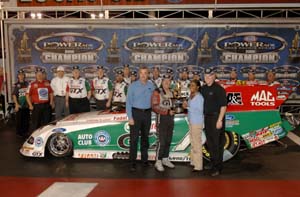 Force and team celebrate win.
tough the competition is getting in the FC class,
did you know
that John won the title with a grand total of forty-one round wins this year? And
did you know
that's the lowest total for John of any of his fourteen championship years? During the season, John,
Austin Coil, Bernie Fedderly
and the rest of the
Castrol GTX
team also did something that I still think is even more impressive than winning fourteen championships or three-quarters of their races.
Did you know
that that team has now qualified for a stunning 392 consecutive races? Well, if you're a regular reader of this column you certainly know that because I often point it out, and why not, it is a spectacular achievement. That means that if all goes according to plan, when we go to
Bristol, Tennessee
next year, John and his team will make the field for the 400
th
consecutive time. Wow!!...John was his vintage self at the awards ceremony, and if I had anything to do with it, I would have taped his entire speech and sold it on a DVD (or CD or an eight-track, or quadraphonic or whatever) and then retired. The old Diamond P tapes "And They Walked Away" were big sellers but they would pale in comparison to what a John Force acceptance speech tape would do. Congratulations to John and his entire team, all three of them, for another great year and I can't wait for 2007 when they will have another car in their stable....Ashley's. It should be some fun.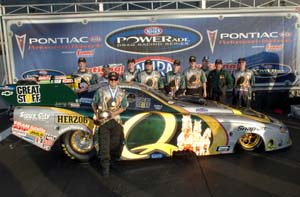 Pedregon and crew celebrate win.
The entire Funny Car class gave is some great moments this year and that includes Tony Pedregon and his
"Q"
team, a team that won three times and finished fifth in the points. It also includes Tommy Johnson and his team which, as I already mentioned, had a very good year.
Did you know
that TJ's sixth place finish equals the best finish of his career? He also finished sixth last year, the best of his seventeen pro seasons (including those where he only raced part time)....
Phil Burkart's
eight place finish was the best of his career and the best for the
CSK
teams this year....Whit Bazemore has to get some credit for staying in the top ten this year, despite missing the last five races. Whit will return next year in a dragster where he won't have to race John or
Ashley Force
. Oh yeah, he will have to race
Tony Schumacher, Doug Kalitta
and the rest of the dragster teams, but it will be good to see him back at the races. I wonder who is more ready for Whit to return, him or his wife, Michelle?....And after his good showing at the final race of 2006, I fully expect to see
Tim Wilkerson
return to form next year. That's a solid team and, like all good teams, he's entitled to an off-year every now and then and I don't expect to see that happen again for a while....In case I didn't mention it before,
Brian Corradi
isn't going anywhere, except perhaps to the winner's circle with
Mike Ashley
next year.




NHRA: 10 Most Recent Entries [ top ]

Jun 03- NHRA Mello Yello Drag Racing Returns Beginning with Two Indianapolis Events in July
Jun 03- A Message From Summit Motorsports Park President Bill Bader Jr.
May 21- Second JEGS SPORTSnationals Added, to be held in mid-August in New England
May 20- DENSO Sponsors NHRA Champs' Shelter-in-Place Dachshund Race
May 14- To Our Racing Community-From Racers for Christ
May 13- The Name Game Part I
May 12- Morgan Lucas, Son of Forrest and Charlotte Lucas, Appointed President of Lucas Oil Products, Inc.
May 05- Cancellation of the 14th Annual Summit Racing Equipment NHRA Nationals
May 04- NHRA Announces Revised Plan to Restart 2020 Mello Yello Drag Racing Series
Apr 29- DSR Drivers Join Global Superstars in Fight for COVID-19 Relief