Tue, 31 Oct 2006, 10:57 PM



That Was A Gutsy Move!!



By Bob Frey


Photo copyright 2006 Auto Imagery, Inc.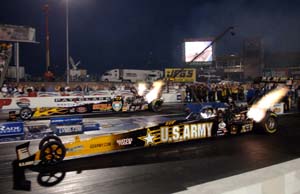 Schumacher vs. Todd
Prior to the final round at the
AC Delco Las Vegas Nationals
, both
Tony Schumacher
and his crew chief,
Alan Johnson
, said that they were "going for the record" in the final round. That meant that, since the sun had gone down and the conditions were right, they were going to attempt to run 4.43 or quicker in order to set the record and, in the process, get the additional twenty points that goes with the record. The way I look at it, that was a pretty gutsy move. Think about it, in the perfect world they win the race and set the record and gain an additional forty points on
Doug Kalitta
. However, in a non-perfect world, they smoke the tires, lose the race and give up those forty points. So, I guess the way it ended up, they "pushed," in
Las Vegas
terms. By that I mean that they won the race but didn't set the record, although it was close. Tony ran a 4.469 in the final round even though the engine wasn't in one piece as Tony crossed the finish line. We'll never know what might have happened if the Army car had been firing on all cylinders for the entire quarter-mile, but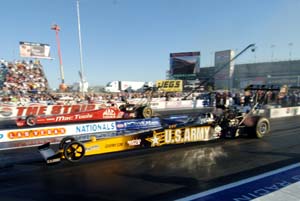 Schumacher vs. Kalitta
what we do know is that we have quite a battle going into
Pomona
in the Top Fuel class. Tony is now forty-five points behind Doug as they head into the last race of the year and that means, basically, that he has to go more than two rounds further than Doug in order to complete his fantastic comeback. With twenty points per round at stake, plus the "little points" that you get in qualifying, Tony needs to qualify higher than the
MAC
Tools
car and then last two more rounds in eliminations. Of course a national record could also be a possibility although history may not be on Tony's side.
Did you know
that the national elapsed time record has been set seven times at the
Pomona
track but that only once did it happen at the final race of the year?
Shelly Anderson
ran 4.718 to set the mark at the last race of the 1994 season but, other than that, the E/T record has never been set at the last race of the season in
Pomona
. The speed record has been set at that race several times but, alas, you don't get any points for setting the speed record anymore. So it will be up to Alan Johnson to give Tony the power he needs to go for those extra points, and if anyone can do it, Alan can. Just for the record,
did you know
that Tony has set the national record two times? He did it once in
Maple Grove
(2003) and at
Chicago
earlier this year...
Scott Kalitta
was testing in
Las Vegas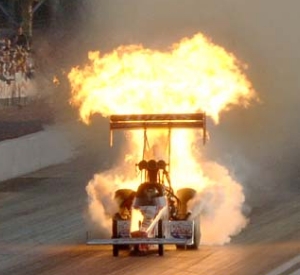 Morgan Lucas
on Monday after the race and, from what I hear, he was driving
David Grubnic's
car. I also heard that David was testing Doug's car. Wonder why? Speaking of David,
did you know
that he has raced Tony five times this year, including in round two in
Las Vegas
, and has lost all five of those races?...
JR Todd, Dexter Tuttle
and
Jimmy Walsh
continue their great showing in 2006. With his runner-up performance, JR has moved all the way up to eighth place in the points and, if everything falls into place, he could finish as high as seventh this year and that's not bad for a team that has missed five races this year, is it?...Did you notice that Doug's car, which was yellow on Friday and Saturday when he won the
Budweiser Shootout
, was back to its normal red trim on Sunday?...
Morgan Lucas
failed to qualify for the first time in his fifty-three race career and, when he couldn't earn any points on Sunday, he dropped from the top ten for the first time this year. In fact, it's the first time since he joined the tour full time at the beginning of the 2005 season that Morgan hasn't been in the top ten in points.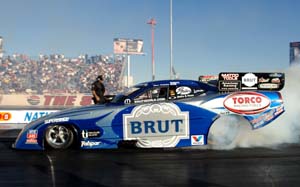 Ron Capps
As tough as the job may be for Tony in
Pomona
it's going to be even tougher for
Ron Capps
as he tries to catch
John Force
. John, who came in to
Las Vegas
with a forty-six point lead over Ron, left town with a seventy-one point advantage. While seventy-one points isn't impossible to overcome it is almost impossible. That differential means that Ron has to hope for an early loss for John while he, basically, has to win the race. Stranger things have happened, but right now it sure looks like John is in the driver's seat, so to speak, in the battle for the FC championship. And let's not forget
Robert Hight
who is only two points behind Ron in the championship chase. I guarantee you that when Robert,
Jimmy Prock
and the rest of that team look back on the season they will wonder what might have been if the car hadn't died on the burnout in round one in Vegas.
Did you know
that in his two year career that was the first time that Robert's car never made it down the track during eliminations?
Even with that, it appears that he has the best car from a performance standpoint and maybe he can go the distance and set the record in
Pomona
. Maybe....
Jack Beckman
joined the list of Funny Car winners when he took the
Matco Tools
car to the title in
Las Vegas
. Jack did this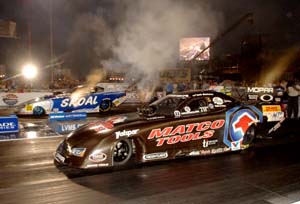 Beckman vs. Johnson Jr.
in just his fourth start and, in the process, he becomes the 79
th
driver to win a national event in the Funny Car class.
Did you know
that, of that total, twenty-eight of those drivers, including Jack, only have one win on their resume? Jack joins
Randy Anderson
as the only guys to have won a Lucas Oil Sportsman title and then win a national event in the Funny Car class.
Did you know
that Jack's first national event final round came in
Sonoma
in 1992 and that he won the Super Comp world championship in 2003? Jack was quick to give a lot of praise to his team and his crew chief,
Todd Okuhara,
after the race and that was nice to hear, after all, if the crew doesn't give you a good car nobody is going to win a race. Nobody. By the way, in the POWERade podcast that I did with
Don Schumacher
after the race, he told me that Jack Beckman will be driving a Funny Car for him next year. Next to having Jenna Lucy say "yes, I'll marry you," that could be the best news that Jack has heard in a while....
Tommy Johnson
had another good outing this week when he took his
Skoal Monte
Carlo
to its third final round of the year. While we are patting crew chiefs on the back, how about the job
Mike Green
and his crew have done with TJ's car this year? They have run well at almost every race and Tommy is looking at matching his best finish ever in the POWERade points. Nice job, team...
Ashley Force
stayed and tested in
Las Vegas
and she ran some low 4.8 runs from what I heard, and that should serve as a message that she is ready to go next year. I wonder if the points chase were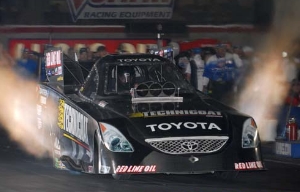 Scott Kalitta
even closer than it is if John may have had Ashley suit up in
Pomona
? I guess we'll never know will we?...
Scott Kalitta's
Toyota
ran well in Vegas before being taken out by
Eric Medlen
. I firmly believe that if they stick with that body style that Scott may be a factor in the points next year, that is, if he didn't enjoy driving David's car so much that he goes back to the
dragster class....
Johnny West
stopped by the announcing booth on Sunday and he had some great comments to make about the Funny Cars as they approached each round. He was so good, in fact, that I think he would make a nice addition to the ESPN shows when he is available. But, from what he told me, he won't be available since he will join
Kenny Bernstein's
new team next year. Working with
Ray Alley,
Johnny will bring a lot of talent and knowledge to the team that could make "The King of Speed" a factor right from the beginning of the season. Still, if that doesn't work out, Johnny should think about that TV gig.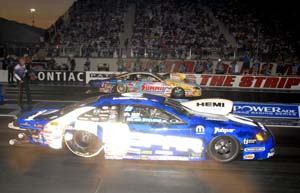 Stevens Jr. vs. Line
Richie Stevens
went into
Las Vegas
as a 20 - 1 long shot and he left town as the champion. The
Mopar / Valspar
driver really earned his money when he put a .002 reaction time on the board in the final round to beat
Jason Line's Summit Racing Pontiac
. That great reaction time followed a .007 in the semi-finals against
Dave Connolly
and a .007 in round two against
Larry Morgan
. Richie's driving along with the power that he got from
Allen
and
Roy Johnson
enabled him to win for the second time in the last four races.
Did you know
that this is the first time in his career that Richie has won more than one race in a season? The win, coupled with the fact that
V. Gaines
didn't qualify, moved Richie into ninth in the points while
Larry Morgan
is tenth, just about a round behind Richie. With Richie running out of the Don Schumacher camp, as well as Tony and Jack Beckman, it marked the first time in more than two years that the "Don" has had three winners at the same race. Ironically, this comes after the
Virginia
race where he didn't have anyone in the final round, let alone the winner's circle for the first time in more than a year.
Did you know
that it was at
Maple Grove
in 2004 that Don had his last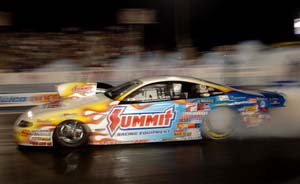 Jason Line
"three-peat?" There, Tony,
Gary Scelzi
and
Angelle Sampey
all stood together in the winner's circle along with Mr. Schumacher....
Jason Line
has had the best Pro Stock car for most of the season and that fact is now verified since he is the 2006 POWERade Pro Stock Champion. Along with his wife, Cindy, and son Jack, a beaming Jason told everyone how much it meant for him to win this and how humbled he felt at the same time.
Ken Black
told me after the race that he, too, is elated for his Pro Stock program and he reiterated how much he loves the class. He also told me that
Hillary Will
will be back with the Top Fuel car next year as part of his team and that "we're working on a few sponsor deals that could help the fuel team in 2007." Nice to have that kind of support from an owner, isn't it? It was also nice for Jason to lock up the title in
Las Vegas
which is, as I'm sure you know, Ken and Judy Black's home town...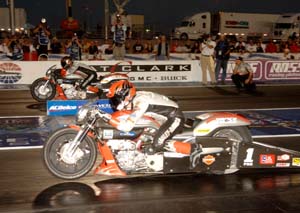 Hines vs Tonglet
The Pro Stock Motorcycle class had the biggest swing this week with
Andrew Hines
going from twenty-seven points back to thirty-seven points ahead of
Antron Brown
. I believe I said before that the team that has the most green lights will win the title and, if you look at
Las Vegas
, both Antron and
Angelle Sampey
fouled out and that could be their undoing this year. For the record, Antron has seven foul starts this year compared to five for Andrew and that, if you do the math, is the difference in the points right now.
Did you know
that there were eleven red light starts in the bike class this week in
Las Vegas
? That's a bunch, isn't it?...
GT Tonglet's
run to the final round moved him back into the top ten and pushed
Matt Guidera
out...Going into Pomona Andrew's lead means that Antron will have to go about two rounds further on Sunday to win the championship. And if you don't think that racers count points, listen to my podcast with Andrew on NHRA.com and hear what he has to say about it. I'll give you a hint, he counts points from the very beginning of the season and is always aware of what he and his opponents have to do to take over or remain in the lead. You know what they have to do now? They have to beat Andrew in
Pomona
and that won't be easy.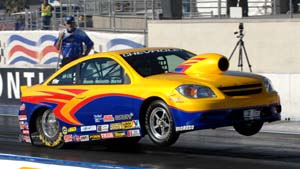 Peter Biondo
With a couple of divisional races going on across the country this past week the point's picture in the Lucas Oil series starts to come into focus.
Bo Butner
and
Jeff Taylor
appear to be the only ones who can claim the Competition Eliminator title. With Bo having one points race left to claim and Jeff having both a national and a divisional, it should be an interesting weekend in
Las Vegas
. Jeff, basically, needs to win out to retain the championship....In Super Stock,
Peter Biondo
continues to lead and he will have his last chance to add points this weekend at the D-7 affair in
Las Vegas
.
Jerry Emmons
, on the strength of his win in Noble this past weekend, has moved into second place and he'll have to wait until the
Pomona
race to add to his total since he is out of divisional races to claim.
David Bogner, Michael Mans
and
Jody Lang
all have an outside shot at the championship and all can add points at both the Las Vegas and Pomona events. It should be interesting...
Mickey Whaley
, who went six rounds at the Atco race, has moved into second place in the points behind
Dan Fletcher
in Stock Eliminator. Twelve other drivers, including
Randy Wilkes, Tibor Kadar
and
James Paul
, all could catch or pass the leaders with good outings over the next two weeks....
Terry Edwards
, the runner-up in Las Vegas, is the only guy with a shot at passing
Ron Erks
in the battle for the Super Comp honors while
Iggie Boicesco
continues to set the pace in Super Gas.
Rock Haas
, who always seems to be in the mix, is right behind Iggie while, like the 8.90 class, there are another dozen drivers who could all win the whole thing. Of that dozen, ten of them can pick up points on the divisional level which is why the D-7 race this weekend in Vegas will be loaded with cars and it will be a lot of fun to watch. See you there...




NHRA: 10 Most Recent Entries [ top ]

Apr 21- HOUSTON - Sunday Schedule
Apr 21- HOUSTON - Saturday Video
Apr 21- HOUSTON - Saturday Wrap Up
Apr 21- HOUSTON - Super Stock Class Eliminations Finals
Apr 21- HOUSTON - Funny Car Qualifying, Session #4 Bonus Points
Apr 21- HOUSTON - Total Qualifying Bonus Points
Apr 21- HOUSTON - Funny Car Eliminations Ladder
Apr 21- HOUSTON - Funny Car Final Qualifying, Session #4 Order
Apr 21- HOUSTON - Top Fuel Qualifying, Session #4 Bonus Points
Apr 21- HOUSTON - Pro Stock Qualifying, Session #4 Bonus Points