Tue, 31 Oct 2006, 01:59 PM



Notes from Jim Luikens' Reporter's Notebook at the AC Delco Las Vegas Nationals



By Jim Luikens


Photo copyright 2006 Auto Imagery, Inc.





LAS VEGAS --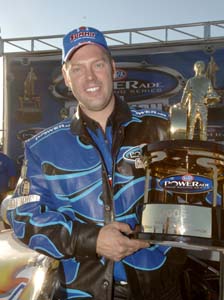 Jason Line
Jason Line became the first of the professional drivers to lock up their 2006 POWERade Championships when he defeated teammate Greg Anderson in the semi-final round of Pro Stock eliminator. Jason's title is actually his second in drag racing as he also won the 1993 NHRA Stock Championship. His title brings to four the number of consecutive titles that have been won by Ken Black Racing. Interestingly, although the team is based in North Carolina it is actually owned by Black, a resident of Las Vegas, who saw the title clinched in his home town. In recording his first professional title Jason commented that this was much like his Stock title but that he had to cheat less to claim it. He also noted that in his march to the final round here he consecutively defeated three former P/S Champions; Warren Johnson, Jeg Coughlin and Greg Anderson in the first three rounds.
Greg Anderson left no stone unturned in an attempt to prolong the P/S title chase and continue his quest for a fourth consecutive title. He even went as far as debuting a brand new Pro Stock GTO at this event. His new GTO features a Rick Jones chassis, the third different chassis brand that he has raced this year. Previous to the debut of his new car here he had raced Jerry Haas and Jerry Bickel GTOs earlier this year. By comparison teammate Jason Line has used only one RJ GTO chassis all season.
Few people can claim a more trouble-filled trip to Las Vegas than Bill "Grumpy" Jenkins and his employee, Jake Barbato. Bill and Jake departed from Philadelphia on Friday morning expecting to be in Las Vegas before Friday's afternoon professional qualifying session. Engine trouble forced their US Airways flight to set down in Detroit where they waited for a replacement plane. Unfortunately, the replacement plane also developed engine trouble, necessitating the change to a third aircraft. No further trouble was encountered and the pair finally arrived after midnight, nearly 12 hours late. To add insult to injury Bill's engine customer, Jim Yates, failed to qualify for the Pro Stock field here.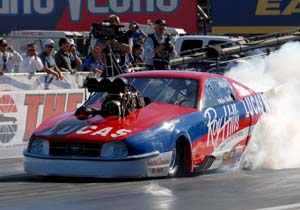 Mike Bell
Roy Hill has removed the Blue Max paint scheme (actually a vinyl wrap) from his Pro Modified Mustang. One year ago Roy entered into a marketing affiliation with Raymond Beadle and Raymond's well-known Blue Max trademark. Their plan had been to attempt to raise enough sponsorship to run a Top Fuel or Nitro Funny Car together. Despite their best efforts they were only able to raise commitments for about one-third of what they thought they would need to compete competitively. Roy reports that he will now return to devoting all of his efforts to the future of his Pro Mod team. In an attempt to take his team to the next level Roy has entered into a joint venture with fellow Pro Mod team owners Richard Patterson (Thomas Patterson driver) and Chip King. The idea is to pool their efforts and intelligence collectively in an effort to raise the performance of all three teams.
In addition to winning the Top Fuel title here Tony Schumacher led a clean sweep of the four wheeled professional classes for the Don Schumacher Racing Team. Jack Beckman, in only his fourth Fuel Funny Car start, earned his first professional win while Richie Stevens claimed the Pro Stock title with a catlike .002 reaction time in the final round. During qualifying Tony recorded a great 4.445 second elapsed time with a top speed of 333.08 to qualify number one. When you add 444 and 333 together you get 777, which is perfectly appropriate for Las Vegas.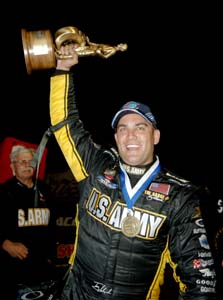 Tony Schumacher
Tony made up 44 points on current Top Fuel points leader Doug Kalitta when he defeated Doug in the third round of Top Fuel and then went on to win the race. In the final Tony's team made a serious attempt at gaining even more points. Knowing that an extra 20 points were available if a new elapsed time T/F record could be set they tuned their car to kill. While Tony's 4.469 elapsed time (at only 313.58 miles-per-hour) was enough to win the race his engine failed at 1100 feet which prevented him from lowering the record.
Much like NASCAR, NHRA has officially entered its silly season. A "silly season" is when new teams, alliances and driver pairings are either announced or rumored for the following season. Some, like Melanie Troxel leaving Don Schumacher and joining forces with the Morgan Lucas team were officially announced while others, such as the Clay Millican and David Baca collaboration, remained strong rumors.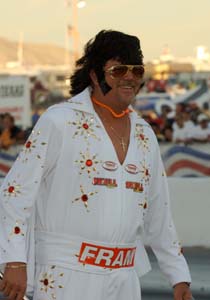 Elvis
A number of crew chiefs/tuners were wearing new uniforms and/or helping out at different teams this weekend. Doug Kuch (pronounced Cook), crew chief for the Doug Foley T/F team during the 2006 season was wearing the Snap-On team colors of the Doug Herbert team. Phil Roberts, late of the Matt Hagan P/M team was seen assisting Kirk Kuhns and Johnny West (with Kenny Bernstein in 2007) was looking over the Scott Palmer T/F team here.
The Las Vegas Nationals is an excellent event for people watching. Among the celebrities spotted or reported to be on the grounds were musician Billy Gibbons, auto enthusiast Edsel Ford and his son Henry, former fuel team owner Larry Minor, Pinks TV show host Rich Christensen, former Fuel Funny Car driver Kenji Okazaki, current Pro Stock driver Mark Pawuk (without his car), former GM Motorsports executive Herb Fischel and Carrier Boyz team manager Brian Olson as Elvis.
Brian had the misfortune of losing a friendly wager to Fred Simmonds, General Motors drag racing liaison, at the last event. Brian offered to wear a pink outfit at the next event (Las Vegas) if his driver, Cory Mac, won Top Fuel at the recently-completed Richmond event. When Cory powered to the T/F victory it sealed Brian's fate. Unable to actually locate a pink outfit Brian settled for the next best thing in Vegas, a deluxe Elvis impersonator's outfit. For Saturday's final qualifying session Brian paid off his bet in style when he backed Cory up from his burnout in full Elvis regalia.




NHRA: 10 Most Recent Entries [ top ]

Apr 24- CHARLOTTE 1 - Steve Torrence Enjoying Four-Wide Success Heading to NGK Spark Plugs NHRA Four-Wide Nationals
Apr 24- CHARLOTTE 1 - Fact Sheet
Apr 24- Kalitta Motorsports Welcomes NASCAR Stars to the SealMaster Track Walk in Charlotte
Apr 24- zMAX Dragway Celebrates 10th Anniversary
Apr 24- CHARLOTTE 1 - NGK Spark Plugs NHRA Four-Wide Nationals Brings 40,000 Horsepower Thrill Show to zMAX Dragway
Apr 23- HOUSTON - Lucas Oil Drag Racing Series Wrap Up The NHRA Lucas Oil Drag Racing Series Wrap Up
Apr 23- CHARLOTTE 1 - J.R. Todd Aiming for Two Four-Wide Racing Wins in 2018
Apr 23- Mid America Dragway Joins NHRA Member Track Network
Apr 23- HOUSTON - Special Awards
Apr 23- HOUSTON - Sunday Video