Tue, 31 Oct 2006, 01:51 PM



For Second Consecutive Year, Points Races Take Center Stage at Season-Ending Auto Club of



Courtesy of NHRA Communications


Photo copyright 2006 Auto Imagery, Inc.





Schumacher Trying to Complete Greatest Comeback in NHRA POWERade Series History



GLENDORA, Calif. --
Southern California NHRA Finals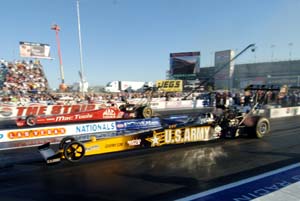 Schumacher vs. Kalitta
As riveting as the points races are coming into the 2006 NHRA POWERade Series finale, the Auto Club of Southern California NHRA Finals Nov. 9-12 at Auto Club Raceway in Pomona, the storylines may be even more compelling.
In Top Fuel, Tony Schumacher was all but a forgotten man midway through the 2006 season, but the three-time and defending POWERade Series champion's U.S. Army team rallied and with their win last weekend at Las Vegas they're only 45 points away from completing the greatest comeback in NHRA POWERade Series history. He once trailed by as many as 336 points after the 10th of the 23 events in the $50 million NHRA POWERade Series.
Standing between Schumacher and the history books is the ultra-talented Doug Kalitta, driver of the Mac Tools dragster. Kalitta's 29 career wins place him sixth all-time in Top Fuel and make him the winningest driver in NHRA Top Fuel history to have never won a championship. He has finished second twice, in 2003 and 2004.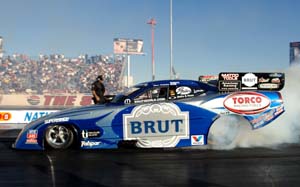 Ron Capps
In Funny Car, you have underdog Ron Capps, who is the personification of the pre-World Series Red Sox. He piles up wins (five this year, 22 for his career), consistently competes for championships (five top-5 finishes), but has yet to win one. He has finished second three times, including by just eight excruciating points in 2005, and he's back in the mix once again in 2006.
Capps, the winningest Funny Car driver to have never won a POWERade world championship, was the points leader for 17 of the first 19 events, but he now finds himself 71 points back of the NHRA's all-time winningest driver, John Force. Assuming each qualifies at Pomona, for Capps to win his first title he would have to win the race with Force being eliminated in the first round.
"We're going to go to Pomona and we're going to stand on the gas and we're going to try to win the race," said Capps, who drives the Brut Dodge Charger R/T for crew chief Ed "Ace" McCulloch.
To carry on the Red Sox analogy, Capps's situation is not at all unlike when the Red Sox were hanging on by a mere thread in the 2004 ALCS, trailing 3-0 in the best-of-7 series against the nemesis Yankees, before pulling off the unthinkable en route to their first championship in nearly a century.
"It's been a fun year," Capps said. "It's not over yet. We can still win this thing. Unless they tell us mathematically we're out of it, we're going to go to Pomona and we're going to try to win and see what Force does."
"Pomona is going to be outstanding. The weather will be good, we know the track is awesome, so it's going to be another great weekend," Capps said.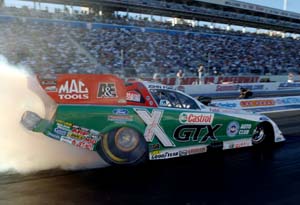 John Force
Last year at Pomona, the tightest Funny Car race in NHRA POWERade Series history culminated in the second round when the top three drivers - Gary Scelzi, Ron Capps and John Force - were all eliminated. That left Scelzi, the man who came to Pomona with the lead, as the 2005 POWERade Series Funny Car champ.
The driver coming to Pomona with the lead this year is Force and it's a lead the NHRA icon and star of A&E's Driving Force won't easily relinquish. He has to qualify and go at least one round, which he's done successfully at 18 of 22 events this season, to clinch his record 14th POWERade Series Funny Car world championship.
Not to be overlooked in Funny Car is Force's son-in-law Robert Hight, who drives the AAA Ford Mustang. Hight was in fifth place, 229 points out of first place, after the 17th event at Memphis, but back-to-back wins at Indy and Dallas and a runner-up at Reading got him back in the race. He enters Pomona 73 points back of Force, needing the same scenario as Capps (win the race and have Force eliminated first round) to claim his first championship.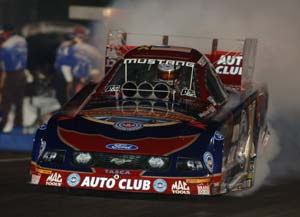 Robert Hight
"First off, I'm really excited to be here with . a chance to win this POWERade Series championship," said Hight, who has a Funny Car-leading nine No. 1 qualifiers. "We were kind of written off going into the Western Swing. It looked like it was going to be a two-car race with Ron and John. We kind of held our own through the Western Swing, then have come on really, really strong."
Capps and Hight are looking for their first POWERade Series championships while Force has won an NHRA-record 13 POWERade Series championships.
In Pro Stock Jason Line clinched his first POWERade Series championship in Las Vegas and in Pro Stock Motorcycle it's come down to two-time defending champ Andrew Hines and his Screamin' Eagle Vance-Hines Harley-Davidson against Antron Brown's U.S. Army Suzuki. Hines won at Las Vegas to erase a 27-point deficit and take a 37-point lead into the final race at Pomona.
Each round achieved in Sunday final eliminations is worth 20 points with a minimum of 20 going to first-round losers and a maximum of 100 going to the winner. Here is a quick look at the remaining contenders heading into Pomona:
TOP FUEL 1. Doug Kalitta, Ann Arbor, Mich., Mac Tools dragster (5 wins) 1,589
2. Tony Schumacher, Long Grove, Ill., U.S. Army dragster (4) 1,544 (-45)
FUNNY CAR 1. John Force, Yorba Linda, Calif., Castrol GTX Ford Mustang (2) 1,520
2. Ron Capps, Carlsbad, Calif., Brut Dodge Charger R/T (5) 1,449 (-71)
3. Robert Hight, Anaheim Hills, Calif., Auto Club of So. Calif. Ford Mustang (3) 1,447 (-73)
PRO STOCK 1. Jason Line, Terrell, N.C., Summit Racing Pontiac GTO (4) 1,689*
2. Greg Anderson, Charlotte, N.C., Summit Racing Pontiac GTO (2) 1,547 (-142)
* Clinched 2006 NHRA POWERade Pro Stock world champion
PRO STOCK MOTORCYCLE 1. Andrew Hines, Indy, Screamin' Eagle Vance & Hines Harley-Davidson (3) 1,061
2. Antron Brown, Indianapolis, U.S. Army Suzuki (2) 1,024 (-37)




NHRA: 10 Most Recent Entries [ top ]

Apr 24- CHARLOTTE 1 - Steve Torrence Enjoying Four-Wide Success Heading to NGK Spark Plugs NHRA Four-Wide Nationals
Apr 24- CHARLOTTE 1 - Fact Sheet
Apr 24- Kalitta Motorsports Welcomes NASCAR Stars to the SealMaster Track Walk in Charlotte
Apr 24- zMAX Dragway Celebrates 10th Anniversary
Apr 24- CHARLOTTE 1 - NGK Spark Plugs NHRA Four-Wide Nationals Brings 40,000 Horsepower Thrill Show to zMAX Dragway
Apr 23- HOUSTON - Lucas Oil Drag Racing Series Wrap Up The NHRA Lucas Oil Drag Racing Series Wrap Up
Apr 23- CHARLOTTE 1 - J.R. Todd Aiming for Two Four-Wide Racing Wins in 2018
Apr 23- Mid America Dragway Joins NHRA Member Track Network
Apr 23- HOUSTON - Special Awards
Apr 23- HOUSTON - Sunday Video