Tue, 31 Oct 2006, 12:25 PM



Line locks up NHRA POWERade Pro Stock Championship



Courtesy of Mickey Schultz


Photo copyright 2006 Auto Imagery, Inc.





LAS VEGAS --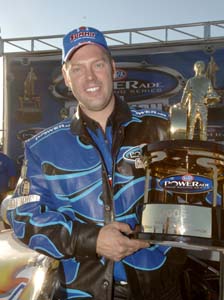 Jason Line
The baton has been passed!
With just three full seasons in Pro Stock under his belt, Jason Line, driver of the KB Racing LLC-owned, Summit Racing Equipment-backed Pontiac GTO, clinched his first NHRA POWERade Pro Stock Championship during this weekend's running of the NHRA ACDelco Las Vegas Nationals at The Strip at Las Vegas Motor Speedway.
By capturing the championship, Line, who was born and raised in Minnesota and now lives in Terrell, N.C., ends the reign of teammate Greg Anderson, who had collected three consecutive championships (2003-2005).
"The title NHRA POWERade Pro Stock Champion sounds pretty darn good actually but I'm used to hearing that with Greg's (Anderson) name, not mine," said Line on lock up the championship. "I'm not sure my name belongs with those champions but it definitely has a nice ring to it and is something to be proud of forever. Pretty Cool!
"To have your name mentioned with people like Greg (Anderson), Bob Glidden and Warren Johnson and other Pro Stock champions. Thinking back, yes it has been a dream - but I always thought of it as a pipe dream. To actually have it come true will take a while to sink in. On the other hand, I don't think it's a life-changing experience. It's a neat thing to happen for me, my family and the whole KB Racing team. I think it speaks volumes of our race team and the caliber of the people we have working at KB Racing."
"I'm proud of Jason and I'm proud of this team," reflected Anderson. "In the first couple of years Jason was learning the game. Now he knows the game and has proved he knows how to win. We've got a dynamite one-two punch now that's capable of winning every race we go to, capable of winning championships. The team has grown and is now ready to go ahead and win races and championships for a long time to come.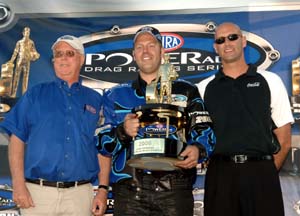 Graham Light, Line and Mike Adams
"Looking back over the past champions in Pro Stock, I can't remember a two car team that has had four championships in a row with two different drivers winning and two different cars winning those championships. That says a lot about the strength of this team overall both today and for the future. We now know that we can win with both cars. The team, from Jason and I on down, should be proud of what we've accomplished. It says a lot for next year but for now we'll savor Jason's championship."
A former Auto Club of Southern California Road to the Future Award winner - rookie of the year - Line becomes the 14th driver to earn a Pro Stock title since the "factory hot rods" became a NHRA professional class in 1970.
It is altogether fitting that Line earned his first championship in Las Vegas, as that is home to team owners Ken and Judy Black and their son Kenny. For KB Racing LLC it is their fourth consecutive Pro Stock championship.
Having won the 1993 Stock Eliminator Championship as a sportsman driver, the 37-year-old Line also joins a short list of drivers who have won a championship in both the sportsman and profession ranks. The last Pro Stock champion to accomplish the feat was Jeg Coughlin, who won Pro Stock championships in 2000 and 2002, along with a sportsman title in Super Gas in 1992.
Line's learning curve in drag racing began as a bracket racer in 1985, racing at Brainerd (MN) International Raceway in a '68 Chevy Chevelle. After a time-out for military service (U.S. Air Force) from 1987-1991, Line resumed his racing career in 1992 behind the wheel of his 1966 Chevrolet Bel Air R/Stock Automatic Station Wagon. He won his first NHRA Stock Eliminator national event at Brainerd that year and the overall Stock Eliminator championship a year later.
"When I was young and won the Stock Eliminator title, I thought it would be my ticket to Pro Stock," reflected Line. "It was going to be my road to the future but it wasn't. It really didn't do anything other than bring me more grief, new experiences I didn't know how to deal with at the time. Looking back at it was there were some negatives but they turned into positives. I learned from the whole experience and it is helping me now.
"After winning the (sportsman) title, I realized that I needed to take a different path to get to where I wanted to go. I had to have something else to offer, another talent. I gravitated to engines and learning everything I could Eventually, I directed all my energies to engines."
Then Line took a detour from drag racing. Near the start of the new millennium, Line headed to North Carolina where he worked five years at Joe Gibbs Racing working as the chief dynamometer (dyno) engine specialist and was a part of that organization's two NASCAR Winston Cup championships with Bobby Labonte in 2000 and Tony Stewart in 2002.
"It was by chance that I wound up working for Joe Gibbs Racing," recalled Line. "Dumb luck you might call it - heavy on the "dumb" part. I had some people that helped me get to Gibbs and I'm certainly grateful to them for that. My buying a dyno and going to Joe Gibbs were two of the best things that ever happened to me."
Following a chance meeting with Anderson, Line moved to KB Racing LLC as an engine tuner on Anderson's car in 2003. But later that year when he had the opportunity to drive a second Pro Stock car for KB Racing LLC, he quickly got behind the wheel probably never thinking that one day he might win a NHRA POWERade Pro Stock Championship.
"I had hoped to be here, but to be honest, I didn't think there was a chance that I would be in Pro Stock competing at this level," said Line.
After running a limited schedule of four races in 2003, in 2004 Line went to eight final rounds, winning four and earned two top qualifying spots. He finished second in POWERade points to Anderson.
Line continued the pace he established in 2004 throughout 2005, winning four events in seven final rounds, posting two more No.1 qualifying positions. Line ended the year No. 3 in the final Pro Stock point standings.
But the crowning achievement has come about this season. Entering the NHRA ACDelco Las Vegas Nationals this weekend, Line has gone to seven final rounds, winning four and has earned an additional five No 1s. He set the NHRA national elapsed time record, not once, but twice in back-to-back events at Reading and Richmond, becoming just the sixth Pro Stock driver to do so at back-to-back events.
Line has held the top position in points since the Denver race. At Richmond he took all 138 points available, joining Greg Anderson, Warren Johnson and Bob Glidden as the only Pro Stock drivers to run the table at a single event. He has now earned enough points to shut the door on all challengers and can officially be called the 2006 NHRA POWERade Pro Stock Champion.
In closing, Line said, "A lot of people made this possible. There are many and I can't thank them all but here's a few: My parents for giving me the work ethic and a direction in life, Ken Black and Greg (Anderson) for giving me the opportunity to live my dream, the KB Racing team for giving both Greg and I the best prepared cars in all of Pro Stock, and a lot of the guys at Joe Gibbs - Mark Cronquist and Joe Hornick to name a couple. There are too many to mention, so I'll stop for now."
What's next for Line. "I want to continue doing what I'm doing. I want to see KB Racing continue to dominate this class (Pro Stock). I want to be part of that dynasty."




NHRA: 10 Most Recent Entries [ top ]

Mar 18- GAINESVILLE - Pro Mod Sunday Wrap Up
Mar 18- GAINESVILLE - Sunday Wrap Up
Mar 18- GAINESVILLE - Pro Mod Championship Points
Mar 18- GAINESVILLE - Bonus Points
Mar 18- GAINESVILLE - Championship Points
Mar 18- GAINESVILLE - Mickey Thompson Top Fuel Harley Series Championship Points
Mar 18- GAINESVILLE - Bonus Points
Mar 18- GAINESVILLE - Summary of Eliminations in Top Fuel
Mar 18- GAINESVILLE - Summary of Eliminations in Funny Car
Mar 18- GAINESVILLE - Summary of Eliminations in Pro Stock