Tue, 31 Oct 2006, 10:59 AM



Payne Beats Martin to 2006 Title



Courtesy of Duke Ritenhouse


Photo copyright 2006 Auto Imagery, Inc.





Critchley Wins First



LAS VEGAS --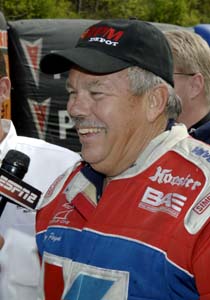 Jay Payne
Jay Payne's final Pro Modified pass of the 2006 season might not have been a thing of beauty, but the final result is one that he will treasure forever.
Payne (Valvoline '05 Stratus) crossed the centerline in the final round of the season-ending ACDelco Las Vegas Nationals on Sunday to give Troy Critchley (AMS Staff Leasing '70 Barracuda) an easier-than- expected win, although it would be hard to blame him if his mind was elsewhere. Two rounds earlier, Payne clinched his first AMS Staff Leasing Pro Mod Challenge presented by RPM Depot championship when he used a clutch holeshot win to eliminate Joey Martin, his closest pursuer in the 2006 AMS-RPM points standings.
Payne finished with 2,717 points in the nine Pro Mod Challenge events of 2006 (the Richmond event was rained out) to finish roughly two rounds in front of Martin. Joshua Hernandez used a semifinal finish in Las Vegas to edge Shelly Payne, Jay's wife, for third place. The 2006 championship was decided in Sunday's quarterfinals when Payne used an .032 light and a 6.113 to edge Martin's quicker 6.106, ousting Martin from the field and mathematically sewing up the title.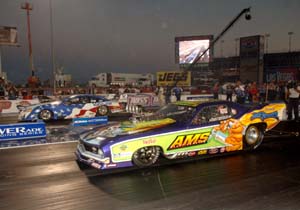 Critchley vs. Payne
For Critchley, one of the series' established veterans, the event win was the first in an AMS-RPM points-scoring race (he previously won last season's Pro Mod Clash bonus event at the same track). He ended the event - and the 2006 Pro Mod season - with a stout 6.098 in the final that would have been tough to beat even had Payne had an A-to-B run. That run capped a stellar weekend for Critchley and the AMS Staff Leasing team, which qualified No. 2 with a 6.091 before putting together eliminations passes of 6.08, 6.12, and 6.13 to reach the final.
"I couldn't be happier to finally win one of these things fo7r [owner and series sponsor] Dave Wood and all the guys on the team," said Critchley, who has raced in all but three of the NHRA Pro Mod events ever contested.
Payne is the AMS-RPM series' fourth different season champion, following Shannon Jenkins (2002), Fred Hahn (2003), and current Funny Car driver Mike Ashley (both 2004 and 2005). He won two events in 2006 (the season opener in Gainesville and Bristol) to bring his career total to four. The Payne family added another win earlier this season in Dallas when Shelly Payne won her first career Pro Mod title with a final-round win over Critchley.
Martin also won twice in 2006, claiming the Englishtown and Bristol titles during a four-race streak in which he reached four straight final rounds and closed down the formidable gap that Payne had opened in the points chase. Overall, the Pro Mod Challenge finished the 2006 season with six different winners in nine events.
"I couldn't have asked for a better end to a great season," said AMS- RPM series administrator Matthew Brammer. "We had Jay Payne and Joey Martin racing heads-up to decide the championship, Troy Critchley winning a well-deserved title, and a number of 6.0-second or 235-mph runs. It was an exciting way to end our season."
Brammer also indicated that the AMS-RPM series would be releasing its 2007 schedule in the near future.
Las Vegas Nationals notes: Four drivers - Jay and Shelly Payne, Hernandez, and Rick Stivers - qualified for all nine Pro Mod Challenge events this season. .... Following a quarterfinals finish in Las Vegas, Thomas Patterson finished ninth in the final AMS-RPM points standings to secure his fourth career top-10 finish. Ashley is the only other driver with four top-10s. ... Both ends of the Strip at Las Vegas Motor Speedway Pro Modified records were re-set over the weekend. Hernandez lowered his own e.t. record to 6.084 and Critchley upped the speed record to 237.42.

AMS-RPM Pro Mod Challenge points standings
(final, pending approval)

1.  Jay Payne          2,717
2.  Joey Martin        2,505
3.  Joshua Hernandez   2,313
4.  Shelly Payne       2,215
5.  Troy Critchley     1,881
6.  Cody Barklage      1,470
7.  Rick Stivers       1,367
8.  Chip King          1,366
9.  Thomas Patterson   1,346
10. Matt Hagan         1,166

Series champions

2006: Jay Payne
2005: Mike Ashley
2004: Mike Ashley
2003: Fred Hahn
2002: Shannon Jenkins





NHRA: 10 Most Recent Entries [ top ]

Mar 17- GAINESVILLE - Pro Modified Qualifying Notes, Final Session
Mar 17- GAINESVILLE - Funny Car Eliminations Ladder
Mar 17- GAINESVILLE - Funny Car Final Qualifying, Session #4 Order
Mar 17- GAINESVILLE - Funny Car Qualifying Notes, Final Session
Mar 17- GAINESVILLE - Top Fuel Eliminations Ladder
Mar 17- GAINESVILLE - Top Fuel Qualifying Notes, Final Session
Mar 17- GAINESVILLE - Top Fuel Final Qualifying, Session #4 Order
Mar 17- GAINESVILLE - Pro Stock Eliminations Ladder
Mar 17- GAINESVILLE - Pro Stock Final Qualifying, Session #4 Order
Mar 17- GAINESVILLE - Pro Stock Motorcycle Eliminations Ladder