Sun, 29 Oct 2006, 11:15 PM



Line Clinches NHRA POWERade Series Pro Stock Championship



Courtesy of NHRA Communications


Photo copyright 2006 Auto Imagery, Inc.





Schumacher, Beckman, Stevens and Hines Earn Victories at ACDelco Las Vegas NHRA Nationals



LAS VEGAS --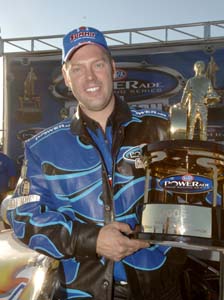 Jason Line
Third-year Pro Stock driver Jason Line captured the first NHRA POWERade world championship of the season Sunday at the ACDelco Las Vegas NHRA Nationals in Las Vegas.
After collecting the $200,000 series champion's check, Line shared the spotlight with race winners Tony Schumacher (Top Fuel), Jack Beckman (Funny Car), Richie Stevens (Pro Stock), and Andrew Hines (Pro Stock Motorcycle) at The Strip at Las Vegas Motor Speedway.
"I can't believe it," Line said. "This doesn't seem real. It's been coming but now that it's finally happened I don't even know what to say."
Line needed to earn 20 more points than teammate and three-time defending category champ Greg Anderson to clinch the crown and accomplished that in a head-to-head meeting in the semifinals. The championship is the fourth in a row for Las Vegas-based team owner Ken Black.
"It's bittersweet to clinch it against Greg," said Line, who has earned four victories in eight final rounds this season in his Summit Racing Pontiac GTO. "He's the man. He's my champion. I love the guy and to me he'll always be the man. If not for him giving me the chance to drive in the first place, I wouldn't be standing here. To keep the championship within the team is huge. There is a huge group of people responsible for what happens on the racetrack and this championship will be shared by all of us. It's a great group that Ken has put together and I'm proud to be a part of it."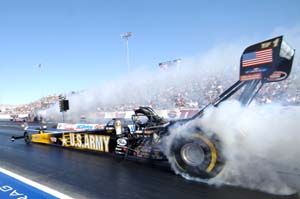 Tony Schumacher
Schumacher charged back into the Top Fuel championship chase with his fourth win of the year, this one over J.R. Todd. He is now 45 points behind Doug Kalitta. Schumacher was slightly upset that he didn't set a world record in the final, which would have put him 20 points closer to the lead. Still, his 4.469 at 313.58 mph in the U.S. Army dragster was more than enough to beat Todd, who posted a 4.550 at 320.81 mph in his Skull Shine dragster.
"We picked up 44 points today," Schumacher said. "If we do that again in Pomona I (will) lose the championship by one point," Schumacher said. "That's why the record was so important for us to get. I don't mean to be disappointed, but we wanted it so much. It's still a big win. That was probably the biggest win light of my career."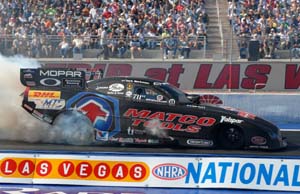 Jack Beckman
Beckman was thrilled to score his first win in just four professional starts. The cancer survivor and drag racing school instructor drove away from Tommy Johnson Jr.'s tire-smoking Skoal Chevy Monte Carlo to win the Funny Car trophy with a 4.783 at 327.19 mph in his Matco Tools Dodge Charger. Beckman took over the seat of his ride from Whit Bazemore just four races ago.
"One of the things about drag racing is that it will eat you alive if you let the lows get to you, so I want to temper myself on this high," Beckman said. "I always said I want to be a dignified racer and accept defeat and victory equally but I kind of blew the roof off that deal just now. It was just such a feeling."
John Force added 27 points to his Funny Car lead over Ron Capps and will now carry a 71-point advantage into the final race of the season at Pomona, Calif. Robert Hight is two points behind Capps in third. Both Capps and Hight lost in the first round. Hight's Auto Club Ford Mustang broke on the burnout.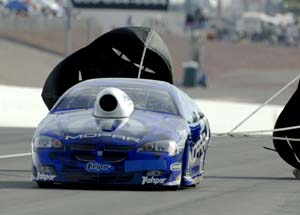 Richie Stevens
A 20-1 longshot with the local oddsmakers, Stevens rewarded the true believers with a big Pro Stock win over new champ Line. The first professional graduate of the Junior Drag Racing League to win a national event, Stevens earned this one at the Christmas Tree, posting a pair of .007-second lights earlier in the day and his stellar .002 in the final to claim his sixth Wally.
Line had the better car, running a 6.735 at 204.57 mph in his Summit Racing GTO. But his sluggish .090-second light allowed Mopar pro Stevens to win with a 6.789 at 202.85 mph in his Team Mopar Dodge Stratus.
"We had a great day," Stevens said. "I knew I had to be on the Tree with the guys I was racing and I guess I pulled it off. Three double-oh lights is pretty good and like I always say, when it's your day to win one of these things it's your day no matter what."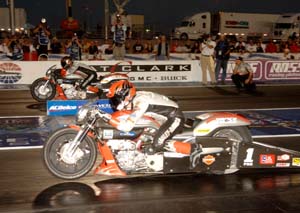 Hines vs. Tonglet
Back-to-back defending Pro Stock Motorcycle champion Hines regained the points lead at the perfect time by riding through a tough field on his Harley-Davidson and beating teammate GT Tonglet in the final round. Hines went from 27 points back to 37 ahead of Antron Brown with his third victory of the season and eighth of his career.
"Every point seems so crucial this year," Hines said. "It was tough the first time we won because they added weight to us in the middle of the season. This year they gave the Suzukis more cubic inches and they've been right there with us. It's hard to compare but this season has been the toughest. If we hold on now and win it all it will be special."
Hines looked every bit the rider that won the last two championships Sunday, posting the quickest pass of each elimination round as he mowed down Tom Bradford, Brown, Ryan Schnitz, and Tonglet with a 7.080 at 188.65 mph on his Harley-Davidson V-Rod.
The NHRA POWERade Drag Racing Series makes its final stop of the season, Nov. 9-12, with the 42nd annual Auto Club NHRA Finals at Auto Club Raceway at Pomona in Southern California.
Sunday's final results from the Sixth annual ACDelco Las Vegas NHRA Nationals at The Strip at Las Vegas Motor Speedway. The $1.8 million race is the 22nd of 23 in the $50 million NHRA POWERade Drag Racing Series --
Top Fuel -- Tony Schumacher, 4.469 seconds, 313.58 mph def. J.R. Todd, 4.550 seconds, 320.81 mph.
Funny Car -- Jack Beckman, Dodge Charger, 4.783, 327.19 def. Tommy Johnson Jr., Chevy Monte Carlo, 5.704, 244.47.
Pro Stock -- Richie Stevens, Dodge Stratus, 6.789, 202.85 def. Jason Line, Pontiac GTO, 6.735, 204.57.
Pro Stock Motorcycle -- Andrew Hines, Harley-Davidson, 7.080, 188.65 def. GT Tonglet, Harley-Davidson, 7.310, 181.91.
Super Stock -- Greg Luneack, Chevy Nova Wagon, 11.058, 116.89 def. Tony DeFrank, Chevy Cobalt, 9.628, 131.28.
Stock Eliminator -- Clark Holroyd, Chevy Nova, 10.659, 122.63 def. Mark Faul, Chevelle, 11.264, 110.72.
Super Comp -- Kevin Kleinweber, Dragster, 9.056, 156.84 def. Terry Edwards, Dragster, 9.049, 171.60.
Super Gas -- Bob Harris Jr., chevy Corvette, 10.043, 155.99 def. Richard Okerman, Chevy Beretta, 10.042, 155.42.




NHRA: 10 Most Recent Entries [ top ]

Apr 24- CHARLOTTE 1 - Steve Torrence Enjoying Four-Wide Success Heading to NGK Spark Plugs NHRA Four-Wide Nationals
Apr 24- CHARLOTTE 1 - Fact Sheet
Apr 24- Kalitta Motorsports Welcomes NASCAR Stars to the SealMaster Track Walk in Charlotte
Apr 24- zMAX Dragway Celebrates 10th Anniversary
Apr 24- CHARLOTTE 1 - NGK Spark Plugs NHRA Four-Wide Nationals Brings 40,000 Horsepower Thrill Show to zMAX Dragway
Apr 23- HOUSTON - Lucas Oil Drag Racing Series Wrap Up The NHRA Lucas Oil Drag Racing Series Wrap Up
Apr 23- CHARLOTTE 1 - J.R. Todd Aiming for Two Four-Wide Racing Wins in 2018
Apr 23- Mid America Dragway Joins NHRA Member Track Network
Apr 23- HOUSTON - Special Awards
Apr 23- HOUSTON - Sunday Video