Sat, 28 Oct 2006, 11:07 PM



Kalitta Races to $100,000 Budweiser Shootout Victory at ACDelco Las Vegas NHRA Nationals



Courtesy of NHRA Communications


Photo copyright 2006 Auto Imagery, Inc.





Schumacher, Hight, Line and Gann are No. 1 qualifiers at The Strip at LVMS



LAS VEGAS --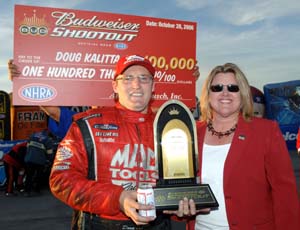 Doug Kalitta and Karen Holschlag
Top Fuel points leader Doug Kalitta raced to the $100,000 win in the Budweiser Shootout, highlighting Saturday's racing at the ACDelco Las Vegas NHRA Nationals.
Kalitta held off Rod Fuller to claim his third victory in the Budweiser Shootout, a special race-within-a-race bonus event for the category's top eight qualifiers from the previous year.
Tony Schumacher, Robert Hight, Jason Line, and Shawn Gann earned No. 1 qualifying honors at the POWERade Drag Racing Series' penultimate event. Schumacher (4.445 seconds in Top Fuel) and Hight (4.677 in Funny Car) neared national record numbers en route to the low qualifier podium. Line (6.704 in Pro Stock) and Gann (7.090 in Pro Stock Motorcycle) settled for Las Vegas Motor Speedway records.
In the Shootout final, Kalitta and Fuller's cars were side-by-side all the way down the track until Fuller's David Powers Homes/Valvoline dragster lost its blower belt just past the 1,000-foot timer and slowed suddenly. Kalitta's Mac Tools/Von Dutch machine kept charging.
"That ride back down the return road on the Budweiser Clydesdales is pretty special," Kalitta said. "I guess the race was really close. We were two-thousandths apart at 1,000 foot and that's nothing. I didn't see him at all the whole run but I knew he was over there. I guess he pitched the belt so that worked out for us."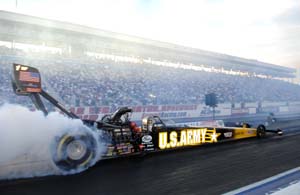 Tony Schumacher
After pacing the Top Fuel field by eight hundredths of a second during Friday's action by running a track-record 4.445 at 333.08 mph, Schumacher tried to set a national record on his final qualifying attempt, which would be worth 20 bonus points. Instead, he blew his motor.
"I went as shallow as I could," Schumacher said. "The conditions were perfect and the tune-up was there. We just didn't get it done. Something happened and I saw that the burst panel was out so we'll see what it was when we get back to the pit. Bottom line, we didn't get it done. I'm glad this happened in qualifying rather than tomorrow. We got lucky there."
Fellow championship hopefuls Brandon Bernstein and series leader Kalitta are also running well here. Bernstein moved up to second in the last round with a 4.522 at 329.58 mph, while Kalitta ended up fifth on the grid with a 4.530 at 329.38 mph.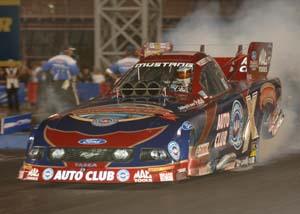 Robert Hight
Hight posted a track record run of 4.677 seconds at 333.08 mph in his Auto Club Ford Mustang to claim the top spot in Funny Car.
"Jimmy was swinging for a home run," Hight said. "We couldn't really believe we had a chance for a record here but it just set up perfectly and he went for it. I don't want to get greedy but it would have been awesome to get those 20 bonus points. It sure would make it interesting in the championship chase."
Hight's father-in-law and championship rival John Force ended up second with a 4.711 at 329.34 mph in his Castrol GTX Ford Mustang. His incremental numbers during his last run were actually quicker than Hight's but his engine expired just before the finish line. Second-place points earner Ron Capps is 11th overall with a 4.761 in his Brut Dodge Charger.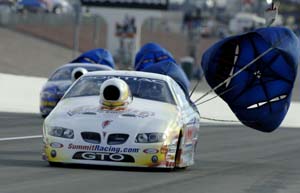 Jason Line
Line scored his sixth low qualifier of the year and the 17th for KB Racing this season with his 6.705 at 204.88 mph. When combined with his previous pass of 204.94 mph, the Summit Racing Pontiac GTO driver now owns both ends of The Strip's Pro Stock records.
"Everything's going as good as it could possibly go up to this point," said Line. "I see we open against Warren [Johnson.] He's the ultimate champion so I guess it's fitting we have him in Round 1. To be the champ you need to beat the champ and he's the champ's champ, so we'll have our work cut out for us."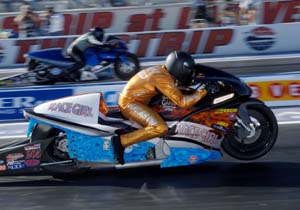 Shawn Gann
Gann appears to be emerging from the worst stretch of his career, earning his first low qualifier award in Pro Stock Motorcycle since the St. Louis race in 2003. Gann's unsponsored Suzuki carried him to a 7.090 at 188.12 mph, which set a track record for elapsed time.
"This new stuff I've got is so bad," Gann said. "I've always made my own motors but now I'm making twice as much of the stuff inside so the quality control I have is way better than when I was buying (engine components)."
The three riders vying for the 2006 POWERade championship -- Andrew Hines, Angelle Sampey, and points leader Antron Brown -- all earned top-half starting berths for Sunday's eliminations. Hines slipped one slot from his top perch on Friday to the No. 2 position with a best of 7.102 at 187.13 mph on his Harley. Sampey is close behind in third after a 7.107, while her Suzuki teammate Brown is seventh with a 7.130.
Sunday's eliminations begin at 11 a.m.




NHRA: 10 Most Recent Entries [ top ]

Apr 21- HOUSTON - Sunday Schedule
Apr 21- HOUSTON - Saturday Video
Apr 21- HOUSTON - Saturday Wrap Up
Apr 21- HOUSTON - Super Stock Class Eliminations Finals
Apr 21- HOUSTON - Funny Car Qualifying, Session #4 Bonus Points
Apr 21- HOUSTON - Total Qualifying Bonus Points
Apr 21- HOUSTON - Funny Car Eliminations Ladder
Apr 21- HOUSTON - Funny Car Final Qualifying, Session #4 Order
Apr 21- HOUSTON - Top Fuel Qualifying, Session #4 Bonus Points
Apr 21- HOUSTON - Pro Stock Qualifying, Session #4 Bonus Points