Thu, 26 Oct 2006, 08:45 PM



It's Crunch Time



By Bob Frey


Photo copyright 2006 Auto Imagery, Inc.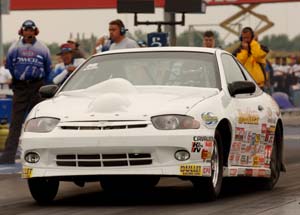 Bo Butner
Two of the Lucas Oil championships have already been decided, Top Alcohol Dragster and Top Alcohol Funny Car which went to Bill Reichert and Frank Manzo respectively. Now all that remains is for the other five titles to be decided so we can crown the champions in a few weeks. With the AC Delco Las Vegas Nationals this week, as well as Lucas Oil Divisional races in Atco, New Jersey, and Noble, Oklahoma, the racers who are still in the hunt have to make some tough decisions about where to go and what to do. After this week, only the massive Division 7 race in Vegas remains for the racers to claim points on the divisional level while Pomona looms large on the horizon for those still needing another national event. A quick look at the standings seems to indicate that most of the battles will go right down to the wire and that's the way we like it. The racers who are still in contention may not like it, but the fans sure do.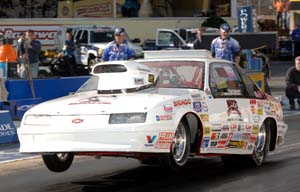 Sal Biondo
In Competition Eliminator, Bo Butner is the leader in the clubhouse right now and he still has one divisional race left to claim. To increase his total, Bo will have to get to the fourth round at whichever division race he decides to attend. His closest challenger is Sal Biondo, a former Comp world champ, and he is just nine points behind the leader. Sal also has one divisional race to claim and I fully expect that he'll be in New Jersey this weekend, although stranger things have happened when guys are running for the championship. I will say this, anyone, especially in the Comp class, who has a division race still to claim would do well to avoid that Vegas race. Just based on sheer numbers, it's a monster and you could find yourself not even making the field. I know, these guys are good, but with a huge car count and the unpredictability of these cars, you want to give yourself every opportunity you can to maximize your efforts. Having said that, a stroll through the Comp pits at Atco will probably resemble an all star lineup and that won't be an easy race to win, either. If Sal does go to Atco we'll probably find out how well his car runs in forty degree weather! Jeff Taylor, himself a four-time world champ, as well as being the reigning Lucas Oil Champion, is always tough and he sits about 73 points behind Bo right now and, even for someone as talented as Jeff, that's a bunch of points to make up. Jeff has, according to my stats, a national and a divisional race still to claim so it can be done, and if anyone can do it, it's Jeff.
Peter Biondo, another four time and reigning world champion, leads the pack in Super Stock Eliminator and he'll be hard to catch. With 656 points already in the bank, and with a divisional race still to claim, the "Terminator" certainly has the upper hand. Michael Iacono, who, like Peter, is a Division 1 guy, is fifty-seven points back and he still has one divisional race to claim, but the way I figure it, Michael would have to win a whole pile of rounds to add to his total, or to at least add enough points to catch Peter. David Bogner, the second generation racer from Nebraska, may have the best shot at over taking the leader, if for no other reason than he can claim points on each of the last three weekends of the year. David has already hit the track in Las Vegas and he looks like he's ready to settle in for a long ten days in Vegas. Throw in the fact that David will be replacing a first round loss on the national level and you can see why he may have the best shot at the title.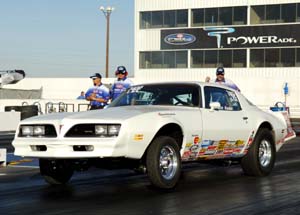 Tibor Kadar
Like Comp and Super Stock, the Stock Eliminator points leader is another former world champ, Dan Fletcher. Dan, who has been, literally, all over the country in the past few weeks, is twenty points up on Randy Wilkes, while Tibor Kadar and James Paul are lurking just a few points behind them. Dan has two divisional races at which he can still claim points and, with the rainouts that we've had lately, he will be back in Oklahoma this week and then Las Vegas next week for the divisional event. The driver of the Summit Racing Camaro is one of the best in the business, especially when he's running in front of the pack, and the challengers sure have their work cut out for them. Dan would love to add a Stock Eliminator title to his pair of Super Stock crowns and, with the roll that he has been on lately, I wouldn't bet against him.
Jeff Szilagyi
The Super Comp category may be as close to being decided as any in the sportsman ranks. Ron Erks has put 686 points on the board already and he's just waiting to see what the other guys can do. Actually, he's not just waiting, he's in Las Vegas where he will try to keep an eye on the other contenders and maybe, just maybe, take one or two of them out along the way. Of course, I'm sure that racers like Shane Carr and Mike Robilotto, who both have races to claim, will have something to say about that. Still, with his total and with what the other drivers would have to do, I like Ron's chances of going the distance this year. The other "90" category, Super Gas, is wide open. Ignatius Boicesco, aka "Iggie," heads up a group of about five or six racers with a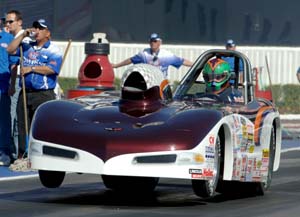 Tim Landis
shot at the gold. Rock Haas, one of the drivers who seems to be around the top of the points every year, is only a couple of points behind Iggie, while Jeff Szilagyi, who also runs out of D-1 like Iggie does, is still in the chase. I imagine that Iggie and Jeff, along with about a hundred other Super Gas drivers, will be in Atco this weekend and that could produce an interesting showdown. Tim Landis, from out west, can still claim points at both Las Vegas races as well as Pomona so we may just have to wait to see what he does before giving out the gold. He will be replacing a second and third round so there is ample opportunity for Tim to add points to his total.
This is such an inexact science, as you probably know, so there will certainly be some drivers who aren't even on the radar yet who sneak in and grab a championship or two. For now, as a fan, let's just sit back and enjoy the racing, and while we're at it, let's pray for sun!!




NHRA: 10 Most Recent Entries [ top ]

Apr 22- HOUSTON - Sunday Pro Mod Wrap Up