Thu, 26 Oct 2006, 11:33 AM



Rock Legend Billy Gibbons Named Grand Marshal of ACDelco Las Vegas Nationals



Courtesy of Jon Knapp



ACDelco Cobalt to Feature Paint Scheme Honoring ZZ Top Guitarist/Vocalist



LAS VEGAS --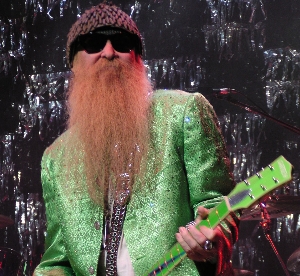 Billy Gibbons
Throughout their six-year involvement with the NHRA's fall race at The Strip at Las Vegas Motor Speedway, automotive replacement parts leader ACDelco has strived to appoint a Grand Marshal who embodies both the spirit of the Las Vegas Strip and a Real Car Guy's passion for anything automotive. It can be argued that for the 2006 edition, they may have found the one person who best fits this description - legendary ZZ Top singer/guitarist Billy F. Gibbons, the Grand Marshal of the Sixth Annual ACDelco Las Vegas Nationals, which will be held on October 26 - 29.
"We are thrilled to welcome Billy Gibbons as the Grand Marshal of the ACDelco Las Vegas Nationals," said Duane Miller, Executive Director for General Motors Service and Parts Operations' Field Operations. "Billy's reputation as a rock and roll legend is matched only by his status as a top car collector, with his stable featuring some of the world's best hot rods. Having a Real Car Guy of his stature as our Grand Marshal will only add to the event's excitement, and serve as the culmination of what will be a great week for ACDelco in the entertainment capital of the world."
Billy Gibbons is known worldwide as the guitarist/vocalist of ZZ Top, the band he co-founded 37 years ago that was inducted into the Rock and Roll Hall of Fame in 2004 by The Rolling Stones' Keith Richards. An avid collector, Billy is the driving force behind the band's use of stunning custom cars and hot rods on its album covers and in its music videos. His world-class collections include not only automobiles and guitars but also African art and cacti. He is the author of Rock + Roll Gearhead and, beyond ZZ Top, has collaborated on recordings by Queens of The Stone Age, B.B. King, Nickelback, Viv Campbell, Les Paul and others. He lives in Houston and Los Angeles.
For one weekend in October, however, he will take time out to enjoy the high-horsepower show known as a National Hot Rod Association national event. Gibbons' participation in the ACDelco Las Vegas Nationals will also be evident on the racetrack, as Kurt Johnson's ACDelco Pro Stock Cobalt will feature a special Billy Gibbons paint scheme, which will be unveiled prior to the first qualifying session at The Strip at Las Vegas Motor Speedway on Friday.
"I love going to car shows, and try to get to as many as I can" said Gibbons. "If you think of it, an NHRA race is really the ultimate hot rod show, with some bad hot rods flying down the quarter-mile, and having it in Las Vegas only makes it that much better. I want to thank ACDelco for giving me a great excuse to come out to the desert and get my horsepower fix."




NHRA: 10 Most Recent Entries [ top ]

Mar 22- LAS VEGAS 1 - Defending Funny Car Winner Tommy Johnson Jr. Excited for Four-Wide Racing
Mar 22- NHRA Northwest Nationals Tickets on Sale Now
Mar 21- LAS VEGAS 1 - Fact Sheet
Mar 21- LAS VEGAS 1 - Event Preview
Mar 20- Strong Stable of Contending Pro Stock Racers Vie for Final Starting Position for K&N Horsepower Challenge
Mar 20- GAINESVILLE - Special Awards
Mar 20- GAINESVILLE - Lucas Oil Drag Racing Series Wrap Up
Mar 19- GAINESVILLE - Sunday Video
Mar 18- GAINESVILLE - Pro Mod Sunday Wrap Up
Mar 18- GAINESVILLE - Sunday Wrap Up