Tue, 24 Oct 2006, 09:19 PM



Where To Begin? I Know, 1971



By Bob Frey


Photo copyright 2006 Auto Imagery, Inc. & NHRA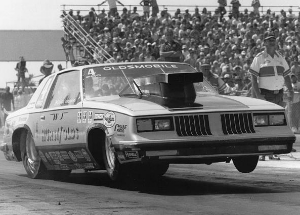 WJ won Indy in '84.
As the NHRA
POWERade
tour nears its conclusion, and as we begin the next to last race of the season, there are so many things going on that I don't know where to start. I guess a good place would be 1971. With the professional championships all up for grabs and one, the Pro Stock class, that could be clinched this weekend, why begin thirty-five years ago you ask? Well, that's because that's the first time that the drag racing world heard of a guy by the name of
Warren Johnson
. Now, three and a half decades later, everyone who follows the quarter-mile sport knows about the "Professor" of Pro Stock. He's the guy who has won ninety-six races, second only to
John Force.
He's also the guy who has been to 149 final rounds which places him second on the all-time list. And speaking of lists,
did you
know
that
Warren
is at the top of almost every performance list, and not only in the Pro Stock class, but in the entire sport? Consider this.
Warren
has qualified number one at 136 races. By comparison, John Force has done it 131 times and the great
Bob Glidden
did it 102 times. The "Professor" has set low elapsed time 139 times compared to 101 for Bob and 125 for John. And in the all important speed department, after all, this is a sport of speed isn't it, WJ has set top speed an astonishing 206 times, which is, ironically, exactly the same amount of times that Bob and John have done it combined!! Amazing. Over the course of his career
Warren
has faced 131 different racers, thirty-six of them in final rounds, and he has beaten most of them. His won - loss record is 828 -383 and, well, you get the idea. And as the season winds down, Warren Johnson is approaching his 500
th
career race and that is the most in the history of the sport. John Force is next with 473, followed by
Kenny Bernstein
, who will add to his 426 events when he returns to action next year, and, surprisingly,
Mark Pawuk
who has been to 405 races and
Larry Morgan
who has competed at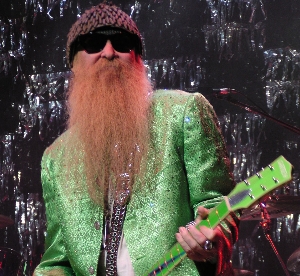 Billy Gibbons
402events. All in all, it's been a great run for Warren and he has been synonymous with Pro Stock almost since his first start in 1971....By the way, just to put Warren's longevity into perspective,
did you know
that when he entered his first race in 1971,
Richard Nixon
was the President, the Pittsburg Pirates won the World Series, the French Connections won the Academy Award and the cell phone battery was invented.
Congratulations to Warren Johnson for a great career and thanks for all the memories. One more thing, over the course of his career
Warren
has won national events on twenty-four different tracks, and you know what,
The Strip at Las Vegas Motor Speedway
isn't one of them. Maybe this week...
Billy Gibbons
, the bearded guitarist for the ZZ Top group, will be the grand marshal at the race this weekend. Billy, who has a new book out called "Rock & Roll Gearhead" loves cars and, as such, he really should love the
AC Delco Nationals
this weekend. Billy will be coming is as a guest of AC Delco and that probably means that he'll spend some time in Warren's pit area. I wonder how many ZZ Tops' records
Warren
has?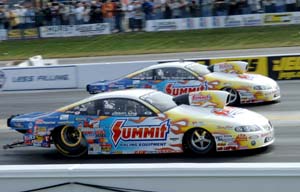 Line vs Anderson
Staying in the Pro Stock class,
Jason Line
is the closest of any of the pro drivers to clinching a
POWERade
championship and he has a real shot at doing it this weekend. With a solid 119 point lead over his
Summit Racing Pontiac
teammate,
Greg Anderson
, it's almost inevitable that the former Stock Eliminator World Champion will add his name to the short list of Pro Stock champions. It seems pretty obvious that Jason has the best car in the class right now and that's going to make it tough, no, impossible, for anyone, even Greg, to deny the likable
Minnesota
native his place in the record books. And now that I think of it, it must be something in the water in
Minnesota
that makes great Pro Stock drivers. Warren and
Kurt Johnson
are from there and so are Greg and Jason. So, the way I see it, if you want to be a Pro Stock champion, move to
Minnesota
..and then move away. After all, testing is pretty tough in
Minnesota
in January, isn't it?...Not to take anything away from Jason's accomplishments this year, but think about what might have been. It's no secret that Jason's Achilles heel this year has been on the starting line, so if he had been a little better there he could have wrapped up the championship at Maple Grove or even earlier, and that's scary. It also goes to reiterate what I said about him having the best car. I'd like to be the first to congratulate
Ken Black
for the great team that he has assembled. This will be four consecutive years that Ken's team has won the Pro Stock title and that is, if I may coin a phrase, "Warren Johnson-like." It will be interesting to see how the Summit GTO's do next year with the new point system, but for now, I'm sure they would just like to sit back and admire what they have done. Plus it will be nice for Ken, who lives in
Las Vegas
, to see his driver crowned at "The Strip." And, if for some reason, it doesn't happen this week, the celebration will have to wait until we go to
Pomona
, but believe me, it will take place!!....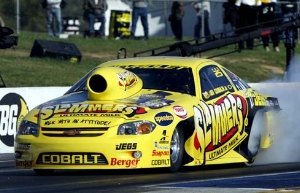 Jeg Coughlin
With the odds already being listed at the
Palace Station
for this weekend's activities, is there anyone out there besides me who thinks that
Jeg Coughlin
at 20-1 just might be a good bet? Jeggie is such a good driver and
Victor Cagnazzi
and his team have given him a very good car and it wouldn't surprise me if he went the distance this weekend. The
Slammer's Ultimate Milk
cars, including the one driven by
Tommy Lee
, are among the best out there and they will win one of the last two races of the year. Bet on it!!...By the way, the real sleeper bet in the group, besides Jeg, just might be
Ken Koretsky
at 30-1. Kenny, driving for
Greg Hill
and the
Indicom Electric
team, had one of the best cars in
Virginia
and they should bring that same level of performance to
Las Vegas
. And before you think that I've totally lost it, remember
Ron Krisher's
big win here a few years ago when he came in at 20-1 odds. I'll see you in line at the Palace Station.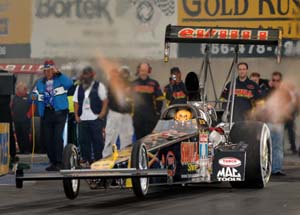 JR Todd
The
Budweiser Shootout
for Top Fuel cars will also take place this weekend and we know who seven of the combatants will be, so now we'll have to wait until the Budweiser Draw Party on Thursday night to see who will join them in the field. If you listen to
Tony Schumacher
, the eighth spot will go to
JR Todd
. "The way his luck has been running lately, it's 99.4 percent sure that he'll draw the final spot." JR may, very well, get the final spot in the Shootout but I don't think luck will have anything to do with it, at least it had nothing to do with him getting here in the first place.
Dexter Tuttle
and
Jimmy Walsh
are the reasons why JR is the hottest thing in Top Fuel right now, and Dexter gets a huge amount of credit for giving Jimmy the shot at being a crew chief and for selecting JR as the chauffeur for his car. Together, they have surprised everyone but themselves as they have won three races and earned a spot in the top ten. Along the way, they also beat Tony and the
Army
car three times and, believe me, there's nothing lucky about that. This is a solid team and they should be a real factor next year....
Doug Kalitta
, who is on the verge of winning his first national championship, will have a new look for both the race and the Shootout this weekend. "Big Red" will be "Big Yellow," as the team flies the colors of the

Rendering of Kalitta's Von Dutch car.
special
Von Dutch
tribute tool boxes that are part of the
MAC Tools
line. It is a pretty impressive looking car and I guess it goes to show that Doug,
Rahn Tobler
and
Connie Kalitta
aren't superstitious. I mean, how many teams in the midst of a title run would want to change anything, let alone the complete identity of their car?....Tony will come in as the defending Bud Shootout champ and he'll look to add the $100,000 to his bank account, but then so will the others and there are no easy races in the shootout.
Did you know
that the first TF shootout was held in 1985 and was called the
Cragar/Weld Wheel Top Fuel Classic
? And the initial field was a like a Who's Who of Top Fuel racing, with guys like
Joe Amato, Don Garlits, Gary Ormsby, Darrell Gwynn,
Dick LaHaie
and
Gary Beck
among the combatants....
David Baca
is one of the seven drivers who have a shot at getting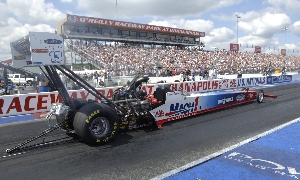 David Baca
in at the drawing party, assuming that Tony is wrong and JR doesn't get the final spot. But, as always, there's more going on in the pit area for the
MACH 1 Air Services
team than just racing. As they have done so many times this year, with the blessing of
Mike Entzminger
the CEO at Mach I, David will donate some of the space on his car for a charitable organization. With October being "Breast Cancer Awareness Month," some pink ribbons will be added to the red, white and blue Mach 1 car and they will be handing out ribbons in their pit area. "It's nice to be able to give something back," David said. "Mike knows how much racing means to us but he also knows there are more important things in life and that's why he does this." Mike and his family have had to face some tough times this year and for him to donate space on his car is something special indeed. Hey, maybe David will get that final spot in the shootout, win the race and then double-up on Sunday. And before Tony goes talking about how good JR has been this year, we may look back at David's win over the "Sarge" in round one at Virginia as the run that eventually derailed Tony's championship hopes....Don't forget, the Bud Draw Party is preceded by a huge Fan Fest at the
Hard Rock
on Thursday. It goes from 5 P.M. until 6:30 and features lots, and I mean lots of top drivers, cars and activities and it's a great way to start your weekend in
Las Vegas
. Plus it doesn't cost anything, and how many things can you say that about in
Las Vegas
?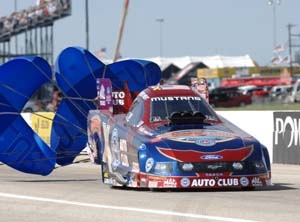 Robert Hight
The Funny Car action will be intense this weekend to say the least. With three guys, John,
Ron Capps
and
Robert Hight
all vying for the championship, their every move will be under a microscope and we could see the field narrowed down to two after Sunday. Or, it could be just like last year when three drivers went into
Pomona
with a real chance at winning the championship. From a fan's point of view, it should be fun. From a driver's point of view, and their crews, it could be a battle of nerves as much as it will be a battle of machines. One slip, one mistake either in qualifying or on race day and your title hopes could be crushed....Which would be more exciting, two of the challengers for the title meeting in the first round this weekend or the last round? And how about a John Force vs. Robert Hight meeting in the early rounds? Of course the way the Team Force cars have been qualifying this year there's a much better chance that they will meet in the later rounds.
Did you know
that of the first twenty-one races this year one of John's cars has qualified number one seventeen times? That's a real testament to just how good those Fords are, isn't it?
Not to mention the guys who work on them. The crew chiefs,
Austin Coil, Bernie Fedderly, John Medlen
and
Jimmy Prock
get a lot of credit but they couldn't do it without really good guys working with them. The Team Force cars have made a living this year from the top half of the field and that translates into points, and lots of them just from qualifying.
Did you know
that of a possible 63 starting spots in the top half of the field for his three cars this year, John's Mustangs have been there 59 times? That means that between them, the trio has only failed to make the top half of the field a grand total of four times in the entire season. And
did you know
that the only time Robert failed to qualify in the top half was at the first raced of the year? And I'm sure you remember what he did at that race, that's right, he won it in dramatic fashion. If Robert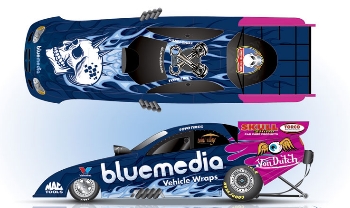 Rendering of Frank Pedregon's car.
does go on to win the title it will be the very first race of the year that made it all possible....
Frank Pedregon
is supposed to return to the scene this weekend. Frank, who once drove a Von Dutch car himself, is slated to run in Vegas and Pomona and let's hope that he is on solid footing because it would be nice to see all three of the Pedregon boys on tour for the entire year in 2007, wouldn't it?....
Jack Beckman
will be making his last start as a single man this weekend. Jack, who will marry
Jenna Lucy
before the
Pomona
race, seems to have acclimated himself well to the
Matco Tools
Funny Car and let's hope that he's on board for the 2007 season. Jack has great support from
Roger
and
Karen Comstock
, whose
MTS
company has been on the side of Jack's cars, both in Top Fuel and now in the Funny Car class. It's nice to have friends like that, and I salute Roger and Karen for the loyalty and support. Plus, Jack has overcome some pretty serious medical battles and I'm sure he agrees with David Baca that racing and winning are great, but in the overall realm of life....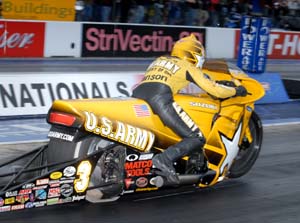 Angelle Sampey
The Pro Stock Motorcycle class also has three racers vying for the championship and this weekend will be a make or break weekend for one of them.
Angelle Sampey
, who comes in in third place, needs to gain some ground on the leader,
Antron Brown
, her Army teammate, and
Andrew Hines
, the reigning champ, if she wants to keep her title hopes alive. Pound for pound, and I mean that in a very serious way, Angelle has to be considered one of the best riders in the history of the class. When you factor in her weight against the weight of the bike, she has a lot more of a challenge getting it down the track than some of her male counterparts. For that reason, to see how she manages to get it back in the groove when it's out, how she manages to keep it straight most of the time, and how she generally handles the bike on every run are very impressive...The motorcycle class itself has shown great strength over the past couple of seasons and it's great to see the battle for the championship come right down to the wire. It's also great to see the different brands competing and the diverse mix of the riders in the class. Somewhere up above, I'm sure that
Dave Schultz
and
John Myers
are looking down and smiling at how strong the class is. And I'll bet we know who Dave and John are pulling for, don't we?....By the way, as tough as the class is from top to bottom, don't be surprised if someone sneaks in and gets their first win this weekend and, in the process, spoils the weekend for one of the top three riders....If all goes as planned, it looks like at least three riders,
Matt Smith, Tom Bradford
and
Matt Guidera
will make their first appearance in the top ten at the end of the season, which just goes to prove what I have said, and that is that the class has never been better, top to bottom, and it sure is fun to watch.




NHRA: 10 Most Recent Entries [ top ]

Mar 21- LAS VEGAS 1 - Event Preview
Mar 20- Strong Stable of Contending Pro Stock Racers Vie for Final Starting Position for K&N Horsepower Challenge
Mar 20- GAINESVILLE - Special Awards
Mar 20- GAINESVILLE - Lucas Oil Drag Racing Series Wrap Up
Mar 19- GAINESVILLE - Sunday Video
Mar 18- GAINESVILLE - Pro Mod Sunday Wrap Up
Mar 18- GAINESVILLE - Sunday Wrap Up
Mar 18- GAINESVILLE - Pro Mod Championship Points
Mar 18- GAINESVILLE - Bonus Points
Mar 18- GAINESVILLE - Championship Points