Tue, 24 Oct 2006, 11:39 AM



"The Professor" Reaches 500th Event at Only Track He Has Yet to Conquer



Courtesy of NHRA Communications


Photo copyright 2006 NHRA





The Strip at Las Vegas Motor Speedway



LAS VEGAS --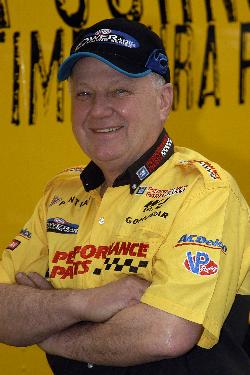 Warren Johnson
Warren Johnson made his professional drag racing debut in 1971 - the same year Mao Zedong invited the U.S. ping-pong team to Beijing, and the median household income hovered at $9,000. For many, auto racing had already become a lifestyle. Five years after his first race it became his, too.
Johnson grew up on a 180-acre farm in Northern Minnesota, where his family made a living "moving rocks" around to grow oats to feed their dairy cattle. In an atmosphere that could have bred frustration or innovation, Johnson chose the latter.
The oldest of three children, Johnson learned young to be self-sufficient.
"Living out on a farm, you have to be," said Johnson, 63. "If farm equipment broke, you had to repair it. You didn't get on the phone and call a repair shop. I don't think we even had a telephone back then. I was a self-taught machinist, welder and I learned to do self-taught body work."
He eventually bought his own St. Paul-area automotive machine shop that churned out engines for champion competitors in all types of racing. It wasn't long before the creative mind behind the man now known as "The Professor" formed a plan.
"I was winning at everything I built engines for, and in '75 after I had the shop equipment paid off I decided to go racing full-time," Johnson said. "I figured it was something I would enjoy and could potentially make a living at it."
Now NHRA's winningest Pro Stock driver with 96 career victories, Johnson will celebrate his 500th professional event at the only track he has yet to win at when the NHRA POWERade Series comes to The Strip at Las Vegas Motor Speedway for the sixth annual ACDelco Las Vegas NHRA Nationals, Oct. 26-29.
The headlines for the final two events of the season are numerous - NHRA could crown the first African-American world champion in the professional ranks if Antron Brown unseats reigning champ Andrew Hines. Funny Car's Ron Capps and Top Fuel's Doug Kalitta, two of the most talented drivers to have never won the title, could both end their bridesmaids' streaks and take home their first POWERade Series world championship trophies. The three-time and defending Pro Stock world champion that Johnson mentored, Greg Anderson, will continue his pursuit to grab the point lead from teammate Jason Line.
When Johnson rolls into town he won't think about the fact he has never won there, just as he never set out to reach his 500th event. Instead, he'll focus on keeping his young two-man crew (Johnson himself is the third) on task. This season has been about teaching his crew, 26-year-old Dain Schwan and 29-year-old Adam Drzayich, the secrets behind the sport Johnson has excelled at.
"(Las Vegas) is kind of like Phoenix," Johnson said. "I must have raced there for 15 years before I finally won it. You don't prepare differently; you don't look at it differently. You just try to be as prepared as possible before the event. If things go well, then great. If not, you try to figure out why it didn't, and fix it for the next go-round. People talk about gambling - hell, we gamble every weekend.
"You work hard at what you do and try to be as successful as you can. You don't really think about setting goals and records or anything of that nature. Racing to me is just a way of making a living. Most people are involved in racing because of their ego, but this is just the way I make my living. Instead of pushing a pencil or cutting grass, this is the way I make my living."
SCHEDULE: Professional qualifying sessions are scheduled for 2:30 and 5 p.m. on Oct. 27, and 11 a.m. and 3:30 p.m. on Oct. 28. Pre-race ceremonies will begin at 10 a.m. on Oct. 29, followed by the first session of professional eliminations at 11 a.m.
TICKETS: For tickets, call Las Vegas Motor Speedway at (702) 644-4444 or the NHRA, at (800) 884-NHRA (6472). Tickets are also available at http://www.LVMS.com or http://www.nhra.com.
ON TV: ESPN2 and ESPN2 HD will televise 30 minutes of the Budweiser Shootout Top Fuel bonus event at 10 p.m., and 90 minutes of qualifying coverage at 10:30 p.m. on Oct. 28. ESPN2 will telecast NHRA 2Day, a 30-minute weekly news magazine show, at 12:30 p.m. (ET) and televise three hours of eliminations at 8 p.m. (ET) on Oct. 29.




NHRA: 10 Most Recent Entries [ top ]

Apr 24- CHARLOTTE 1 - Steve Torrence Enjoying Four-Wide Success Heading to NGK Spark Plugs NHRA Four-Wide Nationals
Apr 24- CHARLOTTE 1 - Fact Sheet
Apr 24- Kalitta Motorsports Welcomes NASCAR Stars to the SealMaster Track Walk in Charlotte
Apr 24- zMAX Dragway Celebrates 10th Anniversary
Apr 24- CHARLOTTE 1 - NGK Spark Plugs NHRA Four-Wide Nationals Brings 40,000 Horsepower Thrill Show to zMAX Dragway
Apr 23- HOUSTON - Lucas Oil Drag Racing Series Wrap Up The NHRA Lucas Oil Drag Racing Series Wrap Up
Apr 23- CHARLOTTE 1 - J.R. Todd Aiming for Two Four-Wide Racing Wins in 2018
Apr 23- Mid America Dragway Joins NHRA Member Track Network
Apr 23- HOUSTON - Special Awards
Apr 23- HOUSTON - Sunday Video