Fri, 20 Oct 2006, 12:57 PM



Add Another Name to the History Books



By Bob Frey


Photo copyright 2006 Auto Imagery, Inc.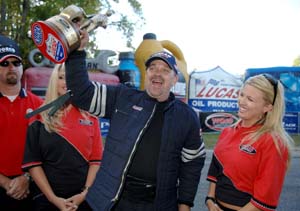 John Finke celebrates win.
The Torco Racing Fuels Nationals in Virginia this past week was historic for several reasons. In the professional classes, Jason Line and his fellow Pro Stock drivers completely re-wrote the record books with a barrage of 6.5 second runs that previously were thought of as impossible. In the sportsman ranks, Frank Manzo clobbered the field and the record books by making seven of the quickest runs in the history of the class. His final low elapsed time of 5.454 and his top speed of 263.26 are the things that legends are made of, that is, if Frank isn't already a legend. And, almost lost in the shuffle, were the runs by both Ken Perry and Marty Thacker in their supercharged, alcohol burning cars. Both drivers went well into the 5.2 range with Marty recording a best of 5.265 on his way to the finals, while Ken went even better from a performance stand point when he recorded a stunning 5.255 in the second round. For the record, that is the quickest run ever by a blown car in the Top Alcohol Dragster ranks and anytime you can put your name above someone like Rick Santos, well, you know that you've had a pretty good weekend. Throw in the fact that Bill Reichert wrapped up his first Lucas Oil World Championship and you can see what a special weekend it was. But, in the end, it wasn't Marty or Ken or even Bill who made it to the winner's circle in the TAD class, it was John Finke. That's right, John Finke.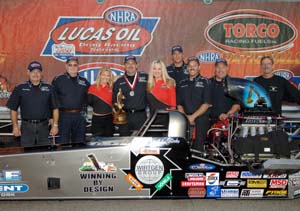 Finke and team celebrate win.
For the casual fans out there the fact that John Finke won in Virginia may come as a bit of a surprise, but to those of us who follow the class religiously, it was just a matter of time before this successful businessman from New York put his name in the books as a winner in the Top Alcohol Dragster class. For the record, John becomes the 111th driver in the past twenty-five years to win in the class, and while he may be relatively new to the class, he knew that, sooner or later, he and his team would spend Sunday afternoon in the winner's circle at a national event. Not only did he win but John was the top qualifier, he set low elapsed time and top speed. In other words, he had the best car and he made it pay off. Of course, he almost didn't even get out of the first round. "I was running that Lenco car (Wayne Morris, who uses a Lenco transmission), and I kept waiting to hear him bring the "r's" up on the engine. Well, he never did because that's not how those Lenco cars run. I just got caught with my guard down and it almost cost me the race. I've raced him before so I have no excuse." Getting caught with his guard down, as he said, almost ended John's weekend prematurely. John had a .400 reaction time and he needed every bit of the horsepower that his crew chief, Steve Boggs, could make in order to catch Wayne. John ran 5.293 to Wayne's 5.663 and it turned out to be quite a race. From there, John settled in and beat Richard Bourke, Ken Perry and Marty Thacker. Along the way he ran 5.198, 5.253 and 5.273 in the final round. Toss in that top speed of 278.12 and it's plain to see that John did have a very good car in Virginia. "We had a little weak tire shake in the final round," Steve Boggs said. "We just underestimated the track at that point." Still, this talented team got the win and John's name is now in the history books.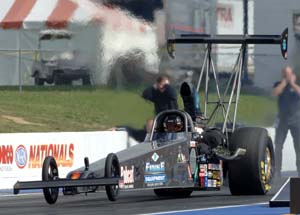 Finke in Virginia
When he's not racing John runs the family business, Finke Equipment in upstate New York. "My dad and I started the business back in 1977 and, at the time, we were doing it out of the basement of our house and our main job was to repair jack hammers. Hey, somebody had to do it. Since then we have expanded and now we are one of the largest companies in the area that handles sales and rentals of heavy construction equipment." John is also proud of the fact that after the September 11th attacks on New York, his company was one of the firms called upon the help in the clean up at the site. "We were there by ten o'clock that night," he said. "We provided over one hundred portable lighting units to help at ground zero. It was quite an effort on everyone's part and I was proud of the part our company and our employees played in it." Today, Finke Equipment has two locations that serve the contractors in their area and, as John put it, "I have to say that business has been pretty good lately." One of the nicest things about John's win in Virginia was the fact that his dad was there to see and enjoy it. "He's a partner with me in this car and it meant a lot to me to have him there. He kept kidding me about how long it took me to win a race so it was great to be able to share this with him."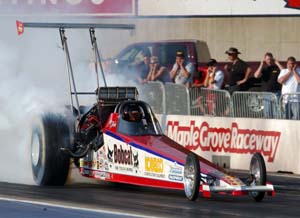 Finke in blown car at Maple Grove '04.
John began his racing career in the mid 1990's with a bracket car at his local track, Lebanon Valley Raceway. "I ran a little in Super Comp and did some bracket racing with it when I had the time," he said, "but it was only about four or five times a year because of the business." He later began working with Doug Foley on his alcohol dragster where he served as a crew member for about three years. When Doug cut back on his racing, John went to work with Bob Newberry and that, eventually, led to him buying his first dragster for the alky class. "It was a supercharged car and it was a real learning process. When it became apparent that the fuel cars had an advantage I decided to switch over. The car I have now was the last one that was built for Tony Bartone to run and it's a really nice car. Murph (chassis builder Murph McKinney) did a great job with it." In addition to having a good car, John also has one of the best and most talented crews in the class. "Steve Boggs is the best and he's my crew chief. Plus I have Grant Stoms, who has been around for a while and knows everything about these fuel cars. Glen Grow and Chris Dolla are both from Montreal and they're on the team along with Andy Zimmerman who is from Pennsylvania. The entire crew has been with me since I started and that's a real plus, especially in this class." John said that having a good car and a solid crew puts a lot of pressure on him as the driver. "When I had the bad reaction time in the first round they came down and all kind of looked at me like, what happened? They're a great bunch of guys and they like to have a cold beer at the end of the day like a lot of crews do but they want to race and win first. I was glad that I got away with that round win and was able to go on and win the race, for them as much as for me." To reward the crew John plans to take the entire team and their spouses to Las Vegas for the divisional race in two weeks and then they'll stay over and run the last race of the year in Pomona. "It's a nice treat for them to go to Vegas and we had that planned from the beginning of the year. It's nice that it comes right after the win. And I've always wanted to run at Pomona, with its great history, so that will be fun." And when he goes to the historic California track, John himself will be part of history, especially now that he has added his name to the record books as a winner in the Top Alcohol Dragster class.
In addition to his crew, John wants to thanks his sponsors including Bobcat, the Wirtgen Group and, of course, Finke Equipment.




NHRA: 10 Most Recent Entries [ top ]

Apr 24- CHARLOTTE 1 - Steve Torrence Enjoying Four-Wide Success Heading to NGK Spark Plugs NHRA Four-Wide Nationals
Apr 24- CHARLOTTE 1 - Fact Sheet
Apr 24- Kalitta Motorsports Welcomes NASCAR Stars to the SealMaster Track Walk in Charlotte
Apr 24- zMAX Dragway Celebrates 10th Anniversary
Apr 24- CHARLOTTE 1 - NGK Spark Plugs NHRA Four-Wide Nationals Brings 40,000 Horsepower Thrill Show to zMAX Dragway
Apr 23- HOUSTON - Lucas Oil Drag Racing Series Wrap Up The NHRA Lucas Oil Drag Racing Series Wrap Up
Apr 23- CHARLOTTE 1 - J.R. Todd Aiming for Two Four-Wide Racing Wins in 2018
Apr 23- Mid America Dragway Joins NHRA Member Track Network
Apr 23- HOUSTON - Special Awards
Apr 23- HOUSTON - Sunday Video