Wed, 18 Oct 2006, 07:47 AM



I Told You So



By Bob Frey


Photo copyright 2006 Auto Imagery, Inc.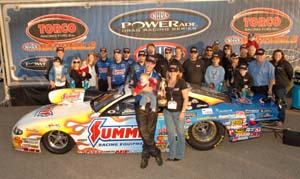 Line and team celebrate win.
A few weeks ago, before the first weekend in
Richmond
, I told you that the Pro Stock drivers who had tested at
Virginia Motorsports Park
liked the track so much that they said we should see a 6.5 run at the event. What they didn't tell me was that there would be so many. A full twenty-four Pro Stock drivers recorded their personal best numbers, either elapsed time, speed or both, at the
Torco Racing Fuels Nationals
this past weekend. The barrage was so stunning that, coming into the race there had not been a single run in the 6.5 range, and now all of the top ten runs in the class are 6.5 seconds. It was simply amazing. The leader of the pack, of course, was
Jason Line
who not only set the national record for the second consecutive event, but he won the race, got the maximum (138) points and is now the leader in the clubhouse in the battle for the
POWERade
Championship. With two races to go Jason has increased his lead to a healthy 119 points over his teammate,
Greg Anderson
. The two
Summit Racing Pontiacs
have been the best cars all year long from a performance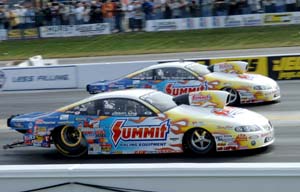 Line vs Anderson
standpoint and it now looks like Jason may be the heir apparent to the Pro Stock throne that has been held by Greg for the last three years. Wasn't it
John Force
who once said of
Tony Pedregon
"I've hired my own assassin?" That same line could apply to Greg right now, couldn't it? The fact that Jason has set the record at consecutive events can't be lost in this championship battle since that accounts for forty points, or two rounds. And just how tough is it to set a Pro Stock elapsed time record at back-to-back events? Well,
did you
know
that the last time that was accomplished was back in 1990 when
Darrell Alderman
did it at
Topeka
and
Dallas
? And
did you know
that in the history of the Pro Stock class, which began in 1970, a driver has set the national elapsed time record at consecutive national races a grand total of six times. Jason and Darrell did it and so did
Larry
Lombardo
in 1976 (Englishtown and Sanair),
Bob Glidden
in 1975 (
Pomona
and
Gainesville
) and both
Don Nicholson
(
Pomona
and
Gainesville
) and
Wayne Gapp
in 1973 (
Amarillo
and
Ontario
). That's how good Jason's car is right now. The 138 point effort was the first for Jason and that makes him only the fourth Pro Stock driver to do that. Greg has done it once,
Warren Johnson
did it five times and the great Bob Glidden did it an amazing fourteen times. That's how good Bob was. Anyway, now that all the shouting has died down, you have to like Jason's chances of becoming just the fourteenth driver to win the Pro Stock championship since the class began thirty-six years ago. I know, it's not over yet, but if anyone wants to take Greg you can catch up with me at the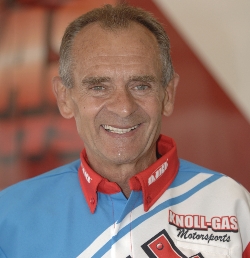 Bob Glidden
tower in
Las Vegas
on Thursday and we can make a little wager. For amusement purposes only, of course...If he holds on and wins the title Jason will join drivers like
Jeg Coughlin
,
Ronnie Sox
and
Mike Fons
as guys who won the Pro Stock championship after winning a sportsman crown, too. Of course Ronnie and Mike won their sportsman crowns back in the 1960's before Pro Stock was a class, while Jeggie won the Super Gas championship in 1992 to go with his two Pro Stock titles. Jason, for those who may not know, won the Stock Eliminator national championship in 1993....
Tom Martino
, who was in the other lane when Jason won the event, has had several good years in the Pro Stock class but 2006 has to be among his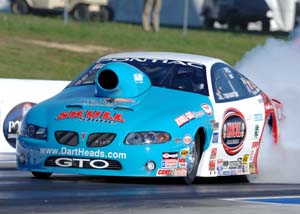 Tom Martino
best. Despite not running all of the events Tom has been to three final rounds with a win at
Gainesville
earlier this year. Along with car owner,
Richard Maskin
, and their primary sponsor
Knoll Gas & Energy
, they have done very well and let's hope this team starts the 2007 season out in
Pomona
because they could be a real factor in the title chase next year.
Did you know
that this is the third time that Tom has been to three finals in the same year? He did it back in 1997 and 1998 in addition to this year. The final round was also the fifteenth of his career which moved him past his idol,
Bill Jenkins
, and ties him with Wayne Gapp on the all-time list..By the way, you may have read (but not here) that
Ken Black,
who owns the cars that Greg and Jason drive, was thinking about bringing out two more cars because of the new point system for next year. Well, that simply isn't going to happen and never was. "Greg and Jason would kill me if I did that," Ken told me Sunday. "The amount of work involved in something like that is unbelievable not to mention the expense. I was just making on off-handed comment about what I might do because that points thing narrows it down to four cars for the final two races of the year next season, and anyone who heard it should have known that's just what it was. Believe me, it was never a consideration, not for a moment." There, another internet rumor put to rest...maybe!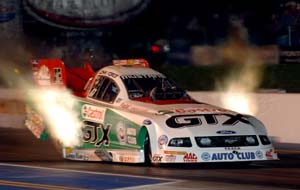 John Force
John Force,
Ron Capps
and
Robert Hight,
the three guys battling for the Funny Car championship, didn't win the race in
Virginia
,
Eric Medlen
did, and in the process Eric and the
Castrol Syntec
team moved into fourth place in the standings. At the same time, Ron went out in round one, Robert in round two and John a round later which means that John now leads the pack by forty-six points over Ron and by fifty-four over Robert. A quick look at those numbers means that we should have a points battle going into
Pomona
. The only thing we don't know is which teams and how many will be involved in it. Eric, who won from the number one spot, did everything but set top speed en route to the win and he certainly seemed to have the best car on race day. Along with his father, John, and the rest of the Syntec crew, Eric bunched four runs between 4.831 and 4.795 on Sunday and that's tough to beat. Sure, a couple of other cars ran better, but none ran longer than Eric.
Scott Kalitta
and the
Toyota
team, ran 4.808 in round one while John went 4.828 and Robert logged a 4.760 (which was low E/T on race day) in the initial stanza, but other than that, Eric had low elapsed time in every other round and he was the last man standing. Eric's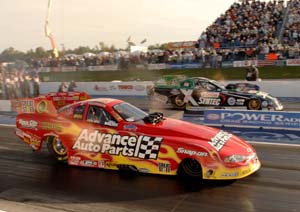 Pedregon vs Medlen
opponent in the final round,
Cruz Pedregon
, was trying to duplicate the feat that his brother, Tony, did earlier this year and that was to beat all three of the Team Force cars on the same day. Tony did it in
Atlanta
and, to date, he is the only guy to stop all three of John's cars at the same race. Cruz came close, and his 4.873 in the final round kept Eric honest but it just wasn't enough to beat him....I did a podcast interview with John Force after the race and it should be available on
NHRA.com
and I think you'll find it very interesting and informative. John talks about his incident at the race when his car blew up and he was rolling around on the ground at the end of the track. "I need to follow the instructions that came with my fire suit," he said. "They tell you to always wear the fire-proof underwear with it and I wasn't and I got burned. I can tell you that that will never happen again." John also talks about his daughter, Ashley, who tested yesterday in
Virginia
and, from what I heard, it now looks like she will turn pro next year. At least that's what I took from the interview and you can judge for yourself by checking it out. John is, as always, very honest and out spoken and he also talks about the points battle and his approach to the next two races. Anytime you can get a moment to sit down with John it's a good thing. Plus, and I know this will make him happy, there are no edits on the tape so you'll get everything that he said just as he said it. Good luck to John, Ron and Robert at the next two races..By the way, the Funny Car class was the only one of the three pro classes that didn't have a single driver record his personal best this past weekend. What's up with that?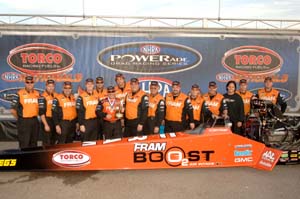 McClenathan and team celebrate win.
Cory McClenathan's
win was big for him, the
Carrier Boys, Mark
and
Andy, Fram
Boost
and everyone associated with that team. After a near miss in
Columbus
earlier this year, Cory finally broke that long, two year drought as he picked up his 29
th
career Top Fuel win which ties him with
Doug Kalitta
for sixth place on the all-time win list. I would also like to add a special thanks to all the folks at Fram who said earlier this year that they would donate $1000 to
DRAW
for every win that their teams recorded this season. Thanks, Fram, and I ask you, how cool would it be if we could get every sponsor to do that? Anyway, I digress. The win moved Cory and the team back into the POWERade top ten (ninth) ahead of
JR Todd
and less than a round away from
Morgan Lucas
who is in eighth place....I have never been able to figure out why but certain drivers always seem to do well at certain tracks.
Did you know
that when the NHRA tour was in
Virginia
a few years ago Cory won the race three times and was in another final round. He told me after the race that "you just get into a comfort zone at certain tracks and this is one for me." I guess it is, Cory. Nice job by the entire team who vowed not to smoke the tires in the final round. "We want to go down the track and if they beat us, fine, but we don't want to beat ourselves,"
Wes Cerny
said. By the way, there aren't many guys, or any guys, who have sent more fuel cars down the track over the course of the years than Wes Cerny has?
Did you know
that Wes Cerny, along with his partner,
Don Moody
, set the national Top Fuel record at the "Last Drag Race" at Lions Dragway in 1972?
They also set records at
Orange
County
, Irwindale and
Carlsbad
that same year. Prior to that last drag race, almost immediately prior to that, the team also won the big National Challenge event in
Tulsa
and the NHRA Supernationals. That was one, tough team. Anyway, congrats to the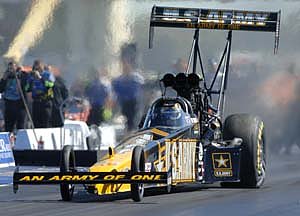 Tony Schumacher
team for winning this weekend and, if you'd like to hear from the owners of the Fram Boost car, the POWERade podcasts this week will also include an interview with Mark and Andy Carrier...
Tony Schumacher
sure picked a bad time to lose in round one, didn't he? Actually there is no good time to lose in the first round but, after making a real charge to the front, or almost to the front of the points, the driver of the
"Army"
car was beaten in round one by
David Baca
and his
"Mach 1 Air Services"
team. That loss, coupled with Doug Kalitta's semi-final appearance and
Brandon Bernstein's
second round loss (to Doug) means that the
MAC
Tools
driver is now eighty-three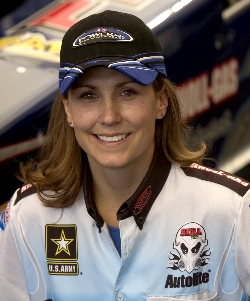 Melanie Troxel
points ahead of Brandon, who moved into second place, and eighty-nine up on the "Sarge."
You need to leave Las Vegas with a 139 point advantage so it looks like the Top Fuel battle will carry over to Pomona, although Doug could wrap it up in Vegas if everything falls into place for him....
Melanie Troxel
continued to pile up the awards this year when she was named the "Sportswoman of the Year" by the Women's Sports Foundation last night. In a gala affair at the Waldorf-Astoria in
New York
, Melanie picked up the award and she added her name to a rather impressive list of female athletes that includes
Annika Sorenstam, Juli Inkster, Steffi Graf
and
others
.
The award is richly deserved and congratulations go out to Mel and her team, including owner
Don Schumacher
, crew chief
Richard Hogan
and everyone on the
Skull Gear/Torco
entry.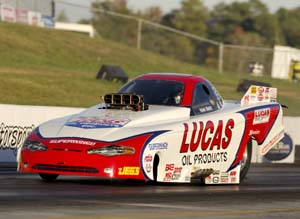 Frank Manzo
As impressive as Jason Line's run to the winner's circle was this weekend I'm not sure that it was even the best performance at the event.
Frank Manzo
, who had clinched his tenth
Lucas Oil World Championship
at
Maple Grove
two weeks ago, absolutely crushed the competition en route to his win in TA/FC. Frank's worst run of the weekend, including three in qualifying and four on race day, was a 5.517 which equaled the best run in the history of the class coming into the event. Frank ran a best of 5.454 in the semi-finals and all of his runs in eliminations were in the 5.4-second range. He also made the fastest run in the history of the class, a stunning 263.26 mph blast in the semi-finals. It was, in a word, awesome. I can't remember a driver having a weekend that was that dominating in any class in quite some time...if ever. I asked Frank if he had ever had a weekend like that and he said "no," and then I asked
Brad Littlefield
, the reporter for
National Dragster,
and a guy whose dad has been running in the Top Alcohol Funny Car ranks for years, and he said that he can't remember such a dominating performance either. And Brad has seen a lot of alcohol cars go down the track. Oh, by the way,
did you know
that Brad's father, Mert, ran at that "Last Drag Race" that I mentioned earlier? Well he did. Anyway, Frank was almost perfect and now he can sit back, make a leisurely trip to
California
to pick up his hardware and enjoy what he has accomplished. As a fan of the sport I can honestly say that it was a pleasure to see that performance....
Bob Tasca III
, the runner-up to Frank, had a very good weekend, one that would have been a record setting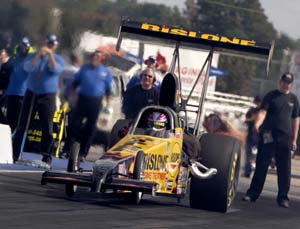 Bill Reichert
weekend had it not been for Frank. Bob, who went to four final rounds at national events this year, ran a best of 5.535 in eliminations and that's really good. The driver of the
Quick Lane Ford
should be pleased with his year in the class. It's got to be tough running an alky funny car in the Division 1 area, where Frank makes his living....
Bill Reichert
wrapped up the Top Alcohol Dragster title when he won two rounds in
Virginia
. Bill, his wife,
Gloria
and son
Andy
, have done a great job and this has to be Bill's finest year ever, and that's saying something since he almost won the whole thing in 2004.
Did you know
that Bill lost to
Duane Shields
in the second round at
Pomona
that year and when Duane lost to
Mitch Myers
in the semis, Mitch won the championship? In addition to his family, Bill had a lot of help this year from his sponsor,
Rislone, Bob Adams, Mike Libengood, Cory Eich, Tom Hammil, Ron Potter
and
Steve Hammond....
While he didn't win the race
Ken Perry
did make a little drag racing history when he went 5.255 which is the quickest pass ever by a supercharged, alcohol burning dragster. Ken also went 5.258 in the first round before his stunning pass in round two..
Marty Thacker
, the runner-up in the class, also dipped into the 5.20 range, and he did it three times in eliminations. It was a great race for all of the teams in the alky dragster class..
Anthony Fetch
won the Stock Eliminator title in
Virginia
and that puts him in a very select group. Not the Stock Eliminator winners, there have been 295 of them, but drivers who have won division titles in the
Summit Racing
E/T Series
, gone to Pomona and won a national event on the Lucas Oil tour. Anthony represented Division 1 at the Summit Finals in
Pomona
in 2000 and, to this day, says it was "one of the best experiences of my life." Nice going, Anthony, keep up the good work.




NHRA: 10 Most Recent Entries [ top ]

Apr 23- HOUSTON - Sunday Video
Apr 22- HOUSTON - Sunday Pro Mod Wrap Up