Sun, 15 Oct 2006, 07:59 PM



Line Moves Closer to Clinching First Powerade Pro Stock Championship



Courtesy of NHRA Communications


Photo copyright 2006 Auto Imagery, Inc.





McClenathan and Medlen also earn victories at Torco Racing Fuels NHRA Nationals



DINWIDDIE, Va. --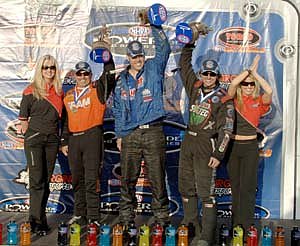 (l-r) McClenathan, Line & Medlen,
Jason Line raced to his fourth Pro Stock victory of the season Sunday at the Torco Racing Fuels NHRA Nationals and moved closer to securing his first NHRA POWERade world championship title.
Cory McClenathan and Eric Medlen also were winners at the $1.6 million race at Virginia Motorsports Park, the 21st of 23 events in the $50 million NHRA POWERade Drag Racing Series.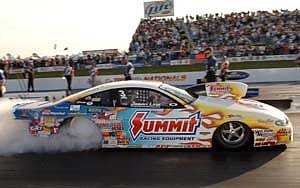 Jason Line
Line, who set a national performance record of 6.558 seconds during the weekend and scored the single race maximum of 138 points, now leads teammate Greg Anderson by 119 points. In the final, the former NASCAR dyno operator drove his Summit Racing Pontiac GTO to a 6.597 at 208.42 to hold off Tom Martino, who clocked a 6.645 at 207.78, also in a GTO. To advance to the final, Line defeated Erica Enders, Dave Connolly and Anderson in an important semifinal showdown.
"This is such a huge, huge step toward the championship," said Line, who can clinch the title if he scores 20 more points than Anderson at the upcoming ACDelco Las Vegas NHRA Nationals, Oct. 26-29 at The Strip at Las Vegas Motor Speedway.
"It was tough to race Greg in the semifinals because we all knew what was on the line, but we just raced like we have all year: straight up," continued Line, also the 1993 NHRA Stock Eliminator world champion. "This whole team is special, from the guys at the track to the guys at the shop. It's good that no matter what, the championship is staying with us."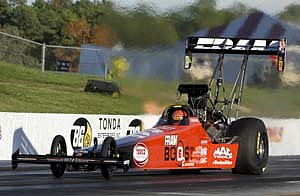 Cory McClenathan
McClenathan powered his FRAM Boost dragster to his 29th career victory and fourth at VMP with a final round performance of 4.644 seconds at 304.74 mph to hold off Rod Fuller, whose Valvoline/David Powers Homes dragster lost traction at the start.
McClenathan defeated Dave Grubnic, David Baca and series leader Doug Kalitta to advance to the final.
"Thank God we're racing in Virginia again," said McClenathan who last won at Atlanta Dragway in 2004. "I love racing here. It's been a long time, a long struggle. The Carrier Boyz have been great; they never doubted my ability or questioned anything that happened. We just stayed together and went after our goals. This win is for them and all our sponsors. I don't know that anyone would have picked me at the start of the day to win the race."
With his semifinal finish Kalitta increased his POWERade Series lead to 83 over Brandon Bernstein and 89 over Tony Schumacher, who lost in the first round.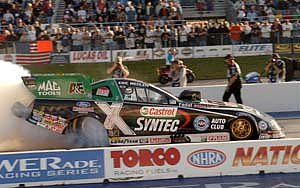 Eric Medlen
Medlen earned his second victory of the season and sixth of his career by defeating Cruz Pedregon in the Funny Car final. Medlen's Castrol Syntec Ford Mustang posted a 4.814 at 301.00, while Pedregon's Advance Auto Parts Chevy Monte Carlo ran 4.873 at 297.02 in the runner-up effort.
"The only thing that could have been better this whole weekend would have been to race one of my teammates in the final," said Medlen, who beat Tim Wilkerson, Jack Beckman and Scott Kalitta in earlier rounds. "I wish that (countdown to) the championship deal started right now. If it did and this was next year we'd be right in the thick of it. I'll tell you: There's nothing better than winning a race in Funny Car."
Series leader John Force, who received minor burns to both legs when his Castrol GTX Mustang suffered an engine explosion in a semifinal loss to Pedregon, increased his points lead to 46 over first-round loser Ron Capps and 54 over teammate Robert Hight.



DINWIDDIE, Va. -- Sunday's final results from the Inaugural Torco Racing Fuels NHRA Nationals at Virginia Motorprorts Park. The $1.5 million race is the 21st of 23 in the $50 million NHRA POWERade Drag Racing Series:
Top Fuel -- Cory McClenathan, 4.644 seconds, 304.74 mph def. Rod Fuller, 5.926 seconds, 262.49 mph.
Funny Car -- Eric Medlen, Ford Mustang, 4.814, 301.00 def. Cruz Pedregon, Chevy Monte Carlo, 4.873, 297.02.
Pro Stock -- Jason Line, Pontiac GTO, 6.597, 208.42 def. Tom Martino, GTO, 6.645, 207.78.
Top Alcohol Dragster -- John Finke, 5.273, 271.73 def. Marty Thacker, 6.720, 150.46.
Top Alcohol Funny Car -- Frank Manzo, Chevy Monte Carlo, 5.486, 260.21 def. Bob Tasca III, Ford Mustang, 5.538, 258.86.
Competition Eliminator -- Gerry Russo, Chevy Cavalier, 8.214, 162.35 def. Tony Stephenson, Pontiac GTO, 7.711, 172.14.
Super Stock -- Gene Daugherty, Chevy Camaro, 10.079, 127.10 def. Norm Hall, Chevy Nova, 9.974, 126.72.
Stock Eliminator -- Anthony Fetch, Chevy Camaro, 11.724, 108.95 def. James Perrone, Chevy Nova, 11.469, 111.29.
Super Gas -- Jason Ayers, Chevy Vega, 9.924, 149.51 def. Ron Erks, Chevy Corvette, 9.935, 162.06.




NHRA: 10 Most Recent Entries [ top ]

Mar 20- Strong Stable of Contending Pro Stock Racers Vie for Final Starting Position for K&N Horsepower Challenge
Mar 20- GAINESVILLE - Special Awards
Mar 20- GAINESVILLE - Lucas Oil Drag Racing Series Wrap Up
Mar 19- GAINESVILLE - Sunday Video
Mar 18- GAINESVILLE - Pro Mod Sunday Wrap Up
Mar 18- GAINESVILLE - Sunday Wrap Up
Mar 18- GAINESVILLE - Pro Mod Championship Points
Mar 18- GAINESVILLE - Bonus Points
Mar 18- GAINESVILLE - Championship Points
Mar 18- GAINESVILLE - Mickey Thompson Top Fuel Harley Series Championship Points