Fri, 13 Oct 2006, 12:53 AM



"It's Just The Beginning!"



By Bob Frey


Photo copyright 2006 Auto Imagery, Inc.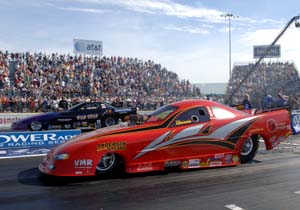 Anderson vs Kinsley in the final.
Anytime you go to a race and see a new face, a new team or a new car it's exciting, at least it is for me. And when that new team and that driver do well it's even more exciting. Such was the case at the O'Reilly Fall Nationals in Dallas recently when I watched the birth of a new star in the Top Alcohol Funny Car class. Paul Anderson, twenty-one years old and one of the most successful Jr. Dragster racers ever, showed up in Dallas with a Dodge Funny Car and all he proceeded to do at his first national event was run a career best elapsed time, qualify second in a very tough field and go all the way to the final round. Along the way the Erie, Colorado native beat Vern Moats, Steve Gasparrelli and Jay Payne before finally losing to Kebin Kinsley. "It exceeded our wildest dreams," Paul said. "We went there with the intention of making the field and learning about the car. Anything else would be a bonus." What a bonus it was. In qualifying Paul ran 5.724 which, at the time, was his personal best. In round one he beat his mentor, Vern Moats and ran another career best of 5.710. Round two saw an encounter with one of the best drivers in the class, Steve Gasparrelli. Paul was first out of the gate and ran 5.633, another career best and he beat the west coast star to advance to the semi-finals. There, some tire shake slowed him to a 7.71, but it was academic since his opponent, Jay Payne, had already fouled out. In the final, according to Paul, "we simply missed the set up on the car." Severe tire shake pushed him out of the grove and he had the best seat in the house to watch Kebin Kinsley sail to his second national event win of the year. Still, all things considered, not a bad weekend for the young Colorado native.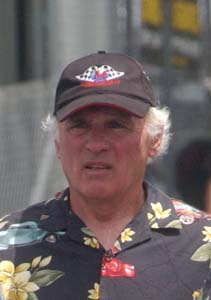 Vern Moats
Paul Anderson is just one of many racers who have evolved from the very successful Jr. Dragster program. "We had a lot of success on the Jr. level and it really taught me a lot," he said. "But all along our goal was to move up into the alcohol funny car ranks someday." That love for the top alky cars was spawned at a very early age. "My folks used to take me to the races at Bandimere Speedway and I loved watching the alcohol cars runs. One race when I was hanging around the winner's circle I was getting autographs and Vern Moats was there and he said 'I can do better than just sign your shirt.' And he took off his champion's hat, signed it and put it on my head." From that day on Paul was a big Vern Moats fan and, over the years, he would meet Vern at the races and help work on his car by doing the little things like draining the oil, clean the tires and things like that. When Paul and his parents decided they wanted to race a Funny Car they called Vern who told them he had one to sell. "Vern called and told us about the car and my dad said we would think about it. Then he called back and said a guy was coming up who really wanted to buy it but he wanted to give us the first chance at it. I told my dad and he said we'd wait until the next car became available, but I called Vern back and said we'd take the car. You can imagine how surprised my dad was when Vern called and asked where we wanted the car delivered." Fortunately, both Paul's dad and mom were very understanding and the family was now the proud owner of an alcohol funny car. "It was a nice car and it had a Camaro body on it and Vern came with us to Bandimere when I went for my license. It was the very cold at the track and I think the track temperature was something like forty degrees but the folks at Bandimere did a great job prepping the track and I got my license."
Since Bandimere was only a few miles from the family's home in Erie, they were booked in for a match race against Vern later that year and Paul beat his hero in two straight. That was followed by a trip to the Division 5 race in Topeka where Paul missed the field by a few hundredths of a second. "We got bumped by Jay Payne but we still learned a lot about racing the car." A few weeks later they would return to Bandimere for the Division 5 race there and things wouldn't go quite as well as planned. "I finished the run and hit the brakes but nothing happened. Then I tried to pull the chutes and they didn't open, either. I knew I was going off the end of the track I just didn't know how it was going to feel." According to reports from the end of the track Paul hit the sand trap at about 190 miles per hour. "All of the safety equipment did what it was supposed to do and all I got out of it was a bruised ankle and tail bone. "Mom and dad were watching from the starting line and they could see that the chutes didn't come out but they didn't know how hard I hit the dirt. They said it seemed like it took their golf cart forever to get to me." When they got there they found Vern Moats already on the scene and talking to Paul. "He told me that he won," Paul said. "I asked him what he meant and he said that I only went half-way into the sand and that he had been all the way to the top." Indeed he had. Vern was involved in one of the scariest incidents ever at Bandimere when he ran his car, at full speed, into the sand trap. "It was kind of nice that we could both laugh about it," Paul said. When his father caught up with him at the hospital Paul said the first thing his dad asked him was "Are you done yet?" "I told him, no, this is only the beginning."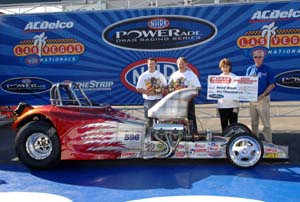 Best Appearing and Best Engineered at Vegas in 2005
Everyone in the family was very supportive of Paul and his desire to get back in the car. They went out looking for a new body for the car and had hoped to get a new Mustang but it didn't work out. So they got a new Dodge Stratus body, put it on the car and it's worked like a charm ever since. They came to Dallas for their first national event and that went about as well as could be expected, better even. They followed that up with a win at the rain-delayed Divisional race in Iowa where they beat Cy Chesterman in the semi-finals and the red hot Roger Bateman in the finals. Now they plan to head for the Lucas Oil race in Oklahoma this weekend before ending the season with a trip to Pomona. "We'll go to the race this weekend with the same philosophy as always, and that is, to qualify for the race and then take it from there. I'm still learning and you have a lot to learn about driving one of these cars." Paul says that Vern Moats, who is the crew chief on the car, has been a huge help in both the mechanical and the driving aspects of the car. "He's the best," Paul said. "He has been such a big help right from the beginning. When he told us that he was going to Oklahoma this week we decided to go, too." That means that family will take time off from their business, Anderson Boneless Beef and their other ventures, Anderson Family Steaks and Denver Steaks." We've been supplying five-star restaurants with beef for over thirty years and now we've added an internet site and we're shipping product all over the world. The comments we get from customers are amazing. They tell us they've never tasted anything like the products we supply." One thing that is ironic about the Anderson family is that dad, Dennis, never raced, but racing was a big part of Paul's mom's family. "The Snyder's, Tom and Lucky, are my uncles and I grew up watching them race. That's why we started out with a Comp Eliminator car after the Jr. program." And just to show you how much the family likes Paul, his uncle beat him in the first round of his very first national event. The family did make the tow to Las Vegas for the divisional race last year and they were rewarded by winning the Best Engineered Car award with their A/EA Competition Eliminator entry. Even with that trophy and all of his success in the Jr. ranks, Paul added that the trophy that he got for winning the Division 5 race was the first "Wally" he had ever won. Judging from his success this year, it won't be his last.
Paul Anderson handled himself well on the race track and at the end of each round for the television interviews in Dallas. He drove well and showed a real respect for the car and that's rare among young drivers. As he prepares for the D-4 race this weekend and a trip to California, you can only wonder where his career will lead him. But, if the early signs are any indication, as he said himself, "this is only the beginning."




NHRA: 10 Most Recent Entries [ top ]

Mar 18- GAINESVILLE - Pro Mod Sunday Wrap Up
Mar 18- GAINESVILLE - Sunday Wrap Up
Mar 18- GAINESVILLE - Pro Mod Championship Points
Mar 18- GAINESVILLE - Bonus Points
Mar 18- GAINESVILLE - Championship Points
Mar 18- GAINESVILLE - Mickey Thompson Top Fuel Harley Series Championship Points
Mar 18- GAINESVILLE - Bonus Points
Mar 18- GAINESVILLE - Summary of Eliminations in Top Fuel
Mar 18- GAINESVILLE - Summary of Eliminations in Funny Car
Mar 18- GAINESVILLE - Summary of Eliminations in Pro Stock