Thu, 12 Oct 2006, 12:17 PM



Transcript of Funny Car and Pro Stock Championship Contenders Teleconference



Courtesy of NHRA Communications


Photo copyright 2006 NHRA





Transcript of the Funny Car and Pro Stock NHRA POWERade Series Championship Contenders teleconference Wednesday, Oct. 11.
John Force
Ron Capps
Robert Hight
Greg Anderson

MODERATOR: We will begin with our Funny Car and Pro Stock points leaders. With three events left in the 2006 POWERade Series season, this will be the final of our series of teleconferences with the points leaders. This one will be a little different. As opposed to just having the leader in each respective class, we're going to have the points leader and the drivers closest to him or her in the POWERade Series world championship points races.
Next week as a notice, we will be having another teleconference, same time, same date, with the Top Fuel and Pro Stock Motorcycle championship contenders.
We're going to begin today with the Funny Car drivers, with only 35 points separating the top three drivers. Thirteen-time world champion John Force is in first place; three-time runner-up Ron Capps is in second place just one point back; and 2005 Auto Club Road to the Future Award winner Robert Hight is in third place, 35 points back.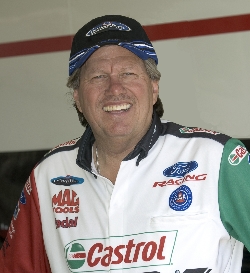 John Force
John, let's begin with you. Thoughts on these last three races as we close the 2006 season?
FORCE: Well, we've been struggling. Every time we get a shot at the title, we seem to screw up. Capps has been very consistent. We got around him by one point, but that's nothing to brag about. We just can't seem to get in the groove.
Robert seems to be the hottest car right now in the groove. He won two races, then he was runner-up at Reading. We faced a couple rain-outs. There's not much of a call I can make. We're working hard. If Ron Capps stays on his roll, consistency can keep him right in this game till the end. We seem to keep screwing up. We're trying to get over that issue.
MODERATOR: Thanks, John.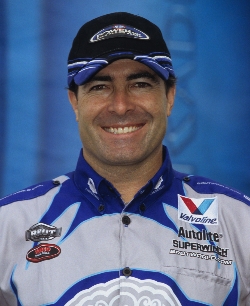 Ron Capps
Next we'll go to Ron. Ron, you of course ran the tight race with John and Gary (Scelzi) last year so you have plenty of experience coming down to the wire. How does that help you going into these last three events this year?
CAPPS: Well, it always helps. Any time you can go through, you look at what Force has gone through in the past championships he's won, and even before that, the guy, he's on fire, upside down and everything, stuck it out. Look where he's at. You just got to have the true grit it takes to be in the position we're in, to roll up and stage a car at Pomona like we were last year, always trying to win a championship, all going out second round.
To roll up the first round, that second round last year, I mean, I learned a lot about myself. I learned a lot about the competitors being in that situation. It definitely helps.
Finishing second three times like I did those times, you know, it sounded like they were close, they weren't clinched till Pomona at that time. Those were pretty early in my career, taught me a lot. It wasn't like last year. Last year, that's as spectacular as it gets. I chalk that up to experience and hopefully I can use it this year.
MODERATOR: Thanks, Ron.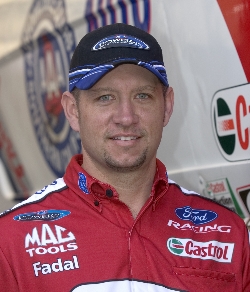 Robert Hight
Third we have Robert Hight. Robert, as John mentioned, you come into this weekend's race off of two wins and a runner-up finish. You've made quite a run to get back in this race. You're only 35 points back. Why don't you talk about your position right now. With three events to go, what's going through your mind?
HIGHT: First off, I'm really excited to be here with these other two drivers, a chance to win this POWERade Series championship. We were kind of honestly written off going into the Western Swing. It looked like it was going to be a two-car race with Ron and John. We kind of held our own through the Western Swing, then have come on really, really strong.
I can't worry about what they do. It's guys like Phil Burkart, he took us all out last week. Luckily he got to them before he did me. There's 13 other drivers on Sunday that we have to watch for. These guys are going to be the spoilers.
You know, the main thing is to go to the next race and qualify well because qualifying points are going to be -- it comes down to qualifying points.
We just have to keep doing what we're doing and try to focus on what we do, not what everybody else is doing.
MODERATOR: Thanks, Robert. We'll open it up to questions.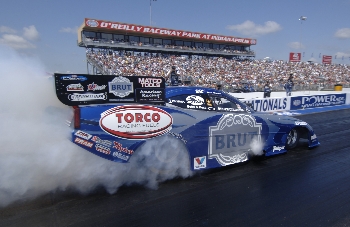 Ron Capps
Q. Mr. Capps, I'm curious, we have four great points races right now in the Pro categories. Do you see a need for any radical change to the points system?
CAPPS: You mean, as far as next year's deal?
Q. Yeah.
CAPPS: Well, I think it's a wait and see. We all got this knee-jerk reaction, some good, some bad. You know, I think the excitement last year created the buzz to do what NHRA did. I think next year they're going to see what happens. I think the only questionable part of it is the very last part, where it goes down to the four and then just down to the last two races. I'm not sure about that myself personally.
I know NHRA is going to look at next year and next off-season change anything that might need to be changed.
As far as me, it's already exciting. Right now the guys that are fifth, sixth, seventh in points are definitely excited about (the Countdown to the Championship). You talk to Scelzi, I guarantee it's something he'd be pulling for right now. I've been in that position. It's going to create excitement. Force would say bottom line you have to look at -- a car has to be consistent. You got to be money come race day, especially last three or four races.
Regardless of the new points system, if you don't have your act together at those races, you're probably not going to do well if you are battling like I am with Robert and Force. I don't think it's going to be as big a deal as people think as far as the negativity of it.
Q. John, you made the comment that you've been screwing up some this year. Is that because of your age?
FORCE: You always get me on my age (laughter).
I think I'm on a little bit of overload. You know, my business got big, took on a TV show on A&E (Driving Force). Teaching these young drivers like Robert, now they're teaching me. Trying to evolve actually. You've got to focus on something. It's not just age. I can still cut it with the kids up there. But it's about focusing every minute on winning. That's what builds champions. I think a lot of times I show up at the race and my head's somewhere else. It's time to race, now I'm ready. There's been days you go to the starting line, you didn't have a clue what we did with the car.
In these last three races, I definitely got my game face on and I'm going there to try to win. That's my game plan. Castrol and Ford, all these people paid me, AAA of Southern California, that was to win championships. I lost last year to two kids there, Gary Scelzi and Ron Capps. I know where their focus was. No excuses, I choked. I'm paid to win. I don't want to make that mistake again. It's not like the old days where you could make a mistake. There's not room for error. We need to do everything right. I was guilty of not doing things right this last year and the beginning of this year, but I think I'm back on track.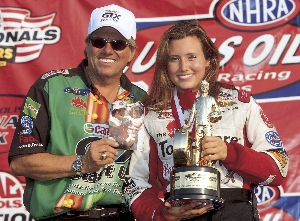 John and Ashley
Q. John, you had hinted earlier this year that you might put (daughter) Ashley in a Nitro car possibly (in Las Vegas) or Pomona. Is that still a possibility?
FORCE: No, that will not happen. She's testing at Richmond this week on Monday. She's flying in to test. She'll be testing at Vegas. She'll be testing -- that will be the end of it till we start testing the beginning of the season.
Her crew chief, Dean "Guido" Antonelli, in this points chase, we thought if we could get there and get around Capps and wrap it up, that's before Robert got into the game, that we could pull "Guido" from our team and put him on her own team, which she has a new trailer, new car, everything ready to go. Hell, she ran quick enough at Indy in testing to qualify at Indy, or at least pretty close. I don't know the actual numbers.
It would hurt us in the points chase now. No one's going to lock this up at Richmond. I don't think anyone is going to lock this up at Vegas. This is doing exactly what NHRA likes because they said part of the reason they changed the points structure for next year is because last year when the battle went down to the end, it was between three people and that put more people in the stands. That's what they're trying to make sure that happens and nobody runs away with it.
We'll see where that goes. Hell, I forgot what you asked.
Q. About Ashley.
FORCE: Ashley would love to. She's hungry to go right now. Right now we're in negotiations with Castrol and a number of sponsors where we're going to go with Ashley because a woman has a big value in this market and we want to make sure we go the right direction. A lot of decisions made by Ford, Castrol and the new sponsors that are taking a look at her right now. So, no, she will not be in the car. I'm sorry I drug that out.
Q. John, how much of a distraction has this A&E Driving Force show been for your season this year? If you had it to do all over again, would you?
FORCE: Yes, the TV show put me on overload obviously to the point where it affected my health. I had trouble with my speech because I damaged my vocal cords because if I don't go enough, the show costs more. It put a lot of stress and it drained me.
But I had to find the balance and we worked that out. I have to take away any time I had left for myself just to be able to rest. You can't do a job right unless you focus on it. But no excuses here. I'm back on track. My car wasn't in the game in the beginning of the year. Nobody could beat Capps. Everywhere he went on a good track, he beat us. When it was a bad track, he beat us. We had a powerful car. All of my Mustangs could run low ET, they just couldn't win rounds. Now Robert has bounced back with some pretty good consistency. I'll still not there yet.
But, yeah, I got a one-point lead. I just got to try to keep my mind right and (in the final) three races do the best I can.
Q. Follow-up on Ashley. When she does come out in the Funny Car, will that be a fourth Funny Car for your team?
FORCE: Yes, it will.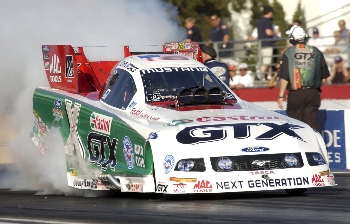 John Force
Q. John, you've been involved in these big battles before in your career. What makes you better off at handling this and getting ready for this final in Pomona than some of the other drivers?
FORCE: Well, Robert's new at this. You know, he was rookie of the year. I taught him, you know, what I know. But Robert was a professional trap shooter. You know, he could have went to the Olympics and he was shooting trap and skeet and that kind of stuff, I guess. But he has a real good focus. So Robert's pretty good.
I've got a lot of experience. The problem is age is my downfall because age does take away your energy. Now, Capps has the experience, maybe not as much as me because I have more years, but he has enough years to have all the experience. You can only get to a point, and Capps is there and he has youth. I always want to say that, well, maybe the little more experience I have for a few more years gives me a little bit of edge. But I think we're equal in the playing field, Capps and I. I might give a little bit of edge over Robert Hight. But Robert has been damn good under pressure. You saw him at Indy. It don't seem to weigh on him the way it does on me.
Ashley has that same coolness. So does Ron Capps. We all take it different. We fight it different. But I found that I've had days that the age thing bit me on the starting line, Christmas tree at Indy, red light. My crew chief said, 'Where did that come from?' It broke my heart because I felt I failed my team. I thought, I shouldn't be here if I can't do the job. The day before I won the Skoal Showdown. In the old days, the brain didn't play tricks on me unless I drank too many beers. Now some days it does. I hope it don't catch me in this race.
Q. Ron Capps, over the season you've been extremely successful, but there's been a lot of discord (regarding confrontation earlier this season between Capps and teammate Whit Bazemore at Atlanta) within your team. How has that affected your run for the championship?
CAPPS: No, no, you know, that turned out to be better in the long run than it was before it happened. That really has had nothing to do with it. You look at the overall year and you look how good the season we had the first half, those five wins really coming off -- right after Gainesville from then on. People laughed at me a little bit quite a ways back when I said if we're not careful, Force and I, we were out over 200 points, if we're not careful, Robert Hight, Tony Pedregon, these guys are going to be right on our butts. That's exactly what the Brut team did last year. We kind of hovered around third to fifth place for most of the year and had a terrific last four races that put us into the championship hunt.
I've got a really young group of guys on my crew. I've kind of become or had to become sort of a team leader. To be honest with you, Don Schumacher, there's a lot of stuff going on with some of his other teams. It just really hasn't been a distraction. I think it's more of a motivator. Brut signed on. They're good for next year. There's a lot of stuff that kind of put everybody at ease in our camp. Don Schumacher has brought in quite a few more sponsors.
Early in my career I learned not to let those distractions get to you. That's why you have guys like Don Schumacher and especially Ed McCulloch. He's been in the middle of controversy as a driver, as a crew chief. He knows all that. So it's a guy I can go to and I can talk to if I have any questions. He's kind of a dad to me. Like my five-year-old, I was teaching him how to ride without training wheels yesterday. Sometimes you have to tell him to pay attention. Sometimes Ace has to grab me and say, I need you in here, I need your head in the game. It's things like that that for me was never a distraction, but I got guys I can go to if I do have a question.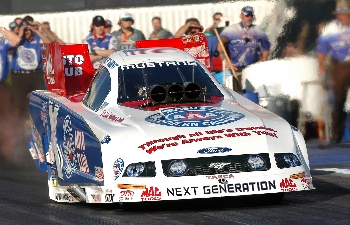 Robert Hight
Q. Robert, with the rain-outs that have happened, the rain-out at Redding and Richmond, how has that affected your attitude toward the pressure of the race, knowing that the schedule is getting altered like it's been, how are you preparing now with Richmond coming up heading into Vegas and Pomona for the points chase?
HIGHT: Well, we try to stay busy working back here at the shop, keep busy so we're not actually thinking about this points deal. There's not a lot you can do about it till you get there racing anyway.
We need to get -- it's important to have four qualifying runs in a race. It scares me to go into a race where there's going to be rain and know that you might only have one or two shots to get in. You may not make it. You've got to qualify to be there to race on Sunday.
We just try to stay busy back here, look forward. I'm kind of liking the forecast that we're having for Richmond. It looks like it's going to be real, real cool there. That kind of fits our deal, the way Jimmy likes to run the cars.
Q. Is the rain going to hold off?
HIGHT: It looks like it is. There might be a little chance on Friday morning of some thunderstorms. After that, it looks like it's going to be dry and cool.
Q. Robert, can you say how much your background as a competitive shooter has helped your transition into being a contender?
HIGHT: Yeah, because, you know what, I failed a lot at shooting in the beginning because your mind starts working and it actually is detrimental to the outcome. You can't get to the outcome unless you do everything right along the way. There was a lot of times where you could in a hundred-target race, you'd break the first 75 straight, then you start thinking about the score. Oh, boy, I only have 25 to go. When you start thinking about that, you're not thinking clearly on each shot, what it takes to break the target, just like you've done the previous 75 targets. Same as we've done all these races getting here, we have to keep doing the same thing, and the results will take care of themselves. That's kind of the way I look at it.
I don't have any effect on what John does or Ron or their cars or any of the other 13 cars out there. I have to do my job and hope my crew and Jimmy sets my car up properly. If all that works out, you know, I think we're going to be right there at the end.
Q. Robert, John mentioned that you handle stress well. Do you believe successful drivers handle stress and pressure better than the average person?
HIGHT: Well, I guess maybe some people are just born to handle stress. I think it's something you have to learn. That might be where I'm at a disadvantage here because I haven't ever been in positions like this.
Shooting, like we were talking about earlier, that's an individual sport. Well, this race car deal, it's a team sport. You don't only have, you know, the guys that work on your car and your crew chief, but you have all the sponsors. There is a lot more pressure that you have to deal with because you have to do your job for everybody that gives you the money and works hard.
It's a different deal, but luckily I've worked around John a lot of years, I worked on his car. I've worked with Austin (Coil) and Bernie (Fedderly). They're great at handling stress. I've learned a lot along the way.
MODERATOR: Thanks, Ron, Robert and John. I'm going to move ahead to Pro Stock and Greg Anderson. I don't believe we have Jason on the line for us. For anybody who needs to get in touch with Jason after this call is over, feel free to contact me and I'll arrange for you to speak with Jason one-on-one.
Greg Anderson
Greg, you won the last three championships in Pro Stock. You led for most of this season before your teammate Jason Line took over first place. You're clearly still in the race. Why don't you talk about what you're looking forward to these last three events of the season in terms of trying to win a fourth straight POWERade Series world championship.
ANDERSON: It's going to be fun. It's certainly been a different year for me without a doubt. Like you say, I led for most of the year, then Jason took over. Ever since then I haven't been able to catch him. He kind of got the taste of that leading the points deal. Honestly, he's really taken to it. He has a taste of it. He likes it. He doesn't want to give it up.
He's been a different character since he got that points lead this year than he's ever been, and a whole lot tougher competitor out there. By no means is it going to be easy. I almost consider myself lucky to still be in the chase right now because he's had such a great car all year.
It's going to be a battle. All I can think and all I can hope is that maybe we can get through this weekend and have a good weekend for both of our cars and maybe make it to where it just becomes the two of us chasing it for the last two races. Maybe we can have a great race this weekend. We can make it just about impossible for Dave Connolly to catch us. Then a lot of pressure will come off.
Right now Dave Connolly is still involved in this picture as far as I'm concerned. I can't just concern myself with Jason, not only worry about Jason. It's a different deal and I want to get through this weekend, have a great weekend, then we can act like it's a final round at a race that the two Summit KB Racing Pontiacs make the final. It's a lot of fun then. I'm sure it will become more fun if we get to the point where we don't have to still worry about Dave Connolly, but at the same time I've tasted the championship for three years in a row and it's like a drug. Once you get it once, you want it all the time. I don't want to give it up. I absolutely don't want to give it up. If I do, I'm going to go down kicking and screaming the whole way.
It's not going to be easy for Jason to win it, but he's certainly showed that he's got the talent, he's got certainly the race car under him, equipment under him, to get the job done. It's not going to be easy. The way I figure, I'm going to have to have three perfect races from myself in order to have a chance of beating him because I know he's going to do very well these last three races.
It's going to be neat. The bottom line is we want to keep it fun. We want to keep it interesting. We don't want to get stressed over it. That's easy to do. We can't let that happen because, you know, we're great friends. We obviously work together every day here. We work for the benefit of the entire team, not for one of our own personal benefits or gains. We got to keep that perspective in sight and we can't let that selfishness come in: I think that I should be able to win it, and I don't think he should, and vice versa. It's going to be a little tricky. But I think we're manly enough to handle it and we've spent enough time together the last three or four years that we're not going to let it get to us and turn it into a war, a friendship-hurting deal. Hopefully we can have a good weekend this weekend, ice Dave Connolly out of it, then we can start having fun at it. May the best man win. I want it bad, he wants it bad. As long as the Summit Pontiacs finish 1-2, neither of us will hang our heads at the end of the year.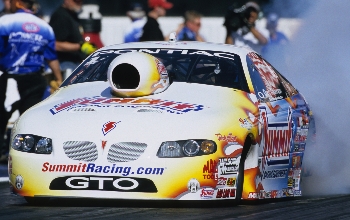 Greg Anderson
Q. With Jason Line, y'all have sort of created a monster.
ANDERSON: I guess so.
Q. Do you look at it that way?
ANDERSON: Yeah. But you got to take pride in that, too. I've said it many times before, Warren should take pride in what he created here with me. I spent a lot of years and I would not be where I'm at if I hadn't put those years in and learned what I learned from that man. I try to give him credit all the time for that. I guess I should take credit the same way for Jason. He's done a tremendous amount for me. Obviously, I taught him a few things along the line and helped him accelerate his driving career and become a championship contender Pro Stock driver.
We both respect each other. You're darn right, I take that as a compliment. Yes, I did create probably my own toughest enemy and competition. You got to take pride in that.
Q. Greg, have you ever thought about going to another category?
ANDERSON: No, I haven't. I guess I thought about it, but I really, really like this deal. As I've said before, tried to explain to people, it's just such a different mindset in the Pro Stock class versus the Fuel class. We try to work in our shop around the clock as many hours as we can and build all these pieces of parts for these cars and spend hour after hour after hour on our dynos, trying to find one or two horsepower. It's a completely different mindset than when you're running the Fuel class. Not going to call it less technology because that's certainly not the case. There's a lot of technology in the Fuel classes, too. You don't have the all-out emphasis on trying to build a better motor than the next guy. Everybody pretty much in the Fuel class has the same parts that they use in their engines. They don't spend a lot of time massaging them. It just comes down to a matter of how you finesse your car down the racetrack. That's certainly very difficult.
We have that plus the engine deal where you got one engine makes 10 horsepower more than the other guy because you worked on that your parts a little bit harder at the shop during the week. We really like that. No, I don't have any desire to change.
Q. Is it more fun now to go to the track in a real battle? It got to the point where it almost seemed like it was an automatic.
ANDERSON: I got to hope and think that the experience that I've gained over the last couple, three years of winning championships is going to help me on this stretch run. Who knows? I mean, it comes down to who executes better the last three races, I guess. I hope that experience is going to pay off for me. I wish I had a crystal ball, I could look into it and see how I'm going to perform the next three races.
I know for a fact it's going to have to take a perfect run for me, three perfect races, in order to catch this guy because he is not just your average Joe competitor out there. He's got great, great equipment. I expect him to have three great races.
I don't expect him to fold. He's got the eye of the tiger right now. He's really got a hunger for a championship. He feels he's earned his wins, it's his turn, it's his to get, which he's leading the points so it is. I'm still the champion. Still a No. 1 on my car. I don't want to change that number, not even in-house. I'm going -- if I go down, it will be with a fight. At the end I'll certainly be very proud of him if he does win because I know I've given my best.
Q. You've been having a pretty good year as usual. It's not like the dominance in the past. What do you attribute that to? Is the competition tougher? Have you lost some focus?
ANDERSON: The competition is absolutely tougher. Without a doubt, you've got more cars right now that can run within a hundredth of the top car out there. You have more drivers that can go out there and cut "double-0" lights, "double 01" lights. There's more guys driving good, there's more cars running good this year.
We definitely made gains this year. Our program has gotten better. But a lot of the other competitors have actually made bigger gains than we have it seems in the driving end of it, elevated. Used to be a year ago, two years ago, there was two or three guys that could go out and knock out those "double 01" lights and run within a hundredth or two of the top car. Now there's 10 or 12 cars like that. There's just a lot more competition in the category. Everybody else has elevated their game. We haven't come back to them, they've come up to us. Some of the technology that we may have found, that we stumbled on, created here in the last couple three years, it eventually leaks out. It's almost impossible to keep everything you have to yourself for so long. A lot of that information leaked out and it accelerated a lot of the other people's learning curves, plus a lot of them just flat paid attention to how we ran our team and what we did, how we ran the day-to-day operation, how we raced, and they tried to emulate it.
My hat's off to them for doing that. It's paid dividends for them and they've gained on us, closed the gap. It's just made it tougher. It probably almost looks to the average Joe out there that we've struggled this year, we've been screwing up. The bottom line is, everybody's just done a better job. There's a lot more cars out there that can beat anybody. Used to be, say, last year that if we were going to beat Kurt Johnson or Dave Connolly for the championship, we had to beat them ourselves on race day. No one else was able to beat them at the racetrack. Now there's 10, 12 cars that can beat them and beat us at the same time. You're swapping wins around at every race we go to. The competition just raised to us. It's been a tougher struggle for us, without a doubt, but not because we've had a bad year, come back to the pack, they've come to us.
Q. You mentioned learning from Warren Johnson, teaching Jason Line. Do you think drivers in Pro ranks ever stop learning?
ANDERSON: Absolutely not. If you ever think you know it all, there's no more to learn, you're going to go downhill fast. It's a learning curve every day I'm at this shop that we work at every day. It's a learning curve every day at the racetrack. That's why we test so much at the drag strip we have by our shop here. That's why we work every day on the dyno and in the engine shop. You learn every day. I keeps evolving and revolving, you keep chasing things.
You'll find one thing on an engine that works today, it may not work tomorrow. One thing that didn't work last month all of a sudden will work now because three other things changed with the engine.
You just learn every day. You got to look at it that way. You want to learn. You got to look and want to learn every day. If keep your mind open and think there's more possibilities to gain, more possibilities to learn, you probably will.
Q. Is it tougher knowing that winning another title your teammate has to stumble? Is that tough on you mentally?
ANDERSON: Sure it is, without a doubt. It's almost a no-win situation. If I do come back and beat him for the championship, he's probably going to feel a little disappointed, and rightly so. If I don't win it, he goes on and beats me, I'm going to feel that I failed. It is going to be tough without a doubt. We're going to have put egos aside and stop worrying about personal gain and benefit and being selfish on this deal. We're going to be happy for the other guy.
In the meantime, we're certainly not going to let our guard down and go out there and try to give anything to the other guy. We're going to have to be okay at the finish line if the other guy comes out on top because bottom line is we are friends, we want to stay friends, we want to race together the rest of our careers. You got to put all that personal gratification, satisfaction aside sometimes, just do what's best for the team. What's going to be best for the team right now is for the both of us to go out there and duke it out the best we can, and at the end of that track no matter who wins, go shake the other guy's hand, laugh, congratulate him, be happy for him. It's going to have to work both ways. I think it will. I think we've progressed enough in our lives here to realize the big picture. I think it will happen.
Not that concerned about it. But we got to have our guard up to make sure we don't feel gypped if the other guy wins.
Q. How much tougher is it to have to go back to Richmond again? This is your sixth straight week on the road.
ANDERSON: It is. I guess the way I look at it, you hate it when you get a rain-out without a doubt because you're there, you're at the race, ready to go. You just can't get on the racetrack. You spent all that time to travel up there. You obviously spent a lot of money on lodging and travel and everything back and forth. When it happens, when we do get a rain-out, the first thing that pops into your mind, now we can run home and we've got three or four days that possibly maybe if we do our job we can find three or four or five more horsepower, we can make this car a little better by testing at the racetrack. We can come back next weekend maybe better prepared than we are now. That's how we look at it. Every chance we get to run back to the shop, hopefully we can make our program better.
For that reason, you know, it's not such a big deal, although you would absolutely once you're there like to get it on and get the race over, get that Wally. When the situation happens like this, there's no sense moping about it. We look at the positive. That's a chance to go back and possibly make your program better for the next time you come back to the track.
Q. Greg, how did you fare in Vegas when you came around in April? How are you keeping the mood loose with these weeks being as pressure-packed as they are?
ANDERSON: Well, I guess, first of all, I don't even recall how I did in Vegas, but I know I didn't win. I don't think I did very well. I don't even recall who won it (Kurt Johnson). It definitely wasn't me. I don't recall if it was Jason or someone else. It was the first time I think in four or five trips out there I lost. I think I had a four-race string going when I showed up there this spring. I didn't get it done. So I broke that string, which is obviously disappointing. Obviously I went on and broke several other strings through the year, too, and didn't win them races.
As far as the mood around here, I don't know. We just had a lot of time together. We spend every day together working in the engine shop, working on these engines, testing these cars. We just got to realize, you know, we've got to be happy for the other guy. Obviously if you want to look at it from Jason's side of view, I've won it the last three years, he hasn't won it, you'd like to think it's his turn. At the same time I'm the champion and I think I have a great program here and I think I can get the job done to win it four times. He's not going to feel gypped if I win it either.
We both want it bad. We just got to realize if we want to stay friends, we want to work together and keep this great team that we have here working together and succeeding like it has been for the last four years, we have to be all right with each other. We have to be friendly. We have to be lighthearted all the time. Sometimes it's hard to do. I'm not going to deny that. We have our ups and downs a little bit. But we never get into low-down arguments or fights about it or disagreements about it. We never go that far. I guess we're big enough to realize that will just tear this team apart and we can't have that.
I love the guy like a brother. He's meant a ton to me for these last three, four years, towards my championships. He does a fantastic job in the engine shop here, tuning my race car at the track. I owe a ton to him for having those three championships. How can I feel gypped if he goes and gets him one? I can't. I will be proud of him. I certainly will be if he does it. I'll show he beat a three-time defending champ. He certainly earned it, deserved it. We're fine with it.
MODERATOR: It was Kurt Johnson that won in Vegas.




NHRA: 10 Most Recent Entries [ top ]

Mar 20- Strong Stable of Contending Pro Stock Racers Vie for Final Starting Position for K&N Horsepower Challenge
Mar 20- GAINESVILLE - Special Awards
Mar 20- GAINESVILLE - Lucas Oil Drag Racing Series Wrap Up
Mar 19- GAINESVILLE - Sunday Video
Mar 18- GAINESVILLE - Pro Mod Sunday Wrap Up
Mar 18- GAINESVILLE - Sunday Wrap Up
Mar 18- GAINESVILLE - Pro Mod Championship Points
Mar 18- GAINESVILLE - Bonus Points
Mar 18- GAINESVILLE - Championship Points
Mar 18- GAINESVILLE - Mickey Thompson Top Fuel Harley Series Championship Points