Tue, 10 Oct 2006, 10:43 PM



It's A Tough Call



By Bob Frey


Photo copyright 2006 Auto Imagery, Inc.





Having zoomed through the first part of the year, actually the first sixteen races until
Memphis
, it appears that the weatherman (or woman, or person) has caught up with us. The
Torco Racing Fuels Nationals
became the second consecutive casualty of the weather, after
Maple Grove
, and that comes on the heels of the one day rain delay in
Memphis
. As I am sure you know, this puts a hardship on everyone, the teams, the sponsors, the fans and the race track.
Bryan Pierce
and his staff had done a wonderful job in preparing Virginia Motorsports Park for the return of the NHRA
POWERade
drag racing series and all they had to show for it was a couple of days of really bad weather. It was cold, windy and just not pleasant for the first two days of the event and that resulted in the postponement of the race until this weekend. It always amazes me that, at times like this, almost everyone is feeling bad for themselves because the race was postponed. This guy had a date, that guy was going fishing, someone else had another paying gig next week and so on. It seems that everyone is looking out for and thinking of themselves and I guess that's just human nature. But what most people (racers, sponsors and workers alike) tend to forget is that no one is more adversely affected by the delay than the people at the race track, and, after all, they are entitled to have the best opportunity to make a return on their investment. Running a race track is one of the few businesses where something over which you have no control can absolutely ruin you. So, while the rain delay may have an impact on you, you're not alone. Now let's just all pull together to make this upcoming weekend the best that it can be....I mean it when I say that the folks at VMP did a great job in preparing the facility for the event. Racers who tested there a few weeks ago told me that the track is very fast and that all of the pro records would be fair game. Let's only hope that we get a chance to see that in a few days.
Schumacher at Memphis in '99.
Over the course of the years there have been a lot of rainouts, a couple of events have been postponed because of snow, and we also had the infamous "lane out" at
Phoenix
a few years ago. But, in the end, the races always get completed and everyone moves on down the road. There have been one or two events over the years, however, that I believe actually changed the course of the season and, in the end, the champions. Case in point would be the
Memphis
race in 1999.
That race, like a lot of other races at
Memphis
Motorsports
Park
, was plagued by rain. This race, however, took rain delays to an art form. After rain on Friday and Saturday stretched the schedule out until about , and stretched the nerves of racers and officials alike, the game plan was to try to run three professional qualifying sessions on Saturday. Well, that was a great plan but, in the end, only one full session was completed. The motorcycles got two full sessions in and the Pro Stock cars were on their way to completing round number two of qualifying when the rains came....again. This time it was enough rain and it was late enough (around midnight) that the rest of qualifying was cancelled for the night and that included about half a dozen Pro Stock cars who were still in the lanes at the time waiting to make their second run. As the old expression goes, "that's racing." About two dozen Pro Stock teams made the second session while the rest where left out in the cold....and the rain. The fuel teams, meanwhile, had only made one qualifying session and among those who were not in the field were two drivers who were vying for the Top Fuel championship,
Tony Schumacher
and
Mike Dunn
. At this point, before any announcement was made, the general consensus seemed to be that qualifying was over, after all, it had been a long while since we had run a round of qualifying on Sunday morning. But the announcement came very shortly that we would, indeed, have one qualifying session for the fuel cars on Sunday and that was great news for both Tony and Mike. Well, as fate would have it, it wasn't great weather on Sunday morning either, but it did clear up long enough to have that one fuel session. And, while it helped Tony it didn't help Mike. The two, by virtue of the fact that they were not qualified, were the first two dragsters on the track on Sunday morning. Tony made a good run, a 4.591 that put him solidly into the program in the number two spot. Mike, on the other hand, struggled to a 4.795 and, while that was good enough to make the field (16
th
) it wouldn't last.
Kenny Bernstein
, another driver fighting for the Top Fuel title, was up next and he had just been bumped out of the show so he needed a really good effort and he got it. Kenny went 4.648, a time that was good enough to put him in the field and, at the same time, bump Mike out effectively ending Mike's title chances. When eliminations rolled around, Kenny and Tony both won their opening round matches and that set up a second round meeting between the two. Kenny got off the line first and held on to beat Tony, but after the run Kenny's car lost a tire and he hit the wall and damaged the car beyond repair. Since there was no rule that would allow him to bring out a backup car, Kenny was done for the day. Looking back on it, when all was said and done, if there hadn't been a Sunday morning qualifying run at
Memphis
in 1999 who knows how the points chase would have ended. Kenny was in at number fifteen after Saturday's one run and both Tony and Mike were not in the field. I guess we will never know but that's one rain delayed race that really did have an impact on the outcome of the Top Fuel championship point's chase.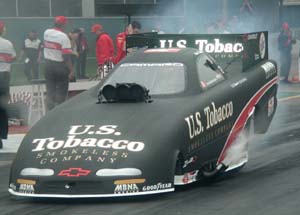 Capps at Dallas in '00.
The Dallas race in 2000 was another event where the rain really did prove to be the top eliminator. After one week of trying to race and qualify, the event was postponed until the first week of November. When we came back, according to the venerable Larry Sullivan who reported on DragRaceCentral.com that we are back at the "Truck Wash Nationals," we still weren't able to get any qualifying in and the fields were set based on the current points of the drivers. That meant that the top sixteen teams who were in attendance would get to race, with qualifying points and bonus money being awarded just as if we had qualified the cars on the track. It was unique but it had to be done since we were running out of weekends in the season. Since then, the last race of the 2002 season and the Bristol race last year were all completed using the "one round" rule. That rule states that if only one round of pro qualifying is completed at an event, the top ten drivers in the points will be given a berth in the starting field, a rule which certainly helped Ron Capps last year since he wasn't in the show after the one round of qualifying at Bristol....All of this talk about rain shortened events and who gets in and who didn't just makes me think about John Force and his amazing qualifying streak. Did you know that the next time John qualifies for a race, which I assume will be in Virginia, it will be the 390th consecutive race for which he has qualified? Now that's simply amazing. That means that John has qualified for every race since the start of the 1988 season, and it also means that unless something wacky happens, he'll hit the 400 mark sometime next year. When you consider that there have been a grand total of 624 NHRA national events in the history of the organization, that streak is even more impressive. And, if you just count the Funny Car national events, including the few back in the late 1960's, you'll see that John has qualified for almost seventy percent of all the Funny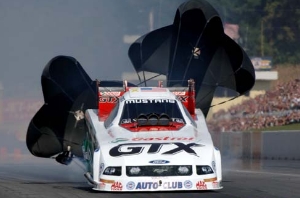 John Force
Car races that have ever been held, and that includes ones that were contested when he was still driving a truck. 389 in a row is, I think, the most amazing stat in all of drag racing. Come rain, sleet, snow, good lanes, bad lanes, fog, drizzle, postponements and cancellations, one thing that remains constant is the fact that John Force is going to qualify for the Funny Car field, whenever they complete the qualifying. To put John's streak into perspective if you took every Funny Car driver who has made a run this year, every one, and added up their current qualifying streaks you would come up with a stretch of 301 races, or about 88 races (that's more than three years on the POWERade tour) less than John's. Like I said, it's an amazing streak. And, if you recall, the sports world made a big thing when
Tiger Woods
missed the cut last year after he had made 142 consecutive starts, or in drag racing terms, 247 less than John. The great
Byron Nelson
made 113 straight starts and that's a few less than John, too. I guess the only guy who can look at John and say, "big deal," might be
Cal Ripken
who started in a major league record 2,632 consecutive games. Not bad. But since I am a drag racing defender I should point out that
Cal
's streak, which began in 1982 and ended in 1998, lasted sixteen years while John's is at eighteen years and counting. You get my point....
Did you know
that the longest qualifying streak in the other pro classes are
Doug Kalitta
(158),
Greg Anderson
(90) and
Angelle Sampey
(148). And
did you know
that Angelle has qualified for every race in her career?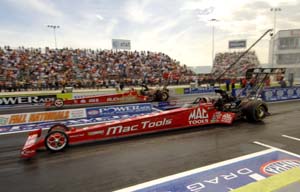 Kalitta vs Bernstein
The battle for the POWERade championships is as close as it ever has been and, right now, it looks like all four of the pro classes could come right down to
Pomona
.
Did you
know
that if that happens it will be the first time in history that all four pro titles were still up for grabs going into the last race of the season? That of course does not include the early years of the sport where, if you won the last race of the season, you were the world champion. Going back in history,
did you know
that until 1990 we never had three pro titles that were still up for grabs going into the last race of the year? That 1990 season featured the classic final round match between
Joe Amato
and
Gary Ormsby
. It was one run for all the marbles and Joe won it and was crowned the champ for the third time. Right now Doug Kalitta, Tony Schumacher and
Brandon Bernstein
all have a real shot at the championship in Top Fuel, John Force,
Ron Capps
and
Robert Hight
are the contenders in Funny Car,
Jason Line
and Greg Anderson with their
Summit Racing Pontiacs
are the ones to watch in Pro Stock and
Antron Brown, Andrew Hines
and
Angelle Sampey
are the challengers in the motorcycle class. Of that group, Tony, John, Greg, Andrew and Angelle have already won titles while the others are looking at joining the impressive list of racers who can say that they are POWERade champions....As exciting as the battles are this year, imagine what it will be like next year when all of the pro championships will still be open going into Pomona. The "Countdown" to the championship should be very exciting and I, for one, can't wait for it to begin. But first things first, let's take care of 2006, and we could do that if we could get a little bit of sunshine this weekend.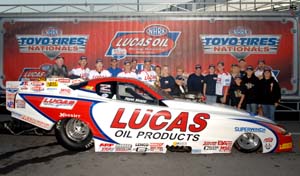 Manzo in Reading winner circle.
The rain has not only affected the national events but it has also forced several changes to the divisional events as well. The Atco Division 1 points race, which had already been moved because of the
Maple Grove
rain out, will now be held on the last weekend of October. Let's just hope that they have good weather for that weekend or the next available date might be next spring.There is one
Lucas Oil
race this weekend and that will be in Noble, Oklahoma. After that, sportsman racers only have Atco, Silver Dollar and Las Vegas remaining at which to claim points.As close as the professional points are, I believe there are more sportsman racers still vying for titles at this point of the season than ever before. Only
Frank Manzo
in the Top Alcohol Funny Car class, has already clinched in the sportsman ranks.
Bill Reichert
, who failed to clinch at
Maple Grove
, will get another chance this weekend to lock up the Top Alcohol Dragster crown. If Bill wins two rounds in
Virginia
he will be the world champ. If not,
Sean O'Bannon
will still be alive but he'll have to run the table at the last two races of the season and that's not easy....Let's pray for sun....or at least dry this weekend!




NHRA: 10 Most Recent Entries [ top ]

Apr 21- HOUSTON - Pro Stock Eliminations Ladder
Apr 21- HOUSTON - Pro Stock Final Qualifying, Session #4 Order
Apr 21- HOUSTON - Pro Modified Eliminations Ladder
Apr 21- HOUSTON - Pro Modified Final Qualifying, Session #4 Order
Apr 21- HOUSTON - Pro Stock Qualifying Notes, Final Session
Apr 21- HOUSTON - Pro Modified Qualifying Notes, Final Session
Apr 21- HOUSTON - Rain Delay
Apr 21- HOUSTON - Top Fuel Harley Eliminations Ladder
Apr 21- HOUSTON - Top Fuel Harley Final Qualifying, Session #4 Order
Apr 21- HOUSTON - Top Fuel Harley Qualifying Notes, Final Session