Fri, 6 Oct 2006, 05:35 AM



Let's All Pray to Saint Ignatius!



By Bob Frey


Photo copyright 2006 Auto Imagery, Inc.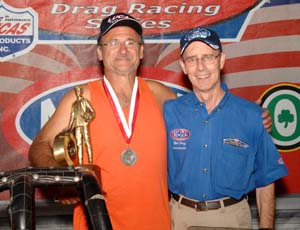 Boicesco and Bob Frey
There aren't a lot of racers who go by the name of "Iggie." I guess that's because there aren't a lot of racers whose real first name is Ignatius. "I'm Romanian and was named after a saint," Iggie Boicesco told me at Maple Grove. "I guess he must be the patron saint of 9.90 or something like that." Well, as a graduate of Catholic school myself I don't think St. Ignatius is the patron of 9.90 or good reaction times or anything like that, but whatever Iggie has been doing lately, it's been working. The veteran Division 1 racer recently won the MAC Tools U.S. Nationals and he now finds himself right in the thick of things in the battle for the Lucas Oil world championship. "It's nice to be in position to win this, but I know there are a lot of really good racers who could catch or pass me. But for now, I'm just going to do my best and enjoy it."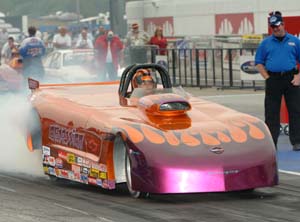 Boicesco does a burnout.
Iggie's run to the title at Indy wasn't his first, in fact, it marked the third time that the fifty-six year old school teacher has made it to the money round at the "Big Go." "I lost to Bob Howland back in 1983 and then won it in '94," he said. "To go back and win it this year was a dream come true. It has been eight years since my last national event win and you start to wonder if you'll ever do it again." According to Iggie the only thing that could have made it better would be if his long time friend and crew chief had been with him. "I want to dedicate this to 'Lumpy' (Glen Schuster)," Iggie said. "He's battling lymphoma right now and he didn't get to go to Indy. He's been a big part of my racing for a long time." Thanks to the wonderful world of the internet, 'Lumpy' actually knew that his friend had won before Iggie could call him from the track. "Some friends already told him by the time I called and he was pretty excited."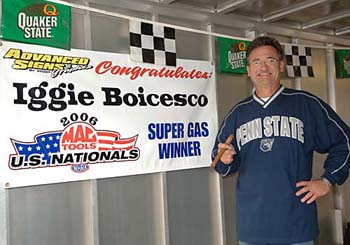 Boicesco with his cigar and sign.
When I stopped by to chat with Iggie at Maple Grove he told me about the warm reception he received when he got back to his home track after the Indy win. "It was so nice," he said. "A lot of guys came up to me and congratulated me and told me that I'm a nice guy. That's really good to hear after you race with and against these guys all the time. One guy brought me a big old cigar and some others made up a nice sign. I was really touched." He added that it was at the divisional race in Cecil Country earlier this year, right before Indy, when he began to think that he had a chance to contend for the championship. "I actually had some problems there and a broke an axle on the car," he said. "Strange Engineering shipped two new axles in on Saturday and George Donhauser, who has been such a big help to me this year, helped me put it back together and when I went a few rounds there and added points I began to realize that I was in the chase." Now, after the re-run of the Maple Grove event, Iggie is second in the points behind Rock Haas as he heads to Richmond for the Torco Fuels national event this weekend. "I have one national event left to claim but I have to go past the quarter-finals to add points," he said. "And then I have two divisional races, which will probably be Atco and Silver Dollar, and I can improve on a second and third round at those races." He added that "if it's meant to be it's meant to be. I'll do my best and see what happens." Of course a little prayer every now and then to St. Ignatius can't hurt, even if he isn't the patron saint of drag racing.
Iggie began racing while he was in high school and he did it with an S/S 396 Chevelle. "I worked at the Budd Company while I was going to college at Penn State and that helped me buy a car." After racing the Chevelle in street trim for a while Iggie turned it into a bracket race car and he was named "Bracket Racer of the Year" in 1975. After that he began racing in Super Gas in 1983, which was, ironically, also the same year that he went to his first Indy final round. After years of competing on the national and divisional levels for several years he returned to Indy in 1994 and won the race. "It was a grueling race," he said. "I think there were about 176 cars and we started a lot of days about 7:30. In the final round my opponent, Bryan Merkle, broke out by one-thousandth and I got the win. You need some of those lucky rounds if you want to win one of these things." Iggie should know about winning since he has now won six national events and been in nine final rounds to go along with his fifteen divisional final rounds. And all the time that he has been racing he has also been working at his day job as a teacher at Conwell Middle School in Philadelphia. "I graduated with a degree in Industrial Arts Education and I have been teaching now for thirty-four years at the same school." When I asked how his racing and job coexist he told me that it's tough but he makes it work. "I haven't been in school on a Friday yet this year," he said. "One of my students asked me the other day how come I don't come in on Friday and I told them that I don't work on Friday." Well, he does work, it just happens to be at the race track. "I was very up front with my principal when I told him that I was in the chase and he was very supportive."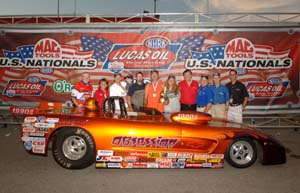 Boicesco and team celebrate Indy win.
When you go eight years between national event wins you can start to wonder if you'll ever win again. And when you've won divisional titles and have made a lot of trips into the national top ten in points, you really would like to achieve the ultimate goal of a world championship, and that's what Iggie is striving for right now. "I have a lot of support from B & M Transmissions and Hoosier Tires and it's also nice to know that the other guys are pulling for me. Plus, as I mentioned, I've had a lot of help from George Donhauser this year so we'll just see what happens." I'll tell you this, whatever happens and where ever he finishes, it will be another good year for Iggie Boicesco, one of the truly nice guys in the sport. And somewhere up above St. Ignatius might be looking down and smiling. Who knows, if the Pennsylvania driver does go the distance maybe we'll change the name of the saint to St. Iggie.




NHRA: 10 Most Recent Entries [ top ]

Apr 21- HOUSTON - Sunday Schedule
Apr 21- HOUSTON - Saturday Video
Apr 21- HOUSTON - Saturday Wrap Up
Apr 21- HOUSTON - Super Stock Class Eliminations Finals
Apr 21- HOUSTON - Funny Car Qualifying, Session #4 Bonus Points
Apr 21- HOUSTON - Total Qualifying Bonus Points
Apr 21- HOUSTON - Funny Car Eliminations Ladder
Apr 21- HOUSTON - Funny Car Final Qualifying, Session #4 Order
Apr 21- HOUSTON - Top Fuel Qualifying, Session #4 Bonus Points
Apr 21- HOUSTON - Pro Stock Qualifying, Session #4 Bonus Points