Wed, 4 Oct 2006, 01:03 PM



If Only...



By Bob Frey


Photo copyright 2006 Auto Imagery, Inc.





As good as the
Toyo Tires Nationals
event turned out to be it would have been even better if only it had taken place on the original weekend. Rain delays and rain outs are tough on everyone and I, for one, often wonder what would have happened if the race had come off as originally scheduled. Would
JR Todd
have won the race? Would the Pro Stock record book have been re-written? Would
John Force
be the points leader? I guess we'll never know, but I will tell you one thing, as much fun as it is to see all of those great performance marks set at one race, the Toyo Tires Nationals would have been better if it had been completed two weeks ago, on its original weekend. And when the race at
Maple Grove
moves to August next year, while you may not have records set you should have four days of nice, sunny weather and that always makes for a great race.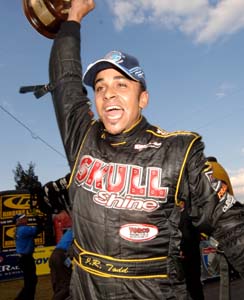 JR Todd
If there was any question about it going into
Maple Grove
there sure isn't now, JR Todd will be the
Automobile Club of Southern California
"Road to the Future" award winner this year. With three wins already this season and a spot in the top ten, the
Skull Shine / Torco
car is certifiably hot. The car, which is owned by
Dexter Tuttle
and tuned by
Jimmy Walsh,
has been a solid performer all year long and, with the numbers they have put up recently, they have shown that they can run with anyone. And if there is the classic case of a team effort, this team would be it. JR wins some rounds with his driving ability, Jimmy gives him a car that can outrun most people, and the crew just doesn't make any mistakes and that's saying something for a new car and crew. JR beat
Tony Schumacher
for the third time this year and he did it on a holeshot in round two, and then Jimmy gave him a great car for the final round when they ran a best of 4.494. JR said after one win that "if I could keep it straight it would go in the 40's." Well, he did just that in the final round when he beat
Melanie Troxel
to record his third win of his rookie season and move the team into the top ten.
Did you know
that, for the weekend, JR made seven runs that ranged from 4.595 to his final round career best effort of 4.494. That's seven pretty good runs and that's the kind of consistency that wins races and championships. Last year
Rod Fuller
made the top ten after not running all of the races and now JR is on the verge of doing the same thing. The win was especially nice for Jimmy Walsh who grew
Todd vs Troxel
up in the shadows of
Maple Grove
and who went there for years with his brother, Bill, as they dominated the alcohol dragster ranks.
Bill Walsh
, or "Wally" as he's known by his friends, was on hand Sunday to watch his brother lead the team to victory and it had to remind him of the great years that he had, many of which included wins at
Maple Grove
.
Did you know
that Bill Walsh won the TAD class at the very first national event at
Maple Grove
back in 1985? Jimmy has certainly emerged as a top flight crew chief and he deserves a lot of credit for the performance of this team, after all, if the car runs badly the crew chief gets blamed, so when it runs well he should get the credit....Jimmy was on hand Monday at Maple Grove as the team worked with the second Top Fuel car that will be sponsored by
Evan Knoll
and Torco for the rest of the year, the one that will be driven by
Steve Torrence
and tuned by
Mark Oswald
. If it runs anything like the first car the rest of the dragster field better beware....
Doug Kalitta
picked up a round on both Tony Schumacher and
Brandon Bernstein
this weekend and the driver of "Big Red," the
MAC
Tools
car, is now fifty-two points ahead of the "Sarge" and sixty-two up on Brandon and the
Budweiser / Lucas Oil
car. It's ironic that with the new "Countdown" points program coming next year that we'd have one of
the best battles for the Top Fuel title in many years right now...Melanie's final round appearance, her eighth of the season, kept her solidly in fourth place and continues her excellent season.
Did you know
the Mel made four runs on Sunday that ranged from 4.53 to 4.57?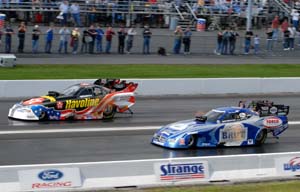 Capps vs Burkart
Don't look now but John Force is the point's leader in Funny Car for the first time this year. That came after
Ron Capps
lost in the first round to
Phil Burkart
. That's the same Phil Burkart who later beat
Gary Scelzi
, John Force and
Robert Hight
to win his fourth national event and his first in more than two years. If you're going to win a race, beating that group of four drivers is the way to do it. Phil, who always gives John fits, beat Robert for the title in a wild, tire-smoking final round.
Did you know
that this was the first final round for Phil since he lost to Robert in
Denver
last year? It was also his first national event win since
Denver
in 2004 and the first win for either of the team
CSK
cars this year. In fact, when Phil's teammate,
Del Worsham,
won in round one, it marked the first time since
Houston
earlier this year that both
Checker, Schucks and Kragen
cars had advanced past the first round at the same race.
Did you know
that Phil and John Force have now raced eighteen times and that Phil is even with the "champ" at 9-9?
A record like that puts Phil in some pretty good company. Counting drivers with at least ten rounds of competition against John,
did you know
that of the 117 drivers whom John has faced only three have a winning record against him?
Jim White
is 7-6 against John,
Gary Scelzi
is 11-8 and Mark Oswald is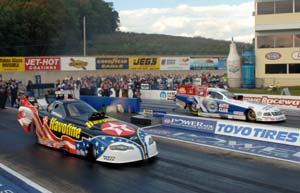 Burkart vs Hight
25-24. Of course that "Oz" stat is a little misleading since John was way back before winning their last fourteen races in a row. Still, that means that Phil Burkart, with his 9-9 record, is one of the toughest guys that John has ever faced in his entire career and that has to make Phil feel special. Or at least it should. And so should the fact that Phil's dad was at the track this past weekend and it's the first time that "senior" has been there to watch Phil win a race. How special is that? The win moved Phil into ninth place and he is fifty-seven points behind the sidelined
Whit Bazemore
who is in eight place...Robert Hight is right in the thick of things and his final round appearance moves him to within thirty-five points of the leader. Robert is also now just thirty-four points behind Ron Capps but you probably figured that out for yourself, didn't you? As hot as Robert and his
Jimmy Prock
-tuned car have been lately, the odds were stacked against them winning for the third consecutive weekend.
Did you know
that in the entire history of the Funny Car class, a history that spans 573 races, that only seven drivers have ever won three consecutive national events? That list includes, of course, John Force, along with
Tony
and
Cruz Pedregon, Kenny Bernstein, Frank Hawley, Don Prudhomme
and
Ed McCulloch
. Pretty good company, huh? Now let's see, the way I look at it we have three national events still to go so Robert, Jimmy and the crew still have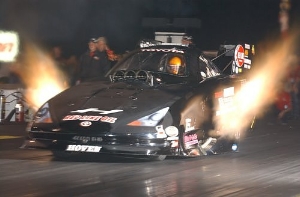 Jeff Diehl
a shot at adding their names to that list....
Tommy Johnson
had a pretty good car, again, in Maple Grove. The
Skoal Monte Carlo
was the top qualifier in the class and that's only the seventh time overall that "TJ" has led the pack and it's the sixth time that he has done it in a Funny Car. Tommy, whose best finish in the FC class was sixth place, is in sixth right now but is within striking distance of
Eric Medlen
in the battle for fifth in the year-end standings.... I'm surprised to see that
Jeff Diehl
isn't on the entry list for the
Virginia
race. Some of you may be saying "Jeff who" or "why are you surprised?" Well, Jeff made appearances at the
Pomona
and
Arizona
races earlier this year and he went to the IHRA race in
Maryland
this past week and won the whole thing. For a guy from the west coast to be that close to the Torco race and not show up would be quite a surprise. Maybe he's coming and he just wants to surprise everyone....
Paul Lee
, Jeff's final round opponent at the IHRA affair, is entered and it will be interesting to see how the
Rislone
-sponsored fuel car does against NHRA's best. Paul and his team have been making great strides this year and, if he shows, I firmly believe that he will qualify for the event. Stay tuned....
Pro Stock will get a new look this week, and I don't just mean in the record books, although that will happen, too. I think I mentioned last week that the two races, Reading and Virginia, would produce some monster runs in Pro Stock and we are half way there. Did you know that out of the sixteen qualifiers for Pro Stock in Maple Grove a dozen of them set their personal bests at the Pennsylvania track? Toss in the fact that we left with nine of the top ten quickest runs in the history of the sport being recorded there and it's easy to see why the fans love Pro Stock in Reading. Of course, next year, they'll love the sun even more, believe me. Only Greg Anderson's 6.620 at the King Demon Crown in Chicago keeps Maple
Anderson vs Stanfield
Grove from having a clean sweep of the top ten runs in the class. Now remember where you heard it first, that top ten list will not look anything like it does now after this weekend. And, remember this, we will have the first 6.5-second run in Pro Stock history and we will have the first run over 209 miles per hour this weekend, too. Book it!!....The other "new look" will come from the fact that
Jeg Coughlin
will return to action and he's almost a lock to get one of the top qualifying spots. Plus,
Kenny Koretsky
will be driving the
Greg Hill
-owned
Indicom Electric
car in place of
David Howard
and it will be interesting to see how that plays out. Now if only
David Nickens
could get
Rodger Brogdon
out this year, instead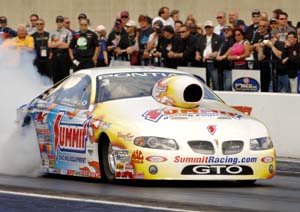 Jason Line
of waiting until 2007, we would really have a new look to the class. As it is, we will see
Erica Enders
back at the races with her Dodge and, after having two weeks to work on the car, she could be a factor....The
Summit Racing Pontiacs
of
Jason Line
and Greg Anderson both left Maple Grove with a little something, Jason with the record and Greg with the win. The extra twenty points for setting the elapsed time mark helped Jason stay fifty-six points ahead of his teammate with three races to go and the possibility of another national record this weekend.
Did you know
that when Jason finally was awarded the record he became the first driver other than Greg to hold the record in over three years? The last time the elapsed time mark didn't belong to Greg Anderson was back in 2003 when
Warren Johnson
had it at 6.720. And, for the historians out there,
did you know
that the first time that a Pro Stock record was set in the
Commonwealth of Virginia
was in 1970 when
Ronnie Sox
went 138.03 miles per hour in his Barracuda at Suffolk Raceway? This track is also the site of Warren Johnson's historic 200 mph blast back in 1997 so that should give you an indication of how fast
Virginia
Motorsports Park can be. If that doesn't, maybe this will.
Did you know
that of the sixteen members of the
Speed Pro 200 Mile Per Hour Club
, eight of the drivers joined the club in
Virginia
? ....The battle for the Pro Stock title is essentially a two car affair right now since
David Connolly
has fallen 183 points behind the leader and 127 back of Greg for second place. Now, for all of the Pro Stock fans out there, let the fun begin......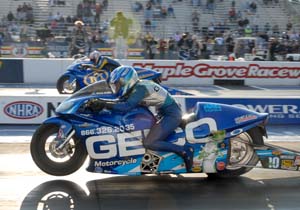 Stoffer vs Scali
The motorcycles weren't exactly taking a back seat to their counterparts in the car class this past weekend. Maybe that's because they don't have back seats or maybe it's because they, too, love running at the "Grove." Paced by
Angelle Sampey's
brilliant 6.939, a grand total of thirteen riders earned their career best numbers this past weekend and that included three who joined and completed the
Mickey Thompson 6-Second
Club
. In addition to Angelle,
Karen Stoffer
and
Shawn Gann
joined the exclusive club which is now officially closed. Having two women in one of the specialty clubs is nothing new but it isn't exactly commonplace, either. Of all the clubs for 5-second runs, 250 mile per hour passes, 4-second club and 300 mph club,
did you know
that only the
Cragar 4-Second Club
has two female members? Both
Shirley Muldowney
and
Lori Johns
are in that select group, while
Rachelle Splatt
is in the Slick 50 300-
MPH
club....The points lead changed hands this past weekend with
Antron Brown
now the leader. The
U.S. Army
team rider is twenty-seven points ahead of
Andrew Hines
and sixty-four points up on Angelle. With only two races left on the motorcycle schedule, every point will be important and it will probably come down to which driver makes the least amount of mistakes on the starting line and that includes red light starts and holeshot losses. All three of the contenders have great bikes and teams so in this class, maybe more than any other, the driver really can be a factor..a plus or minus factor. By the way,
did you know
that there were seven Suzuki riders in the second round and, for the first time this year, four Suzuki's in the semi-finals at
Maple Grove
? That's the best semi-final showing for the Suzuki teams since the Joliet race last year...Karen Stoffer's win seemed hugely popular with the fans as the
Geico Motorcycle Insurance
rider had her best outing ever. Sure she has won races before (all in
Texas
) but the way she ran this weekend was really impressive.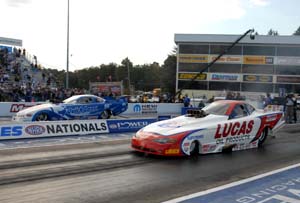 Manzo vs Tasca III
Frank Manzo
locked up his tenth Lucas Oil world championship and he did it in style, by winning the race and taking all of the performance marks along with him. Frank also continued a streak of being the only one to win at
Maple Grove
in the Top Alcohol Funny Car class this century. The
Lucas Oil
team dominated from start to finish and they will be in
Virginia
looking for a little bit of history, the first alky funny car to make a 5.4-second pass. If anyone can do it, it's Frank. Congratulations
....Bill Reichert
fell one round shy of securing his Lucas Oil championship and he'll get another shot at it this weekend. Bill was upset by
Jeff Veale
in the second round when Jeff made a solid 5.430 pass to hold off Bill's quicker 5.411 effort....
Dan Mercier
, from Montreal, won his first national event and he extended his consecutive round win streak to thirteen, a streak that includes three Division 1 points races and the national event....And congrats to
Paul Anderson
who won is first race at the D-5 event in Earlville this past weekend. That comes on the heels of his runner-up finish in
Dallas
a week earlier. Nice job Paul.




NHRA: 10 Most Recent Entries [ top ]

Mar 18- GAINESVILLE - Pro Mod Sunday Wrap Up
Mar 18- GAINESVILLE - Sunday Wrap Up
Mar 18- GAINESVILLE - Pro Mod Championship Points
Mar 18- GAINESVILLE - Bonus Points
Mar 18- GAINESVILLE - Championship Points
Mar 18- GAINESVILLE - Mickey Thompson Top Fuel Harley Series Championship Points
Mar 18- GAINESVILLE - Bonus Points
Mar 18- GAINESVILLE - Summary of Eliminations in Top Fuel
Mar 18- GAINESVILLE - Summary of Eliminations in Funny Car
Mar 18- GAINESVILLE - Summary of Eliminations in Pro Stock