Wed, 13 Sep 2006, 10:19 AM



Notes from Jim Luikens' Reporter's Notebook



by Jim Luikens


Photo copyright 2006 Auto Imagery, Inc.





at the Mac Tools US Nationals



CLERMONT, Ind. --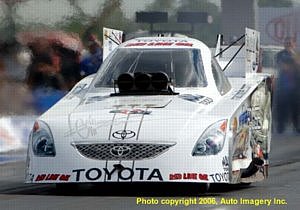 Scott Kalitta
The oldest, largest, most prestigious and just plain coolest event on the NHRA national event tour is the US Nationals. For the past 46 years it has been held at Indianapolis Raceway Park just outside of Indianapolis. Much like the fall Charlotte Cup race on the NASCAR Nextel Tour, Indy has become THE place for the drag racing set to debut new cars, announce new sponsors and even introduce new or returning Pro drivers. Early-arriving racers were among the first to glimpse the new track signage as O'Reilly Auto Parts has purchased the track naming rights since last year's event. The venerable facility is now known as O'Reilly Raceway Park at Indianapolis, or ORP for short. Let's take a look at some of the happenings from the Big Go at the Big O.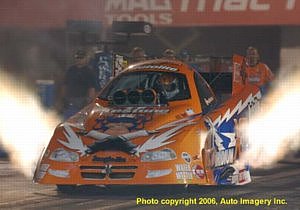 Bob Gilbertson
Two of the biggest events of the long weekend were held before Pro qualifying even began. On Wednesday night
JR Todd
and his team owner,
Dexter Tuttle
, organized a charity bowling tournament. JR proved that he can do more than drive as he bowled the high game of the evening at 248. More than $10,000 was raised for DRAW and, as they like to say, a good time was had by all. On Friday
Don Schumacher
Racing opened their spectacular racing shop for tours, a car show and an autograph session that featured all 10 of DSR's drivers. This time more than $14,000 was raised for their designated charity, Riley Children's Hospital of Indianapolis.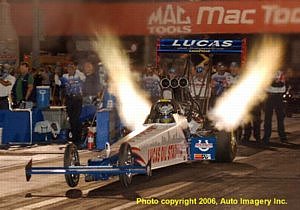 Morgan Lucas
Friday night what had been heralded as a "Bernstein Family Announcement" turned out to be the revelation that "King Kenny" will be returning to the driver's seat in 2007. After arriving in the media center with his Budweiser windbreaker tightly zipped
Kenny Bernstein
unzipped it to reveal the Monster Energy Drink polo shirt that he was wearing underneath. Kenny says that he will be returning in a funny car because he doesn't want to compete against his son or give rise to any questions about team tactics. He hopes to build a new, larger shop in nearby Brownburg that will house both teams. Kenny added that no crew chief or body style has been decided yet but he wanted to get the announcement out before rumors minimized the news impact for his sponsor. Incidentally, the growth of major racing shops that are located in Brownsburg have earned it the nickname of Nitro Alley, a play on the Gasoline Alley complex that houses a number of Indy Car teams and vendors in Speedway, Indiana.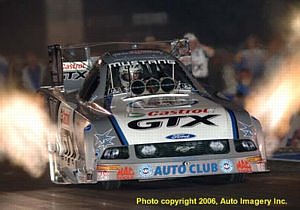 John Force
On Saturday,
Tom Hammonds
revealed that he is returning to Pro Stock next year driving a
Rick Jones
-built Chevrolet Cobalt. Tom is building a new shop in Crestview, Florida and plans to test extensively at nearby Emerald Coast Dragway before joining the Powerade tour in 2007.
Eric Luzinski
, from Traverse City, Michigan, will be relocating to Florida soon to serve as Tom's crew chief. Eric was the crew chief of record for all three of Tom's previous Pro Stock final round appearances. In another Pro Stock announcement it was revealed that
Jeg Coughlin, Jr.
will return to professional competition later this season behind the wheel of a second Chevrolet Cobalt for the
Victor Cagnazzi
team.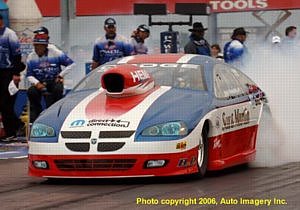 Bob Panella, Jr.
Another staple of the US Nationals is commemorative paint schemes and we had some great ones debut this weekend.
Bob Panella, Jr.
returned to the Powerade tour here in a Stratus that carried the red, white and blue paint scheme made famous by the Sox and Martin Racing Team. The car was a tribute to legendary team driver
Ronnie Sox
who passed away earlier this year. Ronnie's widow,
Diane Sox
, and his long time racing partner,
Buddy Martin
, were on hand for the car's unveiling. Unfortunately, Bob was not able to crack the Pro Stock bump spot, ending up outside the field when three days of qualifying were completed.
Larry Morgan's car showed up carrying the red, white and blue color scheme of the Rod Shop, one of the all-time great (in my opinion) paint schemes. Although the colors were arranged differently on different Rod Shop team cars, this particular layout was most famous for its use on the Rod Shop Pro Stock team cars of Butch Leal from 1985 through 1991. Larry Morgan fared better than Bob Panella, Jr. because he qualified but his race day was short-lived as he lost to Greg Stanfield in the first round.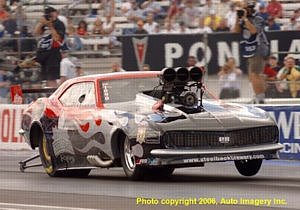 Raymond Commisso
Speaking of Butch Leal he showed at Indy this year for the first time in 15 years. Accompanying Butch was his daughter, Lori, who was born in California on August 30, 1964 while Butch was "Back East" winning Indy in his Ford Thunderbolt. Lori had never been to Indy and insisted that this was all she wanted for a birthday present from her father. Lori said that the trip exceeded every expectation that she had. According to Lori her favorite part of the trip, besides having quality time with her father without any spouses or siblings present, was seeing the respect and enthusiasm that the fans showed her father after all these years.
The special paint schemes weren't restricted just to Pro Stockers. Both John Force and Robert Hight carried special schemes on their Mustangs as well. John's was for his 25th appearance at Indy while Robert's commemorated the AAA Road to the Future (Rookie of the Year) award that he won last year. Bob Gilbertson, AKA Bobby G., debuted a special paint scheme for Autolite Iridium Spark Plugs that incorporated the legendary Jungle Jim into the graphics while Morgan Lucas carried a salute to the Indianapolis' new Lucas Oil Stadium and both Kalitta cars (Doug and Scott) carried a special Chip Foose paint scheme.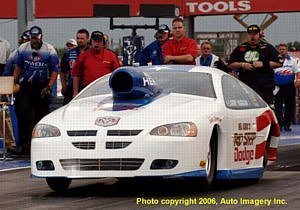 Larry Morgan
All summer
Raymond Commisso
has been a star of the Monday testing that follows IHRA national events. Even as the team was working towards qualifying for their first national event they had no trouble running well on Monday. Last weekend they qualified for their first ever IHRA national event at Norwalk, Ohio. When the race was delayed until Monday because of rain Raymond, retaining his Monday form, recorded the low et of every round and won the race. His breakthrough win triggered an invitation to compete at the US Nationals, where he promptly qualified number one in his first NHRA start ever. Once again his Monday form held up as Raymond went to his first NHRA final round as a rookie.
All of the action was not limited to the track this weekend. Allison Dixon, wife of Larry Dixon, Jr., gave birth to the couple's third child. Darien Lukas, an 8 pound, 10 ounce son, joins brother Donovan and sister Alanna as the couple's third child.
With an event of this size I had no trouble locating several shirts that were contenders for my t-shirt of the weekend. The winning entry said, "In Drag Racing, Chute Happens".




NHRA: 10 Most Recent Entries [ top ]

Aug 14- Summit Racing and KB Racing Sign Multi-Year Partnership
Aug 13- BRAINERD - Richie Crampton Excited to be Back in Playoff Mix Approaching Lucas Oil NHRA Nationals
Aug 06- SEATTLE - Lucas Oil Drag Racing Series Wrap Up
Aug 06- SEATTLE - Special Awards
Aug 06- SEATTLE - Sunday Video
Aug 05- SEATTLE - Mickey Thompson Top Fuel Harley Series Championship Points
Aug 05- SEATTLE - Sunday Wrap Up
Aug 05- SEATTLE - Super Street Round 5 Eliminations
Aug 05- SEATTLE - Summary of Eliminations in Top Fuel
Aug 05- SEATTLE - Championship Points