Tue, 12 Sep 2006, 01:35 PM



Jack Beckman to Replace Whit Bazemore at Don Schumacher Racing



Courtesy of Judy Stropus


Photo copyright 2006 Auto Imagery, Inc.





INDIANAPOLIS --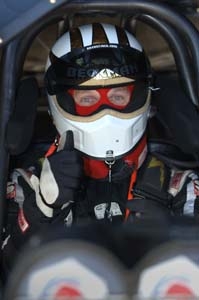 Jack Beckman
Don Schumacher announced today that NHRA Super Comp champion and Top Fuel racer Jack Beckman will replace Funny Car driver Whit Bazemore at this weekend's Toyo Tires NHRA Nationals at Maple Grove Raceway in Reading, Pa., and for the remainder of the 2006 POWERade Drag Racing Series.
Beckman, 40, of North Hills, Calif., recently earned his NHRA Funny Car license driving the Matco Tools Funny Car, which will retain the Matco Tools sponsorship through the end of 2006.
"It was a very difficult decision to make," said multi-team owner Don Schumacher. "When Matco Tools informed me at the U.S. Nationals that it was moving its primary sponsorship to another team for the 2007 season, I was left with little choice but to look at my options for 2007 and beyond.
"I had already been in discussion with Jack for a number of months as we were attempting to find a way to work together. When Matco Tools made its surprise announcement, I had to look towards the future, which helped me decide to place Jack in the Matco Tools Funny Car before the end of the season.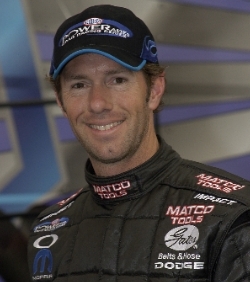 Whit Bazemore
"I could not assure Whit that I would obtain a sponsor of the caliber of Matco Tools to support a Funny Car, and with drivers accruing Skoal Showdown points as of the 2006 U.S. Nationals, I believe this was the right decision. Whit also assured me that he had other opportunities to consider as well.
"My wife Sarah and I have enjoyed not only a solid professional relationship with Whit, but a rewarding personal one since he joined DSR in 2001," added Schumacher. "He is an excellent driver, an extremely marketable personality, and I have no concern about his finding a seat with another well-funded, championship-caliber team."
In order for DSR to make a smooth transition to a new sponsor for the car, Matco Tools had informed Schumacher that it agreed with the driver change.
Bazemore's plans for 2007 are undetermined and he remains involved with DSR for the time being.
"Don and Sarah Schumacher have given me the greatest of opportunities in my professional career," said Bazemore, "and I want to thank them both not only for those opportunities but for their friendship. Don has said that the door is always open for me to return to his team and to me that means more than anything. We enjoyed a lot of great victories together and we also weathered some tough times together.
"I have a lot of friends at DSR, especially on the Matco Tools team. And I can honestly say that I hope they end up in the winner's circle again this year very soon, because they deserve it."
Since joining DSR in 2001 with Matco Tools backing, Bazemore drove to two championship runner-up finishes and has won 13 national events to date.




NHRA: 10 Most Recent Entries [ top ]

Oct 17- We Win, You Win: Get $50 Off Your Next Order!
Oct 16- CHARLOTTE 2 -Through the Lens of Ron Lewis
Oct 15- CHARLOTTE 2 - Lucas Oil Drag Racing Series Wrap Up
Oct 15- CHARLOTTE 2 - Special Awards
Oct 15- CHARLOTTE 2 - Sunday Pro Mod Wrap Up
Oct 15- CHARLOTTE 2 - Sunday Video
Oct 14- CHARLOTTE 2 - Sunday Wrap Up
Oct 14- CHARLOTTE 2 - Countdown to the Championship Points
Oct 14- CHARLOTTE 2 - Pro Mod Championship Points
Oct 14- CHARLOTTE 2 - Bonus Points