Tue, 11 Jul 2006, 11:03 PM



Do You Take This Man...?



By Bob Frey


Photo copyright 2006 Auto Imagery, Bob Johnson Photography & BME Photography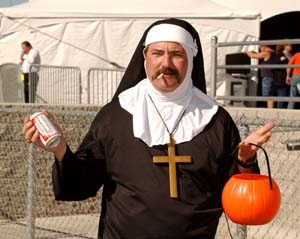 Gary Scelzi
Larry Dixon
has thrown out the first pitch at several baseball games,
Cory McClenathan
drove a NASCAR truck this past weekend and
Ron Capps
has raced in the Chili Bowl so it's not unusual for NHRA drivers to do something different in their spare time. But in all my years of following this sport I have never heard of a driver who decided to become a licensed, ordained minister in their spare time. Well,
Gary Scelzi
did. And the "Revered" Mr. Scelzi will make his first public appearance this Thursday when he performs a wedding ceremony at the big
Mopar
block party in Golden, Colorado. It seems that
Gary
got his license on-line and is now a registered minister in the state of
Colorado
and he will be the presiding cleric at the wedding of two really, really avid Mopar fans. The aforementioned Mr. Capps will stand in as the best man and
Angelle Sampey
will be the maid-of-honor and, from what I heard, she'll be wearing a dress for the ceremony. Now if all previous weddings that I've attended (other than my daughter's weddings, of course) are any indication that means that Angelle will have to wear a really ugly dress, doesn't it? Anyway, it should be a lot of fun and I can't wait to hear the sermon that
Gary
gives. Yeah, this has "live happily ever after" written all over it. Good luck to the happy couple and I guess they'll leave for their honeymoon in a hemi-powered Mopar. Or at least they should.
Speaking of the reverend, Gary Scelzi will bring the flagship
Mopar/Oakley Dodge
into battle this weekend looking for his first win ever in
Denver
.
Did you know
that
Gary
has won at every venue on the tour except
Denver
,
Gainesville
and Englishtown? Not only hasn't he won at Bandimere Speedway but he has also never even made it to a final round at the track. The
Mopar Mile-High Nationals
would certainly be a good place for
Gary
to break that drought, wouldn't it? Since nothing else has worked over the years maybe he could try a little divine intervention. Hey, it can't hurt....
John Force
and his entourage have begun a big, and I mean big push for his show "Driving Force" which begins next week on the A & E Network. John and Ashley were on the CBS morning show today as the first part of the week-long media blitz. I don't know which struck me as the more unusual, the fact that John seemed a little nervous or the fact that Ashley was in a dress. Whatever, it's good exposure for them and the show and, in the long run, the sport. Now all John has to do is focus on the real task at hand and that is winning another
POWERade
championship. John will go into
Denver
forty-four points behind Ron Capps and the
Brut
team in the chase for the title and, as I've said many times before, it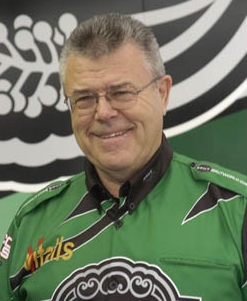 Ed McCulloch
really looks like Ron and John are the only two with a real shot at winning the Funny Car crown this year. The other teams are good, don't get me wrong, but they are so far back that it will take, pardon the expression, divine intervention for anyone other than the top two guys to win it. Ron, of course, will come in with the news of
Ed McCulloch's
recent surgery on his mind and that's the same thing that the team did at this race last year. Ron hasn't had much more success at this track than his teammate, Gary Scelzi.
Did you know
that Ron went to the finals in 1998 and that's his only final round appearance in
Denver
? And
did you know
that since that time he has won a grand total of four rounds at the mile-high track?
Still, over the past two years, the Brut team has shown a tremendous amount of resiliency and you can look for them to do well this time in
Denver
. Remember, you heard it here first.By the way, after speaking with Ed McCulloch today let me just say this about his recent surgery. Ed told me that "I'll put it this way, I had the same procedure as last year but with much better results this year." And that's really good news for Ed. You can see Ed and get his autograph and congratulate him on the good news at that big block party on Thursday night in Golden since he will be part of about twenty drivers and crew people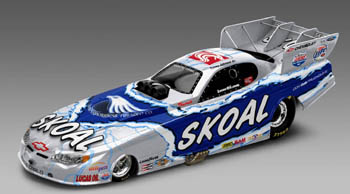 TJ's Skoal rendering.
who will be on hand at the autograph table. See you there.... The
Skoal
team, with
Tommy Johnson
driving, will have a new look this weekend. After almost six years with their current paint scheme, the folks at Skoal decided to give it a face-lift and that also coincides with the extension of their contract for the Skoal Showdown at Indy. The car, the special edition
Skoal Racing Monte Carlo
will make its debut at
Denver
and it's a beauty. Before unveiling the car Tommy will spend Wednesday in
Los Angeles
with his wife, Melanie, as they prepare for the ESPY awards on Wednesday night. Melanie said one of the things she has to do is "get a dress" for the ESPY's. Let's see, Angelle, Ashley and Melanie all wearing dresses the same week. Well I guess if
Gary
can become a minister anything is possible. Can I get a big amen?... While a lot of the teams actually took two weeks off many of the Funny Car teams went to Milan Dragway in
Michigan
this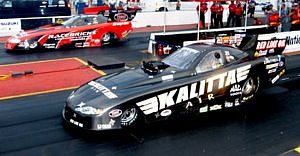 Kalitta vs Densham
past week for the IHRA race. Congratulations to
Gary Densham
who won it and moved to fourth place in the points over there.
Doug Kalitta
drove Scott's Funny Car in
Milan
and went all the way to the final round before losing to
Gary
. From what I've heard,
Connie Kalitta
wanted to test the car and find out why it was dropping cylinders and a national event in their back yard seemed the perfect place to do that. A runner-up finish was just a bonus, I guess. We'll find out if they solved their problem in a few days...
Del Worsham
also ran in
Milan
(with the
Murray
's car) and
Del
would love to start the second half of the season off on a high note. It's hard to believe that he hasn't won a race since his monster weekend at Indy last year but it's true. And the other
Checker, Schuck's, Kragen
car, the blue one driven by
Phil Burkart
, hasn't won since the
Denver
race in '04.
Did you know
that Phil has been to the final round at the
Denver
race in each of the last two years? And
did you
know
that
Del
has won each race on the western swing at least once? With that kind of history you can expect a good outing by the
CSK
teams this weekend. Remember, you heard it here first.
The Top Fuel class isn't quite as one-sided, or is that two-sided as the Funny Car class is but, and as stated here before, the teams who are in the fourth through tenth spots in the points, and that includes
Tony Schumacher
, really need to gain ground on the leaders in a hurry if they hope to contend for the championship. Melanie, with or without her ESPY award, will mark her one year anniversary with
Don Schumacher Racing
when she returns to her home track and home town in Denver.
Did you know
that this is where she began her latest employment with Don a year ago and that she didn't win a round for her first four races with the team? What a difference a year makes, huh?
Doug Kalitta, who has cut away at Mel's lead in the points, would like to score his first
Denver
win and maybe, just maybe, leave as the point's leader. The
MAC
Tools
car has been running very well lately but, like Ron in the FC class, Melanie has done everything she needs to do to hold on to the lead. It should be some battle and, as we've seen in the past, these next three races can make or break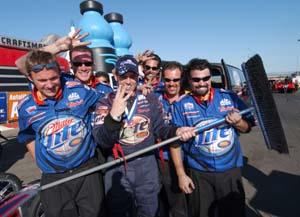 Dixon and crew celebrate '03 Sweep.
a team's title hopes....Larry
Dixon
, who is seventh in the points, has enjoyed the past two weeks off and he spent time with his family including his son, Donovan, as he embarked on a go-kart racing career. OK, so maybe it's not a career but Larry and his wife, Ali, did get to watch their son race for the first time and that's always got to be fun (fun for dad, probably nerve-racking for mom).
Did you know
that Larry swept the western swing back in 2003 and he is one of only a handful of Top Fuel drivers ever to accomplish that feat?
Joe Amato
and Cory McClenathan also did it while John Force is the only guy to do it in the FC class. Larry won the
Denver
race in 2001 and 2003 making Bandimere one of eleven tracks on the tour where Larry has multiple wins.... There has been a lot of talk recently about
David Powers
adding another car to his team and that's something we mentioned here at the beginning of the year. A lot of it has to do with sponsorship dollars, of course, and if David can get the proper funding he would like to add a second dragster to his team. Hey, based on his past history maybe David will add a Funny Car to the team.
Did you know
that David is one of the few guys to ever qualify a Top Fuel car and a Funny Car at the same event? David did it at the 1969 U.S. Nationals, a meet where the low elapsed time in Funny Car was turned in by some young guy by the name of Don Schumacher. Wow, things haven't really changed that much in thirty-seven years, have they? One thing you know for sure is that if David did add another car it would be a top notch, first rate team just like his current car is. Like I said, some things never change...I, for one, will miss seeing
Scott Weis
and his
Barrett Enterprises
team on the western swing. That's a team that truly wants to do well and they have great support from Bill and Patty Barrett and the union carpenters all over the country. Simple fact is that it takes money and a lot of it to run one of these cars competitively and Scott is looking for some more for when he returns to the tour in a few weeks.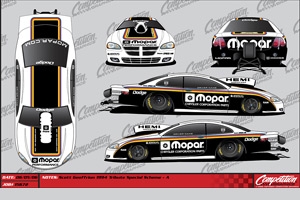 Geoffrion tribute car rendering.
Pro Stock will get a lot of attention this weekend for a lot of different reasons. First of all there's the addition of
Erica Enders
to the ever growing Don Schumacher team. That alone will be enough for the folks to talk about although it's not even the only story in Don's pit area.
Gene Wilson
, the former Rookie of the Year, will run a special
Scott Geoffrion
tribute car and
Buddy Martin
will also be in the house. All of that is part of Mopar's big push for this event and there aren't a lot of companies who do more to promote an event than the Mopar people. The block party alone would be enough but the huge autograph session, having Buddy Martin there and paying tribute to Scott are all very cool things to do. Nice job by the people at Mopar.Oh yeah, as of the last time I checked
did you know
that there were nine Dodges on the pre-entry list in the Pro Stock class? And
did you know
that with the addition of Erica to the camp there are four Dodge drivers in the top ten in the points? Now what are the odds of having two Dodges run for the money in the Pro Stock final round?
That hasn't happened since
Jeg Coughlin
beat
Tom Martino
in the final round at the last race of 2005....The Dodge cars have run very well lately, in fact,
did you know
that Mopars have been the top qualifier at three of the last four national events?... Despite what you may have heard elsewhere Tom Martino,
Richard Maskin
and
Bob Glidden
will not be in Denver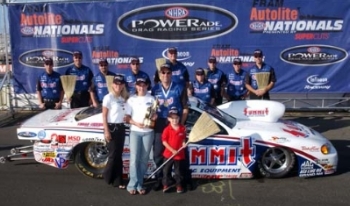 Anderson and crew celebrate '04 Sweep.
although they did test there last week. "We ran some decent times," Tom told me yesterday. "But you have to do so much to your car for that one race and we're just not ready. But we will be in
Seattle
and on tour after that and we will be very competitive." Hey, with Tommy driving, Bob tuning and Richard overseeing the entire operation this team will win a race by the time we leave
Maple Grove
. Remember, you heard it here first!!...Unlike the fuel classes I believe the top six drivers in the points have a real shot at winning the championship this year. Of course that is assuming that
Greg Anderson
doesn't get on one of those rolls like he did in 2004 when he won in
Denver
and then went to eight more final rounds the rest of the year including a sweep of the "swing," the only Pro Stock driver to accomplish that feat. The
Summit Racing Pontiac
is still the team to beat and, as the saying goes, if you want to be the man you have to beat the man. And so far, no one has been able to do that on a regular basis. Let the fun begin.
Hale celebrates '03 win.
The motorcycles race in
Denver
and, according to the experts, it should be a good weekend for the
Harley-Davidsons
and the
Buells
. These particular bikes adapt very well to the thin air in
Denver
and that should help them qualify well and go rounds. Or at least that's the theory....Having said that this race is always one that gives us a lot of excitement and a lot of upsets in the two-wheel class. Case in point, the 2003 win by
Blaine Hale
. That's the race where Blaine qualified sixteenth and went on to beat the local hero,
Mike Berry
in the final round...Six racers have a shot to win it all in the motorcycle class but
Karen Stoffer
and
Ryan Schnitz
who are tied for fifth in the points, need to make a move starting this weekend if they want to stay in contention..
Did you know
that it was at this race in 1996 when Angelle and Karen both made the debuts in the class? And so did
Stephanie Reaves
....Angelle leads the points and would like to add to that lead if only she can keep her dress from getting caught in the chain this weekend.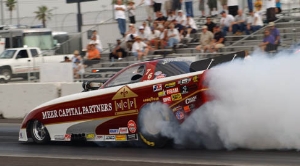 John Weaver
Congratulations go out to
John Weaver, Bob DeVour
and the
Meer Capital
team for their big win at the Division 6 Lucas Oil race in Woodburn this past weekend. Anytime a Division 7 team can go up to the Northwest and win a race it's a big deal. This is one of the most improved teams in the class over the past year and they will be a factor at the upcoming national events out west....I don't know what was more impressive at the D-6 race, the fact that
Thomas Bayer
won in both Super Comp and Super Gas or the fact that
Jim Waldo
won another race? Doubling up is always nice but when you consider how long Jim has been doing this and then you see that he is still really good at it, well, it's just amazing.
Did you know
that Jim won his first Divisional race at Pocatello Drag Strip in
Idaho
and that he did it in 1965? Of course he won it in Top Stock and he did it in an A/S Ford. Way to go, Jim.




NHRA: 10 Most Recent Entries [ top ]

Mar 19- GAINESVILLE - Lucas Oil Drag Racing Series Wrap Up
Mar 19- GAINESVILLE - Top Fuel Harley Wrap Up
Mar 19- GAINESVILLE - Pro Mod Wrap Up
Mar 18- GAINESVILLE - Sunday Video
Mar 17- GAINESVILLE - Sunday Wrap Up
Mar 17- GAINESVILLE - Factory Stock Showdown Championship Points
Mar 17- GAINESVILLE - Mickey Thompson Top Fuel Harley Series Championship Points
Mar 17- GAINESVILLE - Bonus Points
Mar 17- GAINESVILLE - Pro Mod Championship Points
Mar 17- GAINESVILLE - Championship Points