Mon, 26 Jun 2006, 01:21 PM



Five-time Defending Top Fuel World Champion Chalks Up First Win In '06



Courtesy of IHRA Communications


Photo copyright 2006 BME Photography





Creasy, Gugliotta, Carter and Stott also visit Winner's Circle in Edmonton



EDMONTON, Alberta --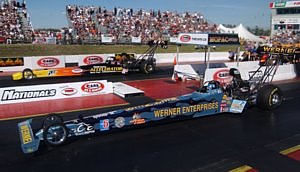 Millican vs Cooper
(June 25, 2006) - The last time Clay Millican ended a race weekend with an Ironman hoisted above his head was at the World Finals in Rockingham last October. All that changed at the CARS RV & Marine & Motorsports Rocky Mountain Nationals presented by Torco Race Fuels at Castrol Raceway in Edmonton.
Millican, who entered the weekend leading the Knoll Gas-Torco Racing Fuels Pro Nitro Top Fuel championship points race despite not winning an event, defeated Rick Cooper in the final to take home his first '06 eMax Drag Racing Series victory. Millican tripped the beams at 4.773 at 306.88 mph to top Cooper's 4.838 at 304.19.
"The running joke this weekend is that we got our mojo back, and I'd say after this we do," said Millican. "We made six good passes here, the car is running good, and that makes the job easy on me.
"It's nice to finally win," he added.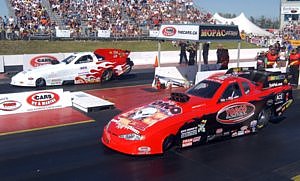 Creasy vs Wyatt
While Millican was looking for his first win of the season heading into Edmonton, Dale Creasy, Jr. was still beaming from his first ever career national event victory three weeks ago at Grand Bend Motorplex. Creasy may want to consider moving north of the border. He won his second consecutive Knoll Gas-Torco Racing Fuels Pro Nitro Funny Car Ironman in Edmonton when he defeated Jack Wyatt in the final.
Creasy posted a 5.324/285.23 pass to dispatch a tire-shaking Wyatt. The victory also gave Creasy the eMax Drag Racing Series Nitro Funny Car championship points lead.
"We left Grand Bend with a lot of confidence in our race car, and then we came up here and couldn't do anything right in qualifying, but we never lost confidence" said Creasy. "We knew that the car had it, so we went back to the Grand Bend tune-up in the final, and everything just came together.
Kraus vs Carter
Tom Carter (Cuero, Tex.) won his first career Alcohol Funny Car event in Rockingham at the Nicko's NY Style Pizza Spring Nationals. After the Rocky Mountain Nationals his Rockingham Ironman will have some company in the trophy case. Carter defeated Ken Kraus in the final when he carded a 5.962/238.17 pass to top Kraus' 6.133/216.06. It was Kraus' first career final round with IHRA.
"I'm ecstatic with this win," said Carter. "We had some mechanical problems during the second round of qualifying, but we got it back together with the second motor in there. And Jeff (Fowler, crew chief) is just such an expert at this, helping us figure out the track and how to set the car up. We're thrilled to be back in the winner's circle."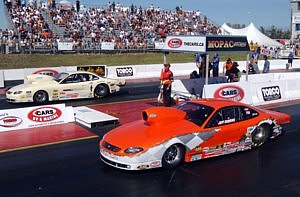 Dobbins vs Gugliotta
Frank Gugliotta (Mt. Airy, Md.) remained the hottest Knoll Gas-Torco Pro Stock car this season. He drove the Charlie Taylor-owned '05 Escort to another Ironman in Edmonton when he defeated Jeff Dobbins in the final. Gugliotta was the #1 qualifier and parlayed that into the victory when he posted a 6.545 to defeat a lifting Dobbins.
"I feel good after this win, and hopefully we can keep it going," said Gugliotta. "After I was beat at the starting line in Grand Bend, that just ate me up for the last three weeks. I knew I had to come out and drive today. And now I'm leaving here with the points lead and a car that's qualified well all season. The driver just has to keep it up."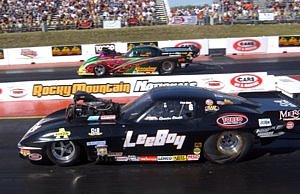 Stott vs Lang
Quain Stott ended a long dry spell when he took home the Knoll Gas-Torco Pro Modified Ironman by defeating Kenny Lang. Stott had not won since the 2004 season, and used a 6.271/228.19 pass to outlast Lang's 6.323/227.00.
"After a long drive up to this race, this win will make it a little easier to go home," said Stott, who drove to Edmonton from Columbus, N.C. "We are moved up to second in the points now, but Kerunsky still has a few rounds on me, and he's a tough racer. The season's early, and we've got a long way to go.
"I can't thank my crew guys enough for this one," he added.
Television coverage of the CARS RV & Marine & Motorsports Rocky Mountain Nationals presented by Torco Race Fuels airs on SPEED Channel:
Top Fuel and Nitro Funny Car - Saturday, July 8 at 5 pm
Pro Modified, Alcohol Funny Car and Pro Stock - Saturday, August 5 at 5 p.m.
The next event on the 2006 eMax Drag Racing Series is the Suzuki Motor City Nationals presented by GM Performance Division and the Heritage Newspapers, July 7 - 9, at Milan Dragway in Detroit, Mich.
Sunday's final results from the CARS RV & Marine & Motorsports Rocky Mountain Nationals presented by TORCO Race Fuels at Castrol Raceway. The race is the fourth of 11 in the 2006 eMax Drag Racing Series:
Top Fuel -- Clay Millican, 4.773 seconds, 306.88 mph def. Rick Cooper, 4.838 seconds, 304.19 mph.
Nitro Funny Car -- Dale Creasy Jr., Chevy Monte Carlo, 5.324, 285.23 def. Jack Wyatt, Pontiac Firebird, 8.957, 86.98.
Pro Modified -- Quain Stott, Chevy Corvette, 6.271, 228.19 def. Kenny Lang, Corvette, 6.323, 227.00.
Alcohol Funny Car -- Thomas Carter, Chevy Camaro, 5.962, 238.17 def. Ken Kraus, Camaro, 6.133, 212.06.
Pro Stock -- Frank Gugliotta, Ford Escort, 6.545, 214.62 def. Jeff Dobbins, Escort, 8.593, 104.44.
Nitro Bikes -- Ken Kent, 6.932, 202.55 def. Robert Smith, 7.908, 134.12.
Pro Nostalgia -- Jay Mageau, Chevy Bel Air, 7.572, 180.24 def. Tim Boychuk, Chevy Vega, 7.633, 178.78.
Quick 16 -- Scott Taylor, Ford Roadster, 7.618, 169.40 def. Scott Hearn, Dragster, 7.421, 174.28.
Top Sportsman -- Randal Olynyk, Pontiac Firebird, 7.585, 183.49 def. Scott Blake, Chevy II, broke.
Quick Rod -- Garth Giroux, Dragster, 9.159, 147.99 def. Earl Mardy, Dragster, 9.133, 151.41.
Super Rod -- Mike Shannon, Chevy Corvette, 10.106, 149.22 def. Dale Dryden, Ford Roadster, 10.107, 139.69.
Hot Rod -- James Pahl, Dodge Coronet, 11.113, 117.88 def. John Mandlis, Chevy Nova, 11.085, 125.48.
Super Stock -- Ernie Penner, Pontiac Firebird, 10.690, 123.32 def. Byron Setters, Chevy Cavalier, 9.650, 138.53.
Stock -- Mark Faul, Chevy Chevelle, 11.230, 115.28 def. Cory Thompson, Pontiac Firebird, 11.497, 112.44.
ET Bracket -- Geordie Castle, Chevy S-10, 8.832, 153.18 def. Harry Svingen, Essex Coupe, foul.
ET Box -- Geordie Castle, Chevy S-10, 8.860, 152.43 def. Garnet Rose, Pontiac Acadian, 10.961, 120.57.
ET No Box -- Harry Svingen, Essex Coupe, 13.335, 97.52 def. Megan Caston, Chevy Nova, 11.039, 112.97.
Junior Dragster -- Natasha Cherchuk, 8.580, 76.32 def. Sarah Stelte, 10.496, 60.36.




IHRA: 10 Most Recent Entries [ top ]

Mar 21- 2018 IHRA Summit Sportsman Spectacular Series on April 20-22
Feb 26- Weather-Related Construction Delays Postpone IHRA Xtreme Raceway Park Opener
Feb 16- IHRA Summit Sportsman Spectacular Schedule Announced
Feb 15- New York Track Finds Value for Racers with IHRA Agreement
Feb 15- IHRA Summit Sportsman Spectacular Debut Only One Month Away Now is the Time to Pre-Enter
Feb 15- Summit Texas Location is a Racers' Paradise
Feb 15- Canadian Track Makes Large Commitment to IHRA Drag Racing
Jan 27- Mid-Michigan Destination Joins IHRA Family
Jan 27- Mississippi Track Reaches Sanctioning Agreement
Jan 16- Michigan Track to Host IHRA Summit Sportsman Spectacular