Sun, 25 Jun 2006, 01:51 AM



Clay Millican Holds No. 1 Top Fuel Spot at Rocky Mountain Nationals



Courtesy of IHRA Communications


Photo copyright 2006 BME Photography





Arcadi, Cannon, Thomas and Gugliotta Also No. 1 In Their Categories



EDMONTON, Alberta --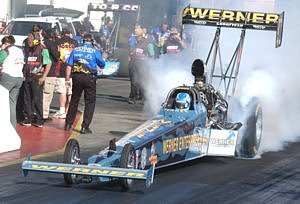 Clay Millican
(June 24, 2006) - Clay Millican, the defending Torco Racing Fuels Pro Nitro Top Fuel World Champion, held onto his #1 spot after final qualifying Saturday. Millican qualified with a 4.639, and his three passes of the weekend were the top three runs of the class.
"We went down the track three times and didn't shake. It's great to be able to do that because that's what we've been battling," said Millican. "I'd love to have three more just like that tomorrow.
"It's great to see the Werner car get consistent, because once (crew chief Mike) Kloeber figures out the car, it's usually good for a long while."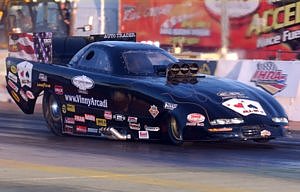 Vinnie Arcadi
Vinnie Arcadi (Lancaster, N.Y.), who came into the day #1 in the Noll Gas - Torco Racing Fuels Pro Nitro Funny Car class, held onto that position with Friday's 4.942/310.70.
"It's great to be #1. It's my first #1 qualifier in my life," said Arcadi. "The car is real stout; we've got a real race car. Everyone is telling me I'm next to do it, so I'm excited. It feels like my crew chief Jay Lewis has a handle on the car, so I just have to come and do my job.
"I'm sure looking forward to getting one of the Ironmen."
He'll face #5 qualifier and Edmonton, Alberta-resident Jason DuChene in round one Sunday. Terry Haddock (Lynwood, Wash.) qualified second, followed by Jack Wyatt and David Benjamin. Mitch King (Galveston, Texas) sits on the #8 bump spot.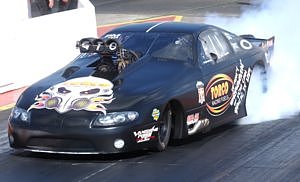 Scott Cannon
In Knoll Gas - Torco Race Fuels Pro Modified, Scott Cannon took the #1 spot during the final qualifying session, while re-setting both the track ET and speed records with a 6.119/235.84. Cannon is followed by Calgary, Alberta's Rick Distefano and Jim Halsey, the 2005 event winner. Burton Auxier holds the bump spot with a 6.242.
"We were going for #1," said Cannon. "The way we've been running, we're just happy to qualify. Tomorrow will be tough, it's not like there's a slow car in this field"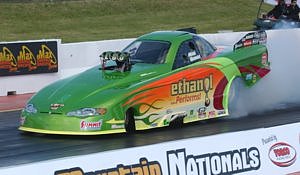 Mark Thomas
Current Alcohol Funny Car points leader Mark Thomas (Louisville, Ohio) set his #1 qualifying time Friday with a 5.855 ET, and that was good enough to take him into Sunday in the top spot. Defending World Champion Rob Atchison (London, Ontario), who entered today qualified third, used a 5.883-second run to jump into second. Kevin Therres, of Humboldt, Saskatchewan, sits on the bump-spot with a 5.993.
"This is just a great way to head into tomorrow," said Thomas. "The people here are awesome, the track is awesome. That run yesterday put a little pressure on Rob (Atchison) and the rest of the field, but tomorrow will be a battle."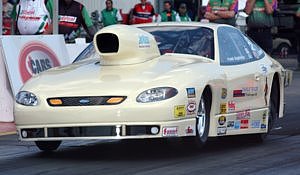 Frank Gugliotta
The top qualifier in Knoll Gas - Torco Race Fuels Pro Stock remained the same from Friday with Frank Gugliotta (Mt. Airy, Md.) and Robert Patrick (Fredricksburg, Va.) maintaining #1 and #2 to enter eliminations. Pete Berner (Crete, Ill.) sits in the third spot, followed by current points leader Tony Gillig (Lake Bluff, Ill.).
"We haven't had problems qualifying all year, but we need to do good on Sunday," said Gugliotta. "The car's ready.I just have to be ready to drive the thing."
The CARS RV & Marine & Motorsports Rocky Mountain Nationals presented by Torco Race Fuels will continue Sunday morning at Castrol Raceway with professional elimination rounds beginning at 11 a.m. and finals at 4:15 p.m.




IHRA: 10 Most Recent Entries [ top ]

Mar 21- 2018 IHRA Summit Sportsman Spectacular Series on April 20-22
Feb 26- Weather-Related Construction Delays Postpone IHRA Xtreme Raceway Park Opener
Feb 16- IHRA Summit Sportsman Spectacular Schedule Announced
Feb 15- New York Track Finds Value for Racers with IHRA Agreement
Feb 15- IHRA Summit Sportsman Spectacular Debut Only One Month Away Now is the Time to Pre-Enter
Feb 15- Summit Texas Location is a Racers' Paradise
Feb 15- Canadian Track Makes Large Commitment to IHRA Drag Racing
Jan 27- Mid-Michigan Destination Joins IHRA Family
Jan 27- Mississippi Track Reaches Sanctioning Agreement
Jan 16- Michigan Track to Host IHRA Summit Sportsman Spectacular