Thu, 22 Jun 2006, 11:39 AM



Glen Kerunsky Brings Pro Modified Points Lead To Home Crowd



Courtesy of IHRA Communications



EDMONTON, Alb. --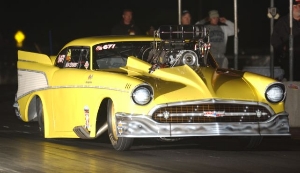 Glen Kerunsky
Ten weekends throughout the year Calgary resident Glen Kerunsky travels to Ontario or the Eastern half of the United States, attempting to win the Knoll Gas -Torco Pro Modified Ironman at various eMax Drag Racing Series venues. June 23-25 he will feel right at home.
The eMax Drag Racing Series will be making a stop in Edmonton, just up the road from Kerunsky's home in Priddis, just outside Calgary, for the CARS RV & Marine & Motorsports Rocky Mountain Nationals presented by Torco Race Fuels at Castrol Raceway (formerly Budweiser Motorsports Park). After winning the season-opening event in San Antonio and advancing to the final round in the other two eMax races this season, Kerunsky will celebrate his homecoming with the season points lead in his back pocket.
"We've raced specifically with IHRA because of the Canadian races, and to be in the points lead and so near to our home in Calgary is fantastic," Kerunsky said. "It is great for the fans to have a local car doing relatively well. I know there will be a lot of friends and people who normally wouldn't go to the races coming to this one. We know we can't go through the whole season going to every final, but hopefully we can perform well as a team in Edmonton."
Kerunsky is doing well this season because he thinks he's figured out the key to success on the IHRA circuit. He has not been the fastest car on the tour thus far, but his Breckenridge Excavating-sponsored 1957 Chevrolet Bel Air has been among the most consistent.
"We run quick, but we don't run the big numbers," he said. "We are a consistent team. We qualify in the top half of the field and just nibble away at the pack. You have to be there.the car and the driving have to be there.but you have to be consistent."
Kerunsky currently holds a 109-point lead in the championship points chase. He has 204 points while Tommy D'Aprile, the second place driver, has registered 195. Quain Stott sits in third place with 184 points. Rick Distefano, also of Calgary, is currently 11th.
"The caliber of competition is the best in the world," Kerunsky said of IHRA's Pro Mod class. "When you can arrive at your home track in the points lead, with that kind of competition chasing you, it makes us pretty proud."
The CARS RV & Marine & Motorsports Rocky Mountain Nationals presented by Torco Race Fuels kicks off June 23 - 25, at Castrol Raceway, in Edmonton, Alberta, Canada.




IHRA: 10 Most Recent Entries [ top ]

Mar 21- 2018 IHRA Summit Sportsman Spectacular Series on April 20-22
Feb 26- Weather-Related Construction Delays Postpone IHRA Xtreme Raceway Park Opener
Feb 16- IHRA Summit Sportsman Spectacular Schedule Announced
Feb 15- New York Track Finds Value for Racers with IHRA Agreement
Feb 15- IHRA Summit Sportsman Spectacular Debut Only One Month Away Now is the Time to Pre-Enter
Feb 15- Summit Texas Location is a Racers' Paradise
Feb 15- Canadian Track Makes Large Commitment to IHRA Drag Racing
Jan 27- Mid-Michigan Destination Joins IHRA Family
Jan 27- Mississippi Track Reaches Sanctioning Agreement
Jan 16- Michigan Track to Host IHRA Summit Sportsman Spectacular