Sun, 4 Jun 2006, 07:57 PM



Lagana Shocks Millican to Claim First Career Top Fuel Ironman



Courtesy of IHRA Communications


Photo copyright 2006 BME Photography





Creasy, Pittman, Thomas and Berner also take titles at MOPAR Canadian Nationals



GRAND BEND, Ontario --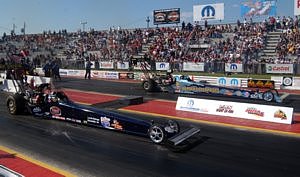 Lagana vs Millican
(June 4, 2006) - On his way to Grand Bend, Ontario for the MOPAR Canadian Nationals, Bobby Lagana, Jr., did not make it up to his home in Scarsdale, N.Y., to pick up his father. If the younger Lagana is a superstitious man the elder Lagana may have seen his last drag race in person.
Lagana captured his first Knoll Gas - Torco Racing Fuels Pro Nitro Top Fuel Ironman by snapping Clay Millican's four-event win streak at Grand Bend Motorplex. In a match-up of the two ends of the Top Fuel spectrum Lagana with his rag-tag crew made up of family members and friends and Millican with his heavily-sponsored Werner Enterprises, Kenny Koretsky Motorsports Team, the underdog took the win light in a pedal fest. He carded a 5.367 pass at 236.59 miles per hour to top Millican's 6.611/140.05.
"I wanted to win worse than any other run I've ever made in my entire life," Lagana said. "Those guys on Clay's team have almost brought us to where we are right now. To beat the people who put you there is special. We're the happiest team at this race track right now. But Clay's team, with Clay and Kloeber, are the second-happiest."
While Millican is the five-time defending IHRA Top Fuel World Champion it was Lagana who had the better car all weekend. He qualified in the #3 position and made two clean passes during the rounds of eliminations, all in the 4 second-range, before the tire-shaking run that produced his first victory. In just the third eMax Drag Racing Series event of the season it appears as if Lagana Crew Chief Jay Lewis has a handle on the team's new '06 McKinney Dragster. He also was thrilled for his driver and friend.
"That kid lives, eats and sleeps racing," Lewis said. "That's all he wants to do. I am way happier for him than I am for me. He deserves every piece of this. The whole Lagana family, his sister Marie and Laura, his brother Dom, his dad, his mother God rest her soul; the whole family are all beautiful people. They will do anything for anyone at any time. They are such genuine people and they've all earned this."
After the run Lagana looked at his brother Dom and briefly reflected on their journey to the Winner's Circle. Just eight years ago Lagana's throttle stuck and he ended up running off the end of the track and into the trees at New York International Raceway.
"We just looked at each other and said 'We're complete,'" he said.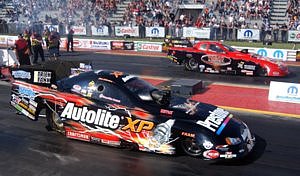 Gilbertson vs Creasy
Dale Creasy, Jr. completed a journey as well when he defeated Bob Gilbertson in the Knoll Gas - Torco Racing Fuels Pro Nitro Funny Car final. It was Creasy's first career win in a Nitro Funny Car and put him into second place in the eMax Drag Racing Series point standings. His 4.999/296.44 pass enabled him to nose Gilbertson's 5.057/295.95.
The whole weekend was full of firsts for Creasy and his Torco-backed operation.
"There were a lot of firsts for us here," he said. "We got our first #1 qualifier, our first round-win of the year, our first bye run ever, our first final ever and our first win ever. Everything was just great. You just couldn't script it any better than this."
Creasy was pleased to be able to get by a strong hitter like Gilbertson in the final.
"I'm worried about every driver out here, but Gilbertson, in my opinion, has the best car out here," Creasy said. "When (Gary) Densham and he are at a race they are in a league of their own. We just kept chasing after them and hoping we were going to beat them one of these days. When I was up against him I knew we had to pay attention and do our own thing because Bob is so good. I knew I couldn't make any mistakes."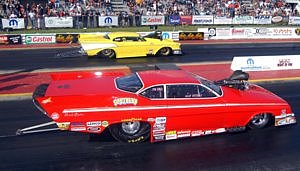 Pittman vs Kerunsky
The Knoll Gas - Torco Pro Modified final matched Alan Pittman (Greenville, SC) against Calgary, Alberta, resident Glen Kerunsky. After winning the season opener in San Antonio Kerunsky advanced to the final in Rockingham a month later. He advanced to his third consecutive final round in Grand Bend, but Pittman was able to shut him down in the race for the Ironman.
"Like I told my crew before the final round, I love Canada," Pittman said. "Canada has been real good to us. Plus I have Carl Spiering from Canada who does my engine program, he's a good guy who has a good race team. That's what makes all this work."
Pittman capped a consistent weekend by nosing Kerunsky with a 6.243/227.10. He was in the 6.20s throughout qualifying and eliminations and qualified in the middle of the pack at #9.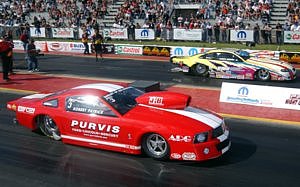 Patrick vs Berner
Pete Berner put his Rick Jones-built '06 Pontiac GTO into the Winner's Circle for the first time when he defeated Robert Patrick in the Knoll Gas - Torco Pro Stock final. Patrick just took delivery of his '06 Mustang two weeks prior to the MOPAR Canadian Nationals and knocked off Jerry Haas, who built his Mustang, Rob Mansfield and Tony Gillig to reach the final.
Berner topped John Bartunek, Elijah Morton and Jeff Dobbins to advance to the final round. When he topped Patrick to claim the Ironman it was Berner's first victory since the President's Cup Nationals in 2004.
"I've had Jerry Haas cars and I've had Rick Jones cars," Berner said. "They both build great cars, but this car I have now is just like magic. I had a car like this in 1998, the car Jerry built for me that I crashed in Darlington, and that car we thought would go down a dirt road. This car is very similar. It's just an awesome piece."
The victory in Grand Bend was the first for the 2006 Pontiac GTO in IHRA competition.
Thomas vs Kerunsky
Mark Thomas continued his hot start to the 2006 season, defeating Terry Munroe to win his second Alcohol Funny Car Ironman in three events. Thomas (Louisville, Ohio) has been down this road before. As a five-time IHRA World Champion he is accustomed to hot starts, but realizes it isn't how you start the season that counts. What counts is who is in front of the end of the year.
"Yes, we're doing pretty well so far," Thomas said. "But we have to keep working. To be able to win two events in a new car has been great for us, but it's a long season and everyone is stepping up their program."
Thomas increased his points lead while three-time defending Alcohol Funny Car World Champion, Rob Atchison (London, Ont.) continues to look for his first event win of the season. Atchison fell to Fred Tigges in the first round of eliminations.
"You feel bad for Rob because this is his home track," Thomas said. "But we've been down that road in Norwalk at our home track. You like to come here and do well. Rob and his group knows how to go real fast, you know they will be back and I know we have to take advantage of every chance we have to take advantage of them."
GRAND BEND, Ont. -- Sunday's final results from the Mopar Canadian Nationals presented by Castrol at Grand Bend Motorplex. The $1.1 million race is the third of 11 in the 2006 eMax Drag Racing Series:
Top Fuel -- Bobby Lagana Jr., 5.367 seconds, 236.59 mph def. Clay Millican, 6.611 seconds, 140.05 mph.
Nitro Funny Car -- Dale Creasy Jr., Chevy Monte Carlo, 4.999, 296.44 def. Bob Gilbertson, Dodge Stratus, 5.057, 295.95.
Pro Modified -- Alan Pittman, Chevy Bel Air, 6.243, 227.10 def. Glen Kerunsky, Bel Air, 6.849, 210.77.
Alcohol Funny Car -- Mark Thomas, Chevy Monte Carlo, 5.898, 243.37 def. Terry Munroe, Monte Carlo, 5.979, 235.17.
Pro Stock -- Pete Berner, Pontiac GTO, 6.452, 216.81 def. Robert Patrick, Ford GT 500 Mustang, 6.478, 217.49.
Top Stock -- Joseph Aluise Jr, Plymouth Belvedere, 9.550, 138.78 def. Paul Mercure, Chevy Camaro, 9.582, 138.78.
Top Sportsman -- Kevin Wicke, Chrysler LeBaron, 7.310, 188.60 def. Gary Bingham, Pontiac Grand Am, 7.322, 181.08.
Top Dragster -- Jeff Brown, Dragster, 7.195, 175.67 def. Tim Slone, Dragster, 6.895, 197.93.
Quick Rod -- John Hickman, Dragster, 8.920, 161.63 def. Donny Urban, Dragster, 8.960, 161.60.
Super Rod -- Leo Zynda, Chevy Cavalier, 9.929, 156.52 def. Jason Kenny, Chevy Corvette, 9.928, 157.17.
Hot Rod -- Tim Shuck, Chevy Camaro, 10.948, 128.24 def. Budd Gilbert, Chevy Malibu, 10.920, 125.69.
Super Stock -- Donn Rhode, Chevy Camaro, 9.497, 137.17 def. Anthony Bertozzi, Pontiac Grand Am, 9.242, 146.55.
Stock -- Dan Fletcher, Chevy Camaro, 10.737, 114.30 def. Denny Hillman, Camaro, 11.863, 111.39.
ET Bracket -- Dave Wainman, Chevy Monza, 10.824, 122.59 def. Grant Kimber, Chevy Corvette, 9.328, 143.22.
ET No Box -- Dave Wainman, Chevy Monza, 10.778, 122.86 def. Lui Ramundo, Chevy Nova, 9.809, 134.62.
ET Box -- Grant Kimber, Chevy Corvette, 9.345, 142.85 def. Rob Gray, Chevy Camaro, 8.822, 153.58.




IHRA: 10 Most Recent Entries [ top ]

Mar 21- 2018 IHRA Summit Sportsman Spectacular Series on April 20-22
Feb 26- Weather-Related Construction Delays Postpone IHRA Xtreme Raceway Park Opener
Feb 16- IHRA Summit Sportsman Spectacular Schedule Announced
Feb 15- New York Track Finds Value for Racers with IHRA Agreement
Feb 15- IHRA Summit Sportsman Spectacular Debut Only One Month Away Now is the Time to Pre-Enter
Feb 15- Summit Texas Location is a Racers' Paradise
Feb 15- Canadian Track Makes Large Commitment to IHRA Drag Racing
Jan 27- Mid-Michigan Destination Joins IHRA Family
Jan 27- Mississippi Track Reaches Sanctioning Agreement
Jan 16- Michigan Track to Host IHRA Summit Sportsman Spectacular