Sun, 4 Jun 2006, 08:29 AM



Cooper Tops Top Fuel Qualifying at MOPAR Canadian Nationals



Courtesy of IHRA Communications


Photo copyright 2006 Auto Imagery, Inc.





Creasy, Gugliotta, Munroe and D'Aprile Also Claim Poles



GRAND BEND, Ontario --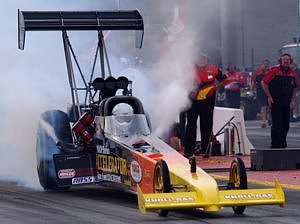 Rick Cooper
(June 3, 2006) - Rick Cooper had to wait out the weather, but he ended up where he had always aspired to be. When rain washed away the final qualifying session at the MOPAR Canadian Nationals presented by Castrol, Cooper claimed his first-ever #1 qualifying position on the strength of his 4.646/313.04 run earlier Saturday afternoon. The Boise, Idaho, resident will face #5 qualifier Mitch King in the first round of eliminations Sunday.
The day was bittersweet for Cooper, however, as fellow Foley/Lewis racing teammate and current eMax Drag Racing Series points leader Doug Foley could not get down the track in two qualifying attempts and failed to make the field.
"This is my first #1 qualifier at an IHRA national event so I'm super excited about that," Cooper said. "The only part I'm bummed out about is that we have a two-car team and one of our cars didn't make it. That hurts the whole team and brings me a little bit down, too. I just have to stay focused and go out and win my first drag race tomorrow."
Clay Millican (Drummonds, Tenn.) finished in the #2 qualifying spot with a 4.668/320.97 pass while Bobby Lagana, Jr.(Scarsdale, NY) finished third by clocking a 4.753/308.74 pass. Millican will face Kevin Jones (Berea, Ky.) in the first round Sunday while Lagana, Jr. will square off with T.J. Zizzo (Lincolnshire, Ill.). In the other first round match-up Louie Allison (Denver, Colo.) will face Chris Karamesines (Chicago, Ill.).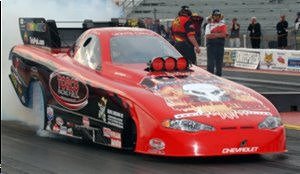 Dale Creasy, Jr.
Beecher, Ill. resident Dale Creasy, Jr. claimed his first career pole by carding the quickest Knoll Gas - Torco Racing Fuels Pro Nitro Funny Car pass of the two sessions. Creasy piloted his '06 Monte Carlo to a 4.870/306.01 pass to secure the #1 position and will receive a bye run into the semifinals.
"It feels real good," Creasy said. "That was actually my career-best run and it's the first time we've ever been the #1 qualifier. We're excited about it but we don't want to get too excited because going into race day it's anybody's game."
Paul Lee (Bala Cymwyd, Pa.) finished in the second spot while Terry Haddock (Lynwood, Wash.) claimed third.
"We're confident we can get this car down the race track," Creasy said. "We'll just see what happens."
Frank Gugliotta (Mt. Airy, Md.) claimed the top spot in Knoll Gas - Torco Pro Stock by being the only driver to dip into the 6.30s. Gugliotta's 6.393/218.28 pass put his Charley Taylor-owned '05 Escort into the top spot. Gugliotta, who won the season opening eMax race in San Antonio, will face #9 qualifier and Spring Rockingham winner Tony Gillig (Lake Bluff, Ill.) in the first round.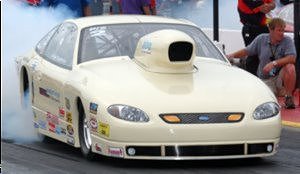 Frank Gugliotta
Jeff Dobbins (Wilmington, NC) captured the second qualifying spot while Robert Patrick (Fredericksburg, Va.) finished third.
No Alcohol Funny Car drivers improved in the top half of the ladder on Saturday, leaving Terry Munroe (Beaver, Pa.) in the pole position for Sunday's eliminations. Munroe posted a 5.802/240.83 pass to secure the #1 spot. Current points leader Mark Thomas (Louisville, Ohio) ended up second while three-time defending world champion Rob Atchison (London, Ont.) placed third.
Tommy D'Aprile (Port Charlotte, Ill.) finished on the pole in Knoll Gas- Torco Pro Modified as he drove his '63 Corvette to the pole with a 6.084/235.10 pass. Mike Janis (Lancaster, NY) wrestled the #2 spot away from D'Aprile teammate Quain Stott (Columbus, NC) with a sizzling 6.133/233.16 pass that bumped Stott down to third.
The MOPAR Canadian Nationals presented by Castrol will continue Sunday morning at Grand Bend Motorplex with professional elimination rounds beginning at 11 a.m. and finals at 4:15 p.m. Gates open at 8 a.m. Saturday tickets will be honored Sunday with corresponding ticket stub.




IHRA: 10 Most Recent Entries [ top ]

Feb 26- Weather-Related Construction Delays Postpone IHRA Xtreme Raceway Park Opener
Feb 16- IHRA Summit Sportsman Spectacular Schedule Announced
Feb 15- New York Track Finds Value for Racers with IHRA Agreement
Feb 15- IHRA Summit Sportsman Spectacular Debut Only One Month Away Now is the Time to Pre-Enter
Feb 15- Summit Texas Location is a Racers' Paradise
Feb 15- Canadian Track Makes Large Commitment to IHRA Drag Racing
Jan 27- Mid-Michigan Destination Joins IHRA Family
Jan 27- Mississippi Track Reaches Sanctioning Agreement
Jan 16- Michigan Track to Host IHRA Summit Sportsman Spectacular
Jan 16- Canadian Track Signs Multi-Year Agreement with IHRA