Fri, 2 Jun 2006, 08:19 PM



Clay Millican Serves Notice



Courtesy of IHRA Communications (Or whoever wrote it Larry Sullivan)


Photo copyright 2006 BME Photography





During Round One of Top Fuel Qualifying at MOPAR Canadian Nationals



Grand Bend, Ontario--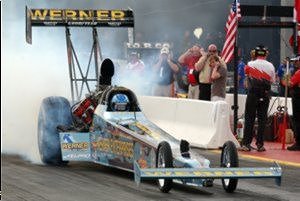 Clay Millican
(June 2, 2006) - Make no mistake about it, Clay Millican remains Knoll Gas -Torco Racing Fuels Pro Nitro Top Fuel's top gun. Millican, the five-time defending Top Fuel World Champion, has yet to win on the 2006 eMax Drag Racing Series. But Canada has always been special for Millican...Grand Bend Motorplex in particular.
It was in Grand Bend that Millican (Drummonds, Tenn.) first visited the Winner's Circle in IHRA competition. He defeated Shirley Muldowney in 2000 to chalk up career Ironman #1. Last season, exactly one year and one day ago, Kenny Koretsky purchased Millican's race team from Peter Lehman. Millican also secured a small piece of the race team with Koretsky, and they celebrated by winning for the fourth consecutive season at Grand Bend.
Millican proved his mastery of the quarter mile strip on the shores of Lake Huron again Friday, erasing his own track speed record with a 320.97 mph pass to claim the provisional #1 qualifying position at the MOPAR Canadian Nationals presented by Castrol. Millican, in the last pair of the first qualifying session, ripped straight down the groove to post the quickest time of the session at 4.668 seconds. Louie Allison (Denver, Colo.) took the provisional #2 spot with a 4.784 pass.
Dale Creasy, Jr.
Dale Creasy, Jr. (Beecher, Ill.) clocked a 4.870 pass at 306.01 mph to step into the provisional top qualifying spot in Knoll Gas-Torco Racing Fuels Pro Nitro Funny Car qualifying. Creasy outpaced Paul Lee (Bala Cymwyd, Pa.) for the top spot. Lee posted a 5.072 pass at 301.70 to settle into second.
Frank Gugliotta (Mt. Airy, Md.) continued his strong Knoll Gas-Torco Pro Stock season shattering the previous track record and claiming the provisional pole position after Friday qualifying. Gugliotta drove the Charlie Taylor Racing '05 Escort to the top qualifying spot by clocking a 6.393/218.28 mph pass in the last pair of Pro Stockers to go down the track Friday. Gugliotta was not alone in topping Brian Gahm's previous track elapsed time record of 6.476 as 13 drivers slipped under that mark. Robert Patrick (Fredericksburg, Va.) debuted his new '06 Ford Mustang in IHRA competition at Grand Bend Motorplex and was able to claim the provisional #2 qualifying post with a 6.409/217.02 pass.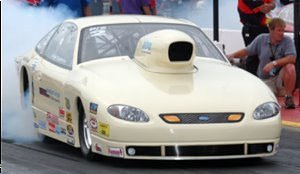 Frank Gugliotta
Terry Munroe (Beaver, Pa.) captured the provisional Alcohol Funny Car pole with a 5.802/240.83 pass. Munroe was quicker than Rockingham winner Mark Thomas (Louisville, Ohio) and three-time defending World Champion Rob Atchison (London, Ont.), who claimed the second and third spots respectively. Thomas currently sits atop the Alcohol Funny Car points in the eMax Drag Racing Series.
Tommy D'Aprile, still looking for his first-ever Knoll Gas-Torco Pro Modified victory, blew away the field in Friday qualifying. D'Aprile (Port Charlotte, Fla.) was the runner up at the season opener in San Antonio and claimed the provisional #1 spot at Grand Bend Motorplex with a 6.084/235.10 pass. Columbus, NC resident Quain Stott, who happens to own D'April's car, finished #2 Friday with a 6.157 pass at 231.54 mph. Steve Bareman (Elma, N.Y.) currently sits third on the qualifying sheet.
Professional qualifying for the MOPAR Canadian Nationals presented by Castrol at Grand Bend Motorplex resumes Saturday at 3 p.m. and 7 p.m. Eliminations begin Sunday at 11 a.m. with final round at 4:15 p.m.




IHRA: 10 Most Recent Entries [ top ]

Feb 26- Weather-Related Construction Delays Postpone IHRA Xtreme Raceway Park Opener
Feb 16- IHRA Summit Sportsman Spectacular Schedule Announced
Feb 15- New York Track Finds Value for Racers with IHRA Agreement
Feb 15- IHRA Summit Sportsman Spectacular Debut Only One Month Away Now is the Time to Pre-Enter
Feb 15- Summit Texas Location is a Racers' Paradise
Feb 15- Canadian Track Makes Large Commitment to IHRA Drag Racing
Jan 27- Mid-Michigan Destination Joins IHRA Family
Jan 27- Mississippi Track Reaches Sanctioning Agreement
Jan 16- Michigan Track to Host IHRA Summit Sportsman Spectacular
Jan 16- Canadian Track Signs Multi-Year Agreement with IHRA