Thu, 27 Apr 2006, 11:13 AM



The Race Girl Is A Race Winner



By Bob Frey


Photo copyright 2006 BME Photography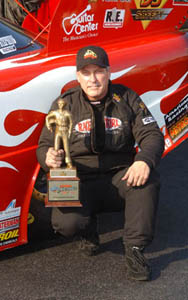 Jack Wyatt
Jack Wyatt joined a relatively short and very exclusive club this past weekend when he took his Race Girl fuel Funny Car to the win at the IHRA race in Rockingham, North Carolina. Since restoring the floppers to national event status Jack became the second national event winner, joining Gary Densham who won in San Antonio at the inaugural race of the 2006 season. Jack, a long-time veteran of the sport, won his first national event in a fuel car since switching over to the class in 1987. "Wow, that seems like a long time," Jack said after the race. "But it's all been worth it."
Jack Wyatt, while not a household name in the class, has gained a lot of national attention with his flashy Race Girl team and program. "We got together with Robert Chestnut (the head of Race Girl) last year and the program is working well for both of us. He's also involved with NASCAR and the NHRA and he's very happy with our program." He should be even more impressed now that Jack has taken the car to the winner's circle. "One of the best things about winning was the response from the fans that we got and the calls from all over the country. Something like this really energizes the entire team and we can't get wait to go racing again." Jack will go racing again in Bristol, Tennessee this weekend and then in Atlanta next week before rejoining the IHRA tour in Canada in three weeks. "When IHRA announced that they were adding the Funny Cars to their national events I knew that we wanted to be a part of it. It's great for us and a lot of the other teams out there and I know the fans like it, too. The reaction from the fans tour car in Rockingham was fantastic. "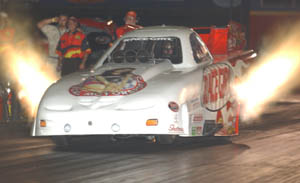 Jack Wyatt is forty-nine years old and he began racing when he was fourteen. "I had a '48 Anglia B/A that I built but I was too young to drive it at the track so I got a friend to drive it for me," Jack said. "A few years later I began driving at my home track, Eddyville Raceway, and I raced that car for about ten years." After that he built an injected car with a small block engine that ran on the match-race and UDRA circuit for almost a dozen years. "I raced against Frank Hawley and Simon Menzies and some of those guys in the Midwest," he said. "I also ran with Nick Bonninfante's funny car circuit on the east coast. We kept pretty busy." That venture morphed into an alcohol funny car that Jack raced throughout the Midwest on both the NHRA and AHRA circuits. "I finished second in the AHRA championship in 1982 in my alky car and I was runner-up to Vern Moats in the Division 5 NHRA standings." All the while Jack had his sights set on moving up to the sport's top class, a fuel car and he knew it would be a funny car. "I began racing my fuel car around '87. A lot of the guys in the alcohol class were just buying combinations and it took a lot of the fun out of racing," he said. "I always enjoyed the mechanical part of the racing and I've had a lot of fun racing in the funny car class." Prior to his breakthrough win in Rockingham Jack's best outing in a fuel car came at an AHRA race in Kansas City where he made it to the final round but had to settle for runner-up. "We beat Johnny West and Darrell Amberson and then lost in the finals. Until this weekend that was our best showing in a fuel car."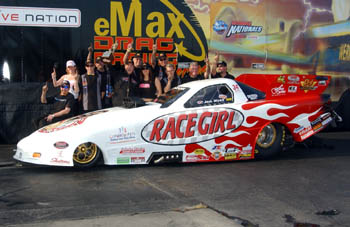 Wyatt and crew celebrate the win.
While Jack is committed to running all of the IHRA races this year he is realistic enough to know that he can't go out and make every run at every race. "We have to race smart," he said. "Like in Rockingham, we made our first run and went 6.44. We then planned to skip the second round and run the final session which we thought would be the best time to improve on our earlier run. But the rain came and washed out the last session and we were lucky to stay in the field." Jack then called on all of his years of racing to tune the car for Sunday's eliminations and it ran like a bracket racer. A 5.01 in round one was good enough to stop Dale Creasy, a 5.03 in round two took care of the top qualifier Bob Gilbertson and another 5.03 in the final edged first-time finalist Vince Arcadi. "Tim Finlay works with me on the car and we decided what we thought we had to do on Sunday and it looks like it worked." He also mentioned that the Race Girl car seems to run better in the warm weather. "A lot of the teams can make a bunch of power when it's cool outside but we seem to like a hot day and hot track. That seems to be a big equalizer." Jack is also quick to thank Paul Smith who worked with him at the beginning of the 2005 season. "Paul came over and kind of fine tuned the car. He straightened out a couple of things but he didn't mess with our basic tune-up too much." In keeping with his theme of fiscal responsibility Jack said that he and Tim and "lots of friends" make do with what they have when they come to the races. "We don't have all the big cams and latest superchargers like a lot of the teams do, so we have to get the most out of what we have. We figure that once we qualify it's anybody's race on Sunday."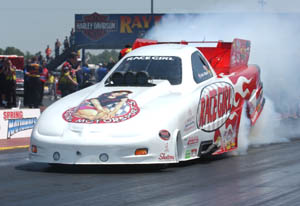 Even though he doesn't have the financial resources of some of the other teams, Jack is fully committed to running his Race Girl team on the IHRA tour this year. "I sold my business last year," he said, referring to the automotive shop that he ran for over twenty-five years. "I love this racing community and getting a win like this early in the year just gets us all pumped up. The people in this sport are so great. For example, after the win when we got on the return road the first people that we saw were guys from Gary Densham's crew. They gave us a beer and congratulated us and that was so neat." Another good thing about the race was the fact that Jack and Tim didn't hurt anything all weekend long. "We're just freshening things up and getting ready for the next few weeks. I've got some work to do and some bills to pay and we'll be ready to go. Of course winning the race will help with the bills."
Jack Wyatt is a prefect example of what makes this such a great sport. He's a guy who has always loved racing, likes to compete and enjoys everything about drag racing. And now that he has an Ironman (trophy) as an IHRA national event winner, he likes it even more. The Race Girl driver is now a race winner and what more could a guy from Iowa want?




IHRA: 10 Most Recent Entries [ top ]

Feb 20- Roxboro Motorsports Park Joins IHRA Family
Feb 18- Top Canadian Facility Renews IHRA Sanction
Feb 18- IHRA, Half Scale Dragsters Announce Multi-Year Partnership
Feb 01- London Dragway Renews Commitment to IHRA
Jan 30- Weather Forces Postponement of IHRA Summit Sportsman Spectacular at State Capitol Raceway
Jan 22- The Best Value in Bracket Racing is Only One Week Away Feb. 1-3
Jan 22- Historic Great Lakes Dragaway, IHRA Reach Agreement
Jan 18- Legendary Darlington Dragway, IHRA Extend Sanctioning Agreement
Jan 17- Ohio's Thunder Capital, IHRA Reach Sanctioning Agreement
Jan 11- The Best Value in Bracket Racing Comes to State Capitol Raceway Feb. 1-3