Fri, 6 Jan 2006, 02:59 PM



When the Moon is in the Seventh House...



By Bob Frey


Photo copyright 2005 Auto Imagery, Inc.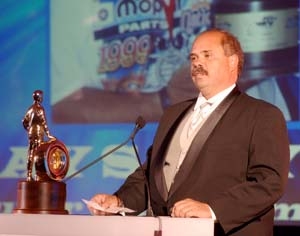 Ray Sawyer
"Sometimes the moon and the planets and the stars just line up right and everything goes your way," Ray Sawyer said after winning the 2005 Lucas Oil National Championship in Super Gas. "A lot of times that little (winning) arrow just never seems to point your way and then there are times when it seems to go your way all of the time." It didn't go Ray's way all of the time in 2005 but it went his way more than anyone else's and this father of two boys is now the world champ. "The best I had ever finished before this was 8th (in 2004) so this really is a dream come true," he said. "I used to sit around with my boys and look at National Dragster and all of the racing magazines and say 'wouldn't it be neat to see your picture in there as the champion.' And now I can." The boys include Michael, who races and who won a national event before his father did, and Brian who plays in a rock and roll band in Los Angeles. "That's one of the reasons that we go to the Las Vegas race and Pomona each year, so that we can meet Brian and see him for a while," Ray said.
When Ray went to the Las Vegas race at the end of 2005 he was the points leader in Super Gas. "We had regained the lead when I went a couple of rounds in Dallas and I knew going into those final races that there were about two dozen racers who had a mathematical shot at winning the championship. I just had to go out there and do my best and see what happens." His best included going a couple of rounds at the Las Vegas national event before losing to former world champion Danny DiVita, and even though the red hot Robert Coleman won the race Ray was still the points leader. When Coleman went to the final round the next week at the Lucas Oil race in Vegas he closed the gap but he still needed to make the final round in Pomona if he wanted to catch and pass Ray. "There were still four of us who had a shot going into Pomona but the other guys basically needed to go to the final round." And while you like to think you can take care of things yourself, the final race of the year didn't exactly go as Ray and Michael had planned. "I blew my engine in the first round and then we put the other motor in and just missed the dial for round two." After losing that round to Mark Beuhring, one of the four who could still win it all, Ray couldn't do anything but wait and watch and hope. "I was back in the staging lanes talking with Al Kenny who was getting ready to run Super Comp when the other guys raced in the third round." Ray said. "I didn't want to watch and I figured that if one of the other guys went on and won it that they deserved it. I listened in the staging lanes and when they were all gone at the end of the third round I knew I had won it. It was quite a relief. That knot in my stomach was finally gone"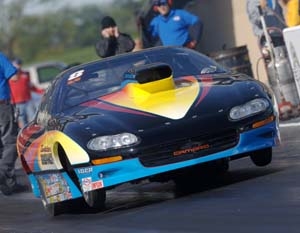 Ray Sawyer runs and automotive repair shop in his home town of Acton, Massachusetts, and it keeps him and his family pretty busy. "My wife, Denise, and Michael both work at the shop and we have three other mechanics so when we go racing it takes about half the staff away from the shop. Denise will often stay and run things and I have to say that I couldn't do any of this, race and work, without her support." The two have been married for thirty years and Ray has raced for about twenty of those years. "I always had nice cars when I was growing up but with the business, a wife and young kids, I just didn't have the time or money to go racing. Then in '84 I decided to go do it." Based on his previous, limited racing experience you had to know that Ray Sawyer was going be very good at it. "When I graduated high school in my parents gave me a 1971 Chevelle with a small block and a four speed. It was a really nice car, only two years old, and I took it to New England Dragway right away. I didn't know much about what to do and they put me in G/Stock and I won the class. I loved it."
The competition in all of the sportsman classes is brutal and to win a round, a race, a divisional title and a national championship really does require everything to fall perfectly into place. "All of the racers in this class are so good that you need a break every now and then," Ray said. "And you need to win those close races." That's exactly what Ray did this year. Throw in the fact that he was very good himself and you have a winning combination. "At the Maple Grove points race I won three 'Perfectly Strange' hats including one on the final round." For the novices out there that means that Ray made three runs exactly on the 9.900 dial-in during eliminations. Now that's the stuff that champions are made of. "I had Tommy Stalba in the final round and he went 9.904 and I went 9.900." I guess that's what Ray means by having all the stars and planets line up just right. A runner-up finish at the national event in Atlanta and a win at the Englishtown national event gave Ray the incentive to make the chase for the championship. "We really felt good after the Englishtown race," he said. "Michael and I talked it over and we figured that we had two final rounds at the national events and four races still to claim. And with the win at the divisional race we had a good points total and decided to make the run for the championship."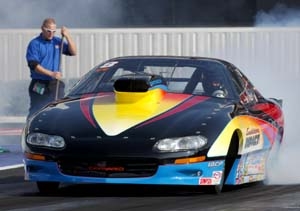 Ray Sawyer is quick to thank his wife for all of her help and support and he also thanks his son, Michael, who races with him and does a lot of the set up on the car. "I'll pick a number before I go to the line and Michael will look at it and say, 'What are you doing?' Then he'll dial the car in and I'll run right on the number. He's a genius" For his part Michael runs the family's newest car, a Cavalier roadster, and he's done very well for himself. A former national event winner and Division 1 champion, Michael finished second this year in D-1 behind his father. In addition to Michael's car and Ray's Camaro, they also have a '67 Camaro that Ray calls the family's heirloom and a dragster that they run, but only occasionally. Ray's championship car is equipped with a big block, 565 cubic inch engine and he runs a transmission and converter out of Select Performance, the choice of a lot of racers especially in the Division 1 area.
During the off-season Ray will spend a lot of time on the banquet circuit, attending the upcoming Division 1 affair in Hershey, Pennsylvania along with several meetings of the local racers in his New England area. "We get together and talk racing and we have a group that runs some events that are basic drag races, you know, no delay boxes, no throttle stops and all off the bottom bulb. I like that kind of racing but haven't really had a lot of time for it lately." I don't imagine he'll have much time in the new year, either, as he sets out to do something that's never been done before and that is repeat as Super Gas national champion. "I'm looking forward to the new year and it will be fun to race with the number 1 on the car," he said. And it will be fun to watch as Ray, Michael and the rest of the Sawyer family hopes that those planets and stars all line up properly again in 2006.




NHRA: 10 Most Recent Entries [ top ]

Aug 21- INDY - Event Preview
Aug 21- BRAINERD - Lucas Oil Drag Racing Series Wrap Up
Aug 20- BRAINERD - Special Award
Aug 20- BRAINERD - Sunday Video
Aug 20- BRAINERD - Pro Stock Snowmobile Final, Round 3 Eliminations
Aug 20- BRAINERD - Mickey Thompson Top Fuel Harley Series Standings
Aug 18- BRAINERD - Sunday Wrap Up
Aug 18- BRAINERD - Championship Points
Aug 18- BRAINERD - Super Stock Final, Round 6 Eliminations
Aug 18- BRAINERD - Summary of Eliminations in Top Fuel Harley